King Car recalls instant coffees, soup
 
VOLUNTARY TESTS: After eight products were found to contain melamine, the Department of Health said it would also ban certain non-dairy foods from China

By Shelley Huang
STAFF REPORTER
Monday, Sep 22, 2008, Page 1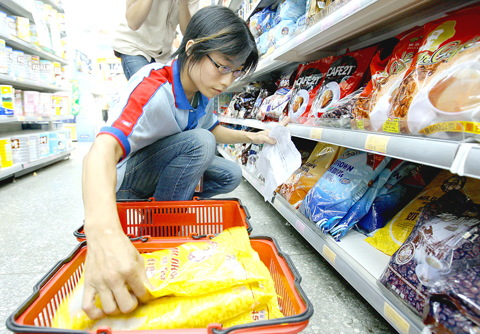 A supermarket employee pulls King Car Industrial Co products from shelves yesterday after the Department of Health ordered a recall of its eight products, which were contaminated by the toxic chemical melamine. Seven of the products are instant coffees and the other is an instant soup mix.
PHOTO: CNA

King Car Industrial Co (金車) asked stores to pull eight products from shelves yesterday after it commissioned tests that showed the products contained the toxic chemical melamine, prompting the Department of Health to call for tests on products from China not containing animal protein.

The Department of Health also ordered a recall of the products after King Car informed officials that seven of its instant coffee products and one instant soup mix tested positive for the chemical that has sickened thousands of babies in China. All the recalled products were powder or granule products in individual packages.

"[The eight King Car products] have tested positive for melamine [in tests conducted] by the Food Industry Research and Development Institute [FIRDI]," Deputy Health Minister Sung Yen-jen (宋晏仁) said.

On Wednesday, the health department ordered 18 companies that import dairy products from China to have their products tested for melamine. The department prohibited sales of these products until the companies could provide evidence that their products were safe.

Although the department did not target companies selling products that contain plant protein rather than animal protein, King Car had all of its products tested by the FIRDI on Friday to ensure they were safe for consumption.

Until then, the fears sparked by Chinese milk powder had only involved products containing animal protein, such as baby formula and milk powder. However, department officials told reporters yesterday that the results of the King Car tests showed products containing plant protein, such as non-dairy creamers, can also be contaminated.

King Car spokesperson Ma Ming-hao (馬明皓) told a press conference yesterday that King Car used powdered non-dairy creamer from China in some of its products because it ensures a "stable supply of raw materials."

King Car is recalling all 120,000 cases of the contaminated products, he said.

"We estimate about 95 percent will be retrieved within one week. We hope to have retrieved 75 percent within three days," he said.

King Car vice manager Lee Yu-ting (李玉鼎) and Ma bowed in a show of apology to consumers.

The contaminated products include Mr Brown Blue Mountain Blend Coffee, Mr Brown Mandheling Blend Coffee and Mr Brown French Vanilla Coffee.

The company's canned coffee beverages tested negative for melamine, the company said.

The tainted powdered non-dairy creamer was purchased from China's Zhongshi Duqing (Shandong) Biotech Co in December. The powder was used in instant coffee products manufactured between Apr. 9 and Sep. 12, meaning that part of the powder has likely been consumed by customers, said Wu Yi-ling (吳怡玲), chief of the company's Research and Development Division.

The US Food and Drug Administration says the tolerable daily intake (TDI) of melamine is 0.63mg per 1kg of body weight. This means that an adult weighing 60kg has a TDI of two to four cups of the tainted instant coffee or one package of instant corn chowder.

The department called on companies that imported products with plant protein to have them tested for melamine.

It also announced that it would prohibit all imports of milk powder, dairy products and products containing plant protein from China until matters have been cleared up.

Consumers who have bought the contaminated King Car products can receive a full money refund through the King Car Web site at www.kingcar.com.tw.
---
Listen to the voice
Milk scandal spreads to Hong Kong
 
TOXIC PRODUCTS: Starbuck's is no longer offering milk in 300 Chinese outlets as the chemical melamine has been found in liquid milk sold by the biggest dairies

AP, BEIJING
Monday, Sep 22, 2008, Page 5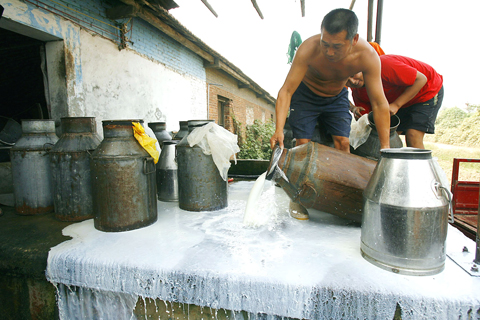 Farmers pour fresh milk on to the ground at a milk collection station after they refuse to take more milk in Wuhan yesterday.

PHOTO: AP

China's leaders and health authorities battled yesterday to contain a growing scandal over widespread contamination of milk supplies as the first sickness from the crisis was reported outside China.

More than 6,200 infants have become sick and four babies have died in China after being fed baby formula laced with a banned industrial chemical, but no illnesses had been reported elsewhere until the Hong Kong government said a three-year-old girl had been diagnosed with a kidney stone after drinking milk containing melamine.

The girl was diagnosed with a kidney stone but was in good condition and has been discharged from the hospital, the government said in a statement late on Saturday.

The girl's parents took her for a checkup because she had been drinking milk made by Chinese dairy company Yili every day for the past 15 months.

Yili Industrial Group Co is one of 22 companies whose milk and dairy products were recalled after batches of their products were found to contain melamine.

The government has launched high-profile efforts to show it is on top of the crisis, with Chinese Premier Wen Jiabao (溫家寶) appearing on state-run television over the weekend to demand that public safety be put "at the top of the agenda."

Since the problem of toxic milk products became public knowledge less than two weeks ago, the crisis has spread to include almost all of China's biggest dairy companies.

Their products have been pulled from stores around the country, and in other places such as Hong Kong and Macau.

Starbucks stopped offering milk in its 300 outlets in China.

Japan and Singapore have recalled Chinese-made dairy products, and the governments of Malaysia and Brunei announced bans on milk products from China even though neither country currently imports Chinese dairy items.

The concern is because melamine has been found not only in powdered milk — used to make baby formula and other products — but also in liquid milk sold by China's biggest dairies.

Melamine is used in making plastics and is high in nitrogen, which registers as protein in tests of milk.
---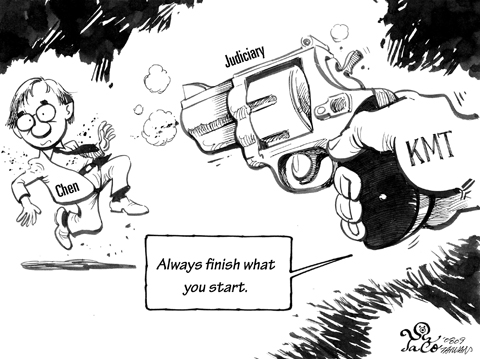 ---
Selling out the country, step by step

Monday, Sep 22, 2008, Page 8

Under the "wise" rule of President Ma Ying-jeou (馬英九), Taiwan is looking increasingly less like a country.

A few days ago, the Straits Exchange Foundation (SEF) held talks with China-based Taiwanese businesspeople. During the meeting, the head of the Taiwan Business Association requested that the government allow Taiwanese businesspeople to hold positions in the Chinese People's Political Consultative Conference (CPPCC) to increase their say on China's government policy and help protect their rights and interests in China.

Giving in to such a demand, however, would irrevocably destroy Taiwan as a nation.

Nevertheless, Mainland Affairs Council (MAC) Chairwoman Lai Shin-yuan (賴幸媛) said that the provincial and municipal levels of the CPPCC were not as politically sensitive as other Chinese government posts and that her council would look into the issue to see if the law leaves room for interpretation.

She also said she hoped it would be possible to relax regulations to let Taiwanese businesspeople achieve some measure of political power in China.

Xinhua news agency recently reported that Taiwanese businesspeople had complained to Ma about not being allowed to become CPPCC members, telling him they hoped the law could change and that Ma had said the idea was a good one that would be a breakthrough in protecting the rights and interests of Taiwanese businesspeople.

Chinese Nationalist Party (KMT) Legislator Kuo Su-chun (郭素春) and his colleagues are planning to push for the required amendments in the legislature.

But a Presidential Office spokesperson said Ma had only told the businesspeople that the MAC would look into the matter of low-level CPPCC membership.

This is evidence that the Ma administration already has decided that it wants Taiwanese businesspeople to become CPPCC members. Restricting such membership to provincial and municipal levels would be just the first step.

Beijing views Taiwan as part of China. In reality, Taiwan is a country separate from China, a fact that is clear to many people around the world.

Yet after taking office, Ma said Taiwan and China belong to the same China and that "the relations between Taiwan and China are not state to state relations." These comments rob Taiwan of its national sovereignty.

Now Ma wants to go one step further by amending the law to make Taiwan even more like the "Taiwan Area of China."

The Act Governing Relations Between Peoples of the Taiwan Area and the Mainland Area (兩岸人民關係條例) states: "Any individual, juristic person, organization or other institution of the Taiwan Area shall not hold any position or become any member of the agencies, institutions or organizations of the Mainland Area which are political parties, the military, the administration or of any political nature."

This law should be strictly enforced to avoid any confusion over national identity. It is hard to believe that the president is even contemplating loosening these restrictions.

Just what is the Ma government thinking? Surely it cannot believe that its moves toward integrating Taiwan's economy with China's unification plans are too slow.

Typhoon Sinlaku caused great destruction in Taiwan. The stock market continues to drop and the global financial crisis has caused Taiwan's economy to suffer immensely. The UN General Assembly has denied a request by Taiwan to participate in the activities of its agencies. Taiwan's woes appear to grow daily.

Everyone is hoping that the government can do something to ease his or her troubles. However, Ma and his government are not interested in solving them. They are focused on helping Taiwanese businesspeople join the Chinese government.

Using a time when a nation is gripped by natural and economic disaster to brazenly sell off its sovereignty is disgusting. Their attitude only makes it easier for China to push its plan to erase Taiwan from the international community. What will the international community think if Taiwan continues to be unable to join the UN while its businesspeople join the CPPCC.

Taiwanese must not be allowed to hold a position in the CPPCC or any other Chinese Communist Party organization, nor should they be allowed to take up positions or become members in any Chinese military, administrative or political organization. This is essential to Taiwan's sovereignty.

If a single Taiwanese becomes a member of any such organization, China will invite more Taiwanese to join its fold in an effort to show the world that Taiwan has "returned to the embrace of the motherland."

Taiwan's sovereignty crisis is not something that may happen in the future or something to be talked about in the future tense. It is happening right now.

The people of Taiwan need to wake up and take effective action to protect their sovereignty. Otherwise, it could turn out to be difficult to hold a presidential election here in four years' time.