Health minister resigns over milk crisis
 
RESIGNATION: The minister assumed responsibility for delayed and inconsistent decisions in response to the spiraling crisis on contaminated Chinese milk powder
 
By Shih Hsiu-Chuan
STAFF REPORTER, WITH CNA
Friday, Sep 26, 2008, Page 1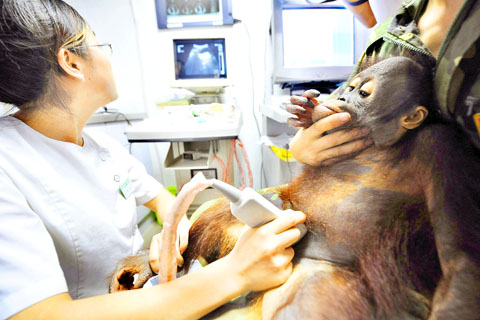 A young orangutan is checked for kidney stones at an animal hospital in Hangzhou, in China's Zhejiang Province, yesterday. A lion cub and two baby orangutans from the Hangzhou Safari Park were found to have kidney stones after zoo workers fed them Sanlu brand milk powder for more than a year.

PHOTO: AP
Minister of Health Lin Fang-yue (林芳郁) stepped down yesterday over panic caused by the discovery of contaminated Chinese dairy ingredients and what critics said were belated and inconsistent measures to protect the public and ensure consumer confidence.

"The Department of Health's [DOH] decision, made for efficiency's sake, caused misunderstandings and shattered consumer confidence. I should take responsibility," Lin said at a press conference yesterday morning after attending the weekly Cabinet meeting, during which he tendered his resignation to Premier Liu Chao-shiuan (劉兆玄).

Lin's resignation was approved later yesterday, making him the first official in President Ma Ying-jeou's (馬英九) administration to step down. The DOH was first blamed for its slow reaction to and mismanagement of the crisis involving Chinese dairy products tainted with the chemical melamine, and then for its inconsistent decisions.

Deputy ministers of health Sung Yen-jen (宋晏仁) and Cheng Shou-hsia (鄭守夏) tendered resignation letters together with Lin.

Liu also approved the resignation of Bureau of Food Safety (BFS) Director Hsiao Tung-ming (蕭東銘).

Late last night, Presidential Office Deputy Secretary-General Yeh Ching-chuan (葉金川), a public health expert, was named as the next health minister.

Critics said the department should have banned dairy imports from China, checked with importers to see if imported products were tainted, and ordered an inspection or sampling of Chinese imports that had reached Taiwan.

Lin's resignation comes as many consumers and businessmen express frustration over the DOH's "loose" food inspection standards.

Late on Wednesday night, Sung told a press conference that the DOH had decided to loosen the food safety standard for melamine from 0 parts per million (ppm) to 2.5ppm, meaning that products containing up to 2.5ppm of the chemical could still enter the Taiwanese market.

Based on the new standard, the products of two food companies, which tested positive for melamine under the stricter standard, were allowed to go back on sale, sparking consumer anger.

The DOH said the revised standard was applied after taking into consideration instrument sensitivity and standards in other countries.

Executive Yuan Spokeswoman Vanessa Shih (史亞平) told a press conference yesterday that Liu met with Lin in the afternoon and expressed the hope that Lin would remain in his post.

"But Minister Lin insisted on resigning," Shih said.

Liu praised Lin for his handling of the controversy, saying the DOH had taken accurate and forthright action from the beginning of the incident to impose bans on imports, to locate the whereabouts of tainted raw materials and to require questionable foodstuffs to be pulled from shelves, Shih said.

Liu had also expressed his admiration over Lin taking political responsibility for the late change in testing standards for the concentration of melamine that caused the unrest, and thanked him for his contributions over the past four months, Shih said.

Later yesterday afternoon, Lin was questioned by Control Yuan member Cheng Jen-hung (程仁宏), who has launched a probe to determine if there were any irregularities or instances of negligence in the government's handling of the case.
---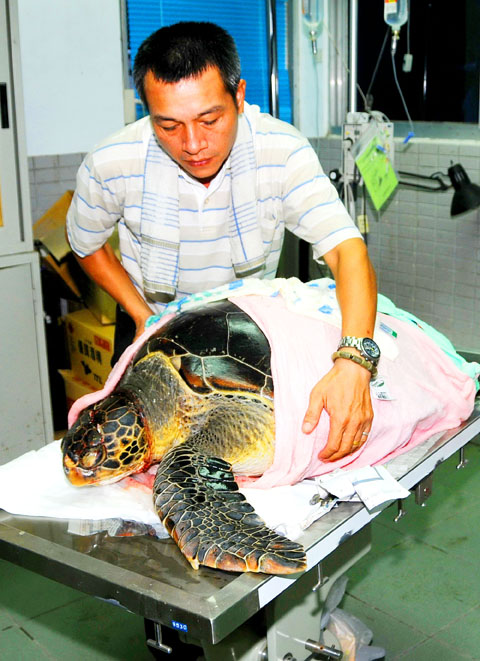 SHELL SHOCK
A worker at the Hualien County Animal and Plant Disease Control Center yesterday treats a rare loggerhead turtle whose head was badly wounded.

PHOTO: YU TAI-LANG, TAIPEI TIMES
---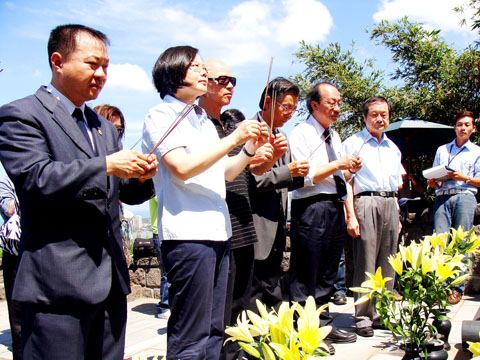 REMEMBERING
Democratic Progressive Party (DPP) Chairwoman Tsai Ing-wen, second left, and party officials yesterday pay their respects to the party's late chairman Huang Hsin-chieh at his grave in Bali Township, Taipei County. Tsai called on party members to rediscover the DPP's founding spirit.


PHOTO: CNA
---
Listen to the voice
Officials slam DOH shift on melamine
 
NOT SO TOXIC?: Lawmakers from across the political divide castigated the mixed message sent to store owners as the DOH increased the limit on melamine in food
 
By Mo Yan-Chih And Shih Hsiu-Chuan
STAFF REPORTERS
Friday, Sep 26, 2008, Page 4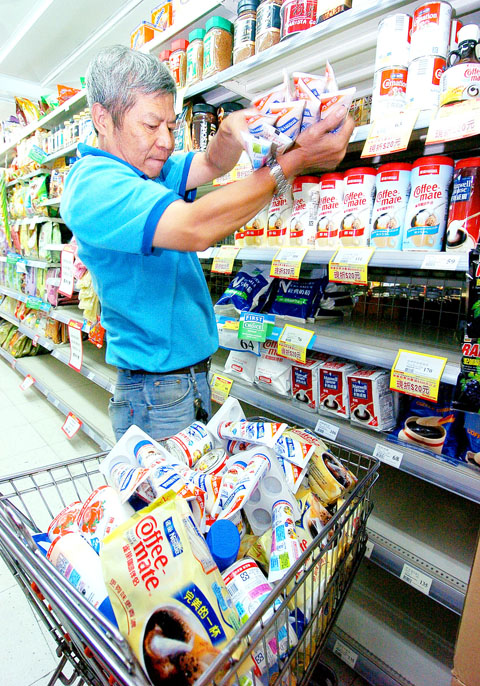 A store owner takes questionable milk products off the shelves of his store in Taipei yesterday. In response to unclear government policy on milk products imported from China, many stores have removed products containing milk powder to protect consumers and avoid unnecessary problems.

PHOTO: WANG MIN-WEI, TAIPEI TIMES

The Department of Health's (DOH) regulatory change on acceptable melamine levels drew criticism from the Consumer Protection Commission as well as pan-green and pan-blue lawmakers.

The DOH contradicted itself on Wednesday by announcing that the highest permissible concentration of melamine in raw materials and processed foods is to be 2.5 parts per million (ppm), rather than zero ppm as it had announced on Tuesday.

The sudden increase in the permissible amount of melamine in food forced supermarkets to put some of the products they had taken down back up on the shelves starting Wednesday night.

"We hope the DOH gives us clear directions on what products can be on the shelves, and what should be removed. Otherwise local government officials, manufacturers and consumers will all be confused," Taipei City's consumer protection ombudsman Chen Po-ching (陳柏菁) said.

Chen led inspectors yesterday morning in making a selective examination on instant coffee, milk tea and creamer in liquid and powder form in four supermarkets in Xinyi District (信義).

While workers at branches of Matsusei Supermarket and Wellcome Supermarket were scrambling to remove problematic products from their shelves as the inspectors visited, Chen urged the DOH to compile a list of products that are allowed to be on the shelves.

"The DOH keeps changing its standards ... and it makes it hard for local inspectors to follow their rules," Chen said during the inspection.

Chinese Nationalist Party (KMT) legislators also lashed out at the DOH for mismanaging the milk contamination crisis.

"The whole thing is a mess," KMT Legislator Lin Yu-fang (林郁方) said when asked for comment.

The overnight change in the DOH's policy on melamine has the public wondering whether the government is trying to protect specific businesses, he said, adding that the change of policy had made the nation "a laughingstock in the world."

"The government should apologize to the people for making the mistake. This is what a responsible government should do," KMT caucus secretary-general Chang Sho-wen (張碩文) said when approached for comment.

At a separate setting, DPP Legislator Twu Shiing-jer (涂醒哲), who is a physician, said that the standard regulation on melamine for mash and milk powder is 2ppm in China and 1ppm in Hong Kong.

"Is the DOH suggesting with the new regulation Taiwanese people's health is less important than animals in China?" Twu asked.

 
---
COA launches new probe into possible fish contamination
 
FISH FOOD: Officials from the Fisheries Agency found melamine in squid meal imported from South Korea that was intended for use as feed at fish farms

STAFF WRITER, WITH CNA
Friday, Sep 26, 2008, Page 4

The Council of Agriculture (COA) decided yesterday to investigate possible melamine contamination in the aquaculture industry, after a fake protein additive was found in a brand of locally produced fish food.

Fisheries Agency Director General James Sha (沙志一) said his agency would identify all the fish farms that have used the contaminated food in the next few days and then test their fish for melamine residue.

The contaminated fish food made by a Pingtung County-based manufacturer was made for feeding groupers, milkfish and Japanese seaperches.

The agency uncovered the problem during its latest regular inspection of fish food. Melamine, which had not been a target in tests, was included after the chemical was found in squid viscera meal from South Korea intended as a fish food ingredient last week.

Sha said a preliminary investigation linked the contamination in Taiwan to South Korea.

Sha said the contaminated fish food was processed from a batch of squid meal that had been imported from South Korea last month.

Of the 36,000kg of squid meal imported by the Taiwanese manufacturer, 30,750kg were used to produce a total of 200,000kg of fish food and more than 170,000kg of the fishmeal had been sold to local fish farms.

The agency seized the manufacturer's inventory of contaminated feed and has ordered a recall of the sold products.
---
Food scandal highlights political divide in China
 
FOOD CHOICE: The age-old practice of separating food supply for the rulers and the public is raising discontent as consumers grapple with tainted food

AP, BEIJING
Friday, Sep 26, 2008, Page 5

While China grapples with its latest tainted food crisis, the political elite are served the choicest, safest delicacies. They get hormone-free beef from the grasslands of Inner Mongolia, organic tea from the foothills of Tibet and rice watered by melted mountain snow.

And it's all supplied by a special government outfit that provides all-organic goods from farms working under the strictest guidelines.

That secure food supply stands in stark contrast to the frustrations of ordinary citizens who have faced recurring food scandals — vegetables with harmful pesticide residue, fish tainted with a cancer-causing chemical, eggs colored with industrial dye, fake liquor causing blindness or death, holiday pastries with bacteria-laden filling.

Now that the country's most reputable dairies have been found selling baby formula and other milk products tainted with an industrial chemical that can cause kidney stones and kidney failure, many Chinese don't know what to buy. Tens of thousands of children have been sickened and four babies have died.

Knowing that their leaders do not face these problems has made some people angry.

"Food safety is a high priority for children and families of government officials, so are normal citizens less entitled to safe food?" asked Zhong Lixun, feeding her seven-month-old grandson baby formula after he got checked for kidney stones at Beijing Children's Hospital.

The State Council Central Government Offices Special Food Supply Center was specifically designed to avoid the problems troubling the general population.

"We all know that average production facilities use large quantities of chemical fertilizers and pesticides. Antibiotics and hormones are commonly used in raising livestock and poultry. Farmed aquatic products are contaminated by various kinds of water pollution," center director Zhu Yonglan said in a speech earlier this year.

"It goes without saying that these are harmful when consumed by humans," Zhu told executives at supplier Shandong Ke'er Biological Medical Technology Development Co, which posted it on its Web site.

Zhu's speech has been widely circulated by Chinese Internet users on blogs and forums in recent days, with many expressing outrage that top government officials have a separate — and safer — food supply than the public.

The special food center enforces strict standards on suppliers like Shandong Ke'er, which makes health supplements designed to boost immunity and energy. Foods must be organic, not genetically modified and meet international food standards, said a manager in the center's product department, who only gave her surname, Zhang.

The reason: its A-list clientele of government officials and retirees of vice minister rank or higher.

It's not unusual for China's leadership to have a special food supply; the practice stretches back thousands of years to farms providing ingredients for lavish imperial meals or the greasy, spicy dishes favored by former leader Mao Zedong (毛澤東).

The former Soviet Union's ruling classes also ate food that was unavailable to the masses. In North Korea, where withering famines have seen tens of thousands starve over the past 13 years, leader Kim Jong-il is a gourmet known for his love of lobster, shark's fin soup and sushi.

Set up in 2004, China's Special Food Supply Center is almost as secretive as its high-end clientele, whose precise number is unclear, but includes hundreds of top political leaders, their families and retired cadres. Much of the information on its Web site was removed after media inquiries and interview requests this week.

Goods deemed to meet the highest standards are stamped with the label "Nation A," which stands for "top end, irreplaceable, the best," the Web site says.

Those products are for senior politicians or government offices and not released to the general consumer market, a customer service agent surnamed Dong said.

Since the latest tainted food scandal broke earlier this month, Chinese looking for reassurance have turned to one company not named in any recalls — Sanyuan Foods Ltd.

It proudly advertises that its milk is used for state banquets at the Great Hall of the People. And despite its higher price, sales have tripled in Beijing, while demand has outstripped supply in at least one province.
---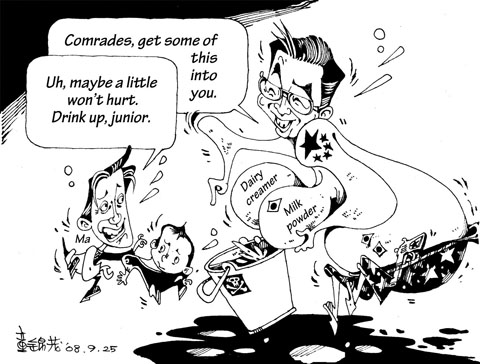 ---
Don't get your hopes up

There has been a great deal of talk about President Ma Ying-jeou's (馬英九) achievements regarding cross-strait relations. He has started a three-phase reconciliation process, which would end with a so-called "peace accord."

Until now, Ma's "achievements" reside solely in allowing weekend charter flights to and from China and accepting China's gift of two pandas, when in fact it has always been China who has pushed for these exchanges. This means the Chinese Nationalist Party (KMT) has not requested anything on behalf of Taiwan but has only been conciliatory toward China in the hope that Beijing would reciprocate.

A little lesson in Canadian history will show that rules of reciprocity do not always work as expected.

The political relations between Canada and Quebec have always been difficult. When Jean Lesage won the 1960 elections in Quebec, a new wave of hope among Quebecers for self-assertion, economic growth and full recognition by Canada swept the nation. Under the slogan "Masters in our own House," the new Quebec government started reforms, most of which would not be welcomed by the Canadian government. This did not stop Lesage, as he was ready to negotiate and compromise. Some initiatives, such as the creation of a provincial pension plan, were a success.

However, when it came to other federal-provincial relations, negotiations were not as easy. Quebec wanted the decentralization of the federal government, but the federal government was not willing to give up its powers. Another source of confrontation was in regards to the status of Quebec; in the 1960s, Quebec Province was still not fully recognized in the Canadian Confederation. The frustration level rose on both sides; Lesage had been the first to go to the federal government with open hands and he had accepted some of Canada's demands (much like Ma has been willing and conciliatory with Beijing), and expectations of reciprocity were high.

The government refused Quebec's demands and negotiations stalled. Finally, Lesage's party was split into two factions, Quebec received little from the Canadian government and its people felt more isolated than ever.

Lesage did exactly as Ma is trying to do. He's extending an olive branch to China, showing good will in the hope that by giving China a little space, it will give Taiwan a little in return.

Unfortunately, what he doesn't realize is that China does not care about "reconciliation." China has one agenda: total reunification. China will take whatever Taiwan gives, but when Ma's turn comes, China will give him the cold shoulder.

Bringing peace to the Taiwan Strait would be a great achievement, but by expecting reciprocity from across the Strait, Ma will end up pushing Taiwan and China further apart when Beijing crushes these expectations and hopes.

P.S. Dangoisse
Taipei
 
---
Listen to the voice
To be healthy is glorious

The melamine scandal points to the limitations of Deng Xiaoping's (鄧小平) 1992 credo "To get rich is glorious" just as global financial woes point to the limitations of capitalism without proper regulation and oversight designed to serve the public good ("Conspiracy of silence feeds food scandals," Sept. 22, page 9).

In China, adding melamine boosted protein ratings of dairy products at low cost, raising profits while risking consumer health.

In the US, encouraging risky home mortgages boosted short-term profits but has now imploded, leading to a sea change on Wall Street so dramatic that its long-term effects are just beginning to appear.

The credos "greed is good" and "to get rich is glorious" have invited such excess. All credos oversimplify at their peril. But to be alive and healthy, now that truly is glorious.

William Cooper
President emeritus
University of Richmond
Richmond, Virginia
---
The bitter aftertaste of the Chinese food scandal
 
By Paul Lin 林保華
Friday, Sep 26, 2008, Page 8

Making a pun on the words "independence" and "poison," both pronounced du in Chinese, China often refers to "Taiwanese independence" as "Taiwanese poison." In reality, however, it is in China that poisonous contaminants keep turning up in food, proving that the real "poison" is China itself.

An Internet user and new father in Jiangsu Province posted an article saying he had bought Sanlu milk powder to support the economy by buying Chinese-made goods. He now asks: "What is the purpose of patriotism and supporting Chinese-made products? As a child, I learned the saying 'Without a country, we have no home.' But what have I got in return for my patriotism? The hardest thing to bear is when you are betrayed by the one you trust the most. It's a feeling worse than death."

Complaints about Sanlu's milk powder first appeared on Chinese Web sites in February, but bureaucrats and businesspeople found ways to get them deleted. Newspaper reports began appearing early this month, but not until Sept. 13 did China's State Council Information Office, under pressure from the New Zealand government, call a press conference. On Sept. 17, Chinese Premier Wen Jiabao (溫家寶) publicly censured the responsible authorities for failing to monitor the situation, and on Sept. 19 Chinese President Hu Jintao (胡錦濤) criticized the officials involved for being "numb and uncaring."

Given that melamine-tainted products have been sold all over China, and that an international scandal occurred last year when pets died from eating contaminated Chinese-made pet food, just replacing a couple of company presidents and local officials will not be enough.

It was public pressure that forced the resignation of Li Changjiang (李長江), head of the General Administration of Quality Supervision, Inspection and Quarantine, on Monday.

Yili Group products have also tested positive for melamine. Last year Hu visited the Yili Group and gave it his endorsement. Surely it is the Chinese Communist Party and government leaders who should be taking responsibility for the scandal.

Almost every country in the world has banned existing imports of Chinese milk powder. Last week I wrote that Taiwan's government should lodge complaints with the WHO and WTO to uphold national sovereignty and dignity and protect Taiwanese interests. But all the government did was inform the WHO that some Taiwanese products made with Chinese milk powder had been sold to Hong Kong. The government put Taiwan in the position of being an accomplice of Beijing, providing the Chinese-controlled WHO with another opportunity to belittle Taiwan's sovereignty.

Has China shown the slightest remorse for its wrongdoings? No. Hu and Wen have not expressed the slightest contrition, and Wang Xiaobing (王小兵), deputy general secretary of China's Association for Relations across the Taiwan Strait, on a visit to Taiwan, behaved as if it had nothing to do with him.

In an unusual move, Shigeru Omi, outgoing WHO regional director for the Western Pacific, criticized the Beijing authorities on Sunday for not warning the international community early enough, but Xinhua news agency reported that "the WHO said that China had been earnest and conscientious in its handling of the milk powder contamination affair." Clearly, Beijing has not learned the lesson and is still lying and covering things up.

This "China poison" affair has caused panic and Taiwan's food industry has been hit. If the government sticks to its pro-China line and completely opens up markets and cross-strait links, the result will be more poisoning. For both body and mind, staying independent is the way to stay healthy.

Paul Lin is a political commentator.
---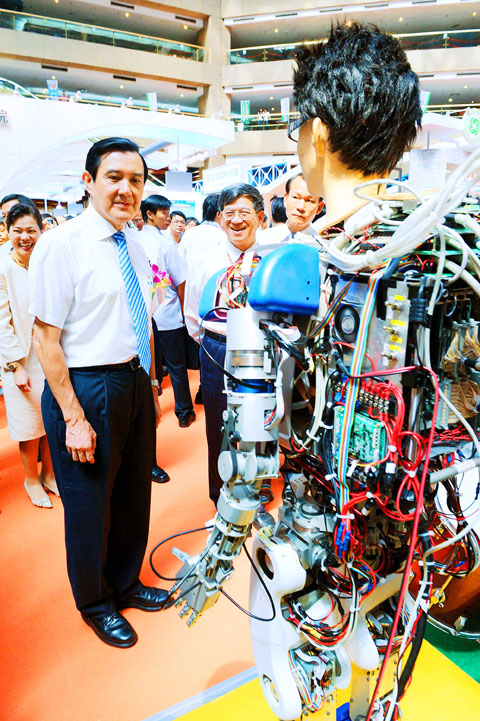 ALMOST HUMAN
President Ma Ying-jeou yesterday looks at a robot invented by the National Taiwan University of Science and Technology on the opening day of the Taipei International Invention Show and Technomart. The event runs at the Taipei World Trade Center through Sunday.

PHOTO: CNA