Xinjiang riot claims 140 lives: Beijing
 
VIOLENT BATTLES: A Xinjiang government official said more than 260 vehicles were attacked and 203 shops were damaged, while 828 suffered injuries

AP, URUMQI, CHINA
Tuesday, Jul 07, 2009, Page 1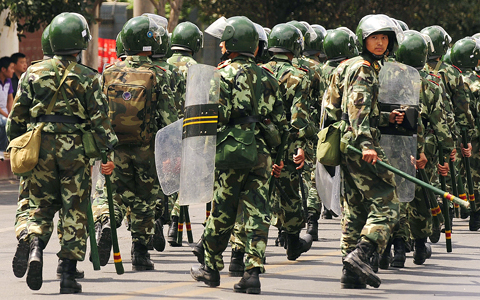 Chinese riot police patrol a street following riots in Urumqi, Xinjiang Uighur Autonomous Region, China, yesterday.

PHOTO: AFP

Violent street battles killed at least 140 people and injured 828 others in the deadliest ethnic unrest to hit China's western Xinjiang region in decades and officials said yesterday that the death toll was expected to rise.

Police sealed off streets in parts of the provincial capital, Urumqi, after discord between ethnic Muslim Uighurs and China's Han majority erupted into riots. Witnesses reported a new protest yesterday in a second city, Kashgar.

Columns of paramilitary police in green camouflage uniforms and flak vests marched around Urumqi's main bazaar — a largely Uighur neighborhood — carrying batons, long bamboo poles and slingshots yesterday. The mobile phone service was blocked and Internet links were also cut or slowed down.

Rioters on Sunday overturned barricades, attacked vehicles and houses, and clashed violently with police in Urumqi, media and witness accounts said. State TV aired footage showing protesters attacking and kicking people on the ground. Others, who appeared to be Han Chinese, sat dazed with blood pouring down their faces.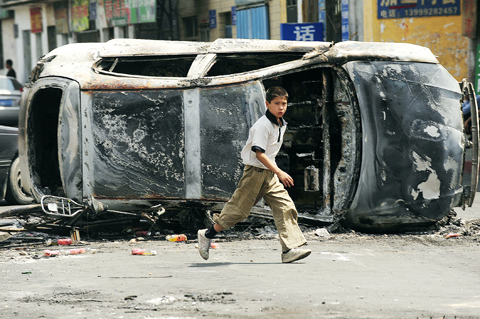 A boy runs in front of the burnt wreck of a car in a street in Urumqi, Xinjiang Uighur Autonomous Region, China, yesterday.
 

PHOTO: AFP
There was little immediate explanation for how so many people died. Exile groups said the violence started only after police began violently cracking down on a peaceful protest complaining about a fight between Uighur and Han factory workers in another part of China.

About 1,000 to 3,000 Uighur demonstrators had gathered on Sunday in the regional capital for a protest that apparently spun out of control. Accounts differed over what happened, but the violence seemed to have started when the crowd of protesters refused to disperse.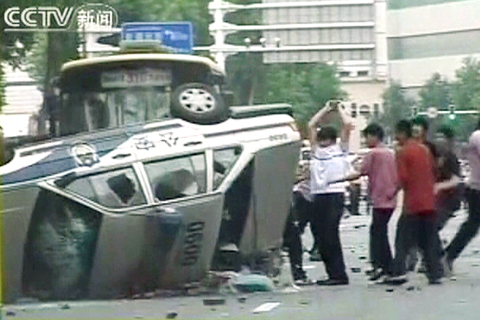 A video grab from state-run CCTV shows an overturned police car in Urumqi, Xinjiang Uighur Autonomous Region, China, yesterday.

PHOTO: REUTERS

The state-run Xinhua news agency reported hundreds of people were arrested and checkpoints ringed the city to prevent rioters from escaping. Mobile phone services provided by at least one company were cut yesterday to stop people from organizing further action in Xinjiang.

Internet access was blocked or unusually slow in Urumqi yesterday.

An official at the Xinjiang government said more than 260 vehicles were attacked or set on fire in Sunday's unrest and 203 shops were damaged. She said 140 people were killed and 828 injured in the violence.

Xinhua said several hundred people had been arrested in connection with the riot and police were searching for about 90 other "key suspects." It also quoted a local police chief as saying the death toll was expected to rise.

Uighur exiles condemned the crackdown.

"We are extremely saddened by the heavy-handed use of force by the Chinese security forces against the peaceful demonstrators," said Alim Seytoff, vice president of the Washington-based Uyghur American Association. "We ask the international community to condemn China's killing of innocent Uighurs. This is a very dark day in the history of the Uighur people."

Mamet, a 36-year-old restaurant worker, said he saw People's Armed Police attack students outside Xinjiang University.

"First they fired tear gas at the students. Then they started beating them and shooting them with bullets. Big trucks arrived and students were rounded up and arrested," Mamet said.

Meanwhile, a group of 31 Taiwanese tourists traveling with Joan Tour (中安旅行社) were in Urumqi as of yesterday.

The company said that their group entered Urumqi yesterday and did not see the riot. They are scheduled to return tomorrow.

Tourism Bureau Division Chief Chen Mei-hsiu (陳美秀) confirmed that a total of 91 Taiwanese are in Xinjiang, including those from Joan Tour. The other 60 tourists left Urumqi before the riot, she said.

The Mainland Council Affairs (MAC) has not issued any travel alerts for Xinjiang.

The Taipei Times tried to contact the MAC for its view on the situation in Urumuqi, but a spokesperson was unavailable for comment.
---
China proposed inviting DPP to forum, KMT says
 
GET TOGETHER: A Democratic Progressive Party spokesman said this weekend's KMT-CCP forum in Changsha, China, had nothing to do with the opposition party
 
By Flora Wang
STAFF REPORTER
Tuesday, Jul 07, 2009, Page 1

The Chinese Nationalist Party (KMT) welcomes other political parties to participate in the upcoming forum between the KMT and the Chinese Communist Party (CCP), a KMT official said yesterday.

KMT spokesman Lee Chien-jung (李建榮) told reporters that the CCP had proposed inviting Democratic Progressive Party (DPP) members to the forum and that the KMT did not object to the proposal.

However, Lee said it should be the CCP, not the KMT, that sends out the invitations, adding that the KMT did not know who the CCP would invite.

Lee said the KMT would reveal more details about the forum during a press conference scheduled for Thursday.

Lee was approached for comment after the Chinese-language China Times quoted KMT Deputy Secretary-General Chang Jung-kung (張榮恭) as saying the CCP would invite DPP members to the forum this year.

KMT Chairman Wu Poh-hsiung (吳伯雄) will lead a delegation to the fifth KMT-CCP forum this weekend in Changsha, Hunan Province. The story quoted a source, who was allegedly close to the DPP, as saying DPP members who had been invited and had promised to attend the forum had asked organizers not to publicize the list of attendees because they would come under pressure from party headquarters.

DPP Chairperson Tsai Ing-wen (蔡英文) said last month that DPP members should request the party's authorization before visiting China.

Lee said yesterday that certain important figures in the Taiwan Solidarity Union (TSU) would also visit China in the near future, but he dismissed media speculation that the group included former president Lee Teng-hui (李登輝), the TSU's spiritual leader.

DPP acting spokesman Chuang Suo-hang (莊碩漢) told a press conference yesterday that the KMT-CCP forum had nothing to do with the DPP, and the party had not received any invitations.

Asked to comment on how the party would react if any of its members were to attend the forum, Chuang said that party regulations stipulate that high-level party officials should request authorization from headquarters if they wish to visit China and the party would make a decision on a case-by-case basis.
---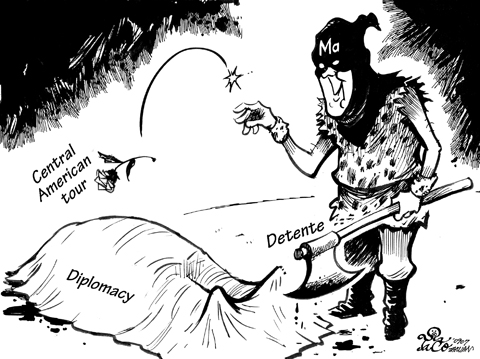 ---
Ma and Beijing's agenda

Tuesday, Jul 07, 2009, Page 8

A Beijing-initiated rumor made its rounds last year regarding an aborted military plan to invade Taiwan in case the Democratic Progressive Party's (DPP) presidential candidate prevailed.

The fact that the innuendo was made public after — not before — the election, showed Beijing's lack of confidence in its effect on Taiwanese voters.

Undoubtedly playing a role was the memory of the two US carriers streaming toward Taiwan in response to Beijing's missile threat during Taiwan's first presidential election in 1996 and its aftermath — with Taiwanese voters coming out in droves to sample the first taste of their nascent sovereignty.

Given then Chinese Nationalist Party (KMT) presidential candidate Ma Ying-jeou's (馬英九) strong showing in the public opinion surveys leading up to the official polls, Beijing could afford to be cautious last year.

The KMT leadership, however, harbors no such restraints — not while Ma is counting on the intimidation card to deliver at least a second four-year term.

Taiwanese elected Ma seemingly on account of his sales pitch on an economic pie in the sky and their belief that he can help improve cross-strait relations. In essence, Ma and the KMT successfully exploited the basic instincts of greed and fear in Taiwan.

Ma turned out to have no other plan for Taiwan than dependence on China.

Not unlike a drug dealer, Ma and the KMT are reaping huge benefits politically and financially by feeding this addiction. And, just like in the case of a drug addict, the health of Taiwan's economy plummeted.

That leaves fear as the only remaining venue for Ma to horse around in and explains why Ma is so intent on securing Beijing's nod as well as making an example of former president Chen Shui-bian (陳水扁) and his family. To be specific, Ma wants to put Taiwanese in the grip of fear to the extent that they would succumb to the myth that Taiwan will have no tranquility without the KMT at the helm and that no one could garner enough impetus to seriously challenge Ma in the next presidential election. For this, signs indicate that Ma has a multifaceted plan.

Domestically, Ma has commanded the KMT-dominated legislature to draft laws allowing his government to define civil liberties as it sees fit. With the KMT's control over the judiciary, Ma aims to update the practice of old-fashioned martial laws. He wants to have the luxury of running a pseudo police state, while having no misgivings about signing an international covenant to uphold human rights at the same time. He is hoping that this would allow him to fend off international pressure while instilling dread in the opposition.

Still, he counts on Beijing to deliver the bulk of coercion.

But, like a double-edged sword, fear can cut both ways.

Ma is handing China enough rope, including vital economic controls, to ascertain that Beijing can rein in Taiwan's voters if they ever ponder abandoning China's "favorite son." But other dynamics could spoil this "cozy" arrangement.

A de facto unification to ensure his and the KMT's perpetual rule and continuing plundering of Taiwan would suit Ma fine.

Beijing, however, ultimately wants Taiwan's annexation — something Ma is unable to deliver, neither in his capacity as the president of the Republic of China (ROC) nor as KMT chairman. Part of the difficulty resides in the fact that neither of the two entities holds Taiwan's sovereignty.

Beijing is under no illusion that taking legal possession of Taiwan would necessitate a war, of which the risks and consequences are issues Beijing prefers to eschew at the moment.

What Ma is doing rushes Beijing's timeframe considering that "the window of opportunity" might be fleeting at best, given Ma's gross distortion of the duty of his office.

If, in the end, Beijing leaders' angst over the fluidity of Taiwan's voter sentiment prompted them to miscalculate and launch a military invasion of Taiwan before the end of Ma's term, whatever Beijing threw at the Taiwanese at the beginning would have boomeranged.

HUANG JEI-HSUAN
Los Angeles, California