Hu abandons G8 summit to deal with Xinjiang
 
STRONG WORDS: Turkish Prime Minister Recep Tayyip Erdogan described the situation in Xinjiang as an 'atrocity' and urged China to exercise restraint

AFP AND AP, ISTANBUL AND URUMQI, CHINA
Thursday, Jul 09, 2009, Page 1

Mobs wielding makeshift weapons roamed Urumqi, the capital of China's Xinjiang region, yesterday despite a massive show of force by Chinese troops that brought some calm.

Chinese President Hu Jintao (胡錦濤) abandoned a G8 summit in Italy to tackle one of China's worst spikes in ethnic tensions in decades.

Military helicopters circled Urumqi as thousands of soldiers and riot police filled the city shouting out "protect the people."

"We support this," said a 45-year-old Han Chinese man as he watched the troops roll by in trucks. "But they should have got here sooner. It took them three days to do this. Why so long?"

After authorities blamed Uighurs for unrest on Sunday that authorities say left 154 people dead, Han Chinese took to the streets on Tuesday with makeshift weapons vowing to defend themselves.

After a curfew was declared on Tuesday, Chinese authorities appeared determined to show they were able to maintain order.

Thousands of riot police lined up on a main road in Urumqi dividing the city center from a Uighur district, with soldiers behind them.

The security build-up had an impact with fewer people wielding weapons taking to the streets, and Urumqi Mayor Jerla Isamudin told reporters in the late afternoon that the situation in the city was "under control."

He also warned that anyone found guilty of murder in connection to the unrest would be given the death penalty.

The Chinese Communist Party boss of Urumqi also said the government would seek the death penalty for anyone found to be behind the deaths of people killed in riots.

Li Zhi (栗智) said many people accused of murder had already been detained, mostly students.

But tensions remained high, with some Han Chinese and Uighurs continuing to arm themselves with sticks, poles, knives and other weapons, leading to confrontations and violence.

In one incident, about 200 Uighurs armed with sticks, pipes and rocks began protesting directly in front of a police cordon that was dividing their neighborhood from a Han-populated area.

A smaller group of Uighurs had been trading insults and accusations with Han who were on the other side of the cordon and also armed with makeshift weapons.

The crowd of Uighurs grew after a helicopter dropped leaflets blaming Sunday's unrest on exiled Uighur leader Rebiya Kadeer, but they also claimed police had overnight allowed Han Chinese to freely attack Muslim areas.

Highlighting the severity of the crisis, the government announced Hu had cut short his trip to Italy for the G8 summit.

"I have never seen a Chinese president shorten a trip abroad before ... there is clear concern," said Jean-Pierre Cabestan, professor of political science at Hong Kong Baptist University.

Turkey yesterday called on China to secure a quick end to the "atrocity" in Xinjiang and show restraint in its response, saying it cannot ignore the plight of the region's Turkic-speaking Uighurs.

"We expect a swift end to the events amounting to atrocity, the prevalence of common sense ... and the immediate implementation of the necessary measures in line with universal human rights," Turkish Prime Minister Recep Tayyip Erdogan said.

"The Uighurs are a community of ethnic brothers whose fate concerns us," Turkish Foreign Minister Ahmet Davutoglu said earlier.
 
---
Fears raised over official's daughter studying in PRC
By Flora Wang AND Shih Hsiu-chuan
STAFF REPORTERS
Thursday, Jul 09, 2009, Page 1
Legislators across party lines yesterday expressed concern over national security after it was revealed that the daughter of a high-ranking official at the Military Intelligence Bureau is a college student in China.
Chinese Nationalist Party (KMT) Legislator Lin Yu-fang (林郁方), a member of the legislature's Foreign and National Defense Committee, said although it was not illegal for the official's daughter to study in China, it should have been avoided given the sensitivity of her father's job.

Lin suggested that lawmakers amend the law if there is a consensus that the children of high-ranking security officials should be banned from studying in China.

KMT Legislator Lo Shu-lei (羅淑蕾) alleged that the intelligence official sent his daughter to China because National Security Council Secretary-General Su Chi (蘇起) and Straits Exchange Foundation Chairman Chiang Ping-kun (江丙坤) were not sanctioned after members of their families were found to have business interests in China.

"If a leader sets a bad example his subordinates are likely to follow," Lo said, referring to Su's younger brother, National Chengchi University law professor Su Yeong-chin (蘇永欽), who serves as a visiting professor at Zhejiang University in China, and Su Chi's wife, Chen Yue-ching (陳月卿), who went to Beijing in April to promote a book.

The legislators were responding to a story in the Chinese-language Next Magazine, which said the daughter of Lee Wen-fang (李文芳), a section director of the Military Intelligence Bureau, is studying in China.

KMT Legislator Chiu Yi (邱毅) said Chinese intelligence officials would seize this "perfect opportunity" to breach Taiwan's security.

Democratic Progressive Party (DPP) Legislator Chen Ting-fei (陳亭妃) said government officials had imitated the behavior of members of Su Chi's family.

KMT caucus secretary-general Yang Chiung-ying (楊瓊瓔), on the other hand, urged politicians to respect the right of people to choose where to study.

Yang said about 1,500 Taiwanese study in China each year, and added that education and politics should be separate.

The Ministry of National Defense yesterday said that Lee's daughter's situation had nothing to do with Lee's job.

"Lee has passed regular background and security checks during his service with the Military Intelligence Bureau. He reported that his daughter is studying in China. There is no problem with that," a press release from the ministry said.

In related news, the Control Yuan's latest asset declarations of government officials released yesterday showed that Examination Yuan President John Kuan (關中) owns a house in Shanghai.

Kuan and his wife bought the house in May 2005 for NT$17.5 million (US$526,000). Kuan's wife owns the property.

One of Kuan's staff said that the house is used by the couple's daughter Kuan Yun-ti (關雲娣) who has a film company in Shanghai.
 
---
Chen Chih-chung testifies as witness
 
MUM'S THE WORD: The former president's son said several times that his mother Wu Shu-jen had told him how much money to transfer and to which bank accounts
By Shelley Huang
STAFF REPORTER
Thursday, Jul 09, 2009, Page 3

Former president Chen Shui-bian (陳水扁) yesterday came face to face with his son Chen Chih-chung (陳致中) at Taipei District Court, with the latter saying he transferred money to his Swiss bank accounts at the request of his mother.

"I listened to my mother on all [transactions]," Chen Chih-chung told the court.

Yesterday was the first time that the father and son faced each other in court. Chen Chih-chung appeared yesterday as a witness.

When he entered the courtroom, Chen Chih-chung and his father looked at each other and the former president nodded toward his son.

Presiding Judge Tsai Shou-hsun (蔡守訓) informed Chen Chih-chung of his right not to testify based on his relation to the former president. Chen Chih-chung replied that he understood his rights.

He was questioned about his family's alleged money-laundering activities and gave detailed information on when and how overseas bank accounts were opened and fake companies established.

Chen Chih-chung said several times that his mother Wu Shu-jen (吳淑珍) had instructed him on how much money to transfer and to which accounts.

When Tsai asked Chen Chih-chung whether the overseas bankers knew that he was the son Taiwan's president, he replied that bankers had checked his and his wife's passports to verify their identities, but had not asked about their family background.

Tsai also asked about Chen Chih-chung's return to the US on Dec. 15, 2006 — the day that his mother fainted in court.

Chen Chih-chung said he had not returned to the US to handle his overseas bank accounts, but to honor an appointment with a professor.

"After I rushed to the hospital to see my mother and found that she was okay, I traveled abroad as I had originally planned," he said.

Chen Shui-bian did not make eye contact with his son during the two hours of questioning. He briefly exchanged whispers with one of his court-appointed attorneys.

Although the former president was entitled to ask the witness questions, he remained silent.

Since his last detention hearing on May 7, Chen Shui-bian has declined to speak in his defense or answer questions in protest of what he calls an unfair judicial system.

The former president will appear in court again today. A detention hearing has also been scheduled for tomorrow.
---
DPP bars party members from forum in China
 
By Rich Chang and Mo Yan-chih
STAFF REPORTERS
Thursday, Jul 09, 2009, Page 3

The Democratic Progressive Party (DPP) yesterday passed a regulation barring party members who have served as party or elected officials from participating in this weekend's Chinese Nationalist Party (KMT)-Chinese Communist Party (CCP) forum.

Acting DPP spokesman Chao Tien-lin (趙天麟) said yesterday that DPP Chairperson Tsai Ing-wen (蔡英文) introduced the proposal at the party's Central Executive Committee meeting and it was unanimously approved.

The proposal stipulates that DPP members who have served as party or elected officials and who attend the forum will be strictly disciplined.

Chao said the DPP opposed the KMT-CCP forum because it violated the democratic process by discussing cross-strait affairs on the party level.

The KMT had said former DPP legislator Hsu Jung-shu and former Council of Agriculture minister Fan Chen-tzung (范振宗) would join KMT Chairman Wu Poh-hsiung (吳伯雄) and the KMT delegation at the fifth KMT-CCP forum on Saturday and Sunday in Changsha, Hunan Province.

KMT Secretary-General Wu Den-yi (吳敦義) had said Hsu and Fan were invited to the forum by the CCP, adding that an increasing number of DPP members believe cross-strait exchanges are important.

The DPP said Fan was no longer a member of the party and that he had taken a pro-KMT position during the presidential elections in 2004 and last year. His participation at the forum was therefore not a matter that concerned the DPP.

However, Hsu is a senior DPP member and should not attend the forum, the DPP said, calling on her not to take part.

KMT Spokesman Lee Chien-jung (李建榮) criticized the DPP for refusing to acknowledge that cross-strait exchanges were positive.

Lee urged the DPP to change its policies and communicate with China openly.

"The DPP's attitude is rigid and regressive, and such an attitude will have a negative impact on the development of cross-strait relations," he said.

Lee urged the DPP to respect the right of its members to attend the forum.

Meanwhile, the KMT said yesterday that the delegation to the forum would include about 270 people, including Hsu and Fan.

The forum will address the issue of cross-strait cultural and educational exchanges in addition to economic issues, Chang Jung-kung (張榮恭), director of the KMT's Chinese Affairs Department, said yesterday at party headquarters.

As the focus of the forum will be culture and education, several government officials from the Ministry of Education, the Council of Cultural Affairs and the Government Information Office will also attend, he said.

Concerning the participation of DPP members, Chang said the KMT had invited the DPP to join the forum last year, but no DPP members had accepted the invitation.

"We are glad to see DPP members attend this year's forum at the invitation of China," Chang said.

Wu is scheduled to meet People's Political Consultative Conference Chairman Jia Qinglin (賈慶林) on Saturday to open the forum.

Chang said Wu might not meet Chinese President Hu Jintao (胡錦濤) during the trip as the forum would not take place in Beijing.

Meanwhile, KMT Spokesman Lee Chien-jung (李建榮) said yesterday that President Ma Ying-jeou (馬英九), the only candidate in the party's chairmanship election, would visit cities and counties around the nation starting on Sunday to solicit support from party members.

The president will conduct election activities on the weekends and after work hours, Lee said.

The election will be held on July 26. Ma is expected to take over the chairmanship in September.
---
Kadeer says 400 killed in Xinjiang
 
UNREST SPREADS:: The president of the World Uighur Congress said sources within the region had told her the deaths were the result of police shootings and beatings

AFP, BEIJING AND URUMQI, CHINA
Thursday, Jul 09, 2009, Page 5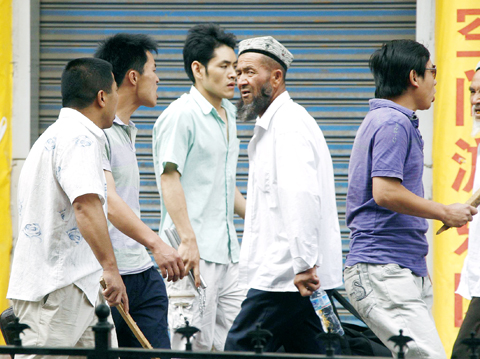 Armed Han Chinese shout insults at a Uighur man, center, after they broke through a line of soldiers to get access to a Uighur neighborhood in Urumqi, China, yesterday.

PHOTO: EPA

Police killed 400 Uighurs in the capital of China's Xinjiang region during ethnic unrest there, exiled Uighur leader Rebiya Kadeer wrote in yesterday's Wall Street Journal Asia, while AFP reporters witnessed two attacks on Uighur men yesterday.

Kadeer said Uighur sources within "East Turkestan," the name Uighurs use for the northwest region, had told her 400 Uighurs had died "as a result of police shootings and beatings" in Urumqi since violence erupted there on Sunday.

The president of the World Uighur Congress said that unrest was spreading across the region and that unconfirmed reports also indicated more than 100 Uighurs had been killed in Kashgar, another major city in Xinjiang.

Chinese authorities have said 156 people died in Sunday's ­violence in Urumqi. They have not made clear how many of the victims were Han Chinese and how many were Uighur, or how they died.

China has blamed Kadeer for instigating the violence, which she strongly denies.

In the Wall Street Journal Asia, Kadeer expressed concerns about the security sweep that Chinese authorities have said has already led to the arrests of 1,434 suspects.

"Uighurs have contacted me to report that the Chinese authorities are in the process of conducting a house-to-house search of Uighur homes and are arresting male Uighurs," she wrote. "They say that Uighurs are afraid to walk the streets in the capital of their homeland."

Sunday's protest by Muslim Uighurs was sparked by a brawl between Uighurs and Han Chinese workers at a toy factory in southern China last month, which left two Uighurs dead, according to official figures.

Kadeer said the protest against the authorities' response to the initial incident was peaceful and should not have descended into violence.

"I unequivocally condemn the use of violence by Uighurs during the demonstration as much as I do China's use of excessive force against protestors," she wrote.

ATTACKS

Meanwhile, AFP reporters witnessed two attacks yesterday.

Three Muslim Uighur men heard the chants of a baying mob and began running for their lives.

"Get them! Strike! Strike! Strike!" dozens of Han Chinese screamed as they began chasing the trio.

Two of the men escaped.

One was not so lucky and for 30 terrifying seconds he lay on the ground as about six people kicked him repeatedly, while dozens of Han Chinese looked on yelling encouragement to the attackers.

Police soon moved in to end the attack, but not before one woman with permed hair who looked in her 30s managed to kick the helpless man.

As police pushed the crowd away but made no attempt to arrest the assailants, the Uighur man lay on the ground with his face bloodied and in visible agony.

The attack was one of two by Han Chinese against Uighur men in China's restive Urumqi city that AFP reporters witnessed yesterday.

The mob assaults came despite a massive show of force by Chinese military and police in Urumqi following riots on Sunday.
---
Internet plays key role in Uighur unrest

AP, BEIJING
Thursday, Jul 09, 2009, Page 5

The brawl between Han Chinese and Uighurs at a factory in southern China was scarcely covered by state media, but accounts and photos spread quickly via the Internet and became a spark that helped ignite deadly riots thousands of kilometers away in the Uighur homeland.

Even in tightly controlled China, relatively unfettered commentaries and images circulating on Web sites helped stir up tensions and rally people to join an initially peaceful protest in the Xinjiang region that spiraled into violence on Sunday, leaving more than 150 people dead.

In China, as in Iran and other hotspots, the Internet, social networking and micro-blogging are playing a central role in mobilizing people power — and becoming contested ground as governments fight back.

In the Internet age, events in "places like Xinjiang or Tibet, which were always considered very remote," can suddenly become close and immediate for people around the world, said Xiao Qiang (蕭強), director of the Berkeley China Internet Project at the University of California-Berkeley.

Since the outburst in the ­Xinjiang capital of Urumqi, the Chinese government has blocked Twitter and Facebook, scrubbed news sites, unplugged the Internet entirely in some places and slowed it and cell phone service to a crawl in others to stifle reports about the violence — and get its own message out that authorities are in control.

Keyword filters have been activated on search engines like Baidu and Google's Chinese version so that searches for "Xinjiang" or "Uighur" only turn up results that jibe with the official version of events.

That a fight in one part of China could generate a riot 10 days later thousands of kilometers away underscores how slippery fast-evolving communication technologies can be.

State media reports said only two people died in the June 25 fight between Uighur and Han Chinese workers at a toy factory in southern Shaoguan city. In the days that followed, however, graphic photos spread on the Internet purportedly showing at least a half-dozen bodies of Uighurs, with Han Chinese — members of China's majority ethnic group — standing over them, arms raised in victory.

Expunged from some sites, the photos were posted and reposted, some on overseas servers beyond the reach of censors. Their impact was amplified by postings on bulletin boards and other sites.

Uighurbiz.cn, a site popular among Uighurs, carried an open letter over the weekend suggesting there would be revenge for the factory fight.

A flurry of postings on another popular site, Diyarim.com, began calling for action in Urumqi. Diyarim's founder, Dilixati, remembers one: "Gather at 5 pm at ­People's Square. Young people if you have time come to the square."

The messages kept reappearing, and he called police to alert them and took the site off-line, said ­Dilixati, who would give only his first name for fear of reprisals.

Hours after Sunday's riot, when police were still trying to pacify Urumqi's streets, Xinjiang's leaders went on TV to denounce Uighur separatists living abroad for using Diyarim and Uighurbiz to organize the disturbance.

That the riot occurred in Urumqi may be testament to its being the most-wired place in Xinjiang, a remote region of vast deserts and towering mountains.

Only a dozen years ago, when China was scarcely wired, details of the authorities' brutal quelling of a similar protest by Uighurs in the city of Yining leaked out slowly and even today remain obscure.

Unplugging Internet and cell phone service has become ­standard practice for dealing with civil unrest. The government did so in March over worries about renewed anti-Chinese demonstrations in Tibetan areas.

Though officials usually prefer to keep silent about such tactics, Urumqi's top Communist Party official, Li Zhi (栗智), told a news conference on Tuesday that the Internet was deliberately cut off in parts of the city. He said it was done "in order to quench the riot quickly and prevent violence from spreading to other places."

Such censorship does not quiet unrest for long, but instead ends up giving rumors more credence than they deserve, Xiao said.

"The more you try to police the Internet, and delete information, the more those rumors become some kind of truth and people just pick what they want to believe," Xiao said. "That's the negative direct consequences of such tight information control."
---
Kadeeer: From poverty to Uighur leadership, exile

THE GUARDIAN , WASHINGTON
Thursday, Jul 09, 2009, Page 5

The Chinese government says the mastermind behind the violent clashes between Muslim Uighurs and ethnic Han Chinese in China's Xinjiang region is a diminutive grandmother with long, salt-and-pepper braids living in exile in a suburb of the US capital.

Once one of the richest women in Xinjiang and held up as an exemplar of China's purported multi-ethnic harmony, Rebiya Kadeer now heads two prominent Uighur exile groups, speaking out against Beijing's oppression of the ­Turkic-speaking minority. Beijing has accused Kadeer of organizing the protests that have left at least 156 dead and more than 1,000 injured, accusations she has denied.

Kadeer's persecution by the Chinese and her stature as a public face of the Uighur people have earned her comparisons to the Dalai Lama, the exiled Tibetan spiritual leader.

Before her exile, Kadeer, 62, rose from poverty to become a successful entrepreneur, running trading companies and department stores. Beijing named her in China's official delegation to the 1995 UN conference on women in Beijing and to the country's legislature.

By 1997 she had formed an organization to aid Uighur women and had opened a Uighur language school, an action tinged with enough separatism to earn her scrutiny from Chinese security agencies. In August 1999 Kadeer was detained in Urumqi as she headed to meet US congressional staff members. She was charged with passing state secrets to foreigners and sentenced to eight years in prison.

The US government and human rights groups across the world pressed for her release. In 2005, the Chinese government released her from jail and put her on a plane to northern Virginia.
---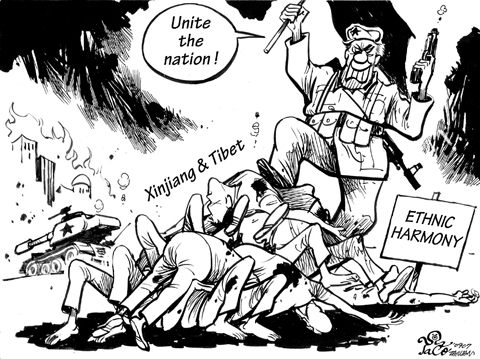 ---
TV talk show pundits' bias has harmed media ethics
 
By Hu Wen-huei 胡文輝
Thursday, Jul 09, 2009, Page 8

'This is a bogus form of freedom of speech and represents moral decay.'

How valuable is freedom of speech?

Countless numbers of people sacrificed their lives so that we can enjoy the freedom of speech we have today, an invaluable sacrifice. However, many so-called "political commentators" on TV talk shows sell this freedom like some cheap product, spreading vicious, distorted and biased views to increase their fame.

Not long ago, there were reports that a group of such commentators were treated to a shark's fin soup banquet valued at more than NT$10,000 per head by a political personality they had earlier criticized on a talk show. Their role as commentators was criticized, but after the scandal died down, all was back to normal.

The scandal was only the tip of the iceberg. Commentators often criticize others for having no sense of shame. The banquet scandal showed these commentators for what they really are. The incident should have made those involved question their own shamelessness. I doubt it did.

Commentators often talk about how the public have the right to know the truth, yet spit out nonsensical rubbish. They declare that they represent independent views and critique, but at the same time conspire with others who share their opinions to serve certain interest groups. They also claim they exist to battle the injustices caused by those with special privileges, while at the same time being willing to help those in power create new injustices.

Many commentators claim to be intellectuals, but intellectuals should speak the truth to those in power in a society lacking freedom of speech. But even in a country with freedom of speech, Taiwan's political commentators abuse their positions to serve those in power. This is a bogus form of freedom of speech and represents moral decay.

Who wields power now? The answer of course is President Ma Ying-jeou (馬英九) and his administration. The Chinese Nationalist Party (KMT) enjoys a majority in the legislature. Ma's power will be even more far-reaching after he becomes chairman of the KMT.

People who criticize those in power are brave, while the underlings of the powerful who criticize and harass the opponents of those in power are cowards.

Some criticize political commentators, saying their biased and subjective opinions are bringing disaster to Taiwan and its public. However, they don't have that much power. When we see the "freedom of speech" that these commentators hide behind for what it really is, we will realize a great number of them are in fact imbeciles.

The twisted, subjective opinions of Taiwan's "renowned" political commentators and the supposed "inside scoops" they frequently dig up pose much harm to the credibility of the media. Reporters spend endless amounts of time and energy trying to find out the facts behind news stories, but all their hard work is nowhere near as influential as the conjecture of political commentators on TV and the way in which this conjecture comes across as a hard fact.

Media ethics have been seriously damaged in Taiwan. However, with developments on the Internet giving increased opportunities for people to express their opinions, I am sure the last days of these imbeciles are imminent.

Hu Wen-huei is a Liberty Times columnist.
---
Democracy in Africa is often an illusion
 
Rulers should engage in bottom-up democracy-building and create an honest police force and judicial system

By Shlomo Ben-Ami
Thursday, Jul 09, 2009, Page 9

US President Barack Obama's much discussed Cairo speech represented not only the demise of former US president George W. Bush's ideological drive to reconstruct the Muslim world through a democratic revolution; it marked the end of US liberalism's quest to remake the world in its own image.

Instead, Obama's administration is guided by a relativist political realism that assumes respect for cultural and religious distinctions. Secretary of State Hillary Clinton underscored this tendency during her first visit to China, where her unmistakable message was that order and stability take priority over liberty and human rights.

But what about Africa, the forgotten continent that has been conspicuously absent from Obama's hectic agenda? There, both the resilience of the local political culture and strategic imperatives are converging to define the limits of the West's capacity to impose its values.

A fortnight before Obama's Cairo speech, a delegation of the UN Security Council visited four African countries to express concern about the resurgence of unconstitutional change on the continent. Africa does indeed present a gloomy picture, with countries virtually crumbling to dust as a result of autocracy and stagnation.

But the emerging Obama doctrine suggests that "elections alone do not make true democracy" and that, as has been the case in the Arab world, any abrupt move to democracy is bound to produce chaos. Moreover, in Africa post-authoritarian rulers are not necessarily respectful of human rights and decent governance.

The West's attitude toward democracy in the Third World has always been erratic. It applauded the military takeover in Algeria in the early 1990s aimed at curtailing the democratic emergence of an Islamist regime, and is happy to conduct business with authoritarian regimes throughout the Arab world. Yet, public infatuation with the external trappings of democracy is usually the norm. Take Guinea for example. After years of turmoil, lower-­ranking officers headed by Captain Moussa Dadis Camara took power last December in what was a widely supported and peaceful takeover. Both the EU and the US immediately reacted by threatening the ruling junta with a total cut-off of aid unless constitutional rule and elections were restored.

Though Guinean President Moussa Dadis Camara eventually succumbed to pressure and declared elections for this fall, he has a valid point in insisting that he first must secure stability so that elections do not become a mere prelude to civil strife. The case of neighboring Guinea-Bissau, where a blood-bath has just taken place ahead of general elections, should serve as a warning.

Why should the West insist on elections in a country that since 1984 was ruled by a Western-backed dictator, Lansana Conte, who came to power in a military coup? He maintained a Constitution and held elections, but this did not make him a democratic ruler, nor was he able to extricate his country from appalling poverty despite its tremendous potential for economic development.

The problem in Africa is one of effective government, not of elections and high-minded constitutions. Rulers should be encouraged instead to engage in bottom-up democracy building, create an honest police force and judicial system and allow civic organizations to flourish. Training police forces to secure law and order without resorting to bloodshed is no less important than elections. Elections and constitutions in Africa — Zimbabwe and Gabon's dictatorship have both — have never been a safeguard against tyranny and human rights violations.

Camara's test — indeed, the test for most African rulers — consists in protecting civilians and their property, in establishing law and order without oppressive measures and in fighting corruption. Highly responsive to international pressure, he was recently praised by Human Rights Watch for his "very important effort" in recognizing the destructive role of corruption and drug trafficking and for launching a crackdown on both.

Order and stability, even in the absence of constitutional rights, is what makes countries like Libya and Tunisia legitimate in the eyes of the international community. To recover the confidence of the international business community and the world's mining giants, who were enraged in recent years by forced renegotiations of existing deals by governments in Congo, Mongolia and Guinea, Camara was also wise to retreat from his threat to renegotiate existing mining concessions.

The West is right to insist on norms of decent government, but it risks losing its capacity to influence events in Africa when it automatically links aid to elections. For as it does, China is using its colossal financial firepower to expand its strategic position on the continent, without linking aid and investment to pesky demands for good governance. China's drive to retain a say in the pricing of iron and bauxite, of which Guinea is the world's major producer, means that it can always receive a warm welcome from officials tired of being lectured to by Westerners.

It is not good news for Western human rights champions if China ends up training policemen in countries like Guinea. Not much imagination is required to discern what norms the Chinese might inculcate into the 1,000 Central Asian policemen and judicial officials they are currently training.

As Obama understands, such authoritarian aid is a serious challenge to the West's geo-strategic interests, including the fight against the drug trade. It is also undermining the opportunity to lay the basis for true democratic reform throughout the continent.

Shlomo Ben-Ami is a former Israeli foreign minister who now serves as vice president of the Toledo International Center for Peace.
 
---
Paiwan and Rukai tattoo art fading fast

Thursday, Jul 09, 2009,Page 15

VIEW THIS PAGE

Tattooed hands used to be how Paiwan and Rukai women showed their nobility, how much they were liked and their purity. During the Japanese era, however, the tradition was looked down upon, fines were issued and it was forbidden. It became very rare that women wanted to have their hands covered with beautiful tattoos. The old tradition now lives on in only three old women in the Nanhui tribe of the eastern Paiwan, and this is cause of concern for old tribal culture.

Kao Cheng-chih, a Paiwan tribal chief and director of the Paiwan health center in Chinfeng Township, Taitung County, has studied the hand tattoo tradition. He says hand tattoos are a Paiwan and Rukai sign of nobility and privilege, and that it was restricted to daughters of tribal chiefs and nobility. Any common tribal member who wanted to gain this right had to pay a high price and also invite all tribal members to a banquet to gain their approval. The tattoos, however, would still be different from the nobility's.

The pain suffered by the girls during the tattooing highlights their nobility and honor, and it also emphasizes their pre-marriage purity and their ability to work hard and suffer hardship after getting married. In addition, the girls also hoped it would improve their marriage prospects. Kao says the process involves many taboos. Before it begins, the shaman must pray for luck and ask for the gods' blessing. Pregnant women are not allowed to watch the ritual, and anyone present is not allowed to sneeze or pass wind. If any of the taboos are broken, the ritual must come to a temporary stop and another day will have to be chosen for its continuation.

"Clothes can be changed and you may die, but hand tattoos stay with you for a lifetime and even in death." Ninety-six-year old Wen Chin-niao is the oldest member of the Baomuli tribe in Chenghsing Township and the only one there with tattooed hands. The beautiful tattoos were given to her when she was married into the Baomuli clan at age 14 because, following tradition, her parents wanted to congratulate her on reaching adulthood.

Although the tattoos on the back of her hands have faded with time, Wen still clearly remembers the pain and the significance of the tattoo. Lightly stroking the back of her hands, she says it was a painful procedure. She recalls that the needle was made from thorns off the trunk of an orange tree and that the tattoo was made by hitting on the needle with a wooden club. The blood was then wiped off the hand, and soot from the bottom of a pot was spread over the tattoo. The whole process took two days, and it then took more than two weeks for the swollen hands to return to normal.

Wen says the tattoos are the mark of a chieftain, and that in the past, all young girls had to have their hands tattooed. The shaman making the tattoo would apply different patterns depending on the girl's background. Hand tattoos are a witness to tradition and history. These tattoos have followed Wen through her long life, and although they have faded over time, they remain her most beautiful memory.