¡@
Web users praise World Games ceremony on PTT
¡@
HOT TOPIC: Posts began appearing on the nation¡¦s top bulletin board system during the opening ceremony and exceeded 1,000 comments by yesterday evening
¡@
By Ger Yu-hao and Lin Hsiao-chuan
STAFF REPORTERS
Sunday, Jul 19, 2009, Page 2

The opening ceremony of the World Games in Kaohsiung on Thursday night left many impressed, with a number of Internet users posting messages on the nation¡¦s largest bulletin board system, PTT, to praise the show as the pride of Taiwan and Kaohsiung.

Posts began appearing on PTT while the ceremony was still in progress and continued yesterday, with the number of posts on that site alone exceeding 1,000.

¡§It was a glorious moment for the people of Kaohsiung,¡¨ an Internet user posted under the name ¡§Tindong.¡¨

Tindong said that he normally found traditional music irritating, but enjoyed it in the opening ceremony.

His post referred to part of the opening performance in which performers dressed as deities danced to folk music, evoking a scene from a typical Taiwanese temple celebration.

KAOHSIUNG PRIDE

¡§I¡¦m proud to be a native of Kaohsiung,¡¨ another Internet user said.

¡§I can see the changes in Kaohsiung,¡¨ another wrote.

¡§I was so touched to hear [Kaohsiung mayor] Chen Chu [³¯µâ] deliver her speech in Taiwanese,¡¨ another post said.

Chen, who gave an address at the opening ceremony, said ¡§no country in the international community should be forgotten, and Taiwan cherishes every opportunity to embrace the world.¡¨

EXCITEMENT

An Internet user who posted under the name ¡§Politik¡¨ described the World Games opening ceremony as exciting.

Politik said that although the opening ceremony may not have been on the same scale as that of other international sporting events, it was clear that all the performers had done their best to show the world the best of Kaohsiung.

Another Internet user, ¡§Designet,¡¨ said he wanted to ¡§shout out my love for Kaohsiung¡¨ and was so touched that he almost cried when he heard Chen say that ¡§Kaohsiung has shown its confidence and its ability to shoulder the responsibilities of a member of the international community.¡¨

CRITICISM

But some PTT posts leveled criticism at the Public Television Service (PTS), saying the quality of its broadcast of the opening ceremony was less than satisfactory.

A number of Internet users complained that PTS often lost the focus of action during the broadcast and aired too many commercials during the introduction of all the national teams.

¡§That showed a lack of respect for those countries¡¦ teams,¡¨ one Internet user said.
¡@
---
¡@
Chinese Twitterer held for repeating murder-rape claim

THE GUARDIAN , BEIJING
Sunday, Jul 19, 2009, Page 5

The hundreds following amoiist on Twitter were used to his stream of messages. But they ended abruptly with two terse updates early on Thursday morning.

"i have been arrested by Mawei police, SOS" he wrote. Then shortly afterwards: 禅ls help me, I grasp the phone during police sleep."

His followers quickly passed on his plea to other Twitterers.

But since then there has been silence from amoiist ¡Ð also known as Peter Guo, or Guo Bofeng ¡Ð who is apparently the latest Internet user in China to be caught up in an inquiry that began with claims of defamation but that police now say involves 昼tate secrecy issues."

DETENTIONS

As many as seven bloggers have been detained over claims that a 25-year-old woman, Yan Xiaoling, had been gang-raped and murdered. It was further alleged that the man responsible was connected to local authorities in her city in Fujian Province.

Officials dismissed the stories, which first surfaced late last month and insisted Yan had suffered a hemorrhage caused by an ectopic pregnancy.

They turned their attention to tracking down those they suspected were responsible for the stories.

Global Voices Online said Guo posted an interview with Yan旧 mother in which she repeated the claims and accused local authorities of a cover-up.

An employee at Mawei police station said: 荘hese cases are in the process of investigation ... We will release information if there is progress."

The case is testament to the growing ability of Chinese citizens to share information through the Internet and to the restrictions on those who do.

In a recent interview over the government's Green Dam censorship program, Guo said: "The significance of internet in China is huge. It can«æ change the current situation in China right away, but it has deeply influenced China."

'TROUBLEMAKER'

Guo, who described himself on Twitter as "a troublemaker in Amoy [Xiamen], living with character sales," is reportedly a professional interpreter.

His two calls for help were in English, although he generally uses Chinese.

He often blogs and tweets about current affairs and internet censorship and has more than 1,500 Twitter followers.

A message posted several hours before his pleas read: "Peter Guo, one of the twitterers in China, originally from the Fujian countryside, not a famous blogger; people called him amoiist, good character, young, handsome."

Liu Xiaoyuan, who represents another detained blogger, You Jingyou, said lawyers had been told they could not meet their clients because the case involved "state secrets."

Twitter is blocked in China but many in the country still tweet through a variety of means.
¡@
---
¡@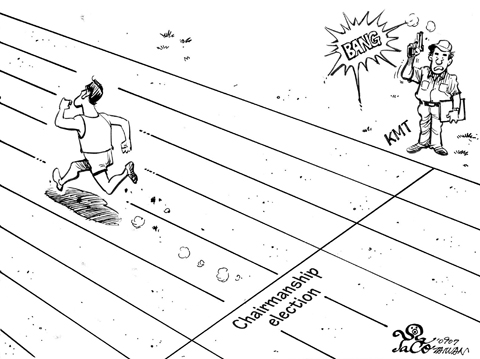 ¡@
---
¡@
The urban-rural gap in education
¡@
By Hsu Yu-fang ³\¤S¤è
Sunday, Jul 19, 2009, Page 8

The Ministry of Education reportedly wants to include English comprehension and translation tests on the Basic Competence Test for junior high school students in a few years.

If the report is true, it is not likely to please parents who took to the streets recently with calls for the implementation of 12-year compulsory education. It will, however, undoubtedly increase pressure on students.

I am not opposed to including English listening comprehension and translation tests aimed at improving the English proficiency of high school students before 12-year compulsory education is introduced. After all, language is the foundation of knowledge and communication. Language exams are meant to push students toward an admirable goal ¡X learning a foreign language.

However, the ministry must ensure that tests are administrated fairly and resolve the discrepancy in educational resources between urban and rural areas.

I have previously served as an examination consultant with public language education institutions and have on several occasions prepared and graded Chinese and English tests for college entrance examinations.

I was struck by the language proficiency gap, especially in English, between students from rural and urban areas.

Since I have not taken a deeper look at the reasons for the gap, I do not want to overinterpret the matter. However, once, when I was invited to review exams for the National Language Competition and took the opportunity to visit a high school in Taitung County, I found that the quality of teaching, digital learning opportunities, family income and language education in rural areas lagged behind that of cities.

Such differences in learning resources may be the reason that students in rural areas tend to perform worse on language exams, particularly in English, than their urban peers.

In my experience, the best way to improve one¡¦s English listening and speaking skills is to have native speakers as teachers or to take online classes.

Although the number of foreign teachers seems to have increased over the years, they remain concentrated in the metropolises on the west coast, where there are more teaching opportunities to chose from.

The gap in digital learning between urban and rural areas is even wider.

Until last year, the household Internet access rate on the west coast was nearly 30 percent higher than on the east coast, with the gap between Taipei City (with the highest access rate) and Taitung County (with the lowest) more than 50 percent.

While the access rate exceeded 99 percent in the biggest cities, only 29 percent of rural households in Hualien and Taitung counties had access to the Internet.

More than 80,000 low-income households did not even own computers.

Although for the past three years the education ministry has promoted digital learning in rural areas and seen results, the gap in digital resources between rural and urban areas remains substantial and cannot be narrowed in the short term.

Thus, the impact of the discrepancy in resources ¡X both in terms of teachers and Internet access ¡X to teach languages must not be ignored.

When Chinese composition was first included in the basic competence test, many parents worried that the education gap between rural and urban areas would affect grades.

Although Chinese is the national language, composition involves developing skills in logic and other factors. One¡¦s ability to use the language will not guarantee good composition scores.

English, meanwhile, is a foreign language. Apart from those students with exceptional talent for foreign languages, the more learning opportunities and resources one has, the better one¡¦s chances of developing good proficiency.

If the education ministry wants to include English listening comprehension and translation tests on the basic competence examination in three years, narrowing the gap in language-learning resources between rural and urban areas and administering fair tests must be the first priority, but will prove a difficult task.

Hsu Yu-fang is an associate professor and chairman of the Chinese Department at National Dong Hwa University.
¡@