ROC songs may come from China
FORGERY:Two participants in a centennial song contest appeared to have faked their citizenship, while Dog G's song did not make the top five, despite polling at No. 1
By Tseng Wei-chen / Staff Reporter, with CNA
---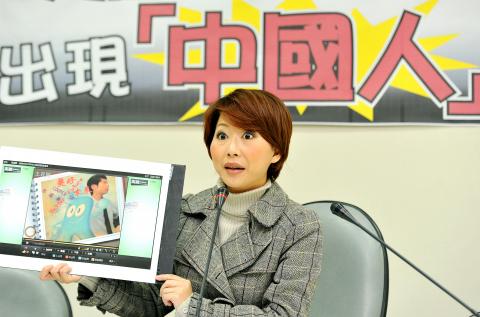 Democratic Progressive Party Legislator Chen Ting-fei holds up a photo at a press conference yesterday.
Photo: Chien Jung-fong, Taipei Times
---

Some of the songs auditioned by the Council of Cultural Affairs for the Republic of China's (ROC) 100th anniversary might actually be praising the People's Republic of China (PRC), Democratic Progressive Party Legislator Chen Ting-fei (陳亭妃) said yesterday.

In preparation for the 100th anniversary celebrations, the council has held auditions for a new song to commemorate the founding of the ROC. One of the requirements is that the composer be an ROC citizen.

However, three songs posted online for Internet voting were written by people who are believed to be Chinese, Chen said, adding that the council's evaluation process was "sloppy."

The first of the three songs in question, Everyone's Chinese, was written by Chen Chih-kuang (陳志光). The song advocates the unification of Taiwan and China, Chen Ting-fei said.

Chen Chih-kuang said the song was inspired by a trip to China, adding that it was an exploration of a diversified culture and melding of ethnicities.

From the viewpoint of Atayal Aborigines, the people on both sides of the Strait share the same roots, Chen Chih-kuang said.

"Don't politicize it too much," Chen Chih-kuang said.

The second song, Beautiful Future by Su Yung-sheng (蘇永勝), and the third, Thank you, by Yan Pang of the Va tribe — of Yunnan Province — are both suspected to come from citizens of the PRC.

Rufus Chen (陳功儒), general manager of Kwan Kwan Marketing Corp, the corporation in charge of the polling, said participants had to submit their ROC social ID number or their ROC passport number to be able to submit their creation.

He said initial checks had found that Chen Chih-kuang was an Atayal ROC national and therefore eligible to participate.

However, the other two participants appeared to have faked their ROC citizenship, he said, adding that efforts were being made to determine the participants' true nationalities.

"They will be charged with forgery if they do not have ROC citizenship," Rufus Chen said.

The auditions sparked another controversy when Dog G's (大支) Changing Taiwan failed to make it into the top five songs.
 
---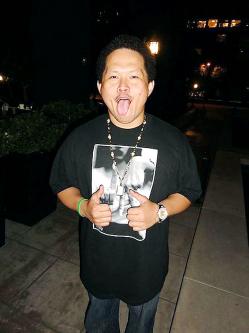 Dog G makes a face in a photo taken in August last year.
Photo from Dog G's blog
---

Often seen performing at pan-green rallies, Dog G's song was No. 1 in the Internet polling, with more than 10,000 votes.

Fans said the council's scoring system was unfair.

In response, the council said it didn't have any "black box operations" and that Internet polling only accounted for 30 percent of total scoring, while other evaluations accounted for the remaining 70 percent.

"We welcome any participant with questions concerning scoring to call us and we'll ask the judges on your behalf," the council said.