Pyongyang tests three missiles off west coast
 
DOUBLE TROUBLE: The second test by the hardline communist country in two months was part of a drill involving Russian-designed Styx ship-to-ship missiles

AFP, SEOUL
Sunday, Jun 01, 2008, Page 1

Nuclear-armed North Korea has fired three short-range missiles off its west coast, Yonhap news agency reported yesterday, threatening new military tensions with its neighbors.

The South Korean agency, quoting a government source, said the missiles were fired on Friday into the Yellow Sea off Jeungsan County, some 40km west of Pyongyang.

The second test by the hardline communist country in two months was part of a training exercise involving Russian-designed Styx ship-to-ship missiles with a range of 46km, the report said.

"The missile launch, like the test-firing conducted on March 28, is part of normal military training aimed at testing the performance of the missiles and improving operational readiness," the unnamed source was quoted as saying.

A South Korean defense ministry spokesman refused to comment on the missile launches, which coincide with rising cross-border tensions following this year's change of government in Seoul.

"We don't comment on any matter of intelligence," the spokesman said.

The source quoted by Yonhap said the missiles were fired toward the northeast from a ship in the Yellow Sea as North Korea prepares for annual military exercises in August, adding they were not directed at the South.

"And they were short-ranged. Therefore, we don't think they were aimed at threatening the South. We believe it was part of preparations for the summer military exercise," the source was quoted as saying.

North Korean military usually carries out inspections of its equipment in May and June ahead of the summer exercises by test-firing short-range missiles and ammunition and carrying out drills, Yonhap said.

The latest launch coincided with a warning from the North that inter-Korean relations could fall into an "uncontrollable catastrophic phase" if the South continued scattering anti-Pyongyang leaflets on its territory.

It accused Seoul of using balloons to send propaganda leaflets across the heavily fortified inter-Korean border.

The South's defense ministry said it stopped sending leaflets in 2004 but individual groups including Christians and North Korean defectors continued the practice.

Inter-Korean relations have soured after South Korean President Lee Myung-Bak took office in February, replacing 10 years of liberal rule with a conservative government.

North Korea fired three or four missiles of the same type on March 28 in what was described then by the South Korean government as "part of a regular military exercise."

North Korean military tests have shaken the region previously, particularly in 1998 when Pyongyang fired over Japan's main island prompting Tokyo and Washington to start work on an advanced missile shield.
---
Critics slam plans for pricey Ma museum in Miaoli
 
By Lee Hsin-hung and Chang Hsun-teng
STAFF REPORTERS
Sunday, Jun 01, 2008, Page 1

The Miaoli County Government has come under fire after allocating NT$50 million (US$1.6 million) to build a museum dedicated to President Ma Ying-jeou (馬英九) in Tongsiao Township (通宵) in a bid to attract tourists, its second project to capitalize on Ma's popularity.

Miaoli County Commissioner Liu Cheng-hung (劉政鴻) approved the sum of NT$50 million for the museum, which will chronicle Ma's path to the top and which the county hopes will become its No. 1 tourist destination.

The project follows on the heels of Liu's allocation of NT$170 million to upgrade roads around Ma Village (馬家庄) — a traditional village whose residents are mostly surnamed Ma.

The Hong Kong-born Ma's ancestors did not come from the village. None of his family have ever lived in or visited the village, but Ma made a stop there on his campaign trail. Because of the felicitous surname coincidence, however, the county is investing in the village in hopes of drawing tourists interested in the president's story.

The museum is set to be built near Ma Village and will feature pictures and memorabilia from Ma's life, including personal belongings from his past such as books, clothes and childhood pictures.

The county government said the museum will expand local tourism, thereby benefiting the township's residents, but some critics have called the project inappropriate.

Democratic Progressive Party (DPP) County Councilor Chan Yun-hsi (詹運喜) said that since the county is putting around NT$170 million into developing "Ma Village," the county should put the NT$50 million allocated for the museum into fixing the dilapidated infrastructure in nearby townships.

"It is a waste of taxpayer money to build a Ma museum in a place that has nothing to do with him," said Hsu Ching-jung (徐進榮), the head of the DPP's Miaoli Chapter.

Lin Chih-hong (林志宏), 37, from the county's Toufen Township (頭份) applauded the project, saying that it "not only could boost local tourism, young kids can also be inspired by the president's struggle," he said.

"President Ma won more than 7 million votes in the elections. Many of his supporters would like to learn about how he rose from an ordinary citizen to become the nation's president. His experience is something worthy of emulation for young people. I hope the public will not politicize a tourism project," he said.

Peng Cheng-hsi (彭鉦熹), a 60-year-old Miaoli resident, said that while he agreed that the museum could bring lucrative business opportunities to local residents in the short-term, he believed the profits would not amount to much.

"In a weak economy such as the one right now, NT$50 million is not a small sum. The money would be better spent on improving the education system," he said.
---
Wu upbeat about visit to China
 
SATISFACTORY: The KMT chairman said that in light of the warmer relations across the Strait, China would be unlikely to launch an attack against Taiwan
 
By Ko Shu-ling
STAFF REPORTER
Sunday, Jun 01, 2008, Page 3

President Ma Ying-jeou (馬英九) described yesterday the meeting between Chinese Nationalist Party (KMT) Chairman Wu Poh-hsiung (吳伯雄) and Chinese President Hu Jintao (胡錦濤) as "satisfactory" and "successful," adding it was a demonstration of Taiwan's "soft power."

Ma said Wu and his entourage deserved acknowledgment for their efforts in the past six days.

"The success of the KMT is everybody's success," Ma said.

Wu, who met Hu in Beijing on Wednesday, visited Ma at the Presidential Office shortly after returning from China yesterday evening.

Wu and his entourage set off for Nanjing, China, last Monday, where he visited the mausoleum of Sun Yat-sen (孫逸仙), the founding chairman of the KMT.

The meeting marked the first talks between high-level officials from China and Taiwan since the KMT regime fled to Taiwan following its defeat in the Chinese civil war in 1949.

Hu met Wu in his capacity as head of the Chinese Communist Party, following the "party-to-party" protocol of previous meetings between Chinese leaders and KMT officials.

Both mentioned the weekend charter flights and more Chinese tourists traveling to Taiwan, but left details to Taiwan's Straits Exchange Foundation (SEF) and its Chinese counterpart, the Association for Relations Across the Taiwan Strait (ARATS) to negotiate.

Wu said yesterday that Hu had promised to discuss Taiwan's participation in international organizations, including the WHO, in future talks.

On weekend charter flights and Chinese tourists, Wu told Ma that although he could not make any promises on behalf of the government, his feeling was that Beijing would do its best to help make the two projects a reality.

Wu said he would leave the rest to the SEF-ARATS talks.

Wu told Ma that in light of the more amiable atmosphere in the Taiwan Strait, he felt it was unlikely that Beijing would launch a missile assault against Taiwan. Wu was referring to the more than 1,300 tactical ballistic missiles China is aiming at Taiwan.

Wu said he had told Beijing that Taiwanese want safety, dignity and international space and that he received a "positive response" from his Chinese counterpart.

Wu, however, said that in response, Beijing had emphasized "the importance of mutual trust and asked Taiwan to make good on its words" before both sides could put aside differences and create a "win-win situation."

The Chinese people were grateful for the assistance offered by Taiwanese in the aftermath of the devastating earthquake in Sichuan Province, Wu said.

SEF Chairman Chiang Pin-kung (江丙坤) is scheduled to depart for Beijing on June 11 to conduct talks with his ARATS counterpart.

In a letter from ARATS to the SEF on Thursday, Beijing said it accepted Taiwan's invitation to hold cross-strait negotiations on weekend passenger charter flights and opening Taiwan to Chinese tourists. It invited SEF representatives to visit Beijing from June 11 to June 14.

The agreement to gather in Beijing in two weeks came a day after Hu and Wu made a verbal agreement on the talks during their meeting in Beijing.

Analysts from China said tensions had clearly eased since Ma's election, but cautioned that many pitfalls remain on the road to reconciliation and that China's military build-up near Taiwan would not be scaled down.

"The mainland is confident in Ma's attitude toward [not seeking] Taiwanese independence. But there are still difficulties that need to be overcome," said Zhang Wensheng, director of the Institute of Taiwan Studies at Xiamen University.

"As to the military build-up, it will continue because the military build-up is ... aimed at [preventing] Taiwanese independence," he said.
---
US will continue to engage Asia: Gates
 
STAYING POWER: Many countries in the region fear that the US' missions in Iraq and Afghanistan would compel it to leave, but the secretary of defense dispelled that notion

AP, SINGAPORE
Sunday, Jun 01, 2008, Page 5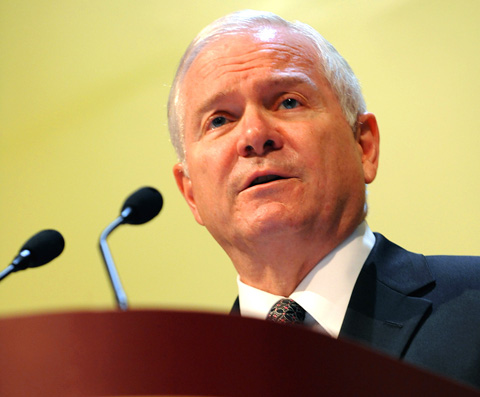 US Secretary of Defense Robert Gates speaks at the plenary session during the seventh Shangri-La Dialogue in Singapore yesterday.


PHOTO: AFP
The US said yesterday it would not disengage from Asia despite political and strategic commitments elsewhere, as China told the region it is not a military threat to anyone.

The declarations were made at a high-profile conference, known as the Shangri-La Dialogue, of defense ministers and military officials from 26 Asia-Pacific countries. Organizers say the annual meeting provides an opportunity for friends, foes and uneasy neighbors to meet and thrash out issues in private.

But there is some blunt talk as well, usually by the US.

Much of US Secretary of Defense Robert Gates' opening speech was devoted to making it clear that the change in the US administration next year would not lessen the US' commitment to Asia, which dates back to World War II.

US interests in Asia "will endure no matter which political party occupies the White House next year," Gates said.

Many governments in the region fear that US military and political commitments in the Middle East and Afghanistan will pull it away from eastern Asia and the Pacific.

"For those who worry that Iraq and Afghanistan have distracted the United States from Asia and developments here, I would counter that we have never been more engaged with more [Asian] countries," Gates said.

One participant expressed concern that with growing economic uncertainty at home, the US may not be able to afford its huge presence in Asia — including military bases in Japan, the Philippines and South Korea and a massive naval deployment in the Pacific Ocean.

"There are enormous budgetary pressures building up in the United States," said Kishore Mabhubani, a Singapore diplomat. "At some point the US electorate will ask, 'Why do we need to have such a sizable military presence in Asia?'"

Although US military bases arouse anger among some in Asia, most governments feel a US presence is crucial — not only as protection from non-Asian threats, but also to counterbalance the growing military strength of China and the nuclear threat posed by North Korea.

China's defense budget for this year is reported to be US$59 billion, up 17.6 percent from a year ago. Other countries say China vastly underreports how much it spends on its military. The Pentagon estimates that China's military expenditure last year was between US$97 billion and US$139 billion.

Lieutenant General Ma Xiaotian (馬曉天), China's deputy chief of the general staff for foreign affairs, told the conference that only a third of this year's budget would go to buy armaments, with the rest for general maintenance expenses such as salaries and training.

"China will always adopt a defensive defense policy. We do not engage in arms race. We are a military threat to no other country," he said. "You shall never see hegemony or expansionism."

The Chinese army is prepared to step up military exchanges with Asia-Pacific countries, as well as cooperate in areas such as counterterrorism and disaster relief, he said.

Still, one of China's closest neighbors, Japan, is uneasy.

Japanese Defense Minister Shigeru Ishiba said even though China may not be regarded as a security threat, it has a duty to its neighbors to be transparent about its military capabilities.

"Japan tries to be transparent in this sense and I want to see the same transparency in China," Ishiba said. "If we are transparent and generate mutual understanding ... then it will generate more confidence."

The conference, organized by the London-based International Institute for Strategic Studies, continues today.
---
Humble Wu's humiliating journey
 
By Paul Lin 林保華
Sunday, Jun 01, 2008, Page 8

'If "Mr" Wu can remove the presidential laurel from Ma's head, then is this a sign of the party assisting the government, or the party leading the government?'

Chinese Nationalist Party (KMT) Chairman Wu Poh-hsiung's (吳伯雄) first stop in China was Nanjing, the old Nationalist capital, where he paid his respects at the mausoleum of KMT founding father Sun Yat-sen (孫逸仙).

Wu's capitulatory approach to the Chinese Communist Party (CCP), pioneered by former KMT chairman Lien Chan (連戰), is well on the way to becoming the modus operandi for cooperation between the parties.

That Wu first went to Sun's tomb is tantamount to saying that Sun granted permission to the KMT to surrender to its old foe. The difference is that long ago Sun said the KMT should form an alliance with the Soviets, admit communists into the party and help farmers and laborers; now it's the Communists who are admitting Nationalists.

When Chen Yunlin (陳雲林), director of China's Taiwan Affairs Office, delivered a welcome speech to Wu at Nanjing's airport, his self-importance and self-satisfaction placed Wu — with his more cautious attitude — at a disadvantage.

In lauding the success of China's United Front strategy, Chen even exclaimed that he could finally "see the sun come out after the rain." And Wu, a target of the United Front strategy, endorsed the so-called "1992 consensus," without daring to mention its actual meaning of "one China, different interpretations."

When Wu talked about President Ma Ying-jeou (馬英九), he addressed him as "Mr Ma." Ma and Wu may have their difficulties, but Wu probably said this to placate the CCP and not irritate the president. Either way, he belittled Taiwan and his own party.

Apparently the more than 7 million Taiwanese who voted for Ma didn't elect a president of Taiwan or the Republic of China (ROC), but a "mister."

There is an inscription on Sun's mausoleum that reads "Integrity of Heaven and Earth." While he was there, Wu wrote a couplet underneath it that read: "All under Heaven belongs to the people; people are the most important" (天下為公,人民最大). But where was Wu's integrity in his performance a day earlier? He showed only humility before the CCP's leaders.

How can he say "People are the most important?" When the president elected by the Taiwanese public suddenly becomes a "Mr" in China, then who is bigger in Wu's eyes, the Taiwanese polity or the CCP? A couplet that reads "The country belongs to the People's Republic; people are of the least importance" would have been more in keeping with Wu's approach.

Of course, there is a reason why Wu trampled upon his country's president. In 2000, Lien not only refused to attend the ceremony that handed power to the DPP, he also called then president Chen Shui-bian (陳水扁) "Mr Chen" instead of "Mr President."

This seemed a matter of vicious competition between the pan-green and pan-blue camps at the time, but now, with Wu also calling his president "mister," it's becoming clear that this is a 21st century tradition of KMT chairmen.

They don't think Taiwan or the ROC really is a country; to them, it is a part of the People's Republic of China. Why else would they address Chinese President Hu Jintao (胡錦濤) as "Chairman Hu," and not call Ma "President Ma?"

When Wu left for China, Ma stated that he wanted Wu to make clear to the Chinese leaders that the people on both sides of the Taiwan Strait want peace, prosperity and respect, and that he hoped the two sides could resume negotiations based on the so-called "1992 consensus." But does undermining President Ma's authority constitute the kind of respect that Ma and ordinary Taiwanese deserve?

It has been reported that Ma sees this process as a useful "second track" to negotiations between Taiwan and China. While the KMT assists the government, so the reasoning goes, the president directs cross-strait policy.

But as things look now, there is a "mister" in charge of cross-strait policy.

There are already too many other "misters" in the KMT. If "Mr" Wu can remove the presidential laurel from Ma's head, then is this a sign of the party assisting the government, or the party leading the government?

Put another way, does Taiwan need a second track to woo China?

Ma must clear up whether this pantomime was Wu's own doing, or whether it is part of a broader strategy emanating from the Presidential Office.



Paul Lin is a political commentator based in Taiwan.
---
Questions for Ma that won't just disappea
 
By Liu Shih- Ghung 劉世忠
Sunday, Jun 01, 2008, Page 8

During his historic trip to China, Chinese Nationalist Party (KMT) Chairman Wu Poh-hsiung (吳伯雄) asked his Chinese Communist Party counterpart, Hu Jintao (胡錦濤), to respect Taiwan's participation in international organizations. Wu also emphasized that "Taiwanese identity" should not be treated as "Taiwanese independence."

As the KMT pursues a quick resumption of cross-strait talks on direct links and allowing Chinese tourists into Taiwan, Wu and President Ma Ying-jeou (馬英九) understand that the highly anticipated breakthrough in the cross-strait deadlock must be accompanied by Beijing giving Taiwan more international room.

Ma and the KMT leadership also realize that the key reason for Taiwan's second transfer of power is the corruption that existed under the Democratic Progressive Party government, and not former president Chen Shui-bian's (陳水扁) push for Taiwanese consciousness.

Dislike of Chen and his government helped Ma to become president; his moderate image and a promise to rejuvenate the economy also played a role.

But governing a country requires more than a personal image. It takes full coordination and policy execution to live up to public expectations.

If Wu did not refer to Ma as president in front of Hu to avoid sovereign symbols, then to what extent can we trust the KMT to stand firm on Taiwan's behalf — even if Beijing winds down its campaign of isolating Taipei?

As democratic concepts mature, the gap between the pan-green and pan-blue camps on the independence-unification dichotomy will become meaningless. The notion that Taiwan — or the Republic of China — is a sovereign and independent state will receive mainstream acceptance.

National identity is being played down as an issue even as it is being consolidated; it is in this context that Taiwan's democracy will enter the next phase: judging a national leader by a higher standard.

If Chen was judged by most domestic and international observers as simply a politician pushing the envelope, then it is sad to see that Ma is slowly adopting the same model — running the country like an election campaign — and keeping political opportunism firmly in the grasp of the Presidential Office.

The publication of an advertisement pledging that "the future of Taiwan should be decided by the Taiwanese people" in pro-independence media outlets before the presidential election was a move by Ma's camp to appeal to the DPP's support base in southern Taiwan.

But in his inaugural speech, Ma did not refer to this issue other than by praising Hu's recent statements on resuming cross-strait dialogue based on the so-called "1992 consensus."

To avoid the perception that the KMT is tilting toward the Chinese Communist Party, Ma also labeled the party-to-party talks as "track two" in the facilitation of bilateral understanding. It is a strategy to downplay criticism that Ma and the KMT might sell out Taiwan.

But whether Beijing will relax its diplomatic stranglehold on Taiwan is uncertain. Getting results in this regard constitutes Ma's greatest challenge.

Ma is using his mandate of 58 percent of the vote to assimilate the DPP legacy of building Taiwanese identity — but simply out of electoral concerns. Yet when the KMT contacts Beijing, Ma sets aside notions of a Taiwan-centered identity.

Is Ma doing this in the national interest? Is he a man of principle? Can he stand up to hardcore pro-unification forces, including the old guard led by former KMT chairman Lien Chan (連戰)? Or is he simply an opportunist?

These are questions that cannot be answered for now. But the public needs them soon.

Liu Shih-chung is a Taipei-based political commentator.
---
Suu Kyi's fate overshadowed by Myanmar cyclone
 
The icon of Myanmars pro-democracy cause has paid a high price for her fame

AFP, BANGKOK
Sunday, Jun 01, 2008, Page 14
 
"They don't understand the meaning of dialogue — they think it is some kind of competition where one side loses and the other wins."— Aung San Suu Kyi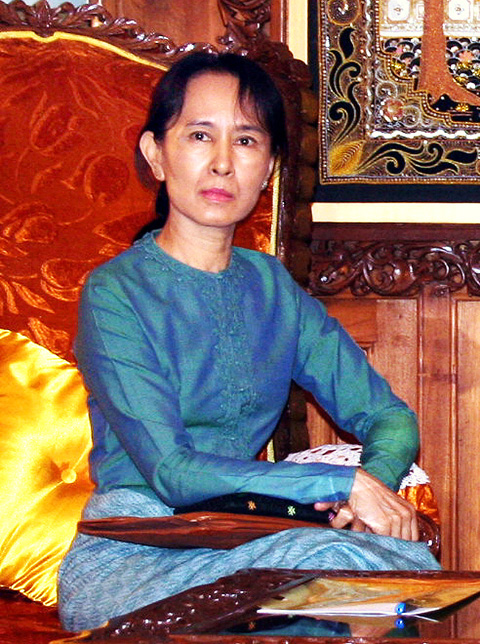 Buddhist monks holding pictures of Suu Kyi and her late father General Aung San, who led the country's independence war, chant during a protest in front of Myanmar's Embassy in Colombo on Tuesday, the day Suu Kyi's house arrest was extended for another year. The protesters demanded that the military junta accept international aid for cyclone victims and release all political prisoners.


PHOTO: AP

The fate of Myanmar's detained democracy leader Aung San Suu Kyi has been overshadowed by the devastation wrought by Cyclone Nargis, but she remains the most powerful rival to Myanmar's junta.

Her house arrest was quietly extended for another year on Tuesday, amid high-profile diplomatic maneuvering to facilitate the delivery of aid to 2.4 million needy storm victims.

The cyclone left more than 133,000 dead or missing, and focused international outrage at the junta's slow and often paranoid response that hindered the flow of foreign aid.

Relief agencies say the regime is now opening up the disaster zone to foreign aid workers, even as it keeps a tight lid on Aung San Suu Kyi and her supporters.

Authorities informed her of the latest extension of her detention during a brief meeting at her home, while security forces carried out a neighborhood clampdown and arrested 16 of her supporters — including a 12-year-old boy — who had tried to march to her house.

Five years into her latest period of incarceration, her US lawyer has called the extension of her house arrest illegal under the ruling junta's own laws — but the only Nobel peace laureate in detention has no way of challenging it.

Even though the regime has effectively silenced her, detaining her for more than 12 of the last 18 years, she remains the essential figure in Myanmar's democracy struggle.

The daughter of Myanmar's founding father, General Aung San, launched her political career relatively late after spending much of her life abroad.

A slender woman who prefers traditional clothing and often wears flowers in her hair, Aung San Suu Kyi studied at Oxford, married a British academic, had two sons and seemed settled in the UK.

But when she returned to Yangon in 1988 to tend to her ailing mother, she found the city gripped by protests against the military.

Later that year she saw aspirations for democracy evaporate as soldiers fired on crowds of demonstrators, leaving at least 3,000 dead.

Within days she took on a leading role in the pro-democracy movement, petitioning the government to prepare for elections and delivering impassioned speeches to hundreds of thousands of people at Yangon's Shwedagon Pagoda, the country's most sacred Buddhist site.

In September of 1988 she helped found the National League for Democracy (NLD), an alliance of 105 opposition parties, and campaigned across Myanmar (then officially known as Burma) for peaceful change, mesmerizing huge crowds with her intelligence, poise and rhetoric.

Alarmed by her fearlessness and the support she commanded, the generals in 1989 placed her under house arrest.

Despite being confined to her home, she led the NLD to a landslide victory in 1990 polls. The party won 82 percent of parliamentary seats in a result the junta refused to accept.

Her dedication to non-violence won her the 1991 Nobel Peace Prize, putting her beside Nelson Mandela among the world's leading voices against tyranny.

During a brief moment of freedom, she said in a 1999 interview that the military struggled to accept the very concept of dialogue.

"They don't understand the meaning of dialogue — they think it is some kind of competition where one side loses and the other wins, and perhaps they are not so confident they will be able to win," she said.

The icon of Myanmar's pro-democracy cause has paid a high price for her fame.

As her husband Michael Aris was in the final stages of a long battle with cancer, the junta refused him a visa to see his wife. He died in March of 1999, not having seen Aung San Suu Kyi since 1995. She refused to leave the country to see him, knowing she would never have been allowed to return.

Threats and vilification from the junta, along with years of forced solitude, served only to make her more determined.

Critics see her resolve as intransigence that has contributed to the stalemate, but the woman known in Myanmar simply as "The Lady" remains the most powerful symbol of freedom in a country where the army rules with an iron fist.

She has cast her struggle as part of humanity's greater spiritual battle against tyranny.

"The quest for democracy in Burma is the struggle of a people to live whole, meaningful lives as free and equal members of the world community," she wrote in Freedom From Fear and Other Writings.

"It is part of the unceasing human endeavor to prove that the spirit of man can transcend the flaws of his nature."