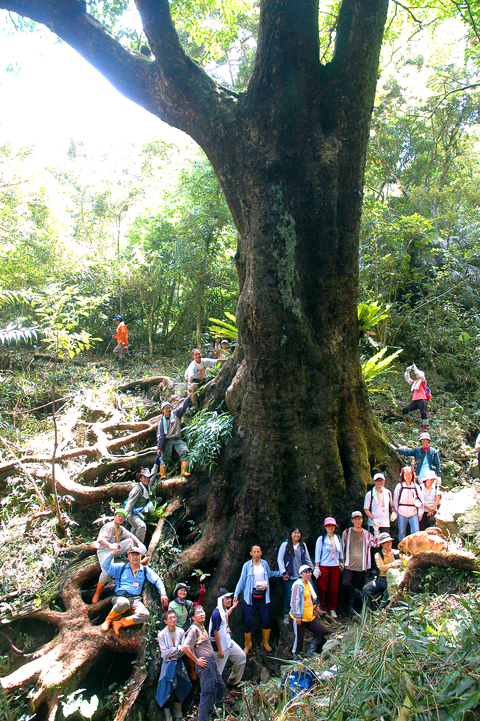 Search Most Read Story Most Viewed Photo

Enter your search terms Submit search form Taipei Times
RING AROUND THE ROSIE CEDAR
Twelve tourists hold hands surrounding a gigantic 1,600-year-old red cedar in Mudan Township in Pingtung County yesterday. The "divine tree" is located in an old community of the Paiwan tribe at the southern end of the Central Mountain Range.


PHOTO: CNA
---
Wu's comments fire missile row
 
UNDER ATTACK: The pan-green camp accused the Chinese Nationalist Party chairman of being a danger to national security and said he had become a tool of Beijing's ambitions

By Rich Chang and Flora Wang
STAFF REPORTERS
Tuesday, Jun 03, 2008, Page 3

DPP legislators yesterday criticized Chinese Nationalist Party (KMT) Chairman Wu Poh-hsiung (吳伯雄) after he said he felt it was unlikely that Beijing would launch a missile attack against Taiwan.

Democratic Progressive Party (DPP) caucus whip Ker Chien-ming (柯建銘) said Wu's remarks could only further numb the public, making people less vigilant, and that the comments posed a danger to national security.

Ker said China's attitude toward Taiwan has always been hypocritical, yet it remains malignant.

He added that it was ridiculous for Wu to evaluate the nation's security using just his "feelings."

DPP caucus whip William Lai (賴清德) said China wanted to take over Taiwan and that Wu had become a tool of Beijing's ambitions.

Lai said the direction of China's missiles would not follow Wu's "feelings."

KMT Secretary-General Wu Den-yih (吳敦義) stood firm behind Wu Poh-hsiung's remarks, calling on China to decrease the number of the missiles as a gesture of goodwill.

Wu Den-yih said Beijing had told the party on many occasions that the missiles were aimed at "the Pacific Ocean," but he said Beijing should consider Taiwanese "feelings," since both sides wanted to create a win-win situation and put controversies aside.

Wu Den-yih said it was "very difficult" to ask China to remove the missiles immediately, given Beijing's own national defense needs, but he believed Beijing knows it must reduce Taiwanese negative feelings toward China resulting from the deployment of the missiles.

He said he believed the Chinese leadership would deliberate on the issue with "goodwill" and "sincerity."

KMT caucus deputy secretary-general Chang Hsien-yao (張顯耀) said the party hoped that the upcoming talks between the Straits Exchange Foundation (SEF) and China's Association for Relations Across the Taiwan Strait (ARATS) would help to institutionalize communications across the Strait.

He said that military tension could be further reduced through the establishment of a confidence-building mechanism in military affairs.

In related news, Wu Den-yih said gaining entry to the WHO using the name "Chinese Taipei" was a way to put aside controversy and serve the interests of the Taiwanese people.

He said the nation's participation in APEC and on the International Olympic Committee using the name "Chinese Taipei" was acceptable to all sides and does not provoke any controversy in terms of sovereignty.

"Can our young athletes compete and honor the nation in the Olympic Games if we do not use the title 'Chinese Taipei'? If we do not use this title, we will even encounter difficulty attending the meetings of APEC or the WTO," he said.

The nation should never make concessions in terms of sovereignty, but controversy should be put aside, he said.

"This is the best way to safeguard the interests of our people," he said.

Wu was commenting on a Chinese-language China Times report yesterday, which cited an anonymous KMT source as saying that Beijing had agreed to discuss Taiwan's participation in the WHO during the upcoming talks between SEF and ARATS.

The story said that the KMT government was considering proposing Taiwan's participation using the name "Chinese Taipei," although the proposal was not finalized.
---
DPP urges Beijing to dismantle and destroy missiles
 
By Ko Shu-ling
STAFF REPORTER
Tuesday, Jun 03, 2008, Page 3

The Democratic Progressive Party (DPP) yesterday urged Beijing to dismantle the missiles aimed at Taiwan and when doing so, to follow the same procedure laid down by Washington for North Korea to disarm its atomic weapons.

Lin Chen-wei (林成蔚), director of DPP's Department of International Affairs, told reporters that the Chinese Nationalist Party's (KMT) request that Beijing withdraw the missiles targeting Taiwan was meaningless militarily, because they were mobile and could easily be restored.

"We would like to see a complete, verifiable and irreversible destruction of the missiles," he said.

Lin said he was amazed by the remarks made by KMT Chairman Wu Poh-hsiung (吳伯雄).

Wu's comments created an image of a Beijing that was friendly to Taiwan and that the people of Taiwan need not be concerned about Beijing's military threats, Lin said.

While President Ma Ying-jeou (馬英九) has said that his administration would not resume talks with China if Beijing did not withdraw missiles, Lin expressed concern that both sides were scheduled to resume negotiations while the missiles are still deployed.

"The KMT seems to have become Beijing's pawn," Lin said.

Lin made the remarks after attending a meeting called by DPP Chairwoman Tsai Ing-wen (蔡英文) to discuss the major issues of the week.

While the former DPP administration had wanted to tackle the cargo charter flights, weekend charter flights and Chinese tourists visiting Taiwan as a package, the KMT administration has dumped the cargo charter flights and did not get anything in return, Lin said.

Lin criticized the KMT for trying to fulfill Ma's election promises at the expense of the nation's bargaining leverage.

DPP Deputy Secretary-General Chen Chi-mai (陳其邁) criticized Wu's remarks as "inappropriate," demanding the KMT explain whether they struck any under-the-table deals with Beijing during Wu's visit to China.

"They owe the public an explanation," he said.

Presidential Office Spokesman Wang Yu-chi (王郁琦) said yesterday that his understanding was that Wu did not mention the missiles during his meeting with Chinese President Hu Jintao (胡錦濤) last week, nor was it an issue during yesterday's weekly lunch meeting between Ma, Vice President Vincent Siew (蕭萬長), Legislative Speaker Wang Jin-pyng (王金平), Premier Liu Chao-shiuan (劉兆玄) and Wu at the Presidential Office.
---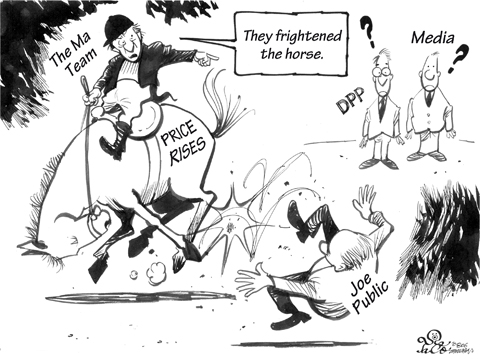 ---
Beijing's grand illusion of peace

Tuesday, Jun 03, 2008, Page 8

Less than three weeks have passed since the Chinese Nationalist Party (KMT) administration was sworn in and already, if we are to believe world headlines, the Taiwan Strait has been transformed from one of the world's most dangerous flashpoints to the milieu for a neighborly spat.

Optimism is high, especially in the wake of KMT Chairman Wu Poh-hsiung's (吳伯雄) recent visit to China and talks with Chinese President Hu Jintao (胡錦濤), which prompted some, including US National Security Council Senior Director for Asian Affairs Dennis Wilder, to praise the rekindled dialogue across the Strait.

Wu, who has described his mission to China as "successful," has even hinted at the possibility that as a sign of goodwill China could cut back some of the 1,300-odd missiles it aims at Taiwan. He also quoted Hu as saying that the Chinese were grateful for the generous aid from Taiwan following the May 12 earthquake in Sichuan Province. Indeed, it looked like there might be light at the end of the tunnel.

But it is wise to remain skeptical on just how solid the basis for all this optimism is.

As the Democratic Progressive Party has rightly pointed out, the KMT has shown impatience in starting negotiations with the Chinese Communist Party (CCP) and done so in a manner that could compromise this country's sovereignty. The lack of accountability inherent in party-to-party talks, furthermore, threatens to bypass the administration of President Ma Ying-jeou (馬英九), lending credence to fears that real diplomatic work will be conducted in backrooms by individuals who were not democratically elected into office — a system with which Beijing is, by design, fully comfortable, but one that does not represent how a democratic country should conduct diplomacy.

Wu's optimism about a possible reduction in missiles, meanwhile, is gullibility at its most extreme. For one, even if China were to dismantle or redirect some of its missiles, the fact remains that hundreds would still be aimed this way. One missile — and the threat to use it — is one too many. Furthermore, quantitative cuts mean very little when they could easily be offset by the increasing precision of those still active. In other words, as long as the intent to use missiles against Taiwan exists, talk of cuts is meaningless.

As for Chinese gratitude for the generous response of Taiwanese to the earthquake, while there is no doubt that ordinary people have been touched, the fact remains that this will have no bearing on diplomacy. Peace in the Strait cannot be bought for some US$120 million, and those who argue that the CCP can be persuaded by grateful Chinese to end its efforts to isolate Taiwan seem to have forgotten that China remains a country where the voice of the people — especially on geopolitical matters — is largely ignored.

It is too early to tell where thawing relations between Taipei and Beijing will take us. While there are, indeed, signs that tension might be diminishing, it is in the long run, when Beijing's patience is tested — and it will be, if Taiwanese negotiators meant what they said when they vowed to protect Taiwan's interests and dignity — that we will see if the KMT's professed intentions will be answered in kind.