Report predicts dire economic effects of Beijing water crisis

AFP, BEIJING
Saturday, Jun 28, 2008, Page 1
 
Beijing's water crisis is so critical that the city is facing economic collapse and the need to resettle part of its population in coming decades, a leading development policy group said yesterday.

Experts predict the Chinese capital could run out of water in five to 10 years, said Grainne Ryder, policy director at Canada-based Probe International.

She said Beijing would potentially have to start shutting down industry, as the city would be incapable of supporting current levels of infrastructure or population.

"I would imagine it would be a phased shut-down of its economy, an economic collapse," she said.

Speaking at the launch of a report on Beijing's water crisis just six weeks before the "Green Olympics" in August, Ryder said authorities had already discussed moving people out of the capital to other cities in the future.

The report by Probe, called Beijing's Water Crisis: 1949-2008 Olympics, said that Beijing's 200 or so rivers and streams are drying up and the city's reservoirs are almost empty.

The available water supply amounts to less than 200m³ per person a year, Ryder said.

One thousand cubic meters per person is the level of extreme water stress according to international standards.

At the same time, water demand is rising and the Olympic Games — for which Beijing has developed man-made lakes, musical fountains and new parks — will consume around 200 million cubic meters of water, the report said.

More than two-thirds of the city's water supply now comes from groundwater and Beijing is having to extract water originally intended for use in emergencies, such as war, from 1,000m or more underground.

Not only that, but Beijing is to start transferring water from existing and proposed reservoirs in Hebei Province this year and from the Yangtze River from 2010.

Probe International called for China to set up a special government agency to get the water system under control.

"Nobody is in charge," Ryder said.

The report also urged the Chinese government to introduce higher water prices to encourage people to use less water.

The price in Beijing is US$0.54 a cubic meter, the report said, compared with between US$0.65 and US$0.80 in Brazil and between US$2.2 and US$2.7 in England and Wales.

"Beijing needs to start acting like it has a crisis on its hands," Ryder said.
 
---
DPP legislators criticize Taipei tourism Web site

By Mo Yan-chih
STAFF REPORTER
Saturday, Jun 28, 2008, Page 2
 
"Taipei has a subtropical climate, with an average temperature of 220C (720F)."-weather tip on Taipei City's travel guide Web site

Democratic Progressive Party (DPP) Taipei City councilors lashed out at the Taipei City Government yesterday for giving wrong and outdated information on the English version of its travel guide Web site, warning that such incorrect information would scare foreign visitors away.

"Information such as '14-day-visa-exempt entry privileges are afforded to citizens of 31 countries' and outdated taxi fares were all incorrect. It's worse than giving no information at all," DPP Taipei City Councilor Lee Chien-chang (李建昌) said yesterday at the Taipei City Council.

The site, www.taipeitravel.net, is designed and managed by Taipei City's Department of Information and Tourism to promote Taipei's attractions and provide tourists with travel tips as well as information about the city in Chinese, English, Japanese and Korean.

Lee and DPP Taipei City councilors Hsu Shu-hua (許淑華) and Huang Hsiang-chun (黃向群) condemned the department for failing to update the site's English version.

The taxi fares posted on the English page, for example, didn't reflect the rate changes made in November, they said.

On the "Travel Tips" section, the Web site's description of the city's weather was also flawed: "Taipei has a subtropical climate, with an average temperature of 220C (720F)."

"Foreign visitors must be amazed by the description of Taipei's average temperature and think that this city is a world wonder by having such a high temperature," Hsu said.

The councilors blamed the poorly managed Web site on the administration of Taipei Mayor Hau Lung-bin (郝龍斌), saying officials were focusing their efforts on welcoming Chinese tourists by organizing forums for tour guides and preparing simplified-Chinese versions of travel guides or pamphlets.

Hau finished a trip to China last night, where he discussed the possibility of bringing pandas to the Taipei City Zoo.

"The city government is clearly treating Chinese tourists as a treasure and other foreign visitors like cheap straws," Huang said.

In response, the department acknowledged that it had failed to update its English Web site since last year because of a shortage of English translators.

The department updated the English Web site later yesterday.

 
---
DPP blasts Tourism Bureau for undermining Taiwan

By Jimmy Chuang
STAFF REPORTER
Saturday, Jun 28, 2008, Page 4

Democratic Progressive Party (DPP) Legislator Wong Chin-chu (翁金珠) blasted the Tourism Bureau yesterday for downgrading Taiwan on its Web site.

"On the bureau's simplified Chinese Web site, Taipei City has been changed from the 'capital' to 'the major city,'" Wong said, adding that the national flag, the country's name and the president had all "disappeared."

"This is all so disappointing," Wong told a press conference at the DPP caucus' office.

DPP caucus deputy whip Pan Meng-an (潘孟安) said that the party was worried the government would commence weekend direct charter flights even though officials have yet to come up with necessary mechanisms to safeguard the country.

"We do not have any plan to prevent the potential spread of diseases from China. We do not have any plan to prevent potential breaches of national security, either," Pan said.

Pan said the Chinese Nationalist Party (KMT) was eager to carry out its policies, even though they could end in disaster.

"To screen for diseases, Department of Health officials have apparently asked cabin crews to 'pay attention to Chinese visitors who show signs of illness during the trip. What kind of screening mechanism is that?" Pan said.

He also mentioned the difficulties that some countries, including Germany, France, Italy, the US, Japan and Korea, have with overstaying or illegal Chinese immigrants.

"The Chinese government sometimes refuses to repatriate its own illegal immigrants from foreign countries. What will we do if that happens?" Pan said.

"Are we really ready for this?" Pan asked.

The first weekend direct charter flight is scheduled to take off from Shanghai at 8:50am next Friday and land at Taipei's Songshan Airport at 11:50am.

The Tourism Bureau was unavailable for comments at press time.

 
---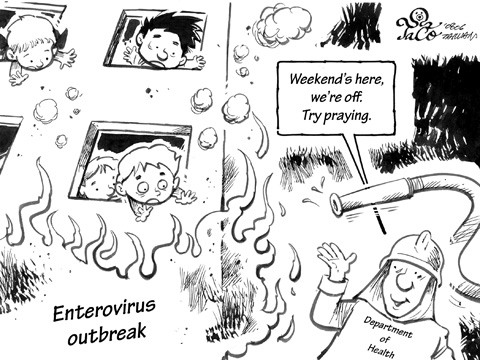 ---
The Taiwan experience: near yet far

Saturday, Jun 28, 2008, Page 8

Back when China was beginning to slowly tear down barriers to international tourists during the Deng Xiaoping (鄧小平) era, jokes would abound — some in T-shirt form — of the mercenary and exploitative ways in which foreigners were received. "Welcome to China, now get out," was one of the more memorable of these, along with unkind acronyms suggesting that China's airlines were always late, if they arrived at all.

In those early days, it was commonplace for adventurous tourists to cut through large amounts of red tape, travel to pre-arranged "gift stores" and suffer the spotty professionalism of tour guides who attempted to ensure that their charges did not misbehave and did not go places that would inconvenience the authorities. As time went on and economic and political change allowed more individual freedom, these obstacles diminished, and today entry into China allows for a surprising amount of freedom.

Fast forward 25 years or so and Taiwan is preparing to receive its first planeloads of Chinese tourists. The demographic features of these tourists to Taiwan will be surprisingly similar to those of the first foreigners into post-Mao China: mobile, comfortably well off and educated. The difference today is that these tourists are going to be escorted around this country in a manner even more exploitative and mercenary, though for them that would be a trade-off that comes with being allowed entry in the first place.

In practical terms the government and opposition have reached something of a consensus on the restrictions that will be necessary when letting Chinese into the country. For the government, there is concern that Taiwan might prove too alluring for occasional, would-be illegal immigrants — or "defectors," as they would have been called not so long ago — and hence travel agencies that are paying through the roof for the privilege of hosting Chinese tourists will have to pay a much higher price if anyone absconds. Considering the kind of tourist that can afford to pay for the trip — and can be trusted to return to China — this is unlikely to happen.

The main problem for the opposition is the sociopolitical risk that the tourists pose. Democratic Progressive Party Chairwoman Tsai Ing-wen (蔡英文), speaking to the Taiwan Foreign Correspondents Club in Taipei yesterday, could not conceal the sentiment that these tourists may experience cultural difficulties, an odd thing to say given that they speak the same language, more or less, and will have more than likely traveled to many other countries before.

We have said before that the economic benefits of Chinese tourism are almost certainly overstated, and especially now in the wake of the plunging stock market and inflation pressures. But the political impact of Chinese tourism may be more positive, if subtler, than first thought, particularly from the point of view of independence activists. More contact with free Taiwanese may just throw the reality of China into sharp relief, though the average tourist will hardly need a lecture on the situation in his or her own country.

The real problem is that Chinese tourists will not be free to go about their business and will have to vie for the best view in a small number of locations, where the groups next to them will most likely also be Chinese.

Taiwan's challenge, regardless of political stance, is how to gather the courage to let this society speak for itself, not through the prism of a shabby tourism industry, but through the confident voices of ordinary people. One thing we can be sure of is that such voices will barely be heard under the current system.