China lifts curbs on some non-dissident Web pages
 
'SUFFICIENT': Web sites relating to the Falun Gong, Tibetan independence and the Tiananmen Massacre were still blocked, but China said the change was enough

AGENCIES, BEIJING
Saturday, Aug 02, 2008, Page 1

China rolled back a few high-profile planks of its Internet censorship system yesterday in an apparent effort to defuse an embarrassing dispute over media freedom just days ahead of the Olympics.

Journalists arriving to cover the Games have found that a wide array of Internet sites, including human rights groups, were blocked.

But after talks between the International Olympic Committee (IOC) and Beijing authorities on Thursday, several sites were unblocked.

The previously barred Web sites of Amnesty International and Reporters Without Borders were accessible yesterday, as were the BBC's Chinese service and German broadcaster Deutsche Welle.

The lifting of the curbs appeared to go beyond Olympic venues, with reporters able to access those sites from an ordinary Internet portal.

However many sites were still blocked, including those linked to Chinese dissidents, Falun Gong, the Tibetan government-in-exile and sites with information on the 1989 Tiananmen massacre.

The easing followed a week of controversy after China backtracked on a pledge to allow the more than 20,000 foreign reporters covering the Games complete access to the Internet.

IOC spokeswoman Giselle Davies welcomed the lifting of restrictions.

"It's a good thing," she said.

The IOC said it had pressed China to open up Internet access in talks on Thursday with the Beijing Olympic Organizing Committee (BOCOG) and Chinese authorities.

"Following discussions the IOC held with BOCOG and Chinese authorities regarding difficulties experienced this week in accessing some Web sites, the IOC is pleased to see that the issues are being quickly resolved," Davies said.

BOCOG spokesman Sun Weide (孫維德) said some sites remained blocked but insisted that China would guarantee "sufficient" Internet access to allow journalists to do their job.

Australian Prime Minister Kevin Rudd said yesterday he would raise concerns about China's Internet censorship when he attends the opening ceremony next week.

Meanwhile, Chinese President Hu Jintao (胡錦濤) said China would stand by pledges made when it was awarded the Olympics yesterday.

"The Chinese government and the Chinese people have been working in real earnest to honor the commitments made to the international community." Hu said.
 
---
Activists urge better treatment for pigs
 
By Regina Hsu
CONTRIBUTING REPORTER
Saturday, Aug 02, 2008, Page 2

Animal rights advocates yesterday called on the government to take steps toward ensuring more humane treatment for pigs.

Environment and Animal Society of Taiwan director Chen Yu-min (陳玉敏) said that since 1981 more than NT$2 billion (US$65 million) has been spent on the implementation of quality certification marks for pork products, but swine are still treated inhumanely before, during and after slaughter.

The government has established various certification systems, such as Certified Agricultural Standards (CAS) and Good Manufacturing Practice (GMP), that ensure the quality of pork and assure consumers of acceptable slaughter practices, Chen told a press conference, however, most pigs were still conscious when they were slaughtered, breaching the government's guidelines that pigs be electrically stunned prior to their death.

"The pigs are hung upside down while fully conscious and then have their throats slit," Chen said, adding that in addition to inhumane slaughter practices, the pigs also suffer several other torturous procedures.

Pigs are still sold at live auctions, where they are whipped and corralled, she said, adding that none of the certifications require humane treatment of pigs during transport, herding, unloading, tethering or stunning.

"Even traditional open-air farmers' markets have CAS-approved pork," she said. "This is impossible because CAS stipulates that the pork must be properly refrigerated. At these stands, the pork is not refrigerated and usually delivered before the vendors arrive, leading to contamination by rats and unsanitary conditions."

The transportation of the pork also lacks the required refrigeration for CAS approval, she said.
---
Olympic name a diplomatic feat: Ma
 
NAME GAME: While the president took pride in having Beijing agree to use the name Chinese Taipei, the DPP slammed China's decision on the order of the Olympic parade
 
By Mo Yan-chih and Rich Chang
STAFF REPORTERS
Saturday, Aug 02, 2008, Page 3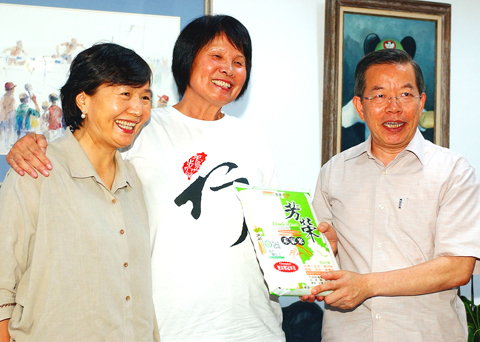 Former Olympic medalist Chi Cheng, center, former premier Frank Hsieh, right, and former Kaohsiung mayor Yeh Chu-lan are pictured in Chi's office yesterday.


PHOTO: CNA
President Ma Ying-jeou (馬英九) said yesterday that China's change of heart regarding the Taiwanese Olympic team's designation was a significant development in diplomacy and that he would explore his proposal of a "diplomatic truce" with Beijing next week.

"China's official news agencies no longer refer to Taiwan as Zhongguo Taibei (中國台北, or Taipei, China). This would have been hard to achieve if it were not for the government's efforts on cross-strait relations over the last two months," Ma said while meeting Stephen Waters, the representative of the Australian Commerce and Industry Office in Taipei, at the Presidential Office.

Ma made the remarks in the wake of recent controversy surrounding the title of Taiwan's Olympic team and the arrangements for the opening ceremony procession next month.

Beijing has decided to use Zhonghua Taibei (中華台北, or Chinese Taipei) — rather than the Zhongguo Taibei it had arbitrarily adopted earlier in the Chinese media — to refer to "Chinese Taipei," the official title used by Taiwan at the Olympics, and to arrange the opening procession next Friday based on the number of strokes in the first character of each country or territory's name in simplified Chinese.

Under this system, Taiwan will be the 24th team to enter the stadium after Japan and before the Central African Republic and Hong Kong.

Ma said China's decision on the Taiwanese Olympic team's name was "a development carrying significant meaning," adding that it was the result of a consensus reached by both sides of the Taiwan Strait.

He told Waters that his administration had been seeking to put an end to the vicious competition across the Taiwan Strait by promoting cross-strait relations and a "diplomatic truce" with China.

Meanwhile, former Democratic Progressive Party (DPP) chairman Frank Hsieh (謝長廷) and former secretary-general of the Presidential Office Yeh Chu-lan (葉菊蘭) paid a visit to former Olympic medalist Chi Cheng (紀政) yesterday.

"We need not to request, we need not to beg, it is our right [to join the procession] under the "T" section," Chi told reporters.

"We have felt wronged for the treatment we have received in other Olympic Games for years, and we should let the international community know the injustice and wrong we have taken along the way," she said.

Cheng Wen-tsang (鄭文燦), the director of the DPP's Department of Culture and Information, agreed, telling a separate press conference that if Beijing refused to let Taiwan march under the "T" section, Taiwan's Olympic team should not join the opening parade and Taiwanese government officials and political figures should not attend the opening ceremony.

DPP Legislator Kuan Bi-ling (管碧玲) said that Wu Ching-kuo (吳經國), Taiwan's representative to the IOC, should be held accountable.

In a related development, the Chinese Taipei Paralympics Committee yesterday said Taiwan's Paralympic team would consider boycotting the Beijing Paralympic Games opening ceremony next month if China fails to list the team under the "T" section.

Lai Fau-hwan (賴復寰), director of the committee, said Taiwan's Paralympic team would insist on the original arrangement of the Game's opening procession based on the protocol signed in 1981 between the Chinese Taipei Olympic Committee and the IOC.
---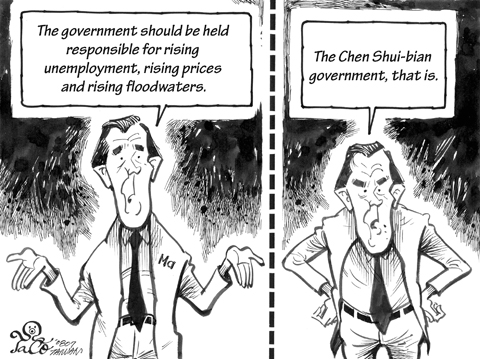 ---
The perils of Taiwan's supplicant government
 
By Sushil Seth
Saturday, Aug 02, 2008, Page 8

Now that President Ma Ying-jeou (馬英九) has been in power for a few months, one would have hoped that a clearer picture of his vision for the nation would emerge.

Sadly, this has not happened.

The one thing that is certain is that the Ma government is committed to maintaining the "status quo," which means perpetrating the "one China" formula — with or without the 1992 fig leaf of ambiguous interpretation.

With the "status quo" mantra in place, the administration has hoped to create relative stability in cross-strait relations. This, in turn, is supposed to lead to quantitative improvements in economic relations in all sectors that have benefits for all Taiwanese.

So far, though, the anticipated hike in economic indicators, such as the stock market, has not materialized, which is causing the government considerable embarrassment.

In other words, all the fanfare over instant nirvana from stable cross-strait relations was empty hype.

Unless the Ma government has given up on Taiwan's sovereignty, it is certainly heading in the wrong direction in conducting its relations with China.

An important principle of international diplomacy is not to show all one's cards when conducting formal or informal relations.

But the Ma administration has acted in such unseemly haste that its emissaries and officials have appeared ecstatic to have been received in Beijing in any capacity.

The whole exercise has been undignified and one-sided, with Taiwan looking like a supplicant.

The Ma administration has therefore lost whatever leverage it once had to fashion its relations with Beijing to its advantage. It seems to think that opening and expanding economic and other ties with China will catapult Taiwan to new levels of prosperity.

But this is not happening, which means that the Ma government will grow more preoccupied with bridging the gap between rhetoric and reality.

The worst thing is that, having pinned all its expectations on Beijing, the government will likely find it hard to regain lost ground.

In the meantime, the US' commitment to defend Taiwan is languishing. Of course, a US commitment to help Taiwan remains. But where are the new weapons to defend against China's military machine?

The Taiwan-US relationship is caught in a complex tangle involving US hesitancy to complicate relations with China over Taiwan. Amid a background of Washington's overstretched military and years of Chinese Nationalist Party (KMT) obstruction of arms bills, the Ma government's ambiguous position on Taiwan's final status only exacerbates Taiwan's vulnerability.

The Ma administration's ability to defend Taiwan is being compromised as Beijing applies the screws through likeminded elements in the KMT.

At the same time, Taiwan's international space is likely to shrink further as allies gain the impression that the Ma regime is now more aligned with China.

Taiwan was already having serious problems expanding its international space via membership of international organizations and fostering relations with other states. But if Ma thought that Beijing would assist Taiwan in expanding its international space simply because a KMT government had been elected, then he was deluded.

The KMT has no clear idea where it is going, other than making every effort to impress Beijing with its cooperativeness.

Taiwan is therefore in dire straits —assuming its people value their political identity and sovereignty.

It is time those who do value such things wake up and energize their political institutions to meet this grim challenge.

Sushil Seth is a writer based in Australia.
---
Bush puzzles press with comments on Taiwan-China ties
 
By Charles Snyder
STAFF REPORTER IN WASHINGTON
Saturday, Aug 02, 2008, Page 3

"It's very important for the president to be very consistent."— George W. Bush, US president

US President George W. Bush has a reputation for mangling the English language — a problem that has fed eight years of comedian routines and newspaper columnist copy.

Now, in an interview held with Beijing's official media organizations, he reached new lows in incomprehensibility in explaining his administration's relations with Taiwan.

In the interview, which he held in Washington with the People's Daily and the Central China Television network on the eve of his trip to Beijing to attend the opening of the Olympic Games, Bush volunteered answers about Taiwan, even if he wasn't asked.

Consider this answer in response to a question about what had "surprised" him about Chinese leaders over the past eight years.

"I would say that there's been a … it's just been interesting to watch I would say that there's been a — it's just been interesting to watch, and interesting to participate with people. I mean, the Taiwan issue was a very touchy issue for a while, causing me to say in the Oval Office — that which is now well-chronicled — that the United States does not support a unilateral declaration of independence. Because I wanted to make sure that our message was clear, but also that the relationship was in a way not our relationship, but other's relationship with China was in a way that it could evolve peacefully and constructively," the president said.

At another point, Bush was asked another question and segued to Taiwan.

"My only point to you is, is that — or the Taiwan-Chinese relationship and that issue. It's a very sensitive issue for the Chinese government. And people who study this very closely will see that the issue is in a better place. And I made it abundantly clear that there was some red lines for the United States on this issue, that there would be no unilateral declaration of independence, that our policy was still the same. It's very important for the president to be very consistent," he said.

The transcript was provided by the White House after its general publication was held up until the Chinese media could air — and presumably edit — it.

The interview has already run into criticism in Washington, including in a prominent Washington Post story, which noted that it came as Bush runs into a buzz saw of static over his intention to attend the opening of the Olympic Games in Beijing and his lack of criticism of China's human rights crackdown ahead of the Games.

Meanwhile, supporters of Taiwan are now circulating the quotes via e-mail and scratching their heads over what he actually meant.
---
Taiwan Post to dump new moniker
 
By Shelley Shan
STAFF REPORTER
Saturday, Aug 02, 2008, Page 1

The Taiwan Post Co (台灣郵政) said yesterday it would soon change its name back to Chunghwa Post (中華郵政), a measure expected to cost NT$8 million (US$260,000).

The company changed its name from Chunghwa Post to Taiwan Post in February last year at a cost of around NT$12 million.

The move at the time upset the Chunghwa Postal Workers' Union, which staged a protest outside the company's headquarters.

The second name change was passed unanimously at a board meeting yesterday and won praise from the workers' union.

Taiwan Post chairman Wu Min-yu (吳民佑) said 30 post offices countrywide would need to have signs replaced, which would be completed by Monday.

Wu said the name change was being carried out in response to a resolution passed by the legislature in April. The resolution said the company had not completed the required legal procedures to change its name to Taiwan Post and said it must change its name again within six months.

Wu said customers with Taiwan Post savings accounts would still be able to use account books with "Taiwan Post" printed on the cover. Postage stamps issued by the Taiwan Post will also still be valid.

"The interests of our customers remained unchanged," he said.

Chunghwa Post vice president Su Tien-fu (蘇添富) said NT$8 million was only an estimate for the cost of the name change.

The bottom line may add up to less than that, Su said.

"When we took the Chunghwa Post signs and billboards down last year, we put them in our storage just in case we might need them again," Su said. "And to save all the trouble, we simply put 'Taiwan Post' stickers on top of the name 'Chunghwa Post'" on smaller signs such as at ATMs.

"Now, we only need to wash those billboards and tear off those stickers," he said.

The meeting yesterday also confirmed the reappointment of former board member Liu Cheng-chi (劉政池).

Liu was removed from the board by Vice Minister of Transportation and Communications Ho Nuan-hsuen (何煖軒) for allegedly leaking information to the press. Ho later also filed slander charges against Liu, accusing him of seeking to damage the company's reputation by divulging negative information.

Wu dismissed speculation that Liu had been reappointed because of pressure from Liu's brother, Miaoli County Commissioner and Chinese Nationalist Party (KMT) member Liu Cheng-hung (劉政鴻). Liu Cheng-chi was appointed to the board to "help the company's business," Wu said.

But anonymous postal workers upset by the decision wrote in a letter distributed to reporters: "What makes Liu so special that he should be employed again and again by the board? ... There are about 5,000 people in this company who are experts in the postal business. Can they all be appointed too?"