Xinjiang 'attack' leaves 16 police dead
 
CARNAGE: Two men were arrested after they allegedly struck using explosives and knives, while in Beijing authorities broke up a protest in Tiananmen Square

AP AND AFP, BEIJING
Tuesday, Aug 05, 2008, Page 1

Two men rammed a dump truck into a group of jogging policemen and then tossed explosives into their barracks yesterday, killing 16 officers and wounding others in China's restive Central Asian border province, Xinhua news agency reported.

The attack in Xinjiang Province came just four days before the start of the Beijing Olympics — an event that has put security forces nationwide on alert and that at least one militant Muslim group has vowed to disrupt. Xinhua, citing local police, called it a "suspected terrorist attack."

Xinhua said the attackers struck at 8am, plowing into the policemen performing morning exercises outside the Yijin Hotel next to their paramilitary border patrol station in Kashgar City.

After the truck hit an electrical pole, the pair jumped out, threw homemade explosives at the barracks and "also hacked the policemen with knives," the report said.

Fourteen died on the spot and two others en route to a hospital while at least 16 more were wounded, Xinhua said.

Police arrested the two attackers, one of them having been injured in the leg, the report said.

Local government officials declined to comment yesterday. An officer in the district police department said an investigation had been launched.

The alleged attack was one of the deadliest and most brazen in recent years in Xinjiang, where local Muslims have waged a sporadically violent rebellion against Chinese rule. Kashgar lies 130km from the border with Pakistan, Afghanistan and Kyrgyzstan.

Chinese security forces have been on edge for months, citing a number of foiled plots by Muslim separatists and a series of bombings around China in the run-up to the Olympics, which open on Friday. Last week, a senior military commander said radical Muslims who are fighting for what they call an independent East Turkestan in Xinjiang posed the single greatest threat to the Games.

Xinhua said that Xinjiang's police department had received intelligence reports about possible terrorist attacks between Aug. 1 and Aug. 8 by the East Turkestan Islamic Movement. The movement is the name of a group that China and the US say is a terrorist organization, but Chinese authorities often use the label for a broad number of violent separatist groups.

In Xinjiang, a local Turkic Muslim people, the Uighurs, have chafed under Chinese rule. Occasionally violent attacks in the 1990s brought an intense response from Beijing, which has stationed crack paramilitary units in the area and clamped down on unregistered mosques and religious schools.

Uighurs have complained that the suppression has aggravated tensions in Xinjiang, making Uighurs feel even more threatened by an influx of Chinese and driving some to flee to Pakistan and other areas where they then have readier access to extremist ideologies.

One militant group, the Turkestan Islamic Party, pledged in a video that surfaced on the Internet last month to "target the most critical points related to the Olympics."

The group is believed to be based across the border in Pakistan, with some of its core members having received training from al-Qaeda and the Pakistani Taliban, terrorism experts say.

Terrorism analysts and Chinese authorities, however, have said that with more than 100,000 soldiers and police guarding Beijing and other Olympic co-host cities, terrorists were more likely to attack less-protected areas.

Meanwhile, a protest by disgruntled Beijing residents broke out yesterday close to Tiananmen Square, city officials said. The group were protesting the meager compensation they were given after being forcibly removed from their homes in the Qianmen district of the city, an official at the area's relocation office said.

The official, who did not want to be named, said "there was some disruption and the street was blocked for some time."

A Xinhua report said police broke up the protest after the group voiced "dissatisfaction with government compensation for demolition of their houses" to a group of foreign media organizations.

The report said police rushed to the site as the group, made up of three to five households, had caused a traffic jam towards the south end of Tiananmen Square.

Tiananmen is one of the most sensitive sites for Chinese authorities, as it was the scene of weeks of pro-democracy protests in 1989.

Many Beijing residents have been forced to move out of their homes in recent years, as the booming city clears many traditional residential areas such as Qianmen to make way for modern buildings.

Also See: HANCOCK'S GAME: In Beijing, don't mention the c-word
This story has been viewed 762 times.

 
---
'Taiwan Post' sent into history
 
STAMPED OUT: The name of the state-run postal company was changed back to the original title Chunghwa Post, in a low-key ceremony in Taipei
 
By Shelley Shan
STAFF REPORTER
Tuesday, Aug 05, 2008, Page 3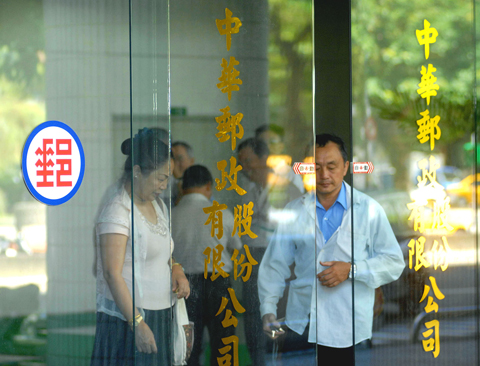 Customers leave through the front door of a branch of the Chunghwa Post Co in Taipei yesterday. The state-run company resumed using its original name containing the word "Chinese," which had been dropped by former president Chen Shui-bian's government.
 
PHOTO: PATRICK LIN, AFP

Former Directorate General of Posts director Hsu Chieh-kuei (許介圭) criticized former president Chen Shui-bian's (陳水扁) administration yesterday for its name-change policy, calling it nothing more than political maneuvering.

"To a lot of postal workers, it [changing the name from Chunghwa Post to Taiwan Post] is a history that is too painful to recall," he said.

Hsu made the comments during a ceremony held yesterday to mark the change of the postal company's name back to Chunghwa Post.

Unlike last year, when the company hosted an hour-long inauguration ceremony attended by Chen and former premier Su Tseng-chang (蘇貞昌) to mark the change to Taiwan Post, yesterday's ceremony lasted only 15 minutes and was attended only by company employees and retirees.

Minister of Transportation and Communications Mao Chi-kuo (毛治國) and other high-ranking ministry officials were not invited.

The ceremony ended with representatives of the Chunghwa Post Workers' Union hailing a victory.

Tsai Liang-chuan (蔡兩全), the workers' union chairman, said after the ceremony that the Control Yuan had launched an investigation into the name change.

"All those who were involved in making the decision and executing the policy — including Chen Shui-bian, former minister of communications and transportation Tsai Duei [蔡堆], former Chunghwa Post chairman Lai Chin-chyi (賴清祺) and current chairman Wu Min-yu (吳民佑) — must be held accountable for this wrong policy," Tsai Liang-chuan said.

Wu said the two name changes have cost the company about NT$20 million (US$666,000).

In a statement on Friday, the company said customers could continue using savings account booklets with Taiwan Post appearing on the cover.

All transactions under the name Taiwan Post are still considered valid by the company.

Meanwhile, the company would continue using deposit receipts and other stationery bearing the name Taiwan Post, but would stamp them with the official Chunghwa Post seal.

Asked for comment, Chinese Nationalist Party (KMT) Legislator Kuo Su-chun (郭素春) said it was "reasonable" for the company to change its name back now that the KMT was in power.

She said the legislature never approved the postal service's proposal to change its name to Taiwan Post, adding that as a result "Taiwan Post never existed."

She said Chen should be held accountable for the money the company has had to spend to change back its name because he ordered the move for political gains.

Democratic Progressive Party (DPP) Legislator Yeh Yi-ching (葉宜津) told a press conference that "few people outside Taiwan know where letters with the Chunghwa Post postmark are from."

She said the company should at least keep "Taiwan" on the postmark, as it would allow more people abroad to know that Taiwan is a sovereign state.

DPP caucus whip Chang Hwa-kuan (張花冠) said it was ridiculous for "the post company to spend NT$20 million to diminish 'Taiwan' and reinstate 'Chunghwa.'"
---
What's in a name?

The use of the phrase "Chinese Taipei" by the International Olympic Committee (IOC) and possibly for Taiwan's next application to neither "join" nor "return" to the UN is both insulting to Taiwanese and a deliberate Sino/Taipei-centric fudge that excludes pretty much anyone outside Taipei. As the administration of President Ma Ying-jeou (馬英九) is keen on using this title, but also insists on the formal constitutional name — Republic of China — Taiwanese athletes can be forgiven if they are confused about exactly which country or region they will be representing at the Olympic Games.

Furthermore, defining an entire geopolitical area by reference to a culture, or the name of one city in that area — e.g., "British London" — is problematic. Are we now to assume that residents in Taichung, Tainan, Kaohsiung, Taitung, Hualien, Ilan, Penghu, Kinmen, Matsu, Lanyu and Ludao are all Chinese and all nominally from Taipei? If we were to use the name of a city, then why not use "Chinese Taichung?"

To call all people in Taiwan "Chinese" is also wildly inaccurate. Consequently, we should perhaps reformulate the name so that it will better reflect the diversity of cultures and languages in Taiwan. Thus "Austronesian Taidong," "Hakka Hsinchu" and "Hoklo Tainan" would be equally valid.

While we're at it, other labels should be changed as well. "Mainland China" could be changed to "Authoritarian Beijing," Hong Kong to "Cantonese Kowloon" and the US to "Native Peoples' Washington."

Furthermore, given the Chinese Nationalist Party's (KMT) new, Beijing-pleasing anti-Japanese attitude, we should simply refer to Japan as "them."

More seriously, it is clear that while Ma and the KMT live on Taiwan they think in China, and every ridiculous attempt to avoid using the word Taiwan is just another nail in the coffin of the Taiwanese polity and its people. Despite this, the KMT may soon find out that it is neither them nor Beijing alone who will determine the future of this country, but rather the agent that still holds economic and physical suzerainty over Taiwan: the US.

As it remains in the interest of the US that Taiwan never achieve de jure statehood or unification with China, no amount of political goodwill, name changing, begging or pleading will move this country out of its ambiguous "status quo."

Ben Goren
Suao, Ilan County
---
Accountability for violence

Tuesday, Aug 05, 2008, Page 8

Most people shake their heads when they watch acts of political violence abroad. Many like to think that such acts only occur in dysfunctional societies or in countries run by dictatorial regimes, and that when it comes to Taiwan, such practices were long ago thrown into the dustbin of history.

In recent months, however, there have been hints of a return to a more violent past. Nothing has highlighted this better than Su An-sheng's (蘇安生) kicking of former president Chen Shui-bian (陳水扁) in the posterior as the latter was entering a courthouse last month — an act that was preceded by similar attacks by the same individual against former representative to Japan Koh Se-kai (許世楷) and lawyer Wellington Koo (顧立雄). That it took three of these incidents before Su was called to account for his acts is cause for concern.

On Saturday the Democratic Progressive Party (DPP) notified authorities of a postcard threatening to kill Chen and members of his family, as well as harm DPP Chairwoman Tsai Ing-wen (蔡英文), if assault charges against Su, a member of the pro-unification Patriot Association (愛國同心會), were not dropped.

It is too early to tell whether there is any substance to the threat. For radical elements like Su, however, it may now seem permissible to use violence or the threat of violence against members of the opposition. If the KMT government does not come down hard on groups and individuals who espouse violence — and the outcome of the investigation into the postcard will be a hint of the government's willingness to tackle this — some could reach the conclusion that it does not care about the consequences.

The use of intimidation against the DPP and other members of the opposition has the potential to exacerbate the power imbalance between the KMT and the DPP, and make the task of rebuilding a coherent opposition more daunting.

When death threats are made against a former head of state, it takes much more than a meek public comment by President Ma Ying-jeou (馬英九) to convince skeptics and proponents of political intimidation alike that the KMT has once and for all abandoned the harvest from dirty tricks that characterizes most of its history.

Violence can lead to polarization and invite reciprocal behavior, as we saw when Su was attacked in broad daylight by a handful of bat-wielding individuals. Taiwan must not allow clan warfare with its use of proxies from the criminal underworld to undermine its democracy and threaten social stability. No one who cares about this nation, or who fought to liberate it after nearly half a century of state oppression, stands to gain from political violence.

The authorities must nip the situation in the bud before it escalates, and if the Patriot Association is found to be advocating violence, then it must be held fully responsible.