Relative of US volleyball coach killed in Beijing

AFP AND AP, BEIJING
Sunday, Aug 10, 2008, Page 1

A Chinese man stabbed to death the father-in-law of a US Olympic coach in Beijing yesterday in an attack that left two others injured, officials said, raising new fears about security at the Games.

The parents-in-law of the coach and their Chinese guide were attacked as they visited the Drum Tower monument, a popular tourist site in the center of the city, the US Olympic Committee (USOC), Beijing police and a source said.

The assailant, a 47-year-old man, then jumped to his death from the second story of the monument, police said in a statement, without saying why he carried out the attack.

The USOC said the victims were family members of a coach for the US Olympic men's volleyball team. Beijing police said the person killed was an American man and the two injured were women, one American and one Chinese.

A source said Todd Bachman, father of former Olympian Elisabeth Bachman, was killed. His wife, Barbara, was hospitalized. Elisabeth Bachman is married to volleyball coach Hugh McCutcheon.

About 450,000 foreigners are expected to come to Beijing for the Olympics, which opened on Friday night and will finish on Aug. 24.

The killing also happened as US President George W. Bush was in the city to attend the Games and he expressed his condolences.

"The President has been informed and his heart goes out to the families of the victims," a White House official traveling with Bush said.

Acts of violence against foreigners in Beijing and throughout China are rare, with expatriates happy to wander around the streets of the capital late at night.

Police identified the attacker as Tang Yongming (唐永明) from Hangzhou.

The Hong Kong-based Information Centre for Human Rights and Democracy said Tang was an unemployed man who often went to Beijing to air grievances with central government authorities.

ARRESTS

Five foreigners were detained in Tiananmen Square yesterday as pro-Tibet activists kept up their campaign of protests around the Games.

The Free Tibet Campaign said the five activists staged a "mock die-in" draped in Tibetan flags on the north side of the square under the portrait of former leader Mao Zedong (毛澤東).

Xinhua news agency said the five were arrested as they tried to disrupt a lunchtime flag-raising ceremony on the square, sparking an angry reaction from bystanders.

Three foreign activists staged a small demonstration outside Beijing's National Stadium on Friday before the opening ceremony, while two days earlier another activist unfurled a giant banner nearby.

Free Tibet Campaign identified the five activists as David Demes from Germany, Evan Silverman, Diane Gatterdam and Joan Roney from the US and Chris Schwartz from Canada.

"There were four people lying on the ground, they had fake blood on their faces and were wrapped in Tibetan flags," John Hocevar, former director of the Students for a Free Tibet, who witnessed the protest, told AFP.

About five minutes into the action a group of angry-looking Chinese men appeared and started shouting at the demonstrators and throwing water bottles at them, hitting one protester on the head, Hocevar said.

The protesters were escorted from the square by plain-clothes police, he said.

DISAPPEARANCE

Meanwhile, a Chinese human rights activist whose husband was jailed earlier this year has disappeared and may have been taken by police to prevent her from speaking to journalists during the Beijing Olympics, an overseas-based human rights group said on Friday.

The group, Chinese Human Rights Defenders, said Zeng Jinyan (曾金燕) disappeared on Thursday and has not been heard from. Zeng is married to activist Hu Jia (胡佳), who was sentenced to thee and-a-half years in prison in April.

"All attempts to contact her have failed. It is feared that Zeng has been taken into police custody and might be mistreated," the group said.
 
---
Taiwan's Chen Wei-ling wins bronze

By Mo Yan-chih AND Shih Hsiu-chuan
STAFF REPORTERS, WITH AFP, BEIJING
Sunday, Aug 10, 2008, Page 1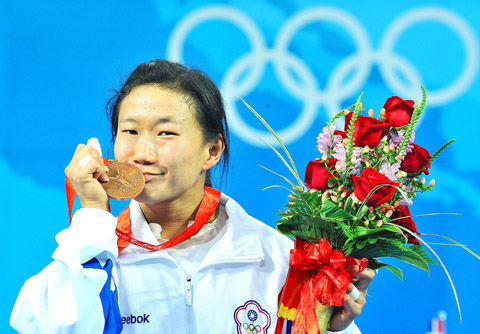 Taiwanese weightlifter Chen Wei-ling kisses her bronze medal after placing third in the women's 48kg category at the Beijing Olympic Games yesterday morning.
PHOTO: CNA


President Ma Ying-jeou (馬英九) extended his congratulations to weightlifter Chen Wei-ling (陳葦綾) yesterday for winning a bronze medal in the women's 48kg class category at the Beijing Olympic Games yesterday morning.

Chen is the first athlete from the Taiwanese team to pick up a medal.

"[Chen's] bronze medal is worth great praise. We expect her to continue achieving greatness for the country," Ma said in a written statement.

Chen's combined lift of 196kg marked a significant improvement over her 11th place finish in the 2004 Athens Olympics, where she finished the 48kg women's competition with a 170kg result.

Executive Yuan Spokeswoman Vanessa Shih (史亞平) said yesterday that to congratulate Chen, the government had asked Minister Without Portfolio Ovid Tseng (曾志朗), who leads a delegation of Taiwanese officials in Beijing, to present Chen with a red envelope.

Tseng, along with Sports Affairs Council Chairwoman Tai Hsia-ling (戴遐齡) and Minister of Education Cheng Jei-cheng (鄭瑞城), attended the Games in their capacity as Chinese Taipei Olympic Committee advisers.

Later yesterday, Premier Liu Chao-shiuan (劉兆玄) and Taichung Mayor Jason Hu (胡志強) showed their support for the national baseball team ahead of their trip to the Beijing Olympics by joining thousands of baseball fans at Taichung Intercontinental Baseball Stadium to watch the Taiwanese baseball team's game against the Sinon Bulls.

The national baseball team heads for Beijing today and Ma said he expected it would win a gold medal.

Taiwan's baseball team won a silver medal in the 1992 Barcelona Olympics.

Taiwan's 80-strong Olympic delegation will compete in 15 sports — archery, baseball, cycling, judo, rowing, sailing, shooting, softball, swimming, table tennis, taekwondo, badminton, tennis, track and field and weightlifting.

The nation won two gold medals — both in taekwondo — two silvers and one bronze at the Olympic Games in 2004 in Athens, ranking 31st in the overall medal standings that year.

Meanwhile, Shih dismissed a report in the Chinese-language China Times yesterday that said Tseng, Tai and Cheng had been given National Olympic Committee (NOC) cards granting limited access at Olympic-related venues that differed from the NOC cards given to dignitaries from other countries.


"The report is not true as our officials are allowed to go anywhere with their NOC cards," she said. "The treatment we received was the same as four years ago. There is no problem with that."

Tseng could not be reached for a comment.

Chen Wei-ling paid tribute to her trash-talking Chinese coach yesterday after she came from nowhere to bag the bronze medal in the 48kg class.

The world No. 11 saw her fortunes dramatically change for the better after ditching her self-help routine and hiring Chinese coach Zhang Jiamin.

"At the very beginning my coach told me that my style was probably the worst among the world's lifters," she told reporters.

"I am a woman of strength, but so poor in technique," she said, praising her coach's colorful language for helping "guide me in the proper technique."

The results have been nothing short of spectacular, particularly in her problem area of the clean and jerk, where the barbell is first hoisted from the floor on to the shoulder blades and underneath the chin before the lifter jerks it above her head with both arms extended.

"As for the clean and jerk I have improved so much over the last few years from 70 to 80 kilos," she said. "However, I was a little bit stressed and nervous and that's why I did not perform better."

To her credit, her best effort, at 112kg, was the best behind gold medalist Chen Xiexia of China.

The Taiwanese made a late run for the silver medal, but failed in her last heave of 115kg.

Chen said her only thought was to accomplish what her coach had asked her to do, and she thought that "even if I break an arm I will not let go of the barbell."

When she failed the lift, she only felt anger inside.

"I have done my best and I'm sure in the next four years with more intensive training I think I will improve my performance in the clean and jerk," Chen said. "As for the snatch I'm very confident because I'm a young woman of great strength and I am sure I can do it well," she said.

Additional reporting by CNA
 
---
Taiwanese cheerleaders blocked at Beijing airport

'THERE'S A PROBLEM': After an hour of questioning by police, Cheerleading Squad for Taiwan members were told "higher-ups" said they must be sent back to Taipei

By Loa Iok-sin
STAFF REPORTER, WITH CNA
Sunday, Aug 10, 2008, Page 2

Cheerleading Squad for Taiwan captain Yang Hui-ju (楊蕙如) was refused entry to China at the Beijing airport yesterday and forced to return to Taiwan.

Yang arrived at Beijing International Airport at 3:20pm. Instead of going through immigration and customs, however, she was "escorted somewhere for further inquiries," Yang told news channel ETTV by cellphone yesterday.

Yang, who campaigned for former Democratic Progressive Party (DPP) chairman Frank Hsieh (謝長廷) during the presidential race, told ETTV that she was denied entry to China and put immediately on a return flight to Taiwan.

Commenting later during her transit in Hong Kong, Yang told TVBS that Beijing airport police had examined her Taiwan compatriot entry permit and muttered: "There's a problem."

The police then took Yang and her companion to a questioning room and looked through her bags, she said.

'WHY CHEER?'

Yang said the airport police asked her why she was visiting China, to which she responded: "I've come to cheer for Taiwan."

The police asked Yang how many matches she would attend to cheer for Taiwan and she replied "maybe seven or eight games."

"Why cheer at so many games?" the police responded, Yang said.

After an hour of questioning, Yang said the airport police said "higher-ups" had "ordered" that she and her friend be sent back immediately. They were put on a flight to Hong Kong.

Yang organized the cheerleading squad years ago to support Taiwanese athletes at international competitions. Last year the squad traveled to New York to cheer for New York Yankees pitcher Wang Chien-ming (王建民).

NO NATIONAL SYMBOLS

The cheerleader squad normally dons yellow uniforms bearing the Taiwanese flag and the English slogan: "Taiwan Woo!"

They also normally wave Taiwanese flags as part of their routine.

But the cheerleading squad had said it would drop the national symbols to cheer for the nation's athletes in Beijing.

"I won't bring any flags — including the national flag — and will not bring banners that are too eye-catching either," Yang told a news conference last week in Taipei. "Chinese laws are unpredictable, no one knows what would happen if you were to break the rules of the Games."

In related news, Chinese Nationalist Party (KMT) Chairman Wu Poh-hsiung (吳伯雄) yesterday visited the Athletes' Village in Beijing to cheer the nation's delegation and present the members with NT$200,000 in spending money.

Wu was accompanied by KMT Secretary-General Wu Den-yih (吳敦義), Legislative Yuan Deputy Speaker Tseng Yung-chuan (曾永權) and other top officials.

Speaking about the baseball team's first game of the Olympics — scheduled for Wednesday against the Netherlands — Wu Poh-hsiung said China-based Taiwanese businessmen had bought most of the tickets, ensuring a "Taiwanese cheerleading squad."

If you factor in the support of Chinese spectators for Taiwan's team, it will virtually have a "home field advantage," he said.

When approached for comment on Wu Poh-hsiung's visit to the Olympic Games, DPP Chairwoman Tsai Ing-wen (蔡英文) said in Taipei yesterday that as the leader of Taiwan's governing party, Wu Poh-hsiung should exercise caution, lest he give the impression that "Taiwan is part of China."

Tsai said Wu's remark about a "home field advantage" was regrettable and disappointing. Such a remark undermines the nation's status as a sovereign state, she said.

ADDITIONAL REPORTING BY STAFF WRITER
 
---
Ou talks about Taiwan's 'diplomatic truce'

In a departure from the previous government, the administration under President Ma Ying-jeou advocates a 'diplomatic truce' and finding a 'modus vivendi.' On Thursday, Minister of Foreign Affairs Francisco Ou sat down with 'Taipei Times' staff reporter Jenny W. Hsu and offered his views on Taiwan's diplomacy and the strategy his ministry is using to help expand Taiwan's international space


Sunday, Aug 10, 2008, Page 3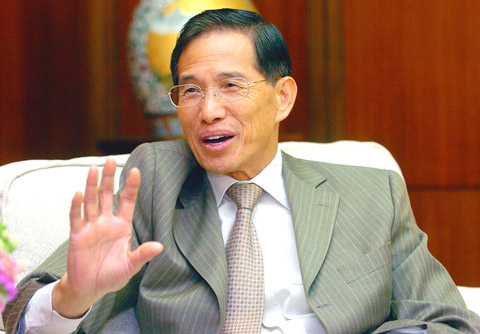 Minister of Foreign Affairs Francisco Ou gestures during an interview with the Taipei Times on Thursday.
PHOTO: CHU PEI-HSIUNG, TAIPEI TIMES
 
Taipei Times: Some people have accused the administration of being "naive" in believing that Beijing will exercise goodwill toward Taiwan based on the so-called "diplomatic truce." What's your response? Also, can you define just exactly what a "diplomatic truce" is?

Francisco Ou (歐鴻鍊): In fact, a "diplomatic truce" was a concept that I proposed many years ago. For a long time, Taiwan's diplomacy focused on maintaining relations with our existing allies and fostering warmer ties with important non-allies such as the US, Japan and the EU. However, we have consistently ignored China, refusing to enter into a dialog with Beijing. We cannot keep blindfolding ourselves by pretending China does not exist.

The world trend now is to replace conflict with reconciliation. You will only reap more trouble if you insist on antagonizing [Beijing].

To reach cross-strait reconciliation, the most significant layer would of course be on the diplomatic front. Cross-strait harmony would be impossible unless both sides can reconcile over diplomatic issues.

Yes, many people have said that it seems like Taiwan is retreating and that Taiwan is "begging" China, but that is absolutely incorrect.

To say Taiwan is "begging" China would be to say that Taiwan has a case of "unrequited love" (一廂情願) hoping Beijing would extend its goodwill, which is not at all the case.

A diplomatic truce can only take place when both sides offer goodwill. I think a truce in the Strait is highly possible because a continuing antagonism would be damaging to them and to us.

Truth be told, many underhanded tactics are used in the diplomatic scuffle. It is not only a monumental waste of money, but also creates animosity from the international community about creating instability in a certain region. For example, Australia has been publicly offended about the China-Taiwan tug-of-war in the South Pacific.

On the contrary, positive cross-strait interaction would erase the negative images of both countries and create a win-win situation for both sides. Therefore we should avoid any factors that might discourage a positive interaction. A diplomatic conflict should be the first obstacle removed from preventing improved cross-strait relations.

Also, many Chinese leaders have stressed that to resolve the Taiwan Strait issue, [Beijing] must first win the hearts of the Taiwanese people. Thus a conflict with Taiwan would not serve its national interests.

On Taiwan's participation in international organizations: In an era of globalization, world-wide collaboration has become more crucial than ever.

Taiwan's long-standing alienation not only infringes on our rights, the world also suffers from not benefiting from what Taiwan can contribute. Therefore, to the international community, Taiwan's participation is absolutely necessary.

China's oppression is the only reason why Taiwan is alienated. In recent years, we have gained more sympathy and support from other nations, such as in the case of the WHO. We need to be pragmatic and recognize the crux of the issue.

No matter whether you approach it from a pragmatic or a flexible perspective, Taiwan must engage China to solve the dilemma. So it is evident that whether it's bilateral relations or multilateral relations, Taiwan needs to have a dialog with Beijing.

TT: From the Ministry of Foreign Affairs' perspective, what kind of goodwill has China extended toward Taiwan since May 20?

Ou: At the moment, all cross-strait discussions have been focused on economic issues. We have a tacit understanding with Beijing that the harder issues, meaning political issues, will come later.

It is quite clear that the Beijing government has heard Taiwan's concerns. [Chinese President] Hu Jintao (胡錦濤) on several occasions said the issue of Taiwan's international space can be discussed. We can say that is the direction that China is heading.

Since we have not launched an official discussion, we can now only try to interpret their intentions which are still unclear to us because sometimes their officials are courteous at international settings, but sometimes not.

I think it is because China has not made an internal decision on its future attitude toward Taiwan, but they are very clear over Taiwan's intentions. However, I am quite sure they also favor the direction of reconciliation.

TT: What would Taiwan consider as examples of China's goodwill?

Ou: Paraguay is a good example of China's goodwill. During the election, the Paraguayan president-elect said he would sever relations with Taiwan once he won the seat. But so far we have not heard any more about it. Moreover, he has invited us to attend his presidential inauguration.

So far we can say it is all stable, but it does not mean we can relax because, who knows, maybe one day Paraguay will go back on its word.

Our diplomatic strategy in the future will not be too different from the past, except that in the past we concentrated too much on gaining new friends but ignored our existing allies. And this is why we lost nine allies but only gained three in the last eight years.

Now we will focus our energy on cementing ties with our allies. As part of Taiwan's goodwill toward China, we will also not approach its allies.

TT: Critics have said that Beijing is becoming the one dictating Taiwan's diplomatic affairs and that Taiwan is retreating.

Ou: Absolutely not. Taiwan is definitely not retreating, but concentrating on strengthening ties with our existing allies. We want to maintain the current status where Taiwan will not try to lure away Beijing's allies and Beijing agrees to leave our friends alone.

But if Beijing refuses to call a truce, then we will have no choice but to return to the previous ugly fighting, which would be a huge disservice to both sides, as has been proven in the past.

TT: Is there a concern that some of Taiwan's allies might become more interested in establishing ties with Beijing since Taiwan itself has also become more China-friendly?

Ou: It is a fact that many countries want to lean toward China, but there are also countries that are leaning toward Taiwan. That is the ugliness of a diplomatic scuffle. Therefore to avoid such contention, both sides must uphold goodwill by not moving away from the current status.

To me it would be heartbreaking to see the ugliness continue, because it would just be a waste of the taxpayer's money.

TT: President Ma has repeatedly stressed the importance of repairing mutual trust between Taipei and Washington. In your view, how badly was the relationship damaged and how does Taiwan propose to fix it?

Ou: Because of what happened in the past, the US is still skeptical about whether the new administration is trustworthy or not. US-Taiwan relations deteriorated to the level that there were doubts about Taiwan's credibility and whether it would honor or default on its promises.

In the future, we will consult with the US on major policies to ensure a "surprise-free" relationship that the president has strongly stressed.

This is the main reason why we have emphasized that the president's stopovers in the US will simply be transits on the way to our destinations. No fanfares and no activities, as promised.
---
Three past Olympic cities
Sunday, Aug 10, 2008, Page 8


Since World War II, only three communist countries have been chosen to host the Olympics. Sadly, two failed to conform to the spirits of the International Olympic Movement and the third was ravaged by a civil war six years after the Games.

Moscow was the first communist city to hold the Olympics in 1980. One year earlier, the armed forces of the Union of Soviet Socialist Republics (USSR) invaded Afghanistan. The invasion drew international criticism and protests, and it resulted in a boycott of the Olympics by 62 countries, including the US. The war led to widespread destruction in Afghanistan, economic decline in the USSR, and the collapse of the superpower in 1991.

The second city, Sarajevo, successfully hosted the Winter Olympics in 1984. The uneasy socialist union of various ethnic groups started to break up in 1990 under economic pressures, just six years after the Olympics were held. The breakup then escalated into a series of horrific civil wars that were characterized by ethnic cleansing.

Beijing is the third communist city to host the Olympics. China originally hoped to showcase the "peaceful rise" of the People's Republic of China. Instead, even before the opening ceremony began, it was deeply mired in controversies relating to human rights violations.

Persecution and human rights abuses in China are incompatible with the Olympic Spirit set out in Article 1 of the Olympic Charter that seeks "respect for universal, fundamental and ethical principles." Beijing is now besieged with paranoia of impending civil unrest. Regardless of the outcome, the Beijing Olympics have cast China in a negative way.

Furthermore, Beijing will once again intentionally humiliate Taiwan by using the incomprehensible name "Chinese Taipei." This intentional Chinese insult is an open violation of the second principle in the Fundamental Principles of Olympism, which is concerned with the preservation of human dignity via sports.

At this time of Beijing Olympic propaganda, freedom loving peoples must be vigilant to the danger of communist expansion and infiltration under the guise of a "peaceful rise," "harmonious society" and "one world one dream." Do not forget the past crimes against humanity committed by communists, led by China and the former USSR. Taiwan must wake up to the evil nature of communism and avoid becoming the second Tibet.

Samuel Yang
Bloomfield Hills, Michigan

 
---
Does anybody still trust Mr Ma?

By Lin Cho-shui 林濁水
Sunday, Aug 10, 2008, Page 8

After former president Chen Shui-bian's (陳水扁) troubling performance, a landslide majority bet their future on President Ma Ying-jeou (馬英九) and the idea that things would turn around upon his accession to power.

Surprisingly, only a couple of months later, public confidence in Ma has collapsed, and Taiwan's international friends strongly question whether Taiwan is still their friend. US Secretary of State Condoleezza Rice's remark that as Taiwan improves its relations with China, it must not forget the independent role of US-Taiwan relations, was in fact a response to Ma putting cross-strait relations above other diplomacy.

The low-profile treatment of Ma's stopover in the US and the freeze on arms sales to Taiwan indicate the US' decreasing confidence in Ma. John Tkacik, a senior research fellow in Asian studies at the US' Heritage Foundation, has even said that in the past Taiwan and the US did not talk, but now they have been officially divorced.

In addition, US-Taiwan Business Council chairman Paul Wolfowitz recently wondered why US airlines are not allowed to join the cross-strait chartered flight market.

Although Ma has taken a "Greater China" approach to Japan on the Diaoyutai territorial dispute, leading Japan to doubt his intentions, on his inauguration he managed to gain the support of former president Lee Teng-hui (李登輝), Tokyo Governor Shintaro Ishihara, Taiwan's former representative to Japan Koh Se-kai (�?�) and a Japanese delegation, which brought an unprecedented official congratulatory letter to Ma on May 20.

However, Ma's pride in gaining Beijing's support over the Diaoyutai issue, Koh being forced to step down after being accused of treason by the pan-blue camp and the problems with finding a suitable candidate for Taiwan's new representative to Japan have all led to a mutual lack of confidence.

The US and Japan have lost confidence in Ma, while his administration has been moving closer to China in cross-strait economic policies. Logically speaking, Taiwan's relations with Beijing should have improved, but there have been problems here, too.

On the issue of cross-strait chartered flights, Beijing took advantage of Ma by tabling the issue of cargo flights, which Taiwanese airlines and industries had been looking forward to. Then Wang Yi (王毅), head of China's Taiwan Affairs Office, blocked Ma's efforts in pursuing international space for Taiwan. In addition, by utilizing the conflict between Ma and the Chinese Nationalist Party (KMT), the Chinese government gave Ma a hard time on the issue of Taiwan's title at the Olympics and then attributed the change from Zhongguo Taibei (中國台北, "Taipei, China") to Zhonghua Taibei (中華台北, "Chinese Taipei") to talks between the KMT and the Chinese Communist Party in May. The KMT thus turned Ma into a mere figurehead. A Chinese think tank made it even clearer that Beijing does not trust Ma and must use the KMT to "control" him. Ma's goodwill gestures toward Beijing seem to have been futile.

Not long ago, Ma claimed the public was satisfied with his cross-strait policies. Is this true?

The public opinion wants a balance between Taiwanese independence and cross-strait peace. During the election campaign, Ma called for putting Taiwan first and cross-strait peace second. After assuming office, he appointed independence advocate Lai Shin-yuan (賴幸媛) as Mainland Affairs Council chairwoman, Chiang Pin-kung (江丙坤) as Straits Exchange Foundation chairman and strongly pro-China Yiin Chii-ming (尹啟銘) as minister of economic affairs, all of which seems to meet public expectations.

Yet this balance is difficult to maintain. Lai is stuck in an awkward position, disliked by both the pan-blue camp and the Taiwan Solidarity Union, and the balance is becoming increasingly precarious.

Ma's prestige is declining. On the one hand, KMT officials and legislators are visiting China as often as possible in order to counterbalance Ma's attempt to control pro-unification KMT officials. On the other hand, pro-unification officials are pressuring Ma to restore the National Unification Guidelines (國統綱領) and the National Unification Council (國統會). Worse yet, seeing that the KMT only plays the "China card," Beijing invited Ma to join it in pushing for unification, an issue that has been on the backburner for the past eight years. How much longer will those who support Taiwanese consciousness trust Ma?

Great political leaders have often been misunderstood in their early days, but they always manage to convince the public to support them in achieving their goals in the end. However, success in doing so requires bold and visionary central thought and sharp policies.

What are Ma's core ideology and policy? On one hand, he constantly emphasizes the importance of maintaining equal relations with the US, China and Japan; on the other hand, placing cross-strait relations above diplomacy seems unwise in that the nation's old allies are questioning Taiwan's position only two months after his inauguration. Therefore, China continues to show distrust and pressure Taiwan while also calling for unification. Not only has Ma lost the trust of other countries, the public has also lost confidence in him.

It seems impossible to find anyone who still believes in Ma. He is not a bad person, so how can he be even worse than Chen? It is time for some soul searching.


Lin Cho-shui is a former Democratic Progressive Party legislator.
Translated by Ted Yang
---