Bush pressures Beijing to do more in Darfur

MESSAGE: Police said the man who stabbed Todd Bachman to death had acted out of despair. A Christian activist abducted yesterday remained missing

AGENCIES, BEIJING AND KUQA, CHINA
Tuesday, Aug 12, 2008, Page 1

US President George W. Bush said yesterday he had used talks with Chinese leaders during the Olympic Games to press them to use their influence with Sudan to help end the humanitarian crisis in Darfur.

Wrapping up his Olympics tour, Bush said that in Sunday¡¦s meetings with Chinese President Hu Jintao (­JÀAÀÜ) and other officials he raised US concerns, including human rights and religious freedoms in China and the situation in Sudan¡¦s troubled Darfur region.

¡§My attitude is if you¡¦ve got relations with [Sudanese President Omar al-Bashir], think about helping to solve the humanitarian crisis in Darfur,¡¨ Bush said in an interview with NBC Sports. ¡§That was my message to the Chinese government.¡¨

Support for Sudan ¡X China is a key investor in its oil industry and Khartoum¡¦s biggest arms supplier ¡X has been among the sources of international criticism of Beijing as the world¡¦s spotlight has fallen on it for the Olympic games.

Bush has denounced the Sudanese government for its policies in the Darfur region, where conflict has taken some 200,000 lives and displaced some 2.5 million people since rebels took up arms against the government in 2003.

Bush has called it genocide, a charge the Sudanese government has rejected.

The US protested to China over its decision before the Games¡¦ opening ceremonies to revoke the visa of Olympic gold medallist Joey Cheek, an activist for Darfur.

DESPERATE ACT

State media quoted police as saying that the man who murdered an American tourist in Beijing before throwing himself off a tower acted out of despair over failures in his life.

Tang Yongming, 47, stabbed Todd Bachman ¡X the father-in-law of US Olympic volleyball coach Hugh McCutcheon ¡X to death in Beijing on Saturday in an attack that also left his wife, Barbara, seriously injured.

Police in his hometown of Hangzhou in east China, said Tang ¡§took his anger out on society¡¨ in an example of ¡§individual, extreme behavior,¡¨ Xinhua news agency said late on Sunday.

Tang had two failed marriages and his 21-year-old son was sentenced to six months in prison for theft earlier this year, the news agency said.

STILL MISSING

Meanwhile, a Christian activist who was detained on his way to a church service attended by Bush on Sunday has not returned home, his brother said yesterday.

Hua Huilin said he and his brother, Hua Huiqi, a member of Beijing¡¦s underground Christian church, were stopped by security agents in two black cars on Sunday while they were cycling to the Kuan Jie Protestant Church around dawn.

The pair was taken away in separate cars and Hua Huilin said he was released a few hours later. He said his brother, however, remained missing.

¡§We¡¦re so worried,¡¨ Hua Huilin said by telephone yesterday.

A man who answered the telephone at the spokesman¡¦s office of



the Beijing Public Security Bureau said yesterday officials there were trying to find out what happened and would only comment when they had ¡§an accurate answer.¡¨

¡¥TERRORISTS¡¦

Two women were among a squad of assailants that hurled homemade bombs at government buildings and police this week in violence that left 12 people dead in a Muslim region of China, officials said yesterday.

Police were still investigating whether the attackers belonged to a group allegedly linked to al-Qaeda that has threatened to disrupt the Games.
---
¡@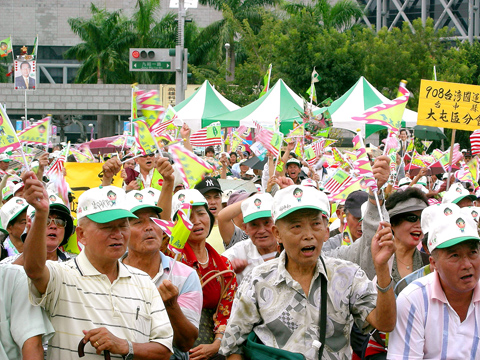 STANDING BY THEIR MAN
Supporters of former president Chen Shui-bian yesterday wave flags and shout slogans at the inaugural meeting of an A-bian friendship association in Kaohsiung.
PHOTO: CNA
¡@
¡@