Journalists and activists arrested outside Olympics

FACE VALUE: Meanwhile, officials insisted that the decision to have a girl lip-sync another's song during the opening ceremony was not about who was cuter

AP, BEIJING
Thursday, Aug 14, 2008, Page 1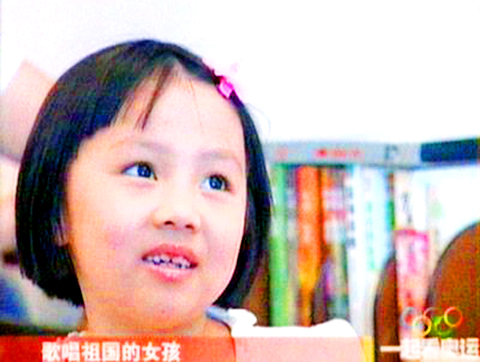 This undated video frame grab image originally aired by China Central Television and taken from the Chinese Web site Sina.com shows seven-year-old Yang Peiyi, the girl who actually sang during the opening ceremony of the Beijing 2008 Olympics.
PHOTO: AP
 

Up to eight Tibet activists who staged a protest yesterday near the main Olympics venue and a British television journalist were detained by police, a rights group and a TV producer said.

The New York-based Students for a Free Tibet said two of their members hung a banner that said "Free Tibet" on a bridge in the Chinese Ethnic Culture Park, south of the National Stadium.

Another five or six members handcuffed themselves to each other and to bicycles at the front gate of the park, said Lhadon Tethong, the group's executive director.

All — including Pema Yoko, a half-Tibetan woman with Japanese citizenship — were detained by police and plainclothes security agents, Tethong said.

The journalist was identified as John Ray of ITV News.

"The Tibetan protesters were in the park, John Ray was running behind them, the police were running behind him," said Bessie Du, a Beijing-based producer for the program, who watched the situation unfold from afar.

Du said police put Ray into a car, despite his efforts to show them his Olympic press accreditation.

A man who answered the telephone at the Beijing Public Security Bureau refused to comment. The park's security director who would give only his surname, Dong, confirmed the protest took place.

The demonstration was the largest in a string of brief protests — mostly by foreigners hoping to use the Olympics to draw attention to their causes — throughout Beijing since the games started last week.

Most have had less than five people and foreign activists have been deported.

Also yesterday, a rights group said a Chinese activist who applied for permission to protest against corruption during the Olympics has been taken away by security agents.

Ji Sizun wanted to demonstrate in one of three protest zones Chinese officials have designated for the games, Human Rights Watch said in a statement.

Meanwhile, Olympic officials insisted yesterday that the decision to have one girl lip-sync another's voice during a song featured in the Beijing Games' opening ceremony was not about who was cuter, but about the best performance.

Organizers were put on the defensive after the musical director of last Friday's Games curtain raiser revealed the last-minute switch — the latest embarrassment for officials who have gone to extraordinary lengths to ensure the Games are flawless.

In a sparkling red dress, nine-year-old Lin Miaoke (林妙可) soared on wires above the Bird's Nest national stadium and mouthed the words to Ode to the Motherland.

But the voice everybody heard was a prerecorded version of the song by seven-year-old Yang Peiyi (楊沛宜), who officials decided sounded better than Li Miaoke but did not look as good.

Sun Weide (孫維德), the spokesman for the Beijing organizing committee, said the decision to use both girls was made by the artistic director after consulting with broadcasters, who had recommended the change. He did not name the broadcasters.

Chen's original interview was posted on Beijing Radio's Web site on Sunday night. By Tuesday the link was shut down. The Chinese government routinely blocks sites that could cause embarrassment to the country's communist rulers.
---
EDITORIAL: The show on the sidelines in Beijing

Thursday, Aug 14, 2008, Page 8

If anything positive has come out of the debacle that is the Beijing Olympics so far, it is the clarity that the Games have brought to the debate on national identity by demonstrating the pride — or lack thereof — of public figures in the Taiwanese team and the country itself.

When asked how he felt about participating in the Games, Kuo Yen-wen (郭嚴文), a member of the Olympic baseball team, said: "I hope to perform well and show the Chinese [what we've got]. Don't call us Zhongguo Taibei [中國台北, Taipei, China] anymore."

After being refused entry to China by Beijing airport police to cheer for the nation's Olympic athletes, Cheerleading Squad for Taiwan captain Yang Hui-ju (楊蕙如) dismissed criticism from those who called her "provocative," asking: "Am I wrong to love my country?"

After winning the bronze in the women's 48kg category, weightlifter Chen Wei-ling (陳葦綾) said: "When I received the medal, all I could see was the flag representing Taiwan, all I could hear was the song representing Taiwan, and in my heart I wanted to say 'Go Taiwan!'"

When a Chinese spectator shouted "we are all Chinese," Chen replied with a short, sweet remark that said it all: "Go Taiwan!"

It is telling that Kuo, Yang and Chen, though not as influential as Chinese Nationalist Party (KMT) Chairman Wu Poh-hsiung (吳伯雄) and former KMT chairman Lien Chan (連戰), are not afraid to show their feelings for the country they love. Unlike Wu and Lien, they have the backbone to stand up for the country by proudly saying the name "Taiwan" in front of a global audience.

By contrast, Wu and Lien have put on a pitiful show during the Games.

They have consistently played by Beijing's rules, not daring to utter either the word "Taiwan" or the nation's official title, the Republic of China, the name they have so often argued is inseparable from the nation's identity.

Instead, the public was treated to scenes of toadying and elbow-rubbing with Chinese President Hu Jintao (胡錦濤).

To add insult to injury, the Chinese-language Next Magazine reported yesterday that Wu had struck a secret deal with China during his meeting with Hu in May. The report said Wu agreed that Taiwan would accept its placement during the Olympic opening procession based on the number of strokes in the character zhong (中) in exchange for Taiwan's Olympic team being addressed by Chinese media as Zhonghua Taibei (中華台北, Chinese Taipei) rather than Zhongguo Taibei.

Wu must respond to this allegation and substantiate his repeated professions that he loves his country. Presenting Taiwan's Olympic team with NT$200,000 in spending money is not worth a fraction of showing some backbone to Beijing.

On a trip that should have focused on cheering the nation's athletes, the behavior of Wu and Lien has above all served the interests of the Chinese government. It is painfully clear that the former vice president and the chairman of Taiwan's governing party have no intention of demanding respect on behalf of the 23 million people of Taiwan and have no expectation that Beijing will show any respect.

Hope lies not in these poor examples of leadership by Wu and Lien, but in the courage, determination and unreserved pride of people like Kuo, Chen and Yang.
---
China's Olympian myth-making

By Sushil Seth
Thursday, Aug 14, 2008, Page 8

'The razzmatazz of the Olympics sought to unite the country in a wave of national pride, which has succeeded to a degree among China's middle classes.'

China's rulers might wonder whether their decision to host the 2008 Olympic Games was such a good idea. While it has demonstrated China's capacity to put on a dazzling show, it has also highlighted its ugly side.

Deploying 110,000 army and police personnel and 1 million civilian "volunteers" to stage the Games speaks for itself. On top of that, tanks and missiles ring the city, as if Beijing were expecting an invading army disguised as athletes.

Elsewhere in the country, particularly in Tibet and Xinjiang, non-Han inhabitants have become suspects and potential "terrorists."

Whether or not China's rulers are having some doubts about the wisdom of hosting the Olympics is now beside the point.

Things haven't gone too well, ever since the pesky Tibetans created human rights bravura in March over their continued repression and cultural genocide.

Human rights advocates took up their cause as the Olympic torch passed through London, Paris, the US and Australia.

Some of them even managed to breach the security cordon in Beijing to publicize the Tibetan cause by hanging a banner from a light pole.

To make things worse, an Uighur group claimed responsibility for a string of attacks, including in Kashgar, where they reportedly killed 16 policemen.

The Olympics seem to have become a magnet for people who might not otherwise get due international attention to highlight their plight.

Even more disturbing for the ruling party was the image of a diverse group of Han Chinese displaying placards highlighting their grievances.

They cursed the regime for widespread corruption and misgovernment, and for evicting them from their homes to make way for new, modern buildings.

These are marginalized Han Chinese, part of the huge majority, being swept away by a tidal wave of economic greed that has been pioneered by the communist party and its business cohorts.

The rural areas are paying the highest price for China's rapid industrialization in the form of land seizures, arbitrary local taxes and depressed economic conditions that subsidize the urban economy. The rural population does show its rage by staging protests. Recent official figures indicate there were as many as 87,000 incidents of unrest in just one year.

Because of the depressed conditions in these areas, large numbers of young people are heading to the cities in search of employment. There is an estimated floating population of about 150 million people in the cities. Their cheap labor — with few or no social benefits — is another form of rural subsidy supporting the urban industrial complex.

The razzmatazz of the Olympics sought to unite the country in a wave of national pride, which has succeeded to a degree among China's middle classes. But for the mass of people in the countryside, it would be an irrelevant exercise of political theater.

The upsurge of national pride among the well-connected urban youth tends to border on jingoism. This was seen in Chinese counter-protests over the issue of Tibet, with the West being accused of seeking to derail or disrupt China's glorious Olympics. For China's ruling class, the Beijing Olympics looked like an all-important exercise in legitimacy.

And there is logic behind this. In the absence of an over-arching ideological and idealistic vision for the country, China's rulers have the difficult task of creating an illusion of legitimacy. Deng Xiaoping's (鄧小平) slogan that to be rich is glorious is hardly an enduring basis for building a nation.

It is amazing how a well-orchestrated extravaganza like the Olympic Games, pandering to the nationalism of China's well-connected middle class, can create the illusion of overall legitimacy for the regime. In this clever exercise, the communist party and the nation have become indivisible. One reflects the other. Anyone who criticizes the regime's human rights or political record ends up being branded a traitor or a terrorist.

Indeed these critics are more often than not closer to the truth, even though it is not the fashionable thing to say.

Nobody is denying that China has made rapid industrial growth that has expanded its urban middle class. But even in the urban industrial landscape, something terrible is happening. People are losing touch with reality, and traditions are disappearing and being replaced by something lacking deep roots.

As China becomes a vast construction site, with old neighborhoods of traditional hutong houses disappearing, it is like having a memory and watching it gradually disappear, as the celebrated Chinese painter Zhang Xiaogang (張曉剛) has put it.

Zhang was cited in an essay in the Sydney Morning Herald's weekend magazine as saying that "many Chinese feel safer living in a gap between the present and past, in a virtual-reality world symbolized by the internet and video games."

The trouble is that even the Internet is sanitized by China's thought police to make sure its citizens do not stray from what the regime wants them to see and think.

But despite seemingly foolproof security at the Olympics, some Chinese citizens felt bold enough to make their problems and grievances known to the foreign media. And these are serious problems.

It should offend any person's sensibility that, while its own people suffer in such abysmally poor conditions, China has seen fit to spend billions on preparing Beijing as an Olympic city for an extravaganza meant to prop up its rulers' national and international image.

Judging by all the excitement, it would seem the entire Chinese population supports the communist party's efforts to make China a great power and wash away its "century of humiliation" by Western powers and Japan. In other words, it may seem that the communist party and the nation are now indivisible.

But the reality, as reflected in the situation on the ground in vast areas of China and particularly in the countryside, is quite the opposite. Struggling against all odds to make a living, these people have no time for glossy images doled out by the government for the upper and middle classes, consisting of party hacks, their relatives and those co-opted in this robber-baron economy.

It would seem that China's rulers are starting to believe their own myth-making. And that is when the danger starts.

Sushil Seth is a writer based in Australia.
 
---
The Nationalist Olympics

Thursday, Aug 14, 2008, Page 8

While high-ranking officials from the Chinese Nationalist Party (KMT) have flocked to the Olympics boasting blood and cultural ties with the Chinese Communist Party (CCP), Taiwan seems to have disappeared from the radar of KMT representatives. Instead of rooting for our home-grown athletes at the Games, these officials seem more honored to share the "pride and joy" of such an "impressive" display of Chinese cultural nationalism at the Beijing Olympics.

KMT officials have repeatedly praised the success of the Games and have themselves become complicit publicists of Chinese nationalism, jumping on the pro-China bandwagon that has swept the Chinese-speaking world.

As leader of the ruling party, Wu Poh-hsiung (吳伯雄), along with his cronies, has refused to differentiate between the Taiwanese and Chinese teams. Instead of giving credit to our athletes as the pride of Taiwan, Wu and others have reportedly referred to them as "Chinese athletes" (中華健兒) and said they enjoy a "home court advantage" in Beijing.

But in contrast to this "home-court advantage," some supporters of the nation's athletes known for displaying a strong sense of pride in Taiwan, were denied entry to China.

While the CPP continues to pick and choose — or rather, divide and conquer — by allying those who adhere to its sanctioned Chinese nationalism, China continues to isolate anyone who is seen as pro-Taiwan.

It is unfortunate that many of the KMT officials participating in the Olympic nationalist farce have become accomplices in China's unification project. While the KMT refuses to even consider Taiwanese independence as an option, it praises China's glory and the longtime wisdom of the "Chinese nation," which is a political entity that did not exist until the 20th century. Perhaps, to be fair, the KMT leaders truly believe that they have reached "peace in their times."

However, it appears that this "peace" can only be reached by silencing democracy and freedom of speech in Taiwan, disregarding the existence of de facto Taiwanese independence and nationalism and promoting a chaotic and old-fashioned understanding of Chinese nationalism, with the end game being ultimate unification with China on Beijing's terms.

It is thus especially embarrassing that while the KMT officials remain mute on the subjects of human rights, democracy and even pride in Taiwan's democracy, many other statesman have made public statements on the eve of the Games to criticize China's poor human right records, as well as its cultural persecution of the Tibetan and Uighur peoples.

One must wonder what the KMT has been thinking as it has offered a series of appeasement gestures to China, while subjugating themselves and pushing Taiwan in the direction of a dependent satellite state.

The administration of President Ma Ying-jeou (馬英九) and the KMT's solution to most of the nation's problems appears to be increased dependency on and integration with China, regardless of the social and political consequences of these policies. To the detriment of Taiwan's peace, democracy and sovereignty, the KMT's games go on.

Roger Lee Huang
Taipei
---
Japan pressured to come clean on comfort women

NOT FORGOTTEN: The US Congress as well as the Dutch, Canadian and European parliaments have all passed motions on the matter. Taiwan could be next

By Loa Iok-Sin
STAFF REPORTER
Thursday, Aug 14, 2008, Page 2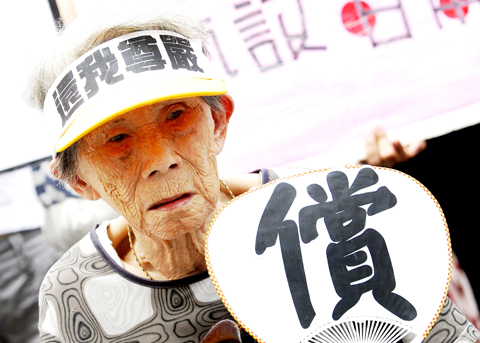 A Taiwanese ''comfort woman'' holds a fan that reads ''compensation'' and wears a cap that reads ''Return dignity to me'' at a protest in front of the Japanese representative office in Taipei yesterday.
PHOTO: CHIANG YING-YING, AP


As part of a global action, several former "comfort women," accompanied by women's and human rights activists, staged a protest near the Japanese representative office in Taipei yesterday, asking the Japanese government to apologize and compensate the victims.

"Aug. 15 will mark the 63rd anniversary of Japan's surrender [ending World War II]. However, the Japanese government has yet to officially apologize or compensate former comfort women," said Chen Shu-li (陳淑麗), a board member of the Women's Rescue Foundation.

"Comfort women" is a reference to women from countries and regions occupied by Japan — including Taiwan, North and South Korea, China and the Philippines — who were forced to provide sexual services to Japanese soldiers in military brothels during World War II.

The demonstrators held placards with slogans asking Japan to apologize, to provide compensation and to include the topic in Japanese textbooks.

"The key to ending violence against women is to make those responsible compensate the victims," said Wang Hsing-chung (王興中), director of Amnesty International (AI) Taiwan.

"Worldwide AI organizations have initiated a campaign calling on all its members to pressure their governments to pass resolutions urging Japan to apologize and to compensate former comfort women," Wang said. "We hope the campaign will create some international pressure on the Japanese government."

So far, the US Congress, the Dutch, Canadian and European parliaments have taken action, and Taiwan could be next.

"With several of my colleagues across party lines, we have initiated a resolution asking Japan to recognize such war crimes, educate its people about them and compensate the victims," Democratic Progressive Party Legislator Huang Sue-ying (黃淑英) told the crowd.

"Hopefully, the resolution will be passed during the next legislative session," she said.

Escorted by demonstrators and former comfort women, 82-year-old Lu Man-mei (盧滿妹) presented a protest letter to the Japanese Interchange Association.

An unnamed official from the office took the letter, but declined to comment.

The protesters then burned a copy of the resolution in memory of former comfort women who have passed away.

"Knowing that they have not been forgotten and that people are still fighting for their dignity, we hope their souls may rest in peace after reading the resolution," Chen said.

According to traditional Taiwanese beliefs, burning something is a means of making it available to the deceased.

Demonstrators also made a floating water lantern — a small house made with paper and bamboo sticks — for Taiwanese comfort women who died overseas during World War II.

Also according to Taiwanese tradition, it is believed that putting floating water lanterns on a river or at sea may guide the wandering souls of those who died away from home or at sea.
 
---
Japan to conduct N Korea probe

SEE FOR YOURSELF: Japan said it won assurances that it can conduct interviews and inspect sites in North Korea in its search for citizens kidnapped in the 1970s and 1980s

AFP, TOKYO
Thursday, Aug 14, 2008, Page 5

Japan said yesterday it had made progress in a long-standing row with North Korea over its abduction of Japanese citizens as the two nations agreed to complete a new probe this fall.

Analysts said the deal could give fresh impetus to international efforts to end North Korea's nuclear drive. Japan has refused to give aid to Pyongyang until the emotionally charged kidnapping issue is resolved.

Japan, which has no diplomatic ties with North Korea, said it won assurances that it could inspect sites and conduct interviews inside the secretive state if there were signs of survivors among citizens snatched in the 1970s and 1980s.

The two countries held two days of talks in the northeastern Chinese city of Shenyang that closed early yesterday with a goal of wrapping up a fresh investigation this autumn.

In Tokyo, Foreign Minister Masahiko Komura said that North Korea was moving forward on the abductions, an issue of deep concern for many Japanese voters.

Kyoko Nakayama, the Cabinet minister in charge of the abduction issue, cautiously welcomed the outcome, saying: "We are entering a new phase if they conduct an investigation on the assumption that there are survivors."

North Korean leader Kim Jong-il admitted at a landmark 2002 summit with then Japanese prime minister Junichiro Koizumi that his regime kidnapped Japanese civilians to train its spies in the enemy nation's language and customs.

He allowed five to return and said eight others were dead, including the most famous victim, Megumi Yokota, who was a 13-year-old schoolgirl when she was whisked away in 1977. Japan insists more are alive and that North Korea has not acknowledged other abductees.

Masao Okonogi, an expert on the reclusive state, said North Korea "has taken a big step" as it agreed that the probe would look into everyone Japan suspects was kidnapped.

He said North Korea may be counting on action by US President George W. Bush in his final months in office. Bush, who once branded Pyongyang part of an "axis of evil," has championed a six-nation aid-for-disarmament deal.

"They could make what they do look great if they showed results in the probe into the abductions and at the same time come up with the right moves on the nuclear issue," said Okonogi, a professor at Tokyo's Keio University.

"That could trigger major action" by the international community, he said.

The US has put off moves to remove North Korea from its list of state sponsors of terrorism, a move opposed by close ally Japan.

The abduction issue is highly sensitive for Japanese Prime Minister Yasuo Fukuda, a longtime advocate of better relations with Asia who is struggling to reverse low approval ratings caused by domestic issues.

Opinion polls showed wide opposition to Fukuda's plans announced in June to ease some sanctions on North Korea in return for progress on the abductions.

Japan's top negotiator Akitaka Saiki said in Shenyang that Tokyo was ready to lift restrictions on chartered flights and the movement of people with its impoverished neighbor once North Korea started the new probe.

"I hope that the investigation will be carried out thoroughly and lead to the swift return of the victims," Saiki said in Shenyang.

But Japan sidestepped earlier promises to allow a resumption of North Korean ships for humanitarian purposes. Ship transport is considered far more important for North Korea as chartered flights are deemed unrealistic.

Song Il-ho, the North Korean ambassador negotiating with Japan, warned that the communist state was also watching Tokyo's moves on sanctions.

"If Japan breaks this agreement, all would collapse. We will also take necessary measures," Song told reporters in Shenyang, as quoted by Japan's Jiji Press.
---