Criminalize officials hiding income: DPP

CLEANING HOUSE: A DPP lawmaker said a Public Functionary Assets Disclosure Law with teeth would prevent corruption, but previous efforts to amend the law have failed

By Flora Wang and Rich Chang
STAFF REPORTERS
Wednesday, Aug 20, 2008, Page 1

A Democratic Progressive Party (DPP) legislator proposed amending the Public Functionary Assets Disclosure Law (公職人員財產申報法) yesterday to criminalize falsifying property disclosures in the wake of the money-laundering allegations that have engulfed former president Chen Shui-bian (陳水扁).

DPP Legislator Chai Trong-rong (蔡同榮) told a press conference he would propose that people who conceal property should face a maximum prison sentence of one year.

Officials whose assets increase in a year by more than double their yearly income and who are unable to explain the discrepancy should face a sentence of between one and seven years, he said.

Chai said a stronger Public Functionary Assets Disclosure Law would prevent corruption.

The DPP will also propose a bill governing unclear sources of officials' property, he said, adding he hoped the Chinese Nationalist Party (KMT) would support the idea.

Deputy Minister of Justice Huang Shih-ming (黃世銘) said on Monday the Ministry of Justice was mapping out measures governing unclear property resources and would submit its proposal to the legislature.

Asked for comment yesterday, Legislative Speaker Wang Jin-pyng (王金平) agreed on the need to amend the Public Functionary Assets Disclosure Law, but stressed the importance of deliberating Chai's proposal during cross-party negotiation sessions before the legislature finalizes a "reasonable" amendment.

KMT caucus deputy secretary-general Wu Yu-sheng (吳育昇) said he supported making it a crime for public officials to lie about their assets, but added he believed it was more important to amend the Statute for the Punishment of Corruption (貪污治罪條例) to require officials to explain to a court how he or she could support a luxurious lifestyle on a modest income.

Failure to do so should be considered proof of corruption, Wu said.

Lawmakers have tried to amend the statute before.

In 2006, the People First Party (PFP) caucus tried to do so after the campaign led by former DPP chairman Shih Ming-teh (施明德) to oust Chen from the presidency.

The PFP sought to impose criminal punishment on officials who failed to or refused to explain how they could afford an extravagant lifestyle on their declared income.

The PFP proposal failed because party caucuses could not reach a consensus on the bill, even though it had been waived a first reading.

KMT Legislator John Wu (吳志揚) initiated a similar proposal this spring.

His proposal said any government official who failed to or refused to explain how he or she managed to accumulate wealth could face up to three years in prison and a fine of up to NT$10 million (US$318,000).

The bill went to a preliminary review by the Judiciary and Organic Laws and Statutes Committee on May 29, but did not clear the legislative floor before the legislature went into recess last month.

KMT caucus secretary-general Chang Sho-wen (張碩文) said on Sunday that the caucus had to put aside Wu's bill because many budget requests related to living standards needed to be dealt with first.
---
Navy officers' slander hearing ends

MERE SPECULATION?: The former president said he could not be found guilty because he did not name any names when he made comments about the frigate case in 2005

By Jimmy Chuang
STAFF REPORTER
Wednesday, Aug 20, 2008, Page 3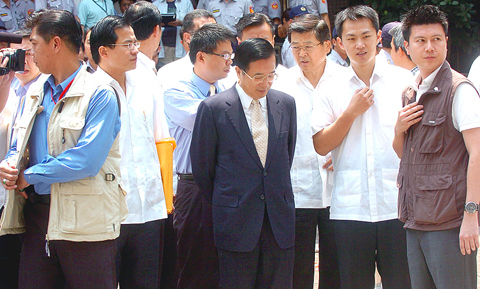 Former president Chen Shui-bian and his entourage are surrounded by the media outside Taipei District Court yesterday.
PHOTO: LO PEI-DER, TAIPEI TIMES


The verdict in the slander suit against former president Chen Shui-bian (陳水扁) by retired Vice Admiral Lei Hsueh-ming (雷學明) will be handed down on Sept. 9, after the last hearing at the Taipei District Court yesterday.

"I did nothing wrong because I never named anyone when making the accusation," Chen said at the hearing.

The case was filed in late 2005 after Chen, speaking on a TV talk show, accused "five retired Navy officers" of accepting kickbacks to produce false performance data on Lafayette frigates and inflate the price of the vessels to influence the Navy's 1990 purchase of frigates from France, rather than from South Korea as planned.

Democratic Progressive Party legislators Hsu Kuo-yung (徐國勇) and William Lai (賴清德) repeated the accusations at a press conference.

Led by Lei, the retired officers — including two admirals, two captains and one commander — filed the suit against Chen, Hsu and Lai, asking for compensation of NT$2.01 billion (US$67 million).

The three defendants said they had only "speculated" that "five retired Navy officers" had taken bribes, but did not name names.

"We simply made reasonable speculation on the case, so it is not slander," Chen said.

Hsu and Lai said they should have lawmakers' immunity as they had made their accusation during a press conference at the legislature.

Lei told judges that the speculation was ridiculous.

"It was former president Lee Teng-hui (李登輝) who decided to buy the Lafayette frigates, not me. Also, I had been retired for more than two years when former Navy Captain Yin Ching-feng (尹清楓) was killed, so I had nothing to do with this," Lei said. "Since the defendants could not provide sufficient evidence to prove their speculation, that is slander."

Yin was head of the Navy's Arms Acquisition Office. His body was found floating in the sea off the east coast of Taiwan on Dec. 9, 1993. Yin is believed to have been about to blow the whistle on colleagues taking kickbacks. His death prompted an investigation into irregularities surrounding the purchase of the frigates from France.
 
---
Did Eutelsat sell its soul to China?

Wednesday, Aug 20, 2008, Page 8

On Monday, Reporters without Borders (RSF) provided evidence supporting speculation that French satellite broadcaster Eutelsat had blocked transmission of some TV channels in China in response to pressure from Beijing.

If the allegations against Eutelsat are confirmed, it would mean that the company was complicit in helping China maintain a tight lock on the flow of "undesirable" information into the country.

This would offer yet another example of the active role companies can play in suppressing human rights, something that has been documented time and again yet remains largely ignored by lawmakers worldwide.

Two months ago, Eutelsat scrapped Asian transmission of New Tang Dynasty TV (NTDTV) and the Sound of Hope and other radio stations, citing "technical" problems. It was not the first time that NTDTV, which regularly covers human rights violations and the persecution of Falun Gong practitioners in its news programs, had run into difficulties with its transmission to Asia.

In 2005, 45 Taiwanese legislators joined lawmakers in Canada, the US and Europe in urging Eutelsat to continue to transmit NTDTV after it declined to renew its contract. There was widespread concern that Eutelsat's decision was a response to pressure from Beijing. NTDTV claimed Eutelsat was negotiating the rights to broadcast the Beijing Olympics at the time.

NTDTV says its broadcasts are the only uncensored channel accessible in China, making them key to promoting freedom of speech. It also renders the timing of Eutelsat's technical malfunction ahead of the Olympics suspect.

RSF has collected information from Eutelsat staff indicating that the company was pressured by Beijing and that it has since transmitted other channels on a transponder that Eutelsat had claimed was not functioning. This would mean that Eutelsat has violated its contract with NTDTV at China's behest.

This latest information should ratchet up concerns in the EU about the actions of European companies in non-democratic markets — and hopefully inspire renewed talks on the role of governments in preventing corporate abuse of human rights.

Eutelsat would hardly be the first company to play by Beijing's rules. Yahoo, Cisco Systems, Google, Microsoft, Nortel Networks and Sun Microsystems are some of the companies whose decisions in China have drawn sharp criticism.

Calls in some countries and at the UN to address corporate complicity in human rights abuses have, however, made little headway. UN Norms for Business, a UN corporate responsibility initiative, has stalled, as has the Global Online Freedom Act, proposed in the US Congress, which was drawn up in response to the situation in China following news of Yahoo's role in helping police there track down dissidents.

The French government should follow the lead of the US Congress, which held hearings to probe the actions of Yahoo and other US companies in China. By looking into the evidence collected by RSF, Paris would recognize the gravity of the allegations and send a message that corporate misdeeds will not go unnoticed.

Some Western companies have argued that requiring them to uphold freedom of speech in China would handicap them in that market, giving rivals the upper hand and hurting their own growth prospects. There is every reason to believe that this is the case. But for governments that argue that human rights are universal, turning a blind eye to corporate infringement on these values is not an option.
 
---