Premier demands apology from China over melamine
 
PROBE: Liu Chao-shiuan said he would help fi rms seek compensation from Chinese manufacturers that had sold them contaminated products
 
By Flora Wang
STAFF REPORTER
Wednesday, Oct 01, 2008, Page 1

Premier Liu Chao-shiuan (劉兆玄) yesterday demanded an apology from China for allowing products contaminated with melamine to be exported to Taiwan.

"I hereby demand that the Chi-nese government apologize to us for the panic that the food safety problem in China has caused in Taiwan," the premier said during a question-and-answer session at the legislature.

Liu made the remarks in re-sponse to a question from Demo-cratic Progressive Party Legislator Lee Chun-yee (李俊毅) on whether the government would demand an apology from China over the issue.

It was discovered two weeks ago that 25 tonnes of milk pow-der imported from China's Sanlu Group in June as an ingredient for food manufacturing con-tained dangerously high levels of melamine.

Last week, offi cials discov-ered that some Chinese non-dairy creamers and malt extract imports were also contaminated with the chemical, resulting in a massive recall of products.

Liu said the government had taken several steps to ensure food safety in the wake of the dairy product scare, including dispatch-ing a delegation of health experts to China in a bid to establish a cross-strait food emergency chan-nel as well as food safety mecha-nisms that would be acceptable to both sides of the Taiwan Strait.

"The government's policy is clear," he said. "That is, the safety of all products on the nation's store shelves must be ensured."

The delegation returned home on Monday after a three-day trip to Beijing.

Liu vowed to help local busi-nesses that have suffered losses because of the milk powder scan-dal seek compensation from the Chinese manufacturers through negotiation between the Mainland Affairs Council (MAC) and China's Association for Relations Across the Taiwan Strait (ARATS).

He said the government was still compiling information on the losses incurred by domestic busi-nesses, but estimated the losses could add up to between NT$7 billion (US$217.6 million) and NT$8 billion if all of the products that have been pulled off shelves needed to be destroyed.

The government was still con-ducting a thorough investigation into the Chinese products that have been seized by the Depart-ment of Health to determine the extent of the Chinese manufactur-ers' liability, Liu said.

Department of Health Minister Yeh Ching-chuan (葉金川) said at the question-and-answer session that about 1,000 bags of dairy in-gredients seized by her depart-ment had been confi rmed to have been contaminated by melamine.

However, she said, the depart-ment needed more proof that the tainted ingredients came from Chi-na's Zhongshi Duqing (Shandong) Biotech Co before the government could seek compensation.

MAC Chairwoman Lai Shin-yuan (賴幸媛) said yesterday the government would establish with ARATS an offi cial food-safety alert channel for health offi cials within one week.
---
DOH, experts fail to reach agreement on melamine
 
INCONCLUSIVE: One expert said that there are 10 to 20 ways to test for the chemical and the level of sensitivity of measurements could vary because of human factors
 
By Shelley Huang
STAFF REPORTER
Wednesday, Oct 01, 2008, Page 2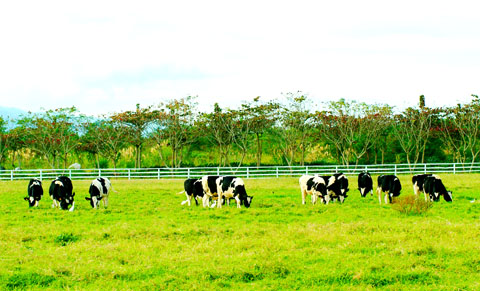 Dairy cows graze on a pasture in Hualien County yesterday. Orders for Hualien dairy produce have risen 30 percent recently.

PHOTO: YOU TAI-LANG, TAIPEI TIMES

The Department of Health (DOH) announced last night that "no consensus could be reached" on the threshold for melamine detection after a meeting on testing procedures.

The meeting was chaired by Bureau of Food and Drug Analysis Director Chen Shu-kong (陳樹功) with 34 government officials, food safety experts and laboratory personnel in attendance.

Athough the department had scheduled a press conference to announce the results of the meeting, it only issued a press release afterwards.

"It's not an easy task to seek a single solution to this problem," the department said.

Wu Chia-cheng (吳家誠), deputy secretary-general of the Consumers' Foundation and a chemistry professor at National Taiwan Normal University, told reporters later in the day that there were 10 to 20 ways to test for melamine, but the three discussed at the meeting — high performance liquid chromatography (HPLC), gas chromatography-mass spectrometry (GC-MS) and liquid chromatography-mass spectrometry (LC-MS) — could all detect levels of melamine as low as less than 1 part per million (ppm).

Wu said the level of sensitivity could vary because of human factors, such as accidental contamination of a sample batch with a previous sample.

"For consumers to feel 100 percent safe, I hope the government will not tolerate any trace of melamine," he said, "But because technology has its limitations, we should set a minimum number [for content detection], and methods which can detect melamine content under this number can be used [as a standard]."

Wu also suggested the health department test dairy products from the US and Europe, places that are considered "more developed," and say what their melamine content is, if any, so consumers can use them as reference points in terms melamine concentration.

While HPLC, GC-MS and LC-MS are all used by laboratories in Taiwan, "it would be interpreted as favoring certain laboratories if specific methods were announced," he said, adding that nothing could be finalized until the department makes a decision.

Meanwhile, 12,135 boxes of Regimenhouse Milk Sandwich Biscuits imported by Golden Kestrel Co were found to have 29.818 ppm of melamine, the company told Taipei City's Health Department yesterday.

The cookies were sold in Costco stores. Costco had returned the biscuits to Golden Kestrel's factory in Taipei County, said Chiang Yu-mei (姜郁美), director of the Food and Drug Division of the city's health department. Chiang said the department had already asked the Taipei County Government to test more samples of the cookies.
---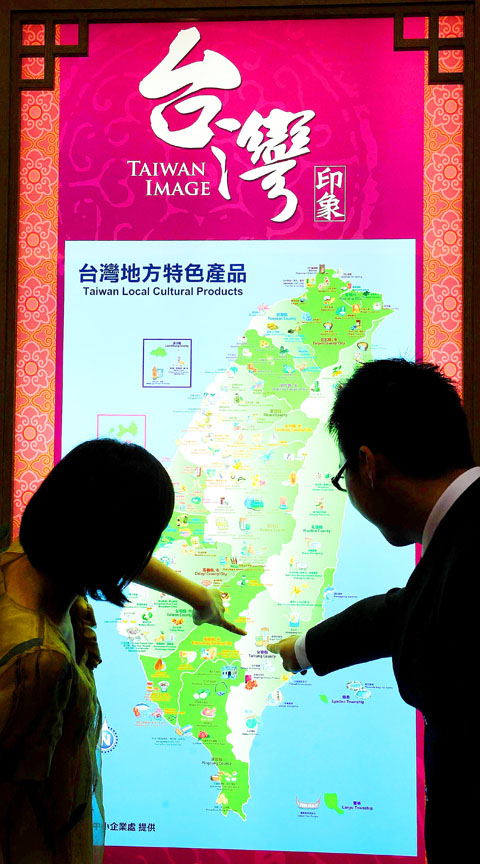 DISCOVERING TAIWAN
Passengers in a departure lounge at Taiwan Taoyuan International Airport yesterday point to a map of Taiwan showing where various specialties are produced. The lounge has recently been redecorated by the Ever Rich Duty-Free Shop with paintings and crystal sculptures based on a theme of lotus blossoms.

PHOTO: YAO KAI-SHIOU, TAIPEI TIMES
---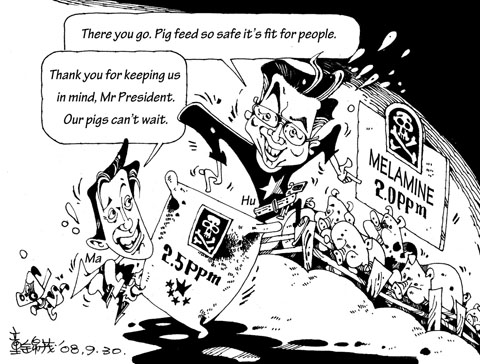 ---
Diaoyutai silliness

Here's my take on the Chinese Nationalist Party's (KMT) reaction to former president Lee Teng-hui's (李登輝) remarks on the islands that periodically stir up controversy. From a US perspective, the Diaoyutai (釣魚台) islands (also known as the Senkaku islands) are Japanese territory. The US returned them to Japan decades ago and they have been physically patrolled by Japanese authorities ever since.

Back in June, the Japanese government handled the collision between a Taiwanese fishing boat and a Japanese coast guard more thoughtfully than the Taiwanese government. Japan apologized and offered compensation to the Taiwanese fishermen.

However, the Taiwanese government unnecessarily raised tensions by hinting at military action and recalling its envoy to Tokyo.

The Japanese public should realize the distinction between "Taiwanese government" and "Taiwanese people." While the people value sovereignty, reclaiming the islands probably isn't high on their priority list.

Unfortunately, the Taiwanese electorate unwisely voted control of both the executive and legislative branches to the KMT earlier this year. They are now stuck with a Chinese entity that is going full speed ahead to de-Taiwanize and sell out the country to China.

Why did Taipei threaten war in June over an uninhabited rock and risk ruining relations with an ally? As some KMT members have significant financial interests in China, they appear to be willing to do the bidding of communist China.

Why recall its envoy to Japan? The KMT did so not because it stood up for Taiwan, but because it was a convenient way to remove a holdover from the previous pro-Taiwan administration.

While Taiwan and Japan have had disputes before regarding the islands, dealing with the matter rationally is preferable to inflammatory behavior.

Japanese have nothing to fear from Taiwanese. Both are allies with a shared history and an interest in a peaceful and secure future.

Unfortunately, a combination of Taiwanese naivete and KMT greed are poisoning the relations between the two countries.

Until more Taiwanese voters wisen up, the sinister influence of Beijing on the KMT administration will strain the relationship between Taiwan and Japan.

CARL CHIANG
Richmond, California
---

A million fake degrees

President Ma Ying-jeou's (馬英九) plan to recognize Chinese degrees and qualifications should be reconsidered. Even in democratic and moderately transparent Taiwan, there is a tendency among lecturers and universities to "alter" the grades of their students.

The result is that it is not unusual for an entire class to score between 85 percent and 95 percent on an exam, not to mention the number of worthless degrees granted in this country, where students just have to turn up and pay tuition to be awarded a "master's degree."

If this behavior is common here, there is reason to believe that a similar phenomenon — likely far worse — prevails in China.

For anyone who has any doubts about the complicity of Chinese officials in doctoring documents, the case of the smallest Chinese gold-medal-winning gymnast at the Olympics, who according to previous official documents was about 14 years-old at the time of the Games, should seal the deal.

Surprisingly (or unsurprisingly), the gold medalist is now recorded as being born on Jan. 1, 1992.

We have also learned over the past several weeks that Chinese cannot be trusted to act in their own interest — even when the health and lives of the their children are at stake, as the melamine milk scare attests.

Why should officials, teachers or administrators be in the least concerned about altering or selling academic records or degrees?

And this is the real clincher: Given the approximately 2,000 universities and colleges spread across China, how would it even be possible for Taiwan to ascertain the validity of a student's qualifications or academic record?

In short, the onus must be on Chinese with academic qualifications to demonstrate that they and their qualifications are genuine.

Letting in thousands of people with fake qualifications cannot benefit Taiwan — unless it wishes to have a larger pool of "qualified" labor to work in convenience stores.

BEN ADAMS
Taipei
---
US-Taiwan mail via PRC

The US Department of State's National Visa Center has refused to change my wife's address from "China-Taiwan" to "Taiwan," even if, as a result, it takes correspondence 19 days rather than five to arrive at her home address.

The mailing address arrives translated into simplified Chinese rather than traditional Chinese.

So, obviously, the mail goes to China first. It used to go directly to Taiwan.

I don't even want to think of the lists that the Chinese government could be making of people who receive correspondence from the US government.

Many changes are being made in the US government's relations with Taiwan.

US President George W. Bush and President Ma Ying-jeou seem to be feverishly working on serving up Taiwan to China on a golden platter, as quickly as possible, while keeping people in the dark as to their intentions.

Could this be why Ma is so self-effacing and shy? He should be ashamed. Is anybody in Taiwan going to do anything about the direction the country has taken?

I don't think Taiwanese fully grasp what it would be like to be part of China, otherwise there would be enough motivation to prevent it from happening.

MICHAEL MAUSS
Beaverton, Oregon
---
Ma is selling Taiwanese sovereignty for peanuts
 
By Hwang Shiow-Duan 黃秀端
Wednesday, Oct 01, 2008, Page 8

The administration of President Ma Ying-jeou (馬英九) has been weak in its response to tainted products imported from China and has failed to act as the government of a sovereign country.

Straits Exchange Foundation Deputy Chairman Kao Koong-lian (高孔廉) recently announced that China's Association for Relations Across the Taiwan Strait's "voluntary" move to inform Taipei after Chinese authorities discovered the contaminated milk powder was representative of Beijing's goodwill toward Taiwan.

However, Gao Qiang (高強), secretary of the Chinese Communist Party branch at China's Ministry of Health, took advantage of the issue to refer to Taiwan as "the Taiwan area of our country" in describing the spread of contaminated milk powder. The only thing the Ma administration did in response to this misrepresentation was to say in a roundabout way that referring to Taiwan in this way was "inappropriate" and that it hoped Beijing would restrict its party and government officials from using similar expressions.

When Taiwan informed the WHO that some products manufactured in Taiwan using contaminated milk powder from China had been sold to Hong Kong, the global body sent its response to China, with only a carbon copy forwarded to Taipei. When the Qingdao-based Shandong Duqing Company and the Chinese government both denied that Duqing products contained melamine, the Ma government was terrified of demanding that China conduct a thorough investigation into the matter the way Japan did after tainted dumplings were imported from China.

Even more pathetic was the way Taiwan lowered its testing standards so they would be in line with those in China. These are all signs of a government that is willing to belittle itself and call itself a local Chinese authority.

Despite these nightmares, the Ma administration continues to fawn over China. The administration said it hoped Chinese tourists would help improve Taiwan's ailing economy, real estate sector and stock market. It is also talking about "improving" Taiwanese universities by allowing Chinese students to study here. The government is pinning all its hopes on China rather than seeking to understand the underlying problems with our nation's economy and educational system.

Ma is also afraid of calling himself "president" in front of Chinese officials and has told representatives of China-based Taiwanese businesspeople that their becoming members of the Chinese People's Political Consultative Conference would be a positive development. His proposal for meaningful participation for Taiwan in UN agencies rather than full membership was discarded in a matter of minutes.

After hearing Ma's handling of and statements on the sovereignty issue, the public has begun to wonder whether Taiwan will still be able to hold a presidential election in 2012.

"Power rests with the people" has always been the most important of democratic principles. When it comes to major national decisions, constitutional amendments and sovereignty issues, decisions are not made by government officials and the legislature alone: The public must also be allowed to express its opinion through the democratic process. Many European countries organized referendums on whether to accept the euro, sign the Maastricht Treaty and approve the EU Constitution, because these issues involved aspects of sovereignty.

Shouldn't Taiwanese demand that any government decision that could harm the sovereignty of their country be put to a referendum rather than be left to politicians to decide?

Hwang Shiow-duan is a political science professor at Soochow University.