Lee Teng-hui says Ma 'incompetent'
 
SHOOTING FROM THE LIP: The former president said the government appeared to be lost, like it was walking in fog, and had some strong words to say about Chen Shui-bian
 
By Rich Chang
STAFF REPORTER, WITH STAFF WRITER
Monday, Oct 06, 2008, Page 1

Former president Lee Teng-hui (李登輝) yesterday accused President Ma Ying-jeou (馬英九) of incompetency, lashing out at his administration for failing to offer concrete measures to curb public apprehension over events such as the recent melamine contamination and the poor performance of the TAIEX.

Lee said that when the Democratic Progressive Party took power in 2000 it didn't know how to govern Taiwan and the people had suffered as a consequence.

He then said that since Ma took office he had proved incompetent in everything he has done and again the people were suffering.

Lee made the remarks in a speech delivered at a world congress of The Friends of Lee Teng-hui Association Formosa held in Taipei yesterday.

Saying that the government should understand people's safety is more important than anything, Lee said the government should condemn China and demand an apology since raw materials and products imported from China were found to have contained harmful levels of melamine.

Lee said Ma had not dared to condemn China and his silence had led to Taiwan being perceived in a negative light.

POOR PERFORMANCE

Noting the poor recent performance of the TAIEX, Lee went on to criticize Ma for neglecting the suffering of the public, saying the government appears at lost in dealing with the stock market slump.

"Taiwan is now faced with internal and external crises," he said. "Under the leadership of the current government, Taiwan appears lost, like it is walking in fog and doesn't know which way to go."

Alluding to Ma's definition of cross-strait relations made in an interview with the Mexican newspaper Sol de Mexico in August when he said that they were not between two countries, but a type of special relationship across the Taiwan Strait," Lee accused the government of trying to do away with Taiwan's sovereignty.

INTERNATIONAL ISSUE

Saying that the issue of Taiwan's sovereignty was an international one, Lee said the Chinese Nationalist Party (KMT) and the Chinese Community Party must not be allowed to decide among themselves on how Taiwan's status should be changed in talks behind closed doors.

Lee also slammed former president Chen Shui-bian (陳水扁).

"Not long ago there came the news that a politician had wired money overseas," Lee said, in an obvious reference to Chen's money-laundering case.

"While it remains to be seen following the judicial investigation whether any irregularities have occurred, [the allegation] exposes how people can be corrupted in the middle of taking part in democratization and how some supporters can't tell right from wrong but keep covering up [for politicians]," Lee said.

It is frightening when democratizers become corrupted and "love Taiwan" becomes a mere slogan, he said.
---
Ma presides over 'imperial' rites
 
FAWNING?: Some Taipei City councilors are accusing the Confucian Temple of paying undue homage to the president with a display that was reserved for emperors
 
By Lin Shu-Hui
STAFF REPORTER
Monday, Oct 06, 2008, Page 2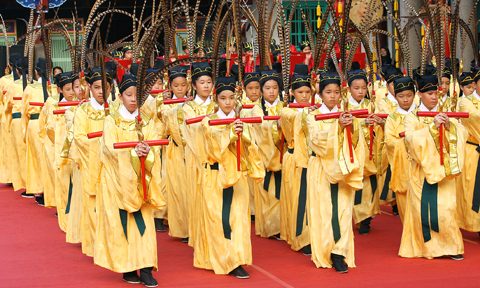 Students perform a traditional dance at the Confucius Temple in Taipei yesterday to mark the anniversary of Confucius' birth.

PHOTO: CNA

The Taipei Confucian Temple marked the 2,558th anniversary of the birth of Confucius yesterday amid criticism from some city councilors that the temple performed the bayi dance — traditionally performed to pay homage to an emperor — to "fawn" over the presence of President Ma Ying-jeou (馬英九).

Each year, the temple performs the liuyi dance, a ritual performed by 36 schoolchildren to pay respect to feudal barons and to celebrate Confucius' birthday. This year, however, it performed the classic eight-row ceremonial dance, known as the bayi dance, which is carried out by 64 schoolchildren.

Taipei City Civil Affairs Department Commissioner Huang Lu Ching-ru (黃呂錦茹) denied that the bayi dance was performed specifically for Ma. She said the department decided to present the dance to celebrate the completion of a restoration project at the temple early last month.

Yesterday's ritual, which began at 5am, was presided over by Taipei Mayor Hau Lung-bin (郝龍斌), with Kung Chuei-chang (孔垂長), the 79th lineal descendant of Confucius, serving as the "sacrificial official" of the ritual.

Ma burned incense, delivered a eulogy and presented an inscribed board in praise of Confucius during the rite, marking the first time since Chiang Kai-shek (蔣介石) in 1968 that a president has attended the ceremonial ritual at the Confucian Temple.

A feast of 193 courses, including dried peach and prune, bamboo shoots and goose, was offered as a sacrifice at the ritual.

Other participants and attendants were requested to stand at attention and were not allowed to sit down, eat, drink or move around freely.

The students participating in the ceremony spent the night at the temple and had to get up at 3am to attend preparations that began at 4am.

The ceremony began at 6am.

Twenty-four minutes into the ceremony, Taipei City Cultural Affairs Department Director Lee Yong-ping (李永萍), who served as the master of ceremonies, became dizzy from the heat and her heavy traditional clothes and was helped to the side.

Around 6:45am, around 20 of the student dancers and musicians, as well as the girl scouts assigned to maintain order, also showed signs of dizziness and had to sit out the rest of the ceremony. One junior high school boy surnamed Lin (林) stumbled and fell on his chin when he walked down a set of stairs, and had to be taken to Mackay Memorial Hospital for care, where it was ascertained that he had only bruised his chin.

Referring to a Confucius saying about propriety and virtue, independent Taipei City Councilor Chien Yu-yen (簡余晏) slammed the city government and the Presidential Office for ignoring criticism "regarding the impropriety of holding an imperial ceremony," which mobilized hundreds of students while ignoring their discomfort in the heat.

This showed insensitivity on the government's part and was a sign of regressing democracy, she said.
---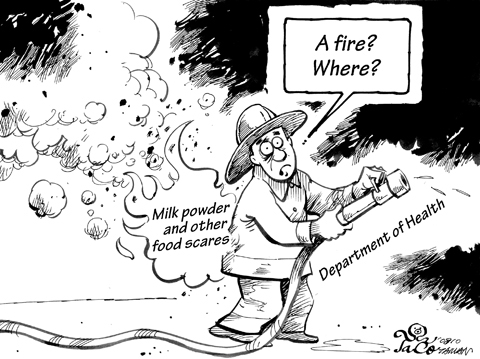 ---
Neutrality is Taiwan's best option
 
By David Pendery
Monday, Oct 06, 2008, Page 8

Taiwan finds itself lodged in one of the most difficult political situations in the world today, with unresolved issues of sovereignty and nationality, the acute threat of conflict, and resultant vexatious relations with numerous other countries constantly curtailing progress and marring the country's image at home and abroad. There is, therefore, an urgent need for creative and decisive action.

Hsieh Zui-chi (謝瑞智) suggested such action in the Taipei Times recently, with his recommendation that Taiwan adopt a neutral stance in politics ("Taiwanese neutrality offers road out of abyss" Sept. 17, page 8). There is much to agree with in Hsieh's article and the present piece can be considered a complement to his argument. In addition to neutrality, Taiwan approve constitutional amendments renouncing war as an instrument of state, and adopt and endorse an explicitly non-violent position in world affairs. The combination of these measures could reduce and/or eliminate the chance of war with China, and also bear fruit in many other ways for Taiwan and the world.

The charged emotions surrounding the core issues of Taiwan's sovereignty and political status have not always resulted in particularly clear or pragmatic discussion, which has impeded progress. In terms of this, we could probably include President Ma Ying-jeou's (馬英九) talk of a "diplomatic truce" with China, as well as notions such as "de facto independence," "one country on each side," "special state-to-state relations" between China and Taiwan, and "one China, each with its own interpretation." Finally there is that old saw about "maintaining the status quo" — a stance that by definition means "do nothing." None of these positions, models, doctrines, theories or whatever you want to call them have gone far in solving the thorny problems on table.

In terms of these issues, Taiwan finds itself caught on the horns of a troublous trident that includes the remote possibility of actual independence, the just-as-distant possibility of unification with China, and the variety of kinda-sorta proposals referred to.

Looming behind this discussion is the possibility of war. With the discussion now largely at loggerheads, I believe that alternative solutions should be considered. Enter the neutrality and non-violence sanctioned here.

Admittedly these suggestions are problematic. Along with a constitutional amendment based on Japan's — which states that the people "forever renounce war as a sovereign right of the nation and the threat or use of force as means of settling international disputes" — Taiwanese disarmament would have to take place. Though a dramatic move, this is by no means out of the question, having already been adopted by a select group of other peaceful, progressive nations. Of course, harsh international realities and threats cannot be ignored, and the maintenance of a viable national police or self-defense force would be necessary. This may acceptably be combined with a peaceful national posture.

In the short term, threats from China would probably not disappear, but in time we might well find that the nation would find its more aggressive tendencies limited. Were China to threaten a nation that had renounced war, for example, it would probably be subject to a storm of criticism and pressure from other nations. As well, other nations could likely support Taiwan politically and militarily, and pressure China to soften its stance if a neutral, non-violent stance were adopted. These developments could require China to pragmatically re-think it's current positions vis-a-vis Taiwan.

Some will label this stance a capitulation, appeasement. In answer we say that the same was said of great non-violent peacemakers like Mohandas Gandhi and Martin Luther King, Jr. And as for those who want to dismiss these leaders with notions of hard-nosed realism and pragmatism ... good luck.

These proposals are idealistic, they are humanistic — could they be for Taiwan? Courage and fortitude would be required, and there would no doubt be some discomfort and difficulty in the short term. In the long term, however, we might find a wealth of potential and positive change. Most importantly, the threat of war with China could be reduced and hopefully eradicated. Taiwan's international status could be bolstered.

And yet more, the policies proposed here could lead to fruitful new areas of investment and development in Taiwan and China, and promote creative, peaceful coexistence and human potential in this part of the world. In all of these ways, neutrality and non-violence could lead to a better future and more positive outcomes for Taiwan, China and the world.

David Pendery is a teacher and doctoral student in English literature at National Chengchi University.
---
China must compensate for dairy scandal
 
By Paul Lin 林保華
Monday, Oct 06, 2008, Page 8

Two groups of people have suffered as a result of melamine-tainted Chinese milk powder — those who consumed the milk and other related products and employees and business owners of related industries.

The first group includes those who have suffered physical harm. The second group consists of owners and employees of firms that purchased contaminated powder for use in their products and then had to take them off the shelves. These businesses have incurred financial losses and the scandal has tarnished their reputations. There are also other manufacturers whose products do not contain tainted milk but who have still suffered because many consumers remain afraid of buying dairy products.

Only a few people in Taiwan have had their health directly affected by the tainted milk and they can seek compensation from the Department of Health. The department, however, has no reason to use taxpayer money to pay compensation for milk powder-related business problems. The government should claim compensation from the Chinese government on behalf of all Taiwanese victims.

Taiwanese manufacturers and retailers have recalled and destroyed products that contain milk imported from China. These businesses have lost orders and their reputations have been damaged. They should also be entitled to seek compensation. However, companies doing business with China may fear retribution if they try to directly claim compensation from the Chinese government. Therefore, our government has a responsibility to represent these companies in dealing with China.

A number of foreign companies with established brands have been spending money on advertisements to say that their products are free of tainted milk powder. This shows that even these famous firms have suffered losses from the milk debacle. Chain stores and street vendors who sell products containing milk have been doing likewise, putting up signs to say that their goods do not contain Chinese milk powder. Some of them are even trying to attract customers with special deals. Their businesses have clearly taken a turn for the worse and so they too have a right to ask for compensation.

Taiwan sent a delegation to China to deal with the tainted milk affair, but its mission was to listen to official explanations, not to raise compensation claims. However, Association for Relations Across the Taiwan Strait Chairman Chen Yunlin (陳雲林) will soon visit Taiwan. As the highest-ranking Chinese official ever to visit Taiwan, Chen is the right person to approach with compensation claims. The Democratic Progressive Party and some non-governmental organizations are planning to hold demonstrations when he visits Taiwan. They could make compensation one of their main demands.

Pressing Chen would have two benefits. First, it would show that Taiwan is not a mere appendage or slave of China. Second, it would show that Taiwan's political parties and groups are concerned with public welfare. A strong response from these groups would give the government strong backing in requesting compensation from China. We should request reasonable compensation, or even for less than what is fair in the interests of improving cross-strait relations.

Considering the massive profits made by state-owned Chinese companies and Beijing's huge tax revenues, China can and must pay the price to avoid further damage to its image.

The WTO and WHO should assist China in compensating the victims of tainted milk powder. WHO Director-General Margaret Chan (陳馮富珍) should give priority to helping China clean up this mess.

Paul Lin is a political commentator.