PRC official receives 'special welcome'
 
HECKLED: After a protester interrupted a planned speech by the vice chairman of China's ARATS, Tainan National University canceled his activities for two days
 
By Ko Shu-ling And Rich Chang
STAFF REPORTERS
Tuesday, Oct 21, 2008, Page 1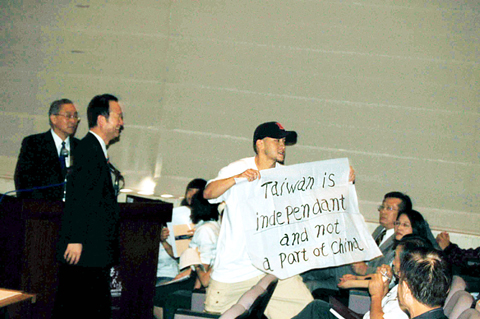 A protester holds up a sign in front of Zhang Mingqing, vice chairman of China's Association for Relations Across the Taiwan Strait, at an academic forum at Tainan National University yesterday. Zhang's speech was canceled after the protest.

PHOTO: LIU WAN-CHUN

One of China's top negotiators yesterday experienced firsthand a "special welcome" from Tainan residents as a group of protesters disrupted his speech at an academic forum.

Zhang Mingqing (張銘清), vice chairman of China's Association for Relations Across the Taiwan Strait (ARATS), arrived in Taiwan on Sunday at the head of a 21-member Chinese academic delegation to attend the 2008 Cross-Strait Academic Symposium on Mass Communications and Image Arts at Tainan National University of the Arts in Guantian Township (官田), Tainan County.

Before Zhang was to speak at the auditorium, a man holding a banner reading in English "Taiwan is independent [sic], not a part of China," sprinted up to the podium and began shouting slogans. The man, surnamed Chang, was escorted away with two other protesters, one man and one woman.

Chang later told reporters he was just a normal Taiwanese and that he was not a member of the Democratic Progressive Party (DPP).

The graduate student from National Cheng Kung University said he was born in the US to Taiwanese parents and came back eight years ago to learn Hoklo (also known as Taiwanese) and Taiwanese culture.

"There are many people around the world who have deep respect for Taiwan," he said in Hoklo. "I don't want to see Taiwan bullied."

Chang said he and the other protesters hid the banners in their bags to pass through the security check. Security personnel reluctantly let them in after they failed to show identification cards.

Outside the venue, protesters demanded that Zhang apologize to Taiwanese for China's export to Taiwan of dairy products and food ingredients that were tainted with the toxic industrial chemical melamine.

They demanded that Zhang either meet them to apologize and hear the voices of Taiwanese or cancel all his activities in Taiwan.

"If our demands are not met, we'll follow him and protest wherever he goes during his stay in Taiwan," the activists said

In response, university staff said that Zhang was attending the symposium in his capacity as dean of Xiamen University's School of Journalism and Communication and the seminar was an academic gathering that had nothing to do with politics.

Zhang did not give his speech and after discussions, the university authorities canceled all his appearances for the next two days.

The other Chinese experts and academics, however, maintained their schedule at the symposium. They are scheduled to make field trips to other universities in southern Taiwan today.

Visibly amused by the protest, Zhang told the audience that the organizer told him that Tainan residents were very "hospitable" and that they would welcome him and the delegation in a "special" way.

"I did not expect to see the special welcome happen so suddenly," he said. "I think we see some things very differently."

Asked about a comment from President Ma Ying-jeou (馬英九) about reaching a peace accord during his term in office, Zhang said: "It's hard to say" and that it would depend on negotiations.

In addition to the protest at the auditorium, about 20 protesters gathered outside the university and clashed with police as they tried to enter the campus.

Chanting "Taiwan does not belong to China," they held banners reading "Red China, get out!"

Protesters dispersed after Tainan City Councilor Wang Ding-wu (王定宇) of the DPP announced that they had "scored a victory" because Zhang's activities had been canceled.

In related news, the DPP caucus said yesterday that the party would protest against ARATS Chairman Chen Yunlin (陳雲林) if he failed to offer an apology and compensation for allowing contaminated products to be exported to Taiwan.

Chen is scheduled to visit Taiwan later this month or early next month for a second round of negotiations with his Taiwanese counterpart, Straits Exchange Foundation Chairman Chiang Pin-kung (江丙坤).

DPP caucus whip William Lai (賴清德) told a press conference that while Chinese Premier Wen Jiabao (溫家寶) had said the Chinese government was partly responsible for the tainted milk scandal, the DPP caucus would demand that Chen represent his country in offering an apology and compensation for the contaminated food products.

"If Chen refuses to do so, will President Ma Ying-jeou (馬英九) dare to represent Taiwanese and demand an apology from Chen?" Lai asked.

The DPP would pressure the government to be tougher when handling the matter, Lai said.

DPP Legislator Yeh Yi-ching (葉宜津) said more than 200 food products have been withdrawn because of toxic chemicals, resulting in losses of NT$4 billion (US$122.7 million) and shaking consumer confidence in the country's food market.

Meanwhile, the DPP has decided to postpone its nomination of candidates for next year's local government elections until next month to focus on the impact of Chen Yunlin's visit, a DPP official said on Sunday.

Su Jia-chyuan (蘇嘉全), a former interior minister, made the remarks in his capacity as head of the party's strategic task force for the city and county chief elections late next year.

"The DPP has decided to postpone the nomination of the first batch of its candidates for the elections in view of the upcoming visit by Chen Yunlin and will set a date depending on the consequences of Chen's visit," Su said.

This time around, the DPP will field its candidates for next year's local government elections through internal consultations rather than a primary vote within the party, in a bid to maximize its chances of victory in the polls.
---
Pageant contestant told to swap sashes to avoid problems
 
By Hsieh Wen-hua
STAFF REPORTER
Tuesday, Oct 21, 2008, Page 2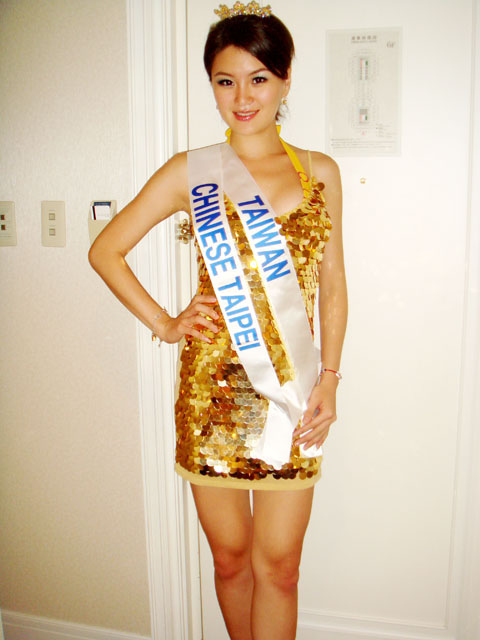 Miss International contestant Ting Yen-yu displays the two sashes she received in Japan from the organizers of the beauty pageant on Sunday. Ting said the organizer asked her to wear a "Chinese Taipei" sash in Macau to avoid political pressure. The pageant takes place next month.

PHOTO COURTESEY OF TING YEN-YU

The Japanese organizers of the 2008 Miss International Beauty Pageant, to be held in Macau, have given Taiwanese contestant Ting Yen-yu (丁彥妤) two sashes: one bearing the name "Taiwan" and one with the name "Chinese Taipei," asking that she change ribbons depending on where she is.

Her instructor Chang Ming-chu (張明珠) criticized the suggestion, saying that changing Ting's sash would confuse the judges and affect the results, and called on the Ministry of Foreign Affairs to protest the request, which she said belittled Taiwan's national sovereignty.

HONG KONG

Each year contestants from Hong Kong and Macau wear sashes with "Hong Kong" and "Macau" printed on them without the word "Chinese," Chang said, asking why Taiwan, an independent and sovereign country, did not even enjoy the same rights as the two special administrative regions controlled by China.

Chang said the competition, the world's third-largest beauty pageant after Miss Universe and Miss World, could offer global exposure for contestants and promote a country's national image and culture.

NOT HELPING

Chang accused President Ma Ying-jeou's (馬英九) administration of being incompetent.

Although the government says it is improving relations with China and will stop Beijing from meddling with Taiwanese representatives at international competitions, the pressure on Ting indicated that the government's policies protected Chinese interests while sacrificing national dignity, Chang said.

This can only result in the nation losing its international competitiveness, Chang said.

Taiwan's representative in the 2006 pageant, Liu Tzu-yuan (劉子瑄) was given three sashes — "China Taipei," "Taiwan" and "Chinese Taipei."

She was asked to wear the "Taiwan" sash in Japan, the "Chinese Taipei" sash in Shanghai, where there are lots of Taiwanese businesspeople, and the "China Taipei" sash in Beijing.

Chang said that she did not protest in 2006 because Liu only told her about the different sashes after she returned to Taiwan.
---
Melamine discovered in Chinese fried bread sticks
 
'NEED NOT WORRY': The DOH said that bakeries and food stands that do not use Chinese-made baking ammonia are allowed to put up signs to that extent
 
By Shelley Huang
STAFF REPORTER
Tuesday, Oct 21, 2008, Page 3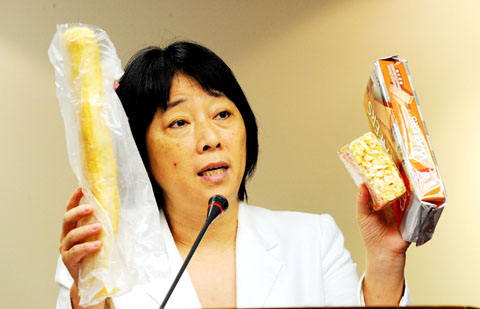 Democratic Progressive Party Legislator Huang Sue-ying holds snacks that may have contained a banned leavening agent, ammonium bicarbonate, from China during a legislative session yesterday, demanding that the government request compensation from China.

PHOTO: CNA
The Department of Health said yesterday that after testing several food products for melamine, two batches of Chinese fried bread sticks were found to contain 3.37 parts per million (ppm) and 4.29ppm.

Health departments across the country have randomly tested more than 100 batches of baked goods and other foods that are commonly prepared with ammonium bicarbonate, including cookies, bread, grilled squid, barbequed pork buns, wedding cakes, honeycomb cookies and cream puffs.

Of the tested samples, the only products found to contain melamine were the two batches of Chinese fried bread sticks, Deputy Minister of Health Cheng Shou-hsia (鄭守夏) said at a press conference yesterday.

Cheng said the two batches contained very low levels of melamine and that health officials would continue to supervise the production of these products and conduct random testing to ensure businesses are using safe food additives.

Businesses such as bakeries and food stands that do not use Chinese-made baking ammonia as a food additive are allowed to put up signs that say "No Chinese-made baking ammonia added, customers need not worry," Cheng said.

On Saturday, ammonium bicarbonate imported by Sesoda Corp (東碱股份有限公司) from China's Huaer Chemical Co (化二化工有限公司) was found to contain between 70ppm and 300ppm of melamine.

Of the 400 tonnes imported, more than 200 tonnes remain in circulation and have yet to be tracked down by health officials.

On Friday, Hunya Foods Co (宏亞食品), which purchased 700kg of ammonium bicarbonate from Sesoda, announced that all products containing the ammonium bicarbonate had been pulled from shelves.

Ammonium bicarbonate, also known as baking ammonia, is listed as a legal food additive in the Scope and Application of Food Additives (食品添加物使用範圍及限量標準). The chemical is not toxic and is used in the food industry as a leavening agent.

The department has banned imports of baking ammonia from China and passed this information on to the WHO's International Food Safety Authorities Network.

Cheng said the department would clear up the matter with China via channels of communication established by the Straits Exchange Foundation (SEF) and its Chinese counterpart, the Association for Relations Across the Taiwan Strait (ARATS).

If Huaer is responsible for adding harmful substances to the ammonium bicarbonate sold to Sesoda, the department will demand an apology from Huaer and help the Taiwanese companies negatively affected by the product seek compensation.

Meanwhile, the department said it was awaiting a response from Zhongshi Duqing (Shandong) Biotech Co regarding King Car Industrial Co's (金車) recall of its instant coffee and instant soup products after it was discovered that the products contained a melamine-spiked non-dairy creamer produced by Zhongshi Duqing.

The department will give out samples of Chinese fried bread sticks free of Chinese-made baking ammonia tomorrow to restore consumer confidence.

The location, however, has yet to be announced.

Meanwhile, Vice Premier Paul Chiu (邱正雄) said yesterday the government would help people who have suffered health problems because of tainted food from China request compensation from Beijing through the SEF.

Chiu said during a committee meeting in the legislature that the Consumer Protection Commission would make the appeals for compensation through the foundation and ARATS.

"At present, the Consumer Protection Commission has received 80 inquiries and is handling three cases of people with kidney stones [caused by tainted Chinese dairy products] for compensation from China," Chiu said.

He said the SEF could raise the issue of compensation with ARATS Chairman Chen Yunlin (陳雲林) during his upcoming visit to Taiwan.

Addressing the discovery of the chemical in ammonium bicarbonate over the weekend, Chiu said: "ammonium bicarbonate is a legal food additive and the quantity added into foods is very small."
---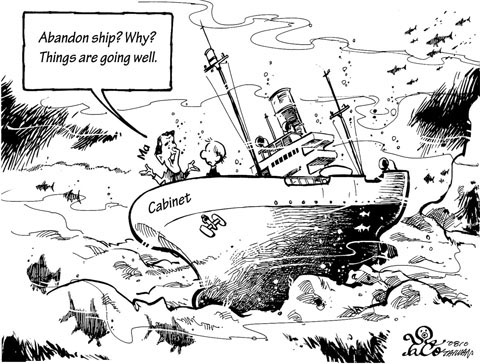 ---
Time to cut back on policy advisers
 
By George Huang 黃石城
Tuesday, Oct 21, 2008, Page 8

'Ma should pull back before it is too late, stop flirting with authoritarianism and abolish the positions of senior and national policy advisors that were created by an authoritarian regime 60 years ago.'

Senior advisers and national policy advisers to the president are products of past authoritarian rule, a way for a despotic leadership to create a class of nobility.

When the Chinese Nationalist Party (KMT) government withdrew to Taiwan, it meant that all party and government leaders gathered here. The government's efforts to recover the mainland relied heavily on them, which made it necessary to create these positions.

Taiwan no longer hopes to recover the Chinese mainland, and, in addition, is now a democracy. It is only natural to abolish this remnant of the authoritarian era.

Although the KMT used this system of senior and national policy advisers, it limited the appointments to those who had served as president of the Cabinet, the legislature, the Control Yuan, the Examination Yuan or the Judicial Yuan.

Only those who had served as vice presidents of one of the five yuan, minister, or minister without portfolio could serve as a national policy advisor.

By 2000, Taiwan had democratized, and when the Democratic Progressive Party (DPP) came to power for the first time in that year, it lacked any former yuan presidents or vice presidents and ministers.

The party mainly appointed hired hands, financial supporters and grassroots political leaders to these positions, in practice using the state apparatus to further its own interests.

The same phenomenon occurred with the Presidential Office's award of medals of honor, as many recipients included the same people.

Since the DPP lacked members who had served as yuan president or ministers, it should have used this as an opportunity to abolish the system but instead it perpetuated the KMT's authoritarian system by appointing unqualified supporters as advisers, thus turning the positions into a resource for reward sharing.

In addition, the posts existed in form only and advisers had nothing to advise on, simply wasting substantial government resources.

In the past, the main function of these advisers was to serve as chairman or members on some senior politician's funeral committee and standing in the front row to show off their titles at public funeral ceremonies.

Fortunately, former president Chen Shui-bian (陳水扁) realized that there was no value in having these advisers, and so he made the wise decision to stop appointing senior and national policy advisers in June 2006

This not only saved national budget resources but also ended a relic of past authoritarian rule. This may have been a case of "delayed justice" but it was highly praised by the general public.

There have been reports that President Ma Ying-jeou (馬英九) is planning to resume the appointment of senior and national policy advisers, and the Presidential Office has allocated NT$90 million (US$2.7 million) to this purpose for next year.

It is disappointing to see that the Presidential Office is busy doling out spoils, and it shows that Ma stacks up badly compared to Chen in this regard.

It would be progress if Ma fully abolished the system Chen stopped using, but if he instead reinstates the system, he will be turning back the clock, and this will become part of his legacy.

Ma's only political achievements after five months in power are to have proposed construction projects and appointing members to the Control Yuan and Examination Yuan to reward supporters.

Now, he is wasting public funds by turning the Presidential Office into a retirement home for advisers.

If he doesn't understand that he must review his inability to start dealing with national policy, save the economy, alleviate the suffering of the poor, relieve disaster victims, prevent disasters from happening and try to understand why his approval ratings stand at 23 percent — even lower than Chen after eight years of rule tainted by money laundering accusations — and instead do what is right, he will be cast off.

An outstanding leader must put party and personal interests aside. He or she must have great vision, wisdom and the ability to rule. Approval ratings will shoot up if he or she runs the nation in accordance with the law and the system, and there is no need to make any ridiculous appointment outside the system.

Ma should pull back before it is too late, stop flirting with authoritarianism and abolish the positions of senior and national policy advisers that were created by an authoritarian regime 60 years ago.

Otherwise, this self-proclaimed thrifty president, who likes to eat lunchbox food and only spent NT$870,000 on decorating the presidential residence, is simply acting.

Legislators with a conscience from both the pan-blue and the pan-green camps should refuse to review the proposed budget for appointing advisers, and should abolish the authoritarian design stipulated in the Organic Law of the Presidential Office (總統府組織法) immediately, in order to meet democratic standards.

There is no room for political compensation in a democracy.

George Huang is a former chairman of the Central Election Commission.