'Unwell,' teary Zhang returns to China
 
PROVOCATION: Former president Chen Shui-bian said the ARATS deputy was at fault for visiting just before a big DPP rally — and visiting Chen's hometown of Tainan
 
By Ko Shu-ling And Flora Wang
STAFF REPORTERS
Thursday, Oct 23, 2008, Page 1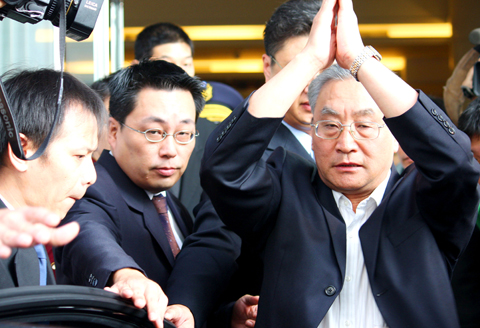 Association for Relations Across the Taiwan Strait Vice Chairman Zhang Mingqing makes a gesture to reporters as he leaves his hotel in Tainan yesterday morning.

PHOTO: CNA
Amid heavy police protection and sporadic protests, Association for Relations Across the Taiwan Strait (ARATS) Vice Chairman Zhang Mingqing (張銘清) yesterday tearfully left for home ahead of schedule after he was jostled and jeered by pro-localization activists and politicians on Tuesday.

Zhang, who left for Beijing from Kaohsiung International Airport yesterday morning, told reporters that the past three days were "memorable." He emphasized, however, that he was not referring to Tuesday's incident but to the warmth of Taiwanese.

"I believe those who behaved violently do not represent Tainan residents or the 23 million people of Taiwan," he said.

"Such violence will never sabotage cross-strait exchanges and development nor will it affect the peaceful situation in the Taiwan Strait. I hope it will not happen again and will make peoples on both sides of the Taiwan Strait get along better and cross-strait exchanges become smoother," he said.

Zhang said he had to leave because he did not feel well and both ARATS Chairman Chen Yunlin (陳雲林) and China's Taiwan Affairs Office Chairman Wang Yi (王毅) wanted him to return to Beijing for a full physical check-up.

"The longer I stay, the more police officers will be deployed to protect me and the higher cost to society. I don't think I should cause them so much trouble," Zhang said, tears welling up in his eyes.

Zhang fell to the ground during a confrontation with Tainan City Councilor Wang Ding-yu (王定宇) of the Democratic Progressive Party (DPP) while on a private visit to the city's Confucius Temple on Tuesday.

Wang, who was summoned for questioning after Zhang filed assault charges over the incident, argued that Zhang fell because he tripped over the root of a tree.

To ensure Zhang's safety yesterday, nearly 300 police officers from Tainan City, Kaohsiung City and the Aviation Police Office were deployed.

Among the individual protesters, Kaohsiung City Councilor Hsiao Yung-ta (蕭永達) was escorted away by police at the airport lobby, where he shouted slogans and held a white banner that read "protecting Taiwan's sovereignty."

"I am here today to say that Taiwan is a sovereign nation," he said. "Taiwan and China are different countries on each side of the Taiwan Strait."

He later held a press conference, accusing the aviation police of manhandling him and questioned why they only protected pro-unification supporters.

Straits Exchange Foundation (SEF) Chairman Chiang Pin-kung (江丙坤) and Chinese Nationalist Party (KMT) Deputy Secretary-General Chang Jung-kung (張榮恭) were at the airport to see Zhang off.

During the 30-minute meeting with Zhang, Chiang said he apologized and expressed the hope that the incident would not affect "normal interactions" or Chen's upcoming trip.

Chiang said he explained to Zhang that the temple incident was an isolated case and that he did not think the incident would affect future cross-strait exchanges or the ARATS chairman's upcoming trip, although Zhang told him it might have some negative impact on Chinese tourists.

Meanwhile, in Nantou County yesterday, former president Chen Shui-bian (陳水扁) said that Zhang had provoked the incident in Tainan.

Chen said nobody supports violence, but Beijing authorities should ask themselves why the temple incident happened in the first place.

Zhang chose to visit Taiwan before a demonstration organized by the DPP and other pro-Taiwan groups on Saturday, Chen said.

"Some people say that is an act of provocation," he said.

Second, Zhang picked the former president's hometown and wandered about by himself, Chen said.

"That was the second provocation," he said.

Third, while President Ma Ying-jeou (馬英九) said there would not be war in the Taiwan Strait in the next four years, Zhang responded by saying: "There will never be war if there is no Taiwan independence."

"Does he mean Taiwan must surrender? Or Taiwan must become a part of China or a region of the People's Republic of China?" Chen said. "That's what people say: you get what you ask for. There are too many provocations that are unacceptable."

Premier Liu Chao-shiuan (劉兆玄) told reporters at the Executive Yuan that the government's plan to arrange the meeting between Chen Yunlin and Chiang at the end of this month remained unchanged despite Tuesday's melee.

Describing the incident as "unexpected," Liu urged the public to condemn the use of violence.

Liu dismissed the idea of holding the meeting in a third country to minimize tensions: "We are a democracy. We respect the expression of different voices ... There is no need to dodge [any potential protests]. The only thing we have to do is to do our best to ensure Chen Yunlin's safety."

When asked if the government would also condemn China for aiming missiles at Taiwan, Liu said the government had repeatedly urged China to remove the missiles and not to hurt the feelings of Taiwanese people.

KMT caucus deputy secretary-general Lo Shu-lei (羅淑蕾) told a press conference that Zhang's decision to return home early was regretful.

"The DPP has sacrificed the image and interests of our nation for its political gains," she said.

KMT Legislator Lee Hung-chun (李鴻鈞) also lashed out at Wang Ding-yu, saying "he obviously had political motives" when he confronted Zhang.

Lee urged the public to show empathy toward Zhang.

"If [SEF Secretary-General] Kao Koong-lian (高孔廉) were treated this way in China, we would have made the same requests [that those responsible be punished]," Lee said.

Legislative Speaker Wang Jin-pyng (王金平) said he expected Taiwanese to treat any visitors politely because this was democractic.

"Both sides of the Strait should respect and treat each other with courtesy to facilitate cross-strait peace and prosperity," he said.

KMT Spokesman Lee Chien-jung (李建榮) said some party members had complained about the lack of promotion for the upcoming "historical Chiang-Chen meeting."

He said the KMT and the Presidential Office had reached a consensus on stepping up efforts to promote Chen Yunlin's visit and to explore the positive impact of the upcoming meeting and recent cross-strait exchanges.

In related news, a survey by Global Views magazine showed that 50.3 percent of respondents supported Chen Yunlin's upcoming visit while 31.2 percent opposed it.

The survey, which polled 1,005 people, was conducted between Oct. 14 and Oct. 16 via telephone.

Asked about the talks, 64.3 percent of respondents said a deal on a cross-strait reporting system on food safety issues would benefit Taiwan.
---
Ma disapproval rating now above 65 percent: survey

STAFF WRITER
Thursday, Oct 23, 2008, Page 1

More than 65 percent of Taiwanese are unhappy with the administration of President Ma Ying-jeou (馬英九), a survey released by Global Views monthly magazine showed yesterday.

The telephone survey, which polled 1,005 people last week, showed that 67.6 percent of respondents did not approve of his performance since assuming office in May.

A total of 43.4 percent said they did not trust him, while those who approved of his performance dropped to 23.6 percent from 24.9 last month.

The magazine's publisher said the result serves as a warning to the administration that the public is unhappy with the Chinese Nationalist Party (KMT) government.

The survey also showed that 61.7 percent of respondents were dissatisfied with the performance of KMT lawmakers.

Even among pan-blue supporters, 47.5 percent voiced their discontent.

The magazine said the KMT had lost the edge it enjoyed earlier this year during the presidential election because it had fallen short of public expectations.

If the KMT intended to remain in power and make a clean sweep in next year's local elections, the party must shape up fast, the magazine said.

Other polls have also shown Ma's approval rating falling since he took office.

A poll conducted by the Cabinet's Research, Development and Evaluation Commission in August showed that Ma's approval rating slipped to 47 percent from 70 percent in March.

Another poll conducted by the Democratic Progressive Party in August showed Ma's approval rate was 37 percent.

Commission Minister Jiang Yi-huah (江宜樺) told the legislature's Judiciary, Organic Laws and Statutes Committee earlier this month that policy flip-flops, improper remarks by government officials, weak and vague defense of administrative policies by government officials, and poor negotiations between government agencies and the legislature as well as the media were the main factors behind public dissatisfaction with the performance of the president and the KMT administration.
---
UN report calls on China to revamp its food safety system

AFP, BEIJING
Thursday, Oct 23, 2008, Page 1

China must modernize its food safety system, the UN said yesterday, arguing that an outdated and disjointed approach may have worsened a crisis over contaminated milk that killed four babies.

In a new report on food safety in China, the UN urged Beijing to adopt a "modern" food safety law and introduce other measures that would help build trust in the government's ability to ensure the nation's food was safe.

"The present system is managed by several laws and an old philosophy that government is responsible for everything," Jorgen Schlundt, director of the WHO's department of food safety, told journalists.

"We have to change that kind of philosophy because we need the food producers to be responsible for food safety," he said.

The report was issued as China continued to deal with the fallout of a scandal in which the industrial chemical melamine was found to have been commonly mixed into milk to give it the appearance of higher protein levels.

Four babies died and at least 53,000 babies fell ill after drinking tainted milk powder.

Although at least one Chinese dairy firm knew of the scam for months, it did not immediately report it to local government officials, who in turn delayed passing on the news for nearly a month until after the Beijing Olympics.

"In this incident we see that an old-fashioned system contributed to the event," Schlundt said of the milk scandal.

"This disjointed system with disjointed authority between different ministries and agencies had resulted in broken communication and may have prolonged the outbreak with a late response," he said.

It called on China to set up a unified and enforceable system capable of ensuring product safety from farm to table, and which would highlight the responsibilities of producers to make safe food.

China needed to educate its companies to better understand the role they played in building market confidence both domestically and abroad, Schlundt said.
---
Tainan councilor defends ARATS protest
 
TEMPLE MELEE: Wang Ding-yu denied pushing Zhang Mingqing and accused the ARATS vice chairman of making unfriendly and provocative statements on 'his turf'
 
By Jenny W. Hsu
STAFF REPORTER, WITH CNA
Thursday, Oct 23, 2008, Page 3

Tainan City Councilor Wang Ding-yu (王定宇) of the Democratic Progressive Party said he would not apologize for his actions at Tainan's Confucius Temple on Tuesday and he challenged Association for Relations Across the Taiwan Strait (ARATS) Vice Chairman Zhang Mingqing (張銘清) to sue him.

"I did not hit anyone," Wang said during a tearful tirade at a press conference. "I welcome Mr Zhang Mingqing to take me to court all the way, but he must recognize the legal jurisdiction of the Republic of China."

Minister of Justice Wang Ching-feng (王清峰) said on Tuesday that Zhang had filed a formal complaint against those involved in the melee.

Zhang arrived Taipei on Sunday in his capacity as dean of the Xiamen University's School of Journalism for an academic forum in Tainan City. He was approached by Wang and a group of protestors during a sightseeing trip to the temple. A scuffle broke out and Zhang fell, losing his glasses.

Wang insisted yesterday that he had not pushed Zhang and had actually tried to help him up.

He also protested the demotion of Tainan City Police Bureau Commissioner Chen Fu-hsiang (陳富祥), who was transferred and slapped with a demerit for allegedly failing to protect Zhang.

The National Police Agency announced on Tuesday night that Chen would be transferred to be deputy director-general of the National Highway Police Bureau to take responsibility for the incident.

Chen's transfer and disciplinary action against other police officers were announced after Minister of the Interior Liao Liou-yi (廖了以) apologized for the incident and vowed the ministry would launch an investigation to determine if law enforcement authorities had failed in their duties.

Tainan prosecutors have also launched an investigation. They said anyone found to have "illegally bullied" Zhang was likely to face charges of hampering freedom, assault and damaging property.

Accompanied by his wife, who also cried at the press conference, Wang said he was only been trying to protect Taiwan's sovereignty and that Zhang's statement of "no Taiwan independence, no war" was extremely unfriendly and offensive to Taiwan.

"Don't I have the right to express my displeasure when the enemy makes such a declaration while on my turf?" Wang asked.

The city councilor said he bore sole responsibility for the incident and warned that anyone who tried to harm his family would have to answer to him.
---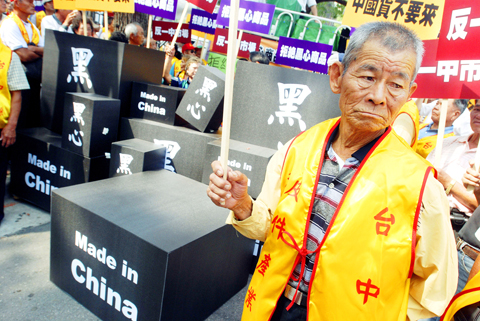 SPEAKING OUT
A protester holds a placard in front of black boxes labeled "Made in China" and "Black Heart," during a protest against Chinese imports outside the Legislative Yuan yesterday.

PHOTO: CHIANG YING-YING, AP
---
Chinese dissident urges caution on cross-strait ties
 
WORDS OF WARNING: Chen Pokong said the Chinese Communist Party does not do favors for anyone, warning that it is trying to reel in Taiwan economically and politically
 
By Tzou Jiing-wen
STAFF REPORTER
Thursday, Oct 23, 2008, Page 3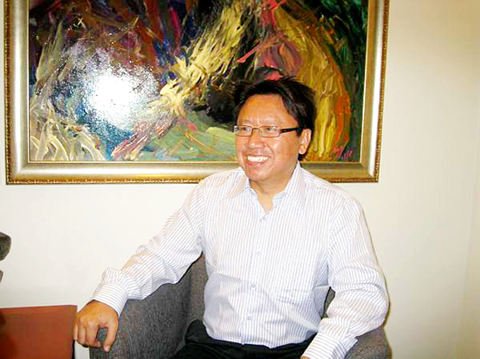 Chinese democracy activist turned academic Chen Pokong smiles during an interview in Taipei last Saturday.

PHOTO: TZOU JIING-WEN, TAIPEI TIMES

Chinese democracy activist turned economist Chen Pokong (陳破空) says the Chinese Communist Party (CCP) will try to gain a propaganda advantage from the planned visit to Taiwan by Association for Relations Across the Taiwan Strait (ARATS) Chairman Chen Yunlin (陳雲林).

"Beijing will tell the Chinese people that the visit is a victory for China's Taiwan policy of waving a military stick while dangling an economic carrot. Taiwanese people should protest the visit," the US-based academic said in an interview on cross-strait relations with the Liberty Times (the Taipei Times' sister newspaper) on Saturday.

"Rather than exaggerate the economic aspects of the visit, Taiwan's government should insist on talking about Taiwan's strengths — democracy and human rights. If the government acts in a cowardly manner, China will look down on Taiwan even more, believing that it can and will have the country under its control," he said.

"The CCP will view the visit as a huge success and use it to keep fooling the Chinese people. It will claim that the CCP regime is as strong as a rock, since it can force Taiwan to yield after regaining both Hong Kong and Macao and stabilizing Tibet," he said.
 
Chen Pokong
• Born Chen Jinsong (陳勁松) in Sichuan Province.

• Received a masters degree in public administration from Columbia University in New York City.

• Currently a visiting scholar at Colombia.

• Organized and participated in the 1989 student movement in Guangzhou; put into prison twice between 1989 and 1995; served nearly five years.

• First person to provide the UN with evidence that the Chinese Communist Party had forced prisoners undergoing "reform through labor" to make products for export.

• Author of "China's economy: prosperity under a shadow" (中國經濟:陰影下的繁榮).
On the recent toxic milk scandal, "the flawed system behind China's toxic milk powder and counterfeit goods has harmed not only China itself but the whole world, including Taiwan," he said.

"The CCP government refuses to apologize, but the Chinese people cannot protest because they have always been deprived of their right to do so. As a democracy, Taiwan should stage a protest over the health and safety issue and demand an apology," Chen Pokong said.

"Taiwan's government is eager to boost its economy, and it is pinning its hopes on doing business with China. It expects that direct flights, Chinese tourists, preferential measures and setting up a relationship similar to that of the Mainland and Hong Kong Closer Economic Partnership Arrangement [CEPA] can remedy all its problems," he said.

"But when you ask for a favor, you may also be taken advantage of. The CCP regime does not do someone a favor easily, and when it does it does it for a purpose. The purpose this time is to try and bait and hook Taiwan, first economically and then politically," he said.

"Beijing is unlikely to grant Taipei's requests instantly, and will instead dangle them like a carrot in front of a donkey. For example, the number of Chinese tourists visiting Taiwan can be decided completely by the Chinese side," Chen said.

He said Taiwan had not depended on China for its economic takeoff in the 1970s.

"Today, China is important because of two factors. First, China is Asia's biggest market, and it keeps growing, so many countries want to do business with it. Second, China has seriously limited Taiwan's diplomatic space, causing it diplomatic difficulties while affecting its market as well. If Taiwan wants to develop economic and trade relations with China, those ties should be based on equality and dignity and be propelled by market forces. It is not necessarily appropriate for the government to take the lead," he said.

The inevitable result of relaxing restrictions on cross-strait business will be that Taiwanese capital will flow to China, and China's labor and products will flow to Taiwan, because Taiwan is a developed economy and China is a developing one, he said.

China has been doing its best to attract Taiwanse capital and this trend will not change unless the CCP makes a political effort to reverse it, but Taiwan would pay a considerable political price, he said.

"The new government [in Taiwan] has spoken and acted based to its stated intentions, but China has not brought any benefit to Taiwan's economy. Even Chinese tourist arrivals have been lower than expected, he said. "This is because China has been relaxing economic measures in a calculated way so as to keep Taiwan under control, so Taiwanese people should not be too hopeful."

"If the government finds that high-tech exports to China or an influx of Chinese labor are not good for Taiwan's economy, it should adopt a 'no haste, be patient' policy," he said.

"Taiwan's real strength lies not in its economy and trade, but in its democracy, freedom and human rights," he said. "In cross-strait relations Taiwan should take advantage of its strengths and avoid its shortcomings. If the government tries to compete with China in economy and trade, Taiwan will find itself in a passive position in which China holds the power to dominate the situation. The outcome will be that Taiwan would be swallowed up by China."

"Taiwan should insist on actively promoting democracy and human rights rather than avoiding the matter. President Ma Ying-jeou (馬英九) talked about the 1989 Tiananmen Square incident and the Tibet issue before the election, but since he took power Ma's administration has become weak and even said that Taiwan should not see itself as a beacon of freedom and democracy. This shows a lack of understanding of China and the CCP," Chen Pokong said.

"If the Ma administration knew the CCP better, it should have criticized Beijing for human rights abuses," he said, adding that "when the two sides began exchanges, Taiwan should have delivered a list of political prisoners and demanded that China release them."

"The government should stick to its position on the Tiananmen and Tibet issues because Taiwan's economy and safety rely on the democratization of China, otherwise Taiwan's future will come under the sway of tyranny," he said.

"Taiwan's government should focus on the country's long-term development and decide on strategies to counter China's autocratic regime. If the government thinks showing goodwill toward the Chinese regime will bring results, it should be aware that many others have tried the same thing, but China is still as oppressive as ever," he said.

"Taiwan should not fear negative consequences if it boldly declares its position. If Taiwan is overly cautious and cowardly, the CPP will look down upon it," Chen said.

"Under the influence of the US financial crisis, the Chinese economy might lose its critical leverage in foreign investment and trade. Its labor costs will gradually increase as its land resources decrease over time. The appreciation of the yuan will slow China's export momentum and this will be a big turning point for the country's economy," he said.

"With so many Chinese-made fake products spreading all over the world, China's reputation has been seriously damaged. The milk powder scandal has halted the production of dairy products in China. Therefore it is dangerous for the government to tie Taiwan's economy to China's or to regard Taiwan's economy as a part of cross-strait economy and look to China to solve its problems," he said.

"Data shows that Chinese banks are black holes, and outsiders do not know how many questionable accounts there are. China's real estate and stock market bubbles will eventually burst. If the world is experiencing a bubble economy, then the Chinese economy is the biggest bubble of all. Once the bubble bursts, any economies related to China will be hurt, so Taiwan needs to be very cautious," he said.
---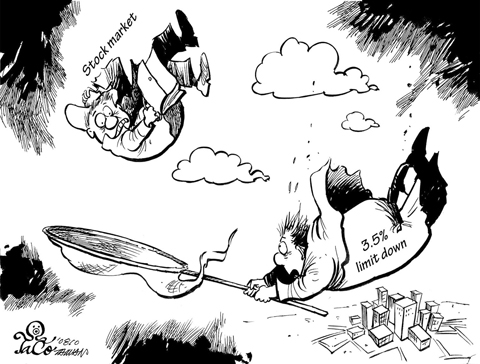 ---
No to violence, yes to fair treatment

Thursday, Oct 23, 2008, Page 8

Shortly after the melee in Tainan on Tuesday, in which China's Association for Relations Across the Taiwan Strait (ARATS) Vice Chairman Zhang Mingqing (張銘清) was besieged by pro-independence protesters, Presidential Office Spokesman Wang Yu-chi (王郁琦) said: "It is not our way to treat guests with violence," while Democratic Progressive Party (DPP) Legislator Yeh Yi-ching (葉宜津) labeled Zhang as unfriendly to Taiwan, adding that: "No one can tolerate seeing one's enemy."

So what does Zhang represent for Taiwan — is he friend, or foe? The record speaks for itself.

On June 28, 2001, Zhang, then spokesman of China's Taiwan Affairs Office, said: "It is dangerous for Taiwan to include the word 'Taiwan' on its passport."

On Sept. 26, 2001, he said: "It is the general trend and people's yearning that the Taiwan issue soon be resolved, with the goal of a unified China … the issue of Taiwan cannot be delayed indefinitely."

On Nov. 26, 2003, on the eve of the vote on the Referendum Law (公民投票法) in Taiwan, Zhang said: "We oppose the Taiwan authority's attempt to use the legislation of a referendum to engage in separatist movement and pave the way for independence … we will react strongly if an unlimited referendum law is passed."

On May 24, 2004, he said: "We will smash the separatist schemes of the Taiwanese independence movement at all costs."

Despite his views on Taiwan, physical assault cannot be justified. Taiwan is a country of laws and brooks no violence to achieve political objectives.

Thousands of Chinese have visited Taiwan since July 4, when policies allowing a greater number of Chinese to enter the country were implemented. Not once have we heard reports of Chinese being assaulted verbally or physically by their hosts.

Zhang, therefore, was the exception, and the reason he was targeted has far more to do with his track record on Taiwan than blind hatred for Chinese.

Prior to the melee on Tuesday, Zhang was asked by reporters to comment on President Ma Ying-jeou's (馬英九) remarks that "no war across the Taiwan Strait [would break out] in the next four years." His response was the following: "There will be no war if there is no Taiwan independence."

Aside from its arrogance, the comment also represented a deadly threat to all Taiwanese who seek independence for their country.

Shortly after the incident, ARATS filed a formal letter of protest "strongly condemning a barbaric action of violence," while the Presidential Office, Premier Liu Chao-shiuan (劉兆玄) and Cabinet officials also condemned the act. Less than 12 hours after the incident, Tainan City Police Bureau Commissioner Chen Fu-hsiang (陳富祥) was demoted to the post of deputy director-general of the National Highway Police Bureau.

Contrast this efficient condemnation of violence with the Presidential Office's response to the physical attacks on former president Chen Shui-bian (陳水扁) and former representative to Japan Koh Se-kai (許世楷) by Su An-sheng (蘇安生) earlier this year.

It took the administration three days to utter a word.

One might wonder whether condemnation of violence hinges not on whether the victim is friend or foe, but rather whether he or she is Chinese or Taiwanese.
---
No compromise on fundamentals
 
By Howard Fass
Thursday, Oct 23, 2008, Page 8

'As Mohandas Gandhi once said: "All compromise is based on give and take, but there can be no give and take on fundamentals. Any compromise on mere fundamentals is a surrender. For it is all give and no take."'

The People's Republic of China (PRC) has more than 1,000 "guns" — or rather missiles — targeting Taiwanese. As if poisoned milk and bird flu were not enough. Here is an excerpt from a piece by Agence France-Presse from July 16, 2006, which is still every bit as valid as it was back then:

"China has 820 ballistic and cruise missiles currently aimed at Taiwan, according to Taiwanese President Chen Shui-Bian (陳水扁). Speaking today at a forum of Japanese scholars in Taipei, Chen stated that the People's Liberation Army had deployed 784 ballistic and 36 cruise missiles, adding that the number of missiles is rising at a rate of 120 per year."

Chen's figures were in line with those of the Pentagon's 2006 Report to Congress on the Military Power of the People's Republic of China, which estimated the number of Chinese CSS-6 and CSS-7 short-range ballistic missiles aimed at Taiwan as numbering between 710 and 790, an increase over the previous year's 650 to 730 missiles.

In his statement, Chen noted that a 10-hour Chinese bombardment could paralyze Taiwan's communications, transportation and command centers.

He added that China has repeatedly threatened to invade Taiwan should it declare formal independence.

This news is just over two years old, which means that the current total number of missiles aimed at Taiwan now stands at somewhere near 1,060.

Why is Taiwan and its government not in an absolute state of emergency and alarm over this?

What's more, why does Taiwan remain willing to increase trade and relations with a neighboring state that has consistently denied Taiwan's very right to exist at each and every opportunity and constantly threatens the lives of Taiwanese with these dangerous weapons?

To put it in simple terms: "How can we possibly be friends when you [China] have a loaded gun pointed at my head?"

The Taiwanese government — pan-blue or pan-green — should at a very minimum stand for the welfare of Taiwanese and do its utmost to keep them safe.

With the present government, this is just not happening, and no amount of rhetoric and obfuscation can skirt the issue anymore.

The bottom line should be that there can be no negotiations, trade of any kind or relations at all while the lives of Taiwanese are recklessly put in harm's way by the Chinese.

Where is the Taiwanese government's dignity and sense of duty?

Any responsible government would by now have asked Beijing to stop targeting its people with missiles.

Until these missiles are all completely removed, with proper verification by a third party, all trade, flights and or relations of any kind should be banned.

No other nation that cherishes the lives of its own people, let alone its dignity, would ever tolerate this ridiculous state of affairs.

Maybe this is one of the reasons China is so bold in its isolation of Taiwan in the international arena, because the Taiwanese themselves do not seem to have any sense of dignity when it comes to this issue.

China knows that Taiwan will continue to provide infrastructure investment and money to the PRC even though doing so hurts the Taiwanese economy and people.

China can therefore afford to say: "Why not threaten Taiwan with missiles? They won't do anything about it and we still get their money."

China still gets everything it wants even if it behaves badly. This cowardly behavior on the part of Taiwan only encourages China and only serves to embolden its leaders to become even worse.

If Taiwanese really want peace and harmony in the Taiwan Strait, they should stop dreaming and take a stand.

As Mohandas Gandhi once said: "All compromise is based on give and take, but there can be no give and take on fundamentals. Any compromise on mere fundamentals is a surrender. For it is all give and no take."

Taiwan's goal is not to harm China. Taiwan only wants what every other group of people wants, and that is to live freely and with a certain degree of safety.

If China cannot and will not honor this minimum standard of human interaction, then there really is no point in talking.

Howard Fass is a human rights and political activist.