Cross-strait routes not 'domestic': Lai
 
NEW LINKS: The Mainland Affairs Council chief said the definition of air and sea routes would be announced next week, but hedged on what they would be called
 
By Shih Hsiu-Chuan
STAFF REPORTER
Friday, Oct 31, 2008, Page 3

Any new routes for direct air and sea transportation between Taiwan and China finalized during next week's cross-strait negotiations in Taipei would not be defined as "domestic routes," Mainland Affairs Council Chairwoman Lai Shin-yuan (賴幸媛) said yesterday.

Lai, however, refused to expound on what both sides would call the new routes.

"They are never domestic routes," Lai said when pressed by reporters, adding "You will find out then [next week]."

She made the remarks at a press conference at the Executive Yuan following the weekly Cabinet meeting. She was unable to present her briefing on the talks to lawmakers after the legislature's Internal Administration Committee was adjourned because of a scuffle.

Association for Relations Across the Taiwan Strait (ARATS) Chairman Chen Yunlin (陳雲林) and Straits Exchange Foundation (SEF) Chairman Chiang Pin-kung (江丙坤) will hold a second round of cross-strait talks on Monday and Tuesday.

New flight and maritime shipping routes are expected to be created to eliminate the need for travel via a third location as is current practice.

China's definition of the cross-strait routes as "domestic" created difficulty in negotiations with the former Democratic Progressive Party (DPP) government on cross-strait direct links. The Statute Governing the Relations Between the Peoples of the Taiwan Area and the Mainland Area (兩岸人民關係條例) provides for another definition of cross-strait routes apart from "domestic" and "international" routes as stipulated in the Civil Aviation Law (民用航空法) and other regulations.

"There is no way that the cross-strait routes will be called domestic routes. At least we won't define them in this way," Lai said each time she was asked the question.

Asked whether the government would register the new air routes with the International Civil Aviation Organization (ICAO) as "domestic routes" or "international routes," Lai said only: "[Taiwan] is not a member of the ICAO."

She dismissed worries raised by the DPP and pro-independence groups that Chen's visit and the planned agreements would sacrifice the country's sovereign interests, saying such concerns were "unnecessary" and "incorrect."

Of the four issues on the next week's agenda, pacts on direct air and sea links would require legislative confirmation, while pacts on cross-strait postal exchanges and a food safety mechanism would be sent to the legislature for reference, Lai said.
---
Youth to join Referendum Law protest
 
DEMOCRATIC DRIVE: Student organizations heeded the call of a professor staging a hunger strike outside the legislature to demand the Referendum Law be changed
 
By Shih Hsiu-Chuan
STAFF REPORTER
Friday, Oct 31, 2008, Page 3

A group of young people plan to stage a vigil tonight in support of Tsai Ting-kuei (蔡丁貴), chairman of the Taiwan Association of University Professors, and other localization activists who are staging a seven-day hunger strike to back demands for amending the Referendum Law (公投法).

Fifty students representing 10 groups will join the hunger strike outside the legislature starting tonight, said Chen Ya-lin (陳亞麟), a rally organizer.

Tsai said he wished to see more young people join him in response to an appeal by some students that he should stop his strike to retain his strength for further protests.

In a message he left on the association's Web site on Monday, Tsai expressed regret that no young people had joined the hunger strike.

Tsai says the law is undemocratic because it sets unreasonably high thresholds for a referendum to be initiated and to be passed.

"Professor Tsai has said that he wished young people would join him, and we also think that we are obliged to play a role in the fight for a better democracy," Chen said.

Chen said the student groups launched a drive on the Internet, asking for 1,000 young people to participate in the hunger strike.

"We hope young people planning to join the vigil will bring flashlights so that they can shine them on the legislature to dispel its darkness," Chen said.

The Taiwan Association of University Professors said in a statement on its Web site that Tsai would end his hunger strike if young people would take over the protest, because that would mean young people are also concerned about issues related to the public interest and that he was not alone in his concern.

Whether he receives support or not, Tsai would continue to push for amending the law, the statement said.
---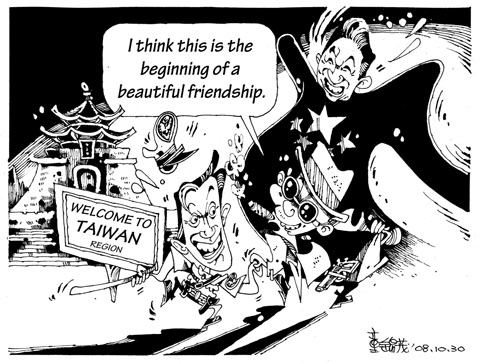 ---
Mr. Lien goes to Lima via Beijing

Friday, Oct 31, 2008, Page 8

The Presidential Office announced with much fanfare on Wednesday that former Chinese Nationalist Party (KMT) chairman Lien Chan (連戰) would represent President Ma Ying-jeou (馬英九) at the APEC leaders summit in Peru next month.

The trumpets were out because, as a former vice president, Lien will be the highest-ranking former official to represent Taiwan at the annual forum.

Ma told the Central News Agency in an interview last week that he would do "whatever he could" to raise the level of Taiwan's representation at APEC. Lien's acceptance by China will no doubt be touted by the Presidential Office as another success in its policy of engaging Beijing.

Back in October 2001, when former president Chen Shui-bian (陳水扁) chose former vice president Li Yuan-zu (李元簇), Li was flatly rejected by China on the grounds that his appointment bucked APEC protocol: Taiwan's representative had to be a finance or economic official.

China seems to have moved the goalposts on this occasion, as Lien hardly qualifies as an economic expert, but the government and pro-unification press will no doubt sweep this inconvenience under the carpet.

In selecting Lien, the Presidential Office clearly resorted to the safest option, as there was little chance that China would reject him given his Machiavellian past.

Lien is China's man. He has shown on many occasions in the past that he is all too willing to toe the line of Beijing's united-front policy and denigrate Taiwan's sovereignty. It was Lien who put Taiwan's sovereignty on its current slippery slope when in 2005 he undermined the authority of the Chen government by traveling to China and meeting Chinese officials.

Another inconvenient fact for the Presidential Office is that Lien is not a government official and will attend the summit in his capacity of chairman of the National Policy Foundation, a KMT-affiliated think tank.

What this means is that China has ensured that the cross-strait relationship remains on a strictly party-to-party basis in line with Beijing's "one China" policy and nullifies Ma's claim that he is raising the level of Taiwan's representation.

One could even suggest that Lien was perhaps Beijing's — and not Taipei's — choice. Given the shady communication channels that exist between the KMT and the Chinese Communist Party, it would not be surprising if the two parties reached a secret deal on Taipei's representation.

In the few months since the Ma government began its policy of rapprochement with China, it has become increasingly adept at grasping straws when it comes to identifying Beijing's acts of "goodwill."

Lien's attendance in Lima will no doubt be spun as the latest indicator of China's benevolence, but in reality most people couldn't care less who represents Ma at this inconsequential annual gabfest.

They care more about Taiwan's entry to the WHO or the UN, goals that look like a lost cause following China's outright dismissal of Ma's "pragmatic" UN bid last month.

The Ma administration may have perfected the art of taking China's snubs and spinning them in a positive fashion, but as last Saturday's 600,000-strong anti-government protest showed, people's reserves of goodwill for Ma and his cross-strait strategy are at a critical low.
---
Ma must reassess cross-strait tack
 
By Tung Chen-Yuan 童振源
Friday, Oct 31, 2008, Page 8

President Ma Ying-jeou's (馬英九) election victory on March 22 gave the people of Taiwan hope that cross-strait relations would improve after he took office. However, over the past seven months, Ma has relied too much on China showing Taiwan goodwill. After only five months in office, it may still be too early to judge the effectiveness of Ma's cross-strait policies. However, some early signs are very worrying and I hope that Ma can reassess his approach.

In terms of cross-strait interaction, while a consensus was reached on tourist and cargo charter flights during cross-strait negotiations on June 13, the Ma administration showed China its bottom line for negotiations way too early when it said that it hoped to come to a final agreement with China on tourist and cargo charter flights before July 4.

This gave Beijing the power to name the agenda for the negotiations. China subsequently insisted that the issues Taiwan wished to finalize, including cargo chartered flights, increasing the frequency of flights and establishing new routes, be discussed at the next round of negotiations.

On July 18, Taiwan opened up to an increased number of tourists from China. Now, a little more than three months later, only about 200 Chinese tourists visit Taiwan a day. This is lower than the average of 300 Chinese tourists who visited during the last year the Democratic Progressive Party (DPP) was in power and is far from the 3,000 tourists the Ma administration had promised.

On Sept. 6, Ma said the Chinese government's refusal to cooperate was the main reason behind the lower-than-expected numbers. Another problem was that Taiwan opened eight airports to the charter flights, but now the only two being used are the Taiwan Taoyuan International Airport and the Songshan Airport. This not only suggests sloppy policymaking by the Ma administration, but also political threats from China.

In terms of Ma's "diplomatic truce," Beijing reiterated its "one China" policy the day Ma was elected president. China also took action to stop Taiwan becoming an observer at the WHA. At the end of July, Chinese Foreign Minister Yang Jiechi (楊潔篪) said during a visit to Washington: "No matter what changes occur in cross-strait relations, the 'one China' principle will never change." In terms of the diplomatic truce, the Chinese government is applying the "one China" principle, not the so-called "1992 consensus" and definitely not the "one China, with each side having its own interpretation" proposed by the Ma government.

Although the Ma administration proposed that Taiwan become a member of the specialized agencies of the UN at the end of August, China once again made critical comments, saying that Taiwan was a mere "region" that was "not qualified" to participate in these specialized agencies and that these moves were "an attempt to create "one China and one Taiwan."

Didn't Ma tell us that the "1992 consensus" would be able to solve all cross-strait issues? Now the Ma administration's "survival diplomacy" has been criticized as "an attempt to make one China and one Taiwan."

A few days after this, Ma gave into Chinese pressure by saying: "The relationship that exists between China and Taiwan is a special one, but that relationship is not one between two countries. It is a non-state-to-state type of relationship."

This remark legitimized China's claims that Taiwan is a mere region and not qualified to take part in international organizations. Ma also emphasized that he and Association for Relations Across the Taiwan Strait Chairman Chen Yulin (陳雲林) would be able to refer to each other as "Mr" during Chen's visit to Taiwan. Could these actions, which were aimed at denationalization, be what Ma referred to as the "1992 consensus"? I believe that these moves are the result of pressure from Beijing and show that Ma is toeing the line more than ever.

Taiwanese expected cross-strait relations to dramatically improve after Ma was elected. However, right now the public is anxious about Ma's cross-strait policies. An opinion poll conducted by the Mainland Affairs Council showed there were more respondents who thought that cross-strait relations were changing too quickly compared with those who thought that things were moving too slowly. This is the first time so many people have thought this way in many, many years.

The China Times also conducted an opinion poll that showed more people believed that the Ma administration's cross-strait policies have damaged Taiwan's sovereignty compared with those who did not believe this. Amid widespread worry and doubt, the Ma government should reassess its cross-strait strategies instead of stubbornly implementing what it thinks is best for Taiwan, because the results will be devastating.

Tung Chen-yuan is an associate professor at the Graduate Institute of Development Studies at National Chengchi University.
 
---
Taiwanese need to bone up on their Thoreau
 
By Chen Yi-Chung 陳怡仲
Friday, Oct 31, 2008, Page 8

'During Chen's five-day visit to Taiwan, residents of the greater Taipei area could also hang our national flag outside their homes.'

When 600,000 people gathered along Ketagalan Boulevard in Taipei to vent their anger at the administration of President Ma Ying-jeou (馬英九) and flashed a laser image onto the Presidential Office building that read "incompetent," I recalled US author Henry David Thoreau, who said in his essay "Civil Disobedience," published in 1849, that "all men recognize the right of revolution; that is, the right to refuse allegiance to, and to resist, the government, when its tyranny or its inefficiency are great and unendurable."

After the public expressed its anger at the Ma administration's China-leaning policies by way of concrete action, Ma shamelessly remarked that his policies were on the right track and persisted with inviting Association for Relations Across the Taiwan Strait Chairman Chen Yulin (陳雲林) to Taiwan without showing any regard for the potential safety threats posed by Chinese missiles, epidemic diseases and tainted food products. Thoreau's words thus provide food for thought.

To provoke Chen and express dissatisfaction with the Ma administration's cross-strait policies, the Democratic Progressive Party has proposed to mobilize the public to stage a protest over several nights at Yuanshan Park along with other large rallies. As citizens of Taiwan, there is actually a lot more we can do.

According to the theory of civil disobedience championed by Thoreau and Mahatma Gandhi, as long as the anti-Chen rallies conform to principles of public expression of opinion, non-violence and willingness to accept punishment — as there may be violations of traffic rules or the Parade and Assembly Law (集會遊行法) — such protests can be viewed as a concrete manifestation of civil disobedience by the Taiwanese public.

For instance, we could mobilize millions of vehicles such as private cars, taxis, trucks, buses and even scooters or bicycles with national flags and protest banners to paralyze the traffic surrounding the Taiwan Taoyuan International Airport when Chen arrives in Taiwan. Or we could block the traffic around the Grand Hotel or other hotels in Taipei to make Chen's life difficult during his visit.

These actions would give Chen a sense of the fury the Taiwanese public feels against the Chinese government. If this happened, the provocation campaign could be considered successful.

In addition, during Chen's five-day visit to Taiwan, residents of the greater Taipei area could also hang our national flag outside their homes and put up posters and banners that say "Taiwan and China: One Country on Each Side of the Taiwan Strait" to express opposition to the "one China" formula. While there may be instances where the Ma government cowardly puts away our national flags during Chen's visit, the public can put up our flags to show patriotism and speak out against Ma's phony patriotism. This is another way we can practice "civil disobedience."

Chen Yi-chung is a graduate student in the Department of Political Science at Tunghai University.