Protest is a democratic right: Wang Ting-yu
 
PRECIOUS RIGHT: The Tainan City councilor and six others proclaimed their innocence in the face of charges stemming from a melee during a Chinese envoy's October visit
 
By Rich Chang
STAFF REPORTER
Thursday, Apr 09, 2009, Page 3

Democratic Progressive Party (DPP) Tainan City Councilor Wang Ting-yu (王定宇) yesterday proclaimed his innocence during a hearing ahead of his trial on charges of assaulting a Chinese official.

Wang is charged with inciting supporters to use violence against Association for Relations Across the Taiwan Strait (ARATS) Vice Chairman Zhang Mingqing (張銘清) during his visit to Taiwan last October.

Wang told the Tainan District Court that prosecutors had ignored evidence in his favor and made false accusations against him and other defendants.

The right to protest is one of the precious rights in a democracy and holding a rally is legal and should not be punishable by law, Wang said in the court.

"I was claiming Taiwan is not a part of China during Zhang's visit to the country, and that was aimed at protecting Taiwan's interests," Wang said.

Wang asked the court to summon Zhang during the hearing and said he believed the court would clear his reputation.

Six other people were indicted along with Wang and also claimed their innocence during the hearing.

Defendant Lin Chin-hsun (林進勳) told the court he had received years of anti-Communist education in school and in society. As Chang did not offer an apology for his country's exports of toxic milk powder to Taiwan, and as he had in the past threatened to attack Taiwan with military force, Lin said he had a right to protest against a communist.

Ho Kuei-hua (何桂花), 70, who was indicted for trying to attack Zhang by hitting his car with a crutch, said she was taught to fight communists and attack China throughout her life.

Therefore when she heard people shouting that the "communists are coming," she automatically hit Zhang's car with her crutch.

Wang was indicted on charges of intimidation and assault, with prosecutors asking for a 14-month jail sentence.

Zhang encountered protests from Wang and several pro-­independence supporters during a private visit to Tainan's Confucius Temple. In the melee, Zhang fell to the ground and was slightly injured.

Prosecutors said video footage from the scene proved that Wang pushed Zhang causing him to fall. They also allege the actions of Wang and his supporters damaged Taiwan's image.

Prosecutors also said that Lin, who jumped on the roof of Zhang's car, should receive an eight-month sentence; while Tu Yung-nan (杜永南), Tseng Chao-chi (曾朝枝), Wu Ping-chin (伍平進) and Wang Chen-juei (王貞瑞) should be given six months each for trying to block Zhang's car by standing in front of it.

Prosecutors asked for a six-month sentence for Ho.

The six were indicted on charges of intimidation, interference and for "overthrowing" democratic values.

More than 100 of Wang's supporters appeared in front of the district court yesterday.

They shouted "Taiwan go, Taiwan go," and "No guilt for protest. No guilt for democracy."

Director of the DPP's Tainan branch Chen Chin-yi (陳進益), DPP Tainan City Councilor Lee Wen-cheng (李文正) and others also turned up to show support for Wang.
---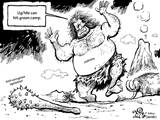 ---
Tibet will be free when China is
 
By Ian Buruma
Thursday, Apr 09, 2009, Page 8

Last month saw the 50th anniversary of what Tibetan activists like to call Tibetan National Uprising Day, the day in 1959 when Tibetans in Lhasa revolted against Chinese Communist Party rule.

The rebellion was crushed, the Dalai Lama fled to India and for at least a decade things became a lot worse. Many Tibetans — possibly more than a million — starved to death during Mao Zedong's (毛澤東) Great Leap Forward campaign, temples and monasteries were smashed, sometimes by Tibetan Red Guards, and a large number of people died in the violence.

Chinese officials are noticeably jumpy in this year of anniversaries (it is also 20 years since the Tiananmen Square massacre).

Last month, I was in Chengdu, Sichuan Province, where many Tibetans live. Even foreign tourists who had no clue about the anniversary were stopped in the streets by police officers looking for signs of rebellion. The colorful Tibetan district was cordoned off. Not only was it forbidden to take pictures there, one couldn't even walk through.

The Chinese press, however, marked the anniversary with effusive articles describing Tibetan joy at being liberated from centuries of feudalism and slavery. If the China Daily, among other publications, is to be believed, "pre-liberation" Tibet was a living hell and Tibetans are now happy and grateful to be citizens of the People's Republic of China.

Some probably are. Many are not. But if Chinese propaganda paints too dark a picture of Tibet's past, Westerners who sympathize with the Tibetan cause are also often too sentimental.

The personal charm of the Dalai Lama, combined with the Himalayan air of superior spiritual wisdom, has promoted a caricature of a mystical, wise and peace-loving people crushed by a brutal empire. It was not for nothing, however, that quite a few educated Tibetans actually welcomed the Chinese Communists in 1950. The Buddhist clergy was seen, not without reason, as hidebound and oppressive. Chinese Communism promised modernization.

And that is what China's government has delivered in the last few decades. Lhasa, a sleepy, rather grubby backwater only 30 years ago, is now a city of huge public squares, shopping centers and high-rise buildings, connected to the rest of China by a high-speed railway line. It is true that Tibetans, sparsely represented in local government, may not have benefited as much as the Han Chinese, whose presence in cities such as Lhasa as soldiers, traders and prostitutes is so overwhelming that people worry about the extinction of Tibetan culture except as an official tourist attraction.

Still, there is no question that Tibetan towns are now more modern — in terms of electrification, education, hospitals and other public facilities — than they were before. This is one of the arguments used not only by Chinese officials, but by almost all Chinese, to justify Tibet's absorption into China.

This argument has a long history. Western (and Japanese) imperialists used it in the early 20th century to justify their "missions" to "civilize" or "modernize" the natives. Taiwan, under Japanese rule, was in fact more modern than most parts of China. And the British brought modern administration, as well as railways, universities and hospitals, to India.

Outside a fringe of nostalgic chauvinists, however, most Europeans and Japanese are no longer so convinced that modernization is sufficient validation for imperial rule. Modernization should be carried out by self-governing people, not imposed by a foreign force. Tibetans, in other words, should be allowed to modernize themselves.

But the Chinese have another argument up their sleeve, which seems more plausible (and more modern). They are justly proud of the ethnic diversity in China. Why should nationality be defined by language or ethnicity? If Tibetans should be allowed to break away from China, why not the Welsh from Britain, the Basques from Spain, the Kurds from Turkey or the Kashmiris from India?

In some cases, the answer might be "well, perhaps they should." But ethnicity as the main marker of nationality is a vague and dangerous concept, not least because it leaves all minorities out in the cold.

So are people wrong to support the Tibetan cause? Should we dismiss it as sentimental nonsense? Not necessarily. The issue is not so much Tibetan culture, spirituality or even national independence, but political consent.

In this respect, the Tibetans are no worse off than other citizens of the People's Republic of China. Historic monuments are being bulldozed everywhere in China in the name of development. Culture is being sterilized, homogenized and deprived of independence and spontaneity in all Chinese cities, not just in Tibet. No Chinese citizen, regardless of whether he or she is Han, Tibetan, Uighur or Mongolian, can vote the ruling party out of power.

The problem, then, is not mainly one of nationality or discrimination, but of politics. The Chinese government claims that Tibetans are happy. But, without a free press and the right to vote, there is no way of knowing this. Sporadic acts of collective violence, followed by equally violent oppression, suggest that many are not.

Without democratic reform there will be no end to this cycle, for violence is the typical expression of people without free speech. This is true not only for Tibet, but also for the rest of China. Tibetans will be free only when all Chinese are free. In that sense, if in no other, all citizens of China hang together.

Ian Buruma is a professor of democracy, human rights and journalism at Bard College, New York.
---
Freedom of the press threatened from within
 
By Su Tzen-ping 蘇正平
Thursday, Apr 09, 2009, Page 8

Although 20 years have passed, people should still remember the institutions that restricted press freedom back in the Martial Law era: The Taiwan Garrison Command, the Chinese Nationalist Party's (KMT) Cultural Affairs Department, the Government Information Office and the entire authoritarian regime that those institutions represented.

Taiwan has seen a major leap forward in freedom of speech and freedom of the press in the past 20 years. Several institutions from the authoritarian era are gone and regulations restricting freedom of expression have been amended. The Publishing Act (出版法) has been abolished, new television and radio stations have opened and Taiwan has been listed as the leading country in East Asia for freedom of the press by US-based Freedom House and Paris-based Reporters Without Borders. However, this does not mean that the nation's press freedom is unassailable. On the contrary, new threats have surfaced.

When talking about freedom of expression, we must also examine freedom of the press, because free speech can only assert its influence through the media. If the media is monopolized by a single voice while all other information is restricted, legal protection of freedom of expression would be pointless. In such a scenario, freedom of expression means muttering to yourself in your home or complaining to friends and relatives — it is not conducive at all to building a public consensus.

The threat facing freedom of expression today is different from the past threat of externally imposed controls. Today, those controls come from within the media, when it fabricates, distorts, exaggerates or gags certain news and opinions for political, economic and other reasons that have nothing to do with professionalism. This kind of internal problem with freedom of expression is the same regardless of whether the media outlet is pro-unification or pro-independence.

Another growing threat to the nation's freedom of expression is clearly related to the issue of Taiwanese independence or unification with China. This is because our neighbor has gradually grown stronger and because the KMT has advocated the "one China" policy and leaned toward Beijing since its return to power.

It is today more difficult than before for media outlets with a clear pro-localization position to receive resources or assistance from within the industry. In addition, massive Chinese economic interest groups have in recent years invested in the nation's domestic media industry and the affected media outlets now overtly express a pro-China stance.

A few days ago, the Chinese government even publicly encouraged their media outlets to open branches in Taiwan. The reasons behind this are very clear.

In addition, the fact that President Ma Ying-jeou's (馬英九) trusted follower and former Taipei deputy mayor King Pu-tsung (金溥聰) heads Next Media's (壹傳媒集團) new TV station, as well as the public stir caused by the Ma administration placing many of its people in publicly owned media outlets, have prompted concern that domestic media may be seriously imbalanced.

Taiwan's highly praised freedom of expression did not come easily and only at the expense of great sacrifice. The threats against freedom of expression posed by this serious media imbalance are real and dangerous. We must take the matter seriously and not ignore it.

Su Tzen-ping is a former chairman of the Central News Agency.