Agency under fire over China status
 
WEB WRANGLE: DPP lawmakers protested at the RDEC's offices after a posting on its Web site said going to the 'mainland area' was not tantamount to 'going abroad'
 
By Shih Hsiu-chuan
STAFF REPORTER
Saturday, Apr 11, 2009, Page 1

A recent announcement by the Research, Development and Evaluation Commission (RDEC) that trips made by civil servants to China do not constitute overseas travel drew fire from lawmakers across party lines yesterday.

"[RDEC] Minister Jiang Yi-huah [江宜樺] has to resign over an announcement that sells out Taiwan," Democratic Progressive Party (DPP) Legislator Lee Chun-yee (李俊毅) said as a group of DPP lawmakers lodged a protest at the RDEC offices yesterday.

The protest was prompted by a Liberty Times (the Taipei Times' sister newspaper) report yesterday that said on April 1 the commission posted an announcement on the government's intranet informing government agencies that "given that going to the 'mainland area' is not tantamount to 'going abroad,'" civil servants are no longer required to register on the commission's Web site. Local government chiefs, however, would still have to submit reports should they visit China, it added.

Jiang did not meet with the DPP lawmakers yesterday.

"We will come back anytime and find you ... unless you [Jiang] plan to hide from us for the rest of your life," Lee said.

The DPP lawmakers shouted slogans such as "Jiang Yi-huah, step down" and "Taiwan is our country," before leaving the RDEC offices.

DPP Legislator Hsueh Ling (薛凌) slammed the announcement as an attempt to obscure civil servants' sense of national identity and as "a precursor to eventual unification [with China]."

Chinese Nationalist Party (KMT) caucus secretary-general Yang Chiung-ying (楊瓊瓔) also urged the commission not to "mistake a foreign country as our country" because "the Republic of China is an independent sovereign state."

"In accordance with the legislature's budget review and the the Act Governing the Relations between People of the Taiwan Area and the Mainland Area (兩岸人民關係條例), trips to China are still considered trips abroad," she said.

In response, RDEC Deputy Minister Yeh Kuang-shih (葉匡時) said yesterday that the announcement was only posted on the intranet because its technicians were testing a new system for civil servants to use when uploading reports on trips to China, as opposed to the existing one for civil servants for uploading reports on other overseas travel.

We find it regrettable that the announcement, not a finalized one, was distorted by the media, who quoted a phrase or two out of context on purpose to make it into a unification-independence issue," Yeh said.

In view of increasing cross-strait exchanges involving civil servants, Yeh said the commission was planning to separate reporting by civil servants for their trips to China and to other countries on two separate systems.

The RDEC considered it necessary not to make public the contents of some of the reports on civil servants' trips to China, Yeh said.

"It is still in the review stage," he said.

Regulations state that when civil servants take an overseas trip, they are required to complete a report when they return and the reports are then made public online.

Regulations on government cross-strait activities state that civil servants are required to submit their itineraries and travel details to their superiors and the Mainland Affairs Council (MAC), but are not required to upload the information online.

Commenting on the controversy, MAC Deputy Minister Liu Te-shun (劉德勳) said yesterday that the phrasing in the announcement that "going to the 'mainland area' is not tantamount to 'going abroad'" should not be blown up into a big issue because "cross-strait relations are a special case."

Liu said that was the reason why a law called the Act Governing Relations Between People of the Taiwan Area and the Mainland Area was originally passed.
---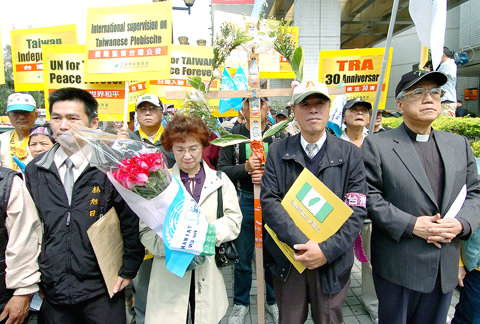 INDEPENDENT THINKING
Members of the Alliance of Referendum for Taiwan gather outside the American Institute in Taiwan in Taipei yesterday to state their case for Taiwanese independence.

PHOTO: CHU PEI-HSIUNG, TAIPEI TIMES
---
Lu refuses to rule out visit to China
 
By Mo Yan-chih
STAFF REPORTER
Saturday, Apr 11, 2009, Page 4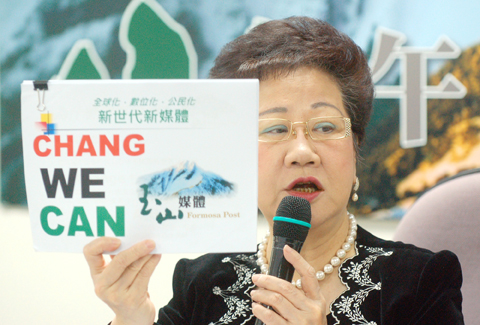 Former vice president Annette Lu speaks at a press conference at her office yesterday to announce the launch of her new weekly paper Formosa Weekly.

PHOTO: LO PEI-DER, TAIPEI TIMES

Former vice president Annette Lu (呂秀蓮) said yesterday she would not rule out visiting China as the founder of Formosa Weekly (玉山週報).

While introducing the newspaper's trial issue yesterday, Lu condemned President Ma Ying-jeou's (馬英九) administration for embracing the concept of "one China" despite the military threat from Beijing.

Lu had planned to print a daily newspaper, the Formosa Post (玉山午報), but changed it to a weekly paper because of funding problems. An online version of the weekly paper and the Formosa Post will be launched in the future, she told a press conference at her office.

When asked to comment on whether she would visit China in her new role as a newspaper publisher, Lu said she would discuss the matter with the Democratic Progressive Party (DPP) and make sure any such visit would not damage Taiwan's dignity.

"I am not against [visiting China], but there's no timetable. I don't have to go," she said.

Lu sparked debate within the DPP over her apparent willingness to visit China with some party members strongly opposed to any trip.

Lu said that she and her staff do not hold any positions in the DPP and she had founded the newspaper as an ordinary citizen.

The trial issue, which hit the newsstands yesterday, covered the problems the DPP faces as an opposition party and the Ma administration's efforts to develop nuclear power plants.

The next trial issue will be available on May 20, and the official launch of the Formosa Post is scheduled for July 1, the former vice president said.
---