Australia eyes China and boosts defense spending

AFP , SYDNEY
Sunday, May 03, 2009, Page 1

Australia will spend more than US$70 billion boosting its defenses over the next 20 years in response to a regional military build-up and global shifts in power, the government said yesterday.

A long-term strategic blueprint for the future of Australia's armed forces warned that war could be possible in the Asia-Pacific region in the next two decades as emerging powers such as China flex their military might.

The US would continue its military dominance and be an "indispensable" ally for Australia, the defense white paper said.

But as emerging or resurgent powers such as China, India and Russia tested US primacy, the paper said there was "a small but still concerning possibility of growing confrontation between some of these powers."

"China will be the strongest Asian military power, by a considerable margin," the paper said. "A major power of China's stature can be expected to develop a globally significant military capability befitting its size.

"But the pace, scope and structure of China's military modernisation have the potential to give its neighbors cause for concern if not carefully explained, and if China does not reach out to others to build confidence regarding its military plans," it said.

If it did not take these steps, the paper said, there would be "a question in the minds of regional states about the long-term strategic purpose of its force development plans, particularly as the modernisation appears potentially to be beyond the scope of what would be required for a conflict over Taiwan.

"China will have even more interest in convincing regional countries that its rise will not diminish their sovereignty," the paper said.

Greater engagement with Beijing was essential for encouraging transparency about Chinese military capabilities and intentions, and securing greater cooperation in areas of shared interest, the paper said.

Chinese Premier Wen Jiabao (溫家寶) in March vowed to modernize his nation's military across the board, asking legislators for a 15.3 percent increase in defense spending for this year to 472.9 billion yuan (US$69 billion) — double the level of funding for 2006.

The global financial crisis was likely to accelerate a shift of power to the Asia-Pacific region, and regional security would pivot on how strategic dynamics were managed between the US, China and Japan, the blueprint said.

A major conflict on the Korean Peninsula remained a possibility, and the paper said the collapse of North Korea could not be ruled out, while Myanmar remained a "serious challenge."

An escalation in tensions between India and Pakistan was also of "significant concern," and the paper said Islamist extremism would pose a direct threat to Australia and its interests.

The paper reiterated Canberra's commitment to the conflict in Afghanistan, which it said could endure another decade or longer.

Canberra will acquire long-range cruise missiles, double its submarine fleet to 12 and buy 100 F-35 Joint Strike Fighter jets and eight new warships."
---
Japanese representative scolded over remark on Taiwan's 'unresolved' status
 
By Jenny W. hsu and Shih Hsiu-chuan
STAFF REPORTERS, WITH CNA
Sunday, May 03, 2009, Page 1

A former foreign minister-turned-Chinese Nationalist Party (KMT) lawmaker charged yesterday that Japan should recall its representative to Taipei over the latter's comment that Taiwan's status is unclear. Taiwan's former representative to Japan, on the other hand, supported the Japanese representative, saying that he did not say anything wrong.

The fuss stemmed from remarks made by Masaki Saito, head of the Taipei office of Japan's Interchange Association — Japan's de facto embassy in Taiwan — on Friday that Taiwan's status is "still unresolved." Saito made the comments at an annual meeting of the Republic of China (ROC) ­International Relations Association at National Chung Cheng University in Chiayi County.

The Japanese representative later apologized for his remarks after Deputy Foreign Affairs Minister Andrew Hsia (夏立言) lodged a protest and demanded an explanation.

A news release from the Ministry of Foreign Affairs (MOFA) said Hsia summoned Saito, who said that it was purely his personal view that Taiwan's status was unresolved and that his comment did not reflect the position of the Japanese government.

The release said Saito apologized to Hsia, saying he was sorry that his remarks had created difficulty for the ROC government. Saito said he would contact the International Relations ­Association to withdraw his statement, the release added.

KMT Legislator John Chiang (蔣孝嚴) said yesterday neither Saito nor the MOFA had done enough to deal with Saito's "serious gaffe."

Saito and the Japan Interchange Association should offer a public apology in a written statement and not just an oral apology to Hsia, Chiang said, adding that the explanation offered by Saito and the Japan Interchange Association afterwards that what Saito said was his personal opinion was "unacceptable."

"Without a doubt, [Saito's] comments in a public speech in a university in Taiwan were his opinions made in his official capacity," he said.Chiang called on MOFA to "take stronger action" to demand a clear explanation of the matter and to ask the Japanese government to recall Saito or have him replaced if it is not satisfied with Japan's response.

KMT Legislator Liu Shen-liang (劉盛良) said Saito and the Japan Interchange Association should admit that Saito made "incorrect comments" on the status of Taiwan instead of saying that his comments were personal.

Former Taiwan representative to Japan Koh Se-kai (?? yesterday said he believed Saito had no reason to apologize because he did not say anything wrong and that Hsia's chiding was "merely a show."

Koh made the comments on the sideline of a forum organized by the Taiwan New Century Foundation.

Koh said the Treaty of San Francisco signed in 1951 did not clearly name a recipient when Japan gave up its claim over Taiwan. The fact that no recipient was specifically named means Taiwan's status remains ambiguous even though it maintains an independent body of governance with its own territories and population, he said.

He said the ROC ceased to exist after the UN in 1971 passed a resolution in which the People's Republic of China replaced the ROC in the international body.

The view that the ROC and Taiwan are the same would only further confuse the international community, he said, adding that such rhetoric was used as a political tactic by people who want Taiwan to unify with China.

"Go ask any senior Japanese foreign ministry official. None of them will say that Japan supports the view that Taiwan is part of China. But all of them will say that Japan does not oppose such a view," he said, adding that there is a clear degree of difference between "supporting" and "not opposing."

Koh also accused President Ma Ying-jeou (馬英九) of betraying Taiwanese by declaring a "diplomatic truce" with China.

The raison d'etre of diplomacy is for a country to survive in the international community by co-existing with other nations. Any sacrificing of this effort means the country wishes to discontinue its sovereignty, he said.

While the US and other countries are gravely concerned about China's rapid military buildup in recent years, he said, Ma has dragged his feet in procuring arms to boost Taiwan's defense capability.

Ma's "diplomatic truce" is putting Taiwan's future in Beijing's hands, he said.
---
Pingpu Aborigines heat up battle for ethnic identity
 
A PEOPLE'S ROOTS: An ethnic reawakening of sorts for Plains Aborigines has long been hampered by policies from the central government that erased their origins
 
By Loa Iok-sin
STAFF REPORTER
Sunday, May 03, 2009, Page 3
 
"This just doesn't make any sense because if you're Aborigine, you're born an Aborigine. How can you give up your own identity?"— Chen Chun-an, Siraya Culture Association member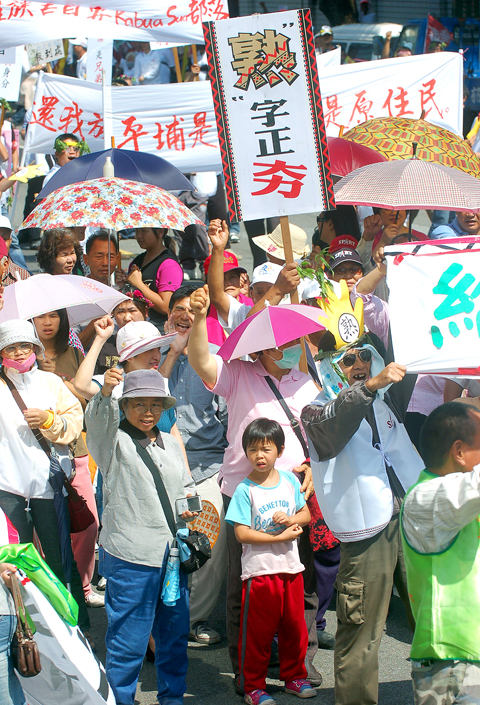 Members of Plains Aborigines tribes rally in front of the Presidential Office yesterday demanding that the government restore their Aboriginal status.

PHOTO: LO PEI-DER, TAIPEI TIMES

Thousands of Pingpu (平埔), or "Plains" Aborigines, rallied in front of the Presidential Office yesterday demanding that the government restore their Aboriginal status. With many dressed in traditional outfits and holding traditional instruments, they chanted slogans and sang as they marched from the Legislative Yuan to Ketagalan Boulevard.

Rather than constituting a single Aboriginal tribe, Pingpu refer to between nine and 14 tribes — depending on the type of classification — that once inhabited flat lands across the country.

However, these people gradually "disappeared" over the course of time, largely because of interaction with Hoklo and Hakka settlers who began coming from China in large numbers about 400 years ago.

"To interact and trade with newcomers, Pingpu started to learn to speak Hoklo [also known as Taiwanese] and Hakka, and adopted Chinese names and surnames," said Chan Su-chuan (詹素娟), an assistant research fellow at Acadmia Sinica's Institute of Taiwan History.

Aside from business connections, intermarriage between Pingpu and Hoklo or Hakka also became common, Chan said.

"The interaction and cultural assimilation strengthened especially after the Qing government took over Taiwan in the 17th century," she said.

In some instances, Pingpu who had made special contributions to the Qing government were honored by being granted Chinese surnames by the imperial court.

With Chinese surnames came with family books in which the origin of each surname is recorded.

Such family books contributed to the loss of Pingpu identity.

"In the family book of a Pingpu family with the surname Tuan [段] living in Tainan County, it is written that the Tuans are descendents of Bigan [比干, a Chinese official from about 3,000 years ago]," Chan said. "But in fact, Pingpu with the surname Tuan have no biological connection whatsoever with the Tuan family from China."

Results of censuses conducted during the Japanese colonial period in 1935 showed that more than 57,000 people still identified themselves as Pingpu, while in 1956, another census — this time conducted by the Chinese Nationalist Party (KMT) government — showed that 27,000 people identified their ethnic group as "others" from a list including "Taiwanese," "Mainlander" and "mountain compatriots," or mountain Aborigines.

Comparing the censuses, geographer Yap Ko-hua (葉高華) said that parts of the country where people referred to themselves as being of unknown ethnicity more or less coincided with areas occupied by Pingpu in the 1935 survey.

"When the [KMT] government set up a new ethnic classification system after World War II, it did not leave room for the Pingpu," Yap wrote on his Web site. "As a result, [the Pingpu] became people 'of unknown ethnic origin' in official records."

In addition to the critical condition of their culture, Pingpu have completely lost their legal status. Pingpu descendents have gradually forgotten who they are — until 10 or 20 years ago, when some decided to fight back.

Sixty-year-old Aylian Hsiao (蕭愛蓮) lives in her native Puli Township (埔里), Nantou County, did not know she was a Pingpu Aborigine from the Kahavu tribe until 10 years ago when her mother created a Kahavu Culture Association and asked Hsiao if she wanted to be a member.

"I said 'sure, but why?'" Hsiao said, adding that "all my life, people have told me that I look like an Aborigine and asked if I was one. I always told them that I wasn't."

"My mother then asked me: 'Did you not know you're also an Aborigine?'" she said.

Ever since Hsiao became aware of her Kahavu identity, she has been very active in the Pingpu revival movement and has even endeavored to learn her lost mother tongue.

"There are four Kahavu villages around Puli where some elders are still able to speak Kahavu," Hsiao said. "I'm old, I don't learn very quickly, but if I can learn a word or a phrase a day, I would know 365 words in a year and that adds up with time."

Last year, two Pazeh Pingpu from Puli, Pan Ying-chieh (潘英傑) and Wang Pan Mei-yu (王潘美玉) — in their 60s and 70s respectively — won an award from the Ministry of Education for writing poems in the Pazeh language, after learning to speak it for five years under the tutelage of 94-year-old Pan Chin-yu (潘金玉), the only person who can speak the language in Puli.

About 200 people now attend Pan Chin-yu's Pazeh lessons.

Siraya Culuture Association chairwoman Uma Talavan and her husband, Edgar Macapili, spent seven hours digging through documents left by the Dutch 400 years ago and published a 1,400-page Siraya lexicon last year.

The Sirayas are Pingpu who live mainly in Tainan County. Some of the Siraya traditions — mostly religious rituals — are still practiced today.

The Tainan County Government was also the first government authority to recognize Pingpu as Aborigines. A county-level Siraya Aboriginal Affairs Committee was created in 2006 and since January the county government has allowed residents to register their Siraya identity — provided they can prove it with household registration records from the Japanese colonial period.

However, the movement suffered a major setback when the Ministry of the Interior declared the Tainan County Government's move illegal, saying that confirmation of Aboriginal status fell under central government jurisdiction.

The Council of Indigenous Peoples (CIP), on the other hand, said in a press release that Pingpu could not be granted Aboriginal status as they "voluntarily gave it up by not registering themselves as Aborigines in the 1960s and the 1970s."

In 1946 the Taiwan Provincial Government issued executive orders to several counties notifying residents to register their Aboriginal status according to records from the Japanese colonial period. For various reasons, most Pingpu did not do so.

"This just doesn't make any sense because if you're Aborigine, you're born an Aborigine. How can you give up your own identity?" Chen Chun-an (陳俊安), a Siraya Culture Association member, said. "Besides, not all the counties received the executive letter. Tainan County, for example, did not get it."

A copy of the executive order showed it was sent to governments in Taipei, Hsinchu, Nantou, Pingtung, Hualien, Taoyuan, Miaoli, Kaohsiung and Taitung.

"Even if you did see the letter but did not register at the time, you should still be able to do so according to the Aboriginal Identity Act [原住民族身分法]," Chen said. "After all, a law has higher status in the legal and administrative hierarchy than an executive order — they should act according to the law."

Following their demonstration yesterday, representatives of the protesters were received by a Presidential Office official who took their petition and promised to forward it to government institutions within a week.

"We'll wait for a week or two. If we don't get a positive response from the government, we do not rule out filing a lawsuit against CIP Minister Chang Jen-hsiang [章仁香]," Uma said.

Meanwhile, Tainan County Commissioner Su Huan-chih (蘇煥智) said the county government would continue to accept Aboriginal registration from local Sirayas despite the warning from the ministry.

"That's because the county government is the one that's acting according to the law," Su said.
---
On Chinese zero-sum diplomacy
 
By J. Michael Cole 寇謐將
Sunday, May 03, 2009, Page 8

With Straits Exchange Foundation Chairman Chiang Pin-kung (江丙坤) and his team of negotiators just back from the third round of cross-strait talks in Nanjing, it is time to dwell a little on the concept of game theory.

A branch of applied mathematics, game theory is an attempt to understand human behavior in a strategic context, wherein a party's success is contingent on the decisions made by another party.

In the context of negotiations, game theory contains four possible outcomes that guide decision-making, which can be represented in the matrix commonly known as the prisoner's dilemma: win-win, win-lose, lose-win and lose-lose.

How negotiators weigh their options and how they negotiate is predicated on whether they intend to play a zero-sum or non-zero-sum game. In a scenario where a party chooses the zero-sum option, the negotiator seeks to maximize the payoff to the detriment of the other side. In other words, benefits are seen as a finite resource and the winner takes all.

The non-zero-sum approach to diplomacy, on the other hand, sees benefit as a common, unquantifiable good rather than a finite resource that must be parsed out unequally. This approach sees cooperation, rather than competition, as a means to ensure that both sides benefit.

Knowing the other side's intentions before approaching the negotiating table, therefore, is a crucial precondition. When both sides adopt a non-zero-sum approach, we see the emergence of what is known as the Nash equilibrium, which, in simple terms, refers to both sides making the best decision they can based on the assumption that the counterparty will do as much.

While departing from the Nash equilibrium (in other words, playing a zero-sum game) in the knowledge that the other side has adopted a non-zero-sum strategy can result in a greater payoff (that is, win-lose), a Nash equilibrium offers the greatest assurance that the payoff will be spread equally (that is, win-win).

Understanding the implications of game theory in the context of international relations is of capital importance and underscores the need for awareness of the counterparty's intentions before entering negotiations.

Of course, when game theory leaves the realm of mathematics and is applied to real-world interaction — as in the case of cross-strait talks — matters become far more complex because they are multidimensional. On paper, the prisoner's dilemma is two-dimensional; it is an isolated system.

In international relations, however, negotiations simultaneously involve the tactical and the strategic, meaning that the payoff accrued from the outcome of negotiations is not isolated but part of a system.

What this means is that while it is possible to approach negotiations on a specific topic at the tactical level, once we take a step back, they can also be part of a grand strategy. One implication of this duality is that how one assesses payoff at the tactical level may differ from an assessment at the strategic level.

While this conclusion may seem self-evident, it is often overlooked. Taken into account, however, it can serve to explain the behavior of parties during negotiations.

Beijing's approach to negotiations with Taipei can be better understood if the simultaneous interaction of the tactical and the strategic are taken into account, and the outcome of the talks in Nanjing — the signed agreements — clearly indicate which items China sees as tactical, and which it sees as strategic.

As a rule of thumb, the Association for Relations Across the Taiwan Strait will take a non-zero-sum approach to tactical items, such as financial cooperation, fighting crime and adding cross-strait flights, with the result that both sides will enjoy payoffs.

When items under negotiation enter the strategic level, however, China adopts a zero-sum strategy, in which the payoff takes something away from the counterparty.

In the Nanjing round of talks, no agreement was reached on the "fifth freedom of the air," for example, as yielding on this item would have implied that air travel between Taiwan and China is international rather than domestic.

By taking a zero-sum approach on this matter, China denied both parties the moderate payoffs that a Nash equilibrium would have provided. It valued lose-lose (or in this case not-win, not-win) at the tactical level above any other possible outcome.

As cross-strait negotiations continue, it should become clearer which issues China considers tactical and which it considers strategic.

On the former, it will show "goodwill" and take a non-zero-sum approach, with the implication that negotiations can proceed smoothly.

On the latter, however — including the question of Taiwanese independence — Beijing will very much be the zero-sum, intransigent player.

This shows us that, for China, the payoffs at the tactical level are a means to an end at the strategic level — the same approach to negotiations that once led an observer to reflect on former Chinese premier and foreign minister Zhou Enlai's (周恩來) style of diplomacy as not involving any substantial concession on any important (that is, strategic) issue.

What has yet to be determined is whether Taipei will also take the zero-sum approach to negotiations on strategic matters.

If it doesn't, or if it fails to recognize that this is the game China has been playing all along, it could very well lose everything.

J. Michael Cole is a writer based in Taipei.