Urumqi descends into mob violence
 
SILENCE: Officials said they could not provide a breakdown of how many of the people who have died in Xinjiang were Han and how many were Uighurs

AP, URUMQI, CHINA
Wednesday, Jul 08, 2009, Page 1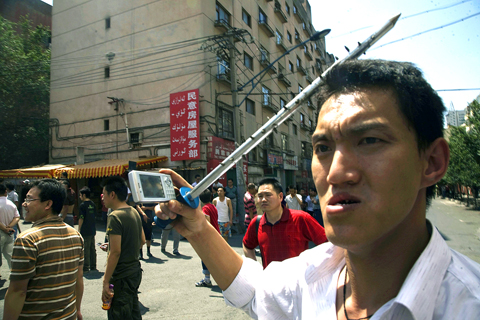 A Han Chinese man carries a spiked steel bar while using his cellphone to take photos as he joins a mob of Han Chinese men attacking Uighur properties in Urumqi yesterday.

PHOTO: AP
Scattered mobs of Muslim Uighurs and Han Chinese roamed the streets and beat passers-by yesterday as the capital of China's Xinjiang region degenerated into communal violence, prompting the government to impose a curfew in the aftermath of a riot that killed at least 156 people.

Members of the Uighur ethnic group attacked people near Urumqi's railway station and women in headscarves protested the arrests of husbands and sons in another part of the city. Meanwhile, for much of the afternoon, a mob of 1,000 mostly young Han Chinese holding clubs and chanting "Defend the country" tore through streets trying to get to a Uighur neighborhood until they were repulsed by police firing tear gas.

Panic and anger bubbled up amid the suspicion. In some neighborhoods, Han Chinese armed themselves with pieces of lumber and shovels to defend themselves.

People bought up bottled water out of fear, as one resident said, that "the Uighurs might poison the water."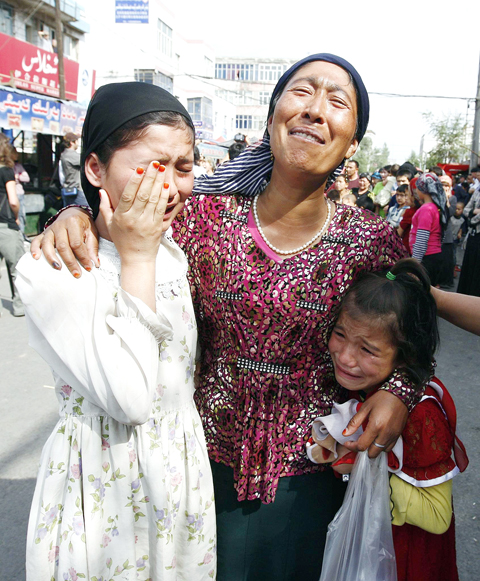 A Uighur woman and her daughters cry during a protest in Urumqi yesterday. Authorities said at least 156 people were killed in unrest in the Xinjiang autonomous region.

PHOTO: EPA
The outbursts happened despite swarms of paramilitary and riot police enforcing a dragnet that state media said led to the arrest of more than 1,400 participants in Sunday's riot, the worst ethnic violence in the often tense region in decades.

Trying to control the message, the government has slowed mobile phone and Internet services, blocked Twitter — whose servers are overseas — and censored Chinese social networking and news sites. It also accused Uighurs living in exile of inciting Sunday's riot. State media coverage, however, carried graphic footage and pictures of the unrest — showing mainly Han Chinese victims and stoking the anger.

Wang Lequan (王樂泉), Xinjiang's Communist Party secretary, declared a curfew in all but name, imposing traffic restrictions and ordering people off the streets from 9pm yesterday to 8am today "to avoid further chaos."

Sunday's riot started as a peaceful demonstration by Uighurs over a deadly fight at a factory in eastern China between Han Chinese and Uighur workers. It then spiraled out of control, as mainly Uighur groups beat people and set fire to vehicles and shops belonging to Han Chinese.

After retreating from the tear gas, some among the Han Chinese mob were met by Urumqi's Communist Party leader Li Zhi, who climbed atop a police vehicle and started chanting with the crowd.

Li pumped his fists, beat his chest, and urged the crowd to strike down Rebiya Kadeer, a 62-year-old Uighur leader exiled in the US whom Chinese leaders accuse of being behind the riots.

About 200 people, mostly women, took to the streets in another neighborhood, wailing for the release of their sons and husbands arrested in the crackdown and confronting lines of paramilitary police. The women said police came through their neighborhood on Monday night and strip-searched men to check for cuts and other signs of fighting before hauling them away.

The protesters briefly scuffled with paramilitary police, who pushed them back with long sticks before both sides retreated.

Groups of 10 or so Uighur men with bricks and knives attacked Han Chinese passers-by and shop-owners at midday outside the city's southern railway station, until police chased them off, witnesses said.

Li, the Communist Party official, told a news conference that more than 1,000 people had been detained as of early yesterday and suggested more arrests were under way.

The official Xinhua news agency said earlier yesterday that 1,434 suspects had been arrested, and that checkpoints had been set up to stop rioters from escaping.

Officials at the news conference said they could not give a breakdown of how many of the dead were Uighurs and how many were Han.

Sunday's riot started as a demonstration by 1,000 to 3,000 people protesting the deaths of Uighur workers killed in a brawl in the southern city of Shaoguan last month.

Also See: ANALYSIS: Beijing afraid fractures in Xinjiang could split China

Also See: PRC asks Spain to stop inquiry

Also See: Uighur leader wants probes into Xinjiang

Also See: EDITORIAL: Xinjiang and Taiwan's silence
---
Obama says US wants strong but democratic Russia

AFP, MOSCOW
Wednesday, Jul 08, 2009, Page 1

US President Barack Obama said yesterday Washington wanted a strong, prosperous but also democratic Russia, as he set out his vision of the US relationship with its former Cold-War era foe.

In the most eagerly awaited address of his two-day visit to Moscow, Obama reached out to Russia by emphasizing its place as a "great power," but also did not shy away from the differences between the two countries.

The speech to students graduating from the progressive New Economic School came as Obama sought to revive ties with Russia bruised by a string of crises over the last decade.

"America wants a strong, peaceful and prosperous Russia," Obama told the audience of more than 1,000 in Moscow. "We recognize the future benefit that will come from a strong and vibrant Russia."

He acknowledged the difficulties in forming a lasting partnership between the two but said Russia and the US now shared "common interests" on the main issues of the 21st century.

The challenges facing the modern world "demand global partnership, and that partnership will be stronger if Russia occupies its rightful place as a great power," he said.

FREEDOMS

Russia has repeatedly been criticized by the West for a lack of full democratic freedoms under former president and now Prime Minister Vladimir Putin and the new Kremlin chief, Dmitry Medvedev.

"The arc of history shows us that governments which serve their own people survive and thrive," Obama said. "Governments which serve only their own power do not."

He also took aim at corruption, widely seen as one of the scourges of Russian society.

"People everywhere should have the right to do business or get an education without paying a bribe," Obama said.

Obama quoted from Russia's greatest poet Alexander Pushkin and paid tribute to the country's sacrifices in defeating fascism in World War II.

He lauded Russian culture, saying its writers had "helped us understand the complexity of the human experience."

He also said Russia had to respect the sovereignty of its pro-Western ex-Soviet neighbors Georgia and Ukraine and acknowledged Russia's opposition to the US plan for a missile defense shield in Eastern Europe.

FIRST MEETING

Earlier yesterday, Obama had his first meeting with Putin, who told the US president Moscow was counting on him to improve bilateral ties.

Obama praised Putin for his "extraordinary work."

Putin told Obama: "We associate your name with the hopes of developing our relations."

Obama also met former Soviet leader Mikhail Gorbachev and was later due to have brief talks with opposition leaders.

Medvedev and Obama on Monday announced a breakthrough deal for US military transit for Afghanistan across Russia and issued a declaration on replacing a key disarmament treaty.

The declaration called for a reduction in the number of nuclear warheads in Russian and US strategic arsenals to between 1,500 and 1,675 within seven years, and the number of ballistic missile carriers to between 500 and 1,100.
---
More contradictions in Chen case
 
REWARD LIST: The director of the Presidential Office's accounting department under Chen Shui-bian said there were exceptions to expense proof requirements
By Shelley Huang
STAFF REPORTER
Wednesday, Jul 08, 2009, Page 3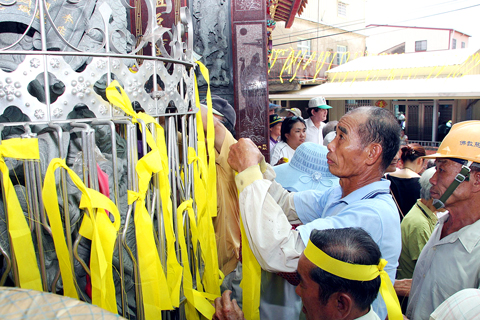 People tie yellow ribbons onto columns yesterday at the Hui-an Temple in Hsichuang Village, Kuantien Township, Tainan County, in support of former president Chen Shui-bian, who was born in the village.
PHOTO: CNA

The director-general of the Presidential Office's accounting department under former president Chen Shui-bian (陳水扁), Fon Shui-lin (馮瑞麟), told a court yesterday that top aides at the time had instructed accountants on the reimbursement processes of a government fund used by Chen.

Presiding Judge Tsai Shou-hsun (蔡守訓) scheduled a hearing for yesterday to question Fon about the reimbursement process used to allocate the presidential "state affairs fund," a government fund earmarked for official purposes to be used at the president's discretion.

Former Presidential Office director Lin Teh-hsun (林德訓) and former Presidential Office deputy secretary-general Ma Yung-cheng (馬永成) are accused of helping Chen embezzle money from the fund while he was in office.

Fon testified yesterday that while certain reimbursement slips required proof of expense such as receipts to be attached to the forms in order to claim reimbursement, there were exceptions. Such exceptions included lists of Presidential Office staff that the former president gave monetary rewards to as a commendation for their work.

The reward list had previously been scrutinized by prosecutors, who alleged that Ma and Lin devised a way of forging official documents to help Chen get around the rules regarding the presidential "state affairs fund" to gain inappropriate reimbursements from the fund.

Fon said that Ma had instructed accountants to obtain the presidential aides' seal of approval on the reimbursement slips first, before forwarding the document to the accounting department to be processed.

Fon said that because the process involved many departments, there may have been instances where certain departments did not do as they were instructed.

His testimony contradicted what Ma and Lin told the court during previous hearings.

Ma, dissatisfied with Fon's testimony, asked Fon if he had any way of proving that he gave Fon such instructions.

"If [Ma] did not give such instructions, I would not make it up in my statement," Fon said.
---
Beijing afraid fractures in Xinjiang could split China
 
PARANOIA:: Suppression of Uighur dissent reflects deep fear that separatists could splinter the nation

THE GUARDIAN, BEIJING
Wednesday, Jul 08, 2009, Page 5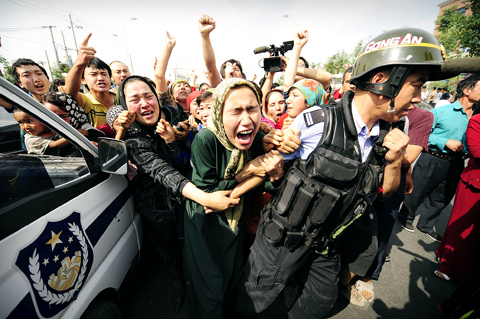 Ethnic Uighur women grab at a riot policeman as they protest in Urumqi, Xinjiang, yesterday.
PHOTO: AFP

Riots in China's restless Xinjiang Uighur Autonomous Region are nothing new.

In 1990, 50 people were killed in the town of Baren when armed police put down a demonstration against Chinese rule by 3,000 disgruntled Muslims.

In 1997, members of the region's ethnic Uighur population gathered in the city of Gulja to protest against the execution of 30 activists who had been campaigning for an independent East Turkestan. After two days of demonstrations, Chinese riot police moved in. The official death toll was put at nine, but some Western observers say as many as 400 people died.

Early reports following Sunday's riot in Urumqi, the capital of Xinjiang, estimated that 140 people were killed and more than 800 injured when police and soldiers broke up a peaceful demonstration by Uighurs, which quickly turned violent. The riot, in which Han civilians were attacked, cars overturned and shops set on fire, has been described as the most bloody since the Tiananmen Square massacre of 1989.

More so even than Tibet, Xinjiang is the jewel in the crown of the People's Republicof China. A strategic buffer between China and the former Soviet republics, it accounts for a sixth of China's land mass and is rich in oil and gas deposits. The Chinese Communist Party is anxious, to the point of paranoia, that a coherent separatist movement will lead to an independent Xinjiang and thus to the fracturing of the country.

For this reason, it will stop at nothing to suppress Uighur dissent. If history is anything to go by, the next six months will be a desperate period for the Uighurs. In the wake of the Baren incident, every male in the area between the age of 13 and 60 was arrested. After the riots in Gulja, so many Muslim men were taken into custody the authorities were obliged to move them to a sports stadium on the outskirts of the city.

Amnesty International said the prisoners were hosed down with water cannons and had to live without shelter for several days. It was mid-winter. Many lost their hands and fingers to frostbite. The alleged ringleaders of the Gulja uprising were driven through the streets of the city in open trucks en route to a mass sentencing rally. Witnesses reported they appeared drugged and were beaten by their captors in full view of the crowd.

During this period, house-to-house searches became commonplace across Xinjiang. Curfews were imposed and foreign journalists barred from entering the region. A similar picture emerged in Tibet after last year's riots. Monastery towns were sealed off and mass arrests carried out. About 1,200 Tibetans seized during this period are still unaccounted for by their families. Beijing blamed Tibetan spiritual leader the Dalai Lama for instigating the riots. It came as no surprise, therefore, to learn that last Sunday's events in Urumqi have been blamed on Rebiya Kadeer, the businesswoman who lives in the US and is regarded by the Uighur community as a ruler-in-exile.

The Uighurs and their Han rulers are engaged in a cycle of violence and despair that shows no sign of abating.

In recent weeks, tensions between them were running high because of the seemingly heedless destruction of the old city of Kashgar. Buildings of enormous historical and cultural significance are being torn down to make way for highways and apartment blocks that symbolize the Chinese economic miracle. Uighur families who have lived in Kashgar for decades are being forcibly evicted to new homes on the outskirts of the city.

The frustration and resentment felt by most Uighurs at China's crass insensitivity boiled over last Sunday. It can only be hoped that the continued suppression of Uighurs does not drive its more radical elements into the hands of ideologues and fanatics.
---
Uighur leader wants probes into Xinjiang

AFP, WASHINGTON
Wednesday, Jul 08, 2009, Page 7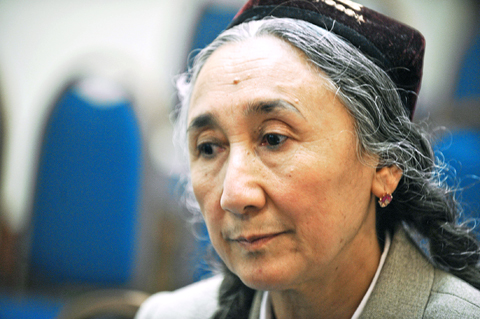 Uighur democracy leader Rebiya Kadeer is pictured before addressing a press conference on the unrest in Xinjiang at the National Press Club in Washington on Monday.

PHOTO: AFP

Exiled Uighur leader Rebiya Kadeer on Monday called on the international community to probe the deadly violence that rocked China's Xinjiang region over the weekend, accusing Beijing of fudging the truth and playing down the death toll.

"We hope that the UN, the US and the EU will send teams to investigate what really took place in Xinjiang," Kadeer told reporters, after Chinese state media said at least 156 people were killed and 1,080 injured in the clashes.

"We hope the White House will issue a stronger statement urging the Chinese government to show restraint and also to tell the truth of the nature of the events and what happened, and to tell the Chinese government to redress Uighur grievances," she said.

White House spokesman Robert Gibbs said the US was "deeply concerned" about the reported deaths in Xinjiang's capital Urumqi on Sunday and called for both sides in the remote northwestern province to "exercise restraint."

China has blamed what it termed riots squarely on the ­Turkic-­speaking Uighurs.

Yesterday, Chinese authorities announced the mass arrest of more than 1,400 people in connection with the protests, while at least 200 people staged fresh demos in Urumqi before foreign reporters.

Beijing has also accused Kadeer of fomenting the unrest from her exile in the US.

"These accusations are completely false," she said. "I did not organize the protests or call on people to demonstrate. My only contact with any Uighur [is] inside East Turkestan," she said, using the Uighur name for Xinjiang, citing a call "in recent days" to her brother in Urumqi in which she told him of announcements her daughters had seen on the Internet about plans to demonstrate on Sunday.

"I urged my brother to stay at home that day and to ask my other family members to stay at home as well, fearing that they may be subject to violence at the hands of the authorities if they ventured outside," Kadeer said. "In no way did I call on anyone, at any time, to demonstrate within East Turkestan."

About 40 members of Kadeer's family are still China, including five sons, two of whom are in jail.

Kadeer said the immediate cause of Sunday's planned protest march were attacks on Uighur workers at a toy factory in eastern China — where Uighurs are shipped against their will to serve as "cheap labor," she said.

But the deeper cause, Kadeer added, was six decades of Chinese rule, during which the Uighurs have endured a litany of human rights abuses such as arbitrary detention, torture, discrimination, religious repression, forced abortion and removing Uighur language teaching from schools.

The Chinese government was also shipping "young Uighur women and men to eastern China, as millions of Chinese migrants are encouraged by the government to come to East Turkestan to work," she said.

In response to the protests, the Chinese authorities sent in fully armed security forces, who were under orders to "open fire without warning shots" to brutally quash what was supposed to be a peaceful demonstration, said Kadeer.

She showed a photograph, taken from a Uighur Web site, showing a row of demonstrators in Urumqi facing off against at least six rows of security forces. Chinese officials have given no breakdown of the victims of Sunday's violence, but Kadeer said she believes that "probably 90 percent were Uighurs."

She also speculated that the death toll was higher than 156.

"The Chinese authorities usually downplay numbers in such tragic events," she said.

"We were contacted by some of the people at Xinjiang University and we were told that on the day of the protest, on the 5th, nearly 400 people were killed … A lot of them were killed in front of the university by the security forces," she said.

The Uighurs were turning to the West for help because the Muslim world has remained silent in the face of their plight, she said, blaming the silence on a highly effective Chinese propaganda campaign.

"To Muslim countries, the Chinese portray Uighurs as pro-Western, very modern Muslims, not genuine Muslims. To the West, the Chinese label Uighurs as Muslims, terrorists linked to al-Qaeda," she said.

"The propaganda has been very effective," she said.
---
Xinjiang and Taiwan's silence

Wednesday, Jul 08, 2009, Page 8

The Chinese government has its admirers for being able to temper diplomatic difficulties by spreading money through the region and integrating its economic structure with the US and other major economies.

But when it comes to managing regions dominated — now or in the past — in population terms by non-Han peoples, China remains in a political Stone Age in which brutality, torture, terror, unchallenged propaganda, racism, colonialism and media blackouts are essential tools of governance.

China's "peaceful rise" slogan is usually taken to refer to Beijing's relations with the Asian region and the rest of the world. The term has had little currency when it comes to domestic developments and conflicts.

However, following similar tensions and violence in Tibet, China's western-most territory of Xinjiang is now suffering pronounced unrest and ethnic conflict between not only the authorities and the Uighur people but also between Uighurs and Han immigrants.

The term "peaceful rise" can only have ironic value: China's relations with the outside world can never be normalized as long as it systematically mistreats its own people — especially its minorities.

Beijing's decades-long exploitation of Xinjiang's people and their natural resources cannot continue indefinitely without escalating conflict. Yet the problem has been worsened — not only by irresponsible levels of Han immigration but also Beijing's inability to allow democratic reforms that would empower and legitimize the role of Uighurs outside the party-state nexus.

The consequence of this is a problem that has plagued Muslim societies the world over: When autocrats lock up and smear moderate opponents with terms like "splittists" and "terrorists," the only space left is for radicals and genuine terrorists.

In this way, Beijing helps to bestow upon its citizenry a self-fulfilling prophecy of a militant insurgency nightmare and possible future links with Islamic terrorists to the west.

It is a diabolically stupid situation, and almost all of it is Beijing's making.

The response of President Ma Ying-jeou's (馬英九) administration to developments in Xinjiang has been immensely disappointing. Ma's Chinese Nationalist Party (KMT) continues to state that Xinjiang is Chinese territory, but this does not demand that the party or the government hide in the wings as the Chinese Communist Party runs roughshod over the Uighurs.

It would be wrong to infer from their silence that Taiwan's government and the KMT are complicit in the violence in Xinjiang. But by saying nothing as atrocities accelerate, both are suggesting that the fate of the Uighurs — whom they profess to be compatriots — is of no consequence, and certainly not worth damaging the progress of an economic accord with Beijing.

The question follows: Where will the Ma government draw the line as far as Chinese rights violations are concerned? And does the Ma government have any agenda whatsoever for the ordinary Chinese national, Han or otherwise, for whom it would one day purport to speak? The answers to these questions, even now, are a complete mystery — but chilling to contemplate.

Despicable acts are made more unbearable by the silence of those who seek benefits from oppressors. From now on, the Taiwanese government's response will have to be strong and clear if it is to make up for its extraordinary cynicism and its denial of the human rights and dignity of China's Uighur minority.
---
PRC blocking academic exchanges
 
By Lee Ming-huei 李明輝
Wednesday, Jul 08, 2009, Page 8

Since the Chinese Nationalist Party (KMT) regained power, cross-strait political, economic and diplomatic relations have entered a new phase as seen in the opening of cross-strait transportation and tourism. However, limited progress has been made on cross-strait academic exchanges, with the exception of the government's plan to recognize Chinese educational credentials.

China's rigid "one China" policy remains a major obstacle to equal academic exchanges across the Taiwan Strait. One example of this is a research paper that I recently published in a Chinese academic journal, in which the Chinese title of the institution I work for — Academia Sinica (中央研究院) — was put in quotation marks. If China refuses to recognize the Taiwanese organization I represent, how can we engage in exchanges on an equal footing?

Under the "one China" principle, the Chinese Communist Party (CCP) has never recognized Taiwan as an independent state and insists that Taiwanese universities and academic institutions are not qualified to organize international conferences. China has boycotted invitations to international conferences held by Taiwanese universities or academic institutions, but is not averse to promoting jointly organized cross-strait meetings because they are seen as being conducive to cross-strait unification.

I have on many occasions asked leading Chinese academics why Taiwanese academic institutes are not qualified to hold international meetings, because even meetings premised on the "one China" policy could not be construed to mean that Taiwan cannot hold academic conferences at the international level. After all, Fujian Province in China is not a country, but it can still organize international conferences. My question is regularly met with silence.

Academia Sinica was recently planning to invite Japanese writer Kenzaburo Oe, the winner of the Nobel Prize for Literature in 1994, to an academic seminar in Taiwan. The seminar would be co-hosted by the Institute of Chinese Literature and Philosophy under Academia Sinica and the Chinese Academy of Social Sciences (CASS, 中國社會科學院).

It was Fujii Shozo, a professor in the Department of Chinese at Tokyo University, who initiated the idea of the seminar. Shozo, the founder of the Japan Association for Taiwan Studies, who has translated several novels written by Taiwanese author Li Ang (李昂) into Japanese, has spared no effort in introducing Taiwanese literature to Japanese readers. Not only was he invited to the seminar, but he would also have been responsible for translating some of the papers presented in the conference into Japanese and helping to edit the Japanese version of the academic publication for the conference.

He had generously promised to seek sponsorship from the Japan Society for the Promotion of Science in the name of Tokyo University for the conference. In order to file and justify the expenses for reimbursement, he had to ask the organizers to list the Department of Chinese at Tokyo University as one of the co-organizers of the seminar. However, this sensible request was rejected by CASS and resulted in the withdrawal of Shozo and Tokyo University from the conference.

The seminar had the potential to be a successful event co-hosted by three different organizations, but China's inflexible position created several losers. Tokyo University lost by being excluded from the conference. CASS' behavior has angered some in Taiwanese academia, making it a loser. Academia Sinica was unable to uphold the principle of equality by giving in to unreasonable requests from China and risks being ridiculed for succumbing to humiliating terms. Finally, to Oe — a writer who places importance on the conscience of writers and humanism — it must have been ironic that Taiwan suffered such unequal treatment. All this has greatly undermined the value of the conference.

China's inflexible position has drawn wide criticism across political lines in Taiwan. As a cross-strait economic and cultural forum will soon be held in Changsha, Hunan Province, I urge the government to place "equal cross-strait academic exchanges" on the agenda and Academia Sinica to insist on the principle of equality and suggest that the CASS reconsider its position. We demand equal academic exchanges with China lest such exchanges widen the existing gulf between the two sides of the Taiwan Strait.

Lee Ming-huei is a research fellow at Academia Sinica's Institute of Chinese Literature and Philosophy.
---
'Soft' promotion of independence
 
By Liang Wen-chieh 梁文傑
Wednesday, Jul 08, 2009, Page 8

Former president Lee Teng-hui's (李登輝) recent remarks in favor of peaceful exchanges with China have led to media speculation about a political shift and how this would affect the Democratic Progressive Party (DPP). The fact is Lee's statement — "you are you and I am me, but you and I are friends, and we must also distinguish between ourselves" — is not new, neither for Lee nor for the DPP.

The National Unification Guidelines (國家統一綱領), formulated under Lee's presidency and adopted in 1991, laid out a framework for exchanges between Taiwan and China while putting unification off to some time in the distant future. They called for "not endangering each other's security and stability while in the midst of exchanges and not denying the other's existence as a political entity while in the midst of effecting reciprocity."

The DPP adopted this approach in its 1999 Resolution on Taiwan's Future (台灣前途決議文). The resolution asserted that Taiwan is already "a sovereign and independent country … named the Republic of China under its current Constitution." On relations with China, the resolution stressed the theme of peaceful reconciliation and non-belligerence, asserting that "based on historical and cultural origins, and for the sake of geopolitical and regional stability and economic interests, both sides should work together toward a future of co-existence, co-prosperity, mutual trust and mutual benefits."

The strategic reasoning behind both Lee's remark and the DPP resolution was that, while China would not allow Taiwan to declare independence, it could do nothing to prevent Taiwan from maintaining the status quo and resisting unification. Chen Shui-bian (陳水扁), who succeeded Lee as president, admitted that Taiwan could not change its national title to the Republic of Taiwan, saying: "I can't fool myself and I can't fool others — what can't be done can't be done."

This might change, however, if Taiwan's de facto independent status can be maintained long enough because of two reasons. First, the rise of capitalism in China may bring about other changes, and China may give up its insistence on unification. And second, the development of a distinctive, independent Taiwanese identity could reach a point where it becomes an irreversible trend.

Independence advocates worry that trade and economic links with China will blur the dividing line between the two sides. Beijing thinks that strengthening business links can foster the feeling among people on both sides of the Taiwan Strait that they all belong to one big family. In reality, however, increasing exchanges have produced the opposite result. After all, national identity only comes to the fore through interaction with other nations. If China had not interacted with the West in the 19th century, there would be no Chinese nationalism in its modern form. The same principle applies to cross-strait relations: The more interaction there is, the more Taiwanese are made aware that they are not Chinese, and the more they identify with Taiwan.

Several surveys show that Taiwanese businesspeople working in China do not necessarily become more pro-Chinese. Similarly, many Taiwan residents born in China realize only after going back to China to visit that they have become Taiwanese. Even students at schools for children of Taiwanese in China who have grown up there insist that they are Taiwanese and frequently stress the difference between them and the local people.

The real trend of the last 10 to 20 years has been that the more cross-strait interaction there is, the clearer the line between the two sides becomes. That is why Huang Jiashu (黃家樹), a Taiwan specialist in China, said: "Close exchanges across the Taiwan Strait do not automatically strengthen the idea that both sides of the Strait are one country, still less do they naturally strengthen support for unification." For the same reason, Lee is not worried about deepening exchanges between Taiwan and China, and he said there was no need to worry about "three, four or five links" across the Strait, as long as they are forged under the umbrella of the WTO.

Several surveys conducted by the Chinese-language United Daily News show that even Mainlanders, who are the least willing of Taiwan's communities to accept localization, have gradually come to identify with Taiwan. In 1997, a survey found that 56 percent of Mainlanders considered themselves Chinese and only 22 percent considered themselves Taiwanese. But the latest poll this year found that only 24 percent of them thought of themselves as Chinese, while 45 percent called themselves Taiwanese.

In another survey published in the May issue of the Chinese-language Global Views Monthly, people who support independence outnumbered those who favor unification — even among supporters of the Chinese Nationalist Party (KMT). Among surveyed KMT supporters, 30.3 percent identified themselves as being in favor of independence, against only 15 percent in favor of unification.

So, if we can just be patient, time is on Taiwan's side. After all, Taiwan has been independent from China for more than a century. Free of Beijing's propaganda on a "Greater China" system, a majority of Taiwanese prefer maintaining the current way of life and political system. If we can maintain Taiwan's status quo for another few decades, how many unification supporters will there be left, and what grounds will China have for promoting unification?

Beijing likes to call this "meandering" or "soft" Taiwanese independence strategy. The advantage of this "soft" strategy is it is an extension of the status quo. It advances Taiwanese independence under the guise of safeguarding Taiwan, making it hard to oppose. A "hard" independence strategy, on the other hand, means a break with the status quo. Such activities are likely to meet with opposition not just from China, but from other countries, too.

Clearly, Lee is talking about a return to the path of "soft" independence. The DPP should now think hard about what strategy it should adopt to avoid losing the prize because of excessive haste.

Liang Wen-chieh is deputy director of New Society for Taiwan.