Lin Yi-shih guilty on two counts

NOT CORRUPTION: The Taipei District Court ruled that Lin had not violated the Anti-Corruption Act as a lawmaker, so his relatives could not be guilty of money laundering

By Rich Chang and Chris Wang / Staff reporters
---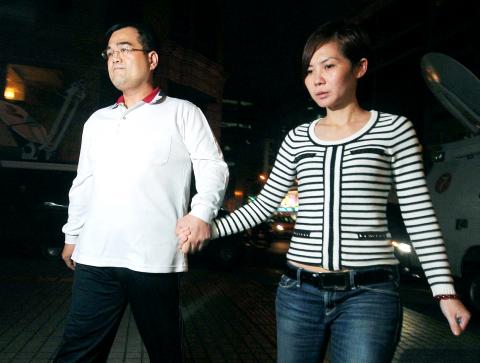 Former Executive Yuan secretary-general Lin Yi-shih holds hands with his wife, Peng Ai-chia, as he reports to the Zhonglun Police Station in Taipei's Songshan District yesterday.
Photo: Wang Min-wei, Taipei Times
---
Former Executive Yuan secretary-general Lin Yi-shih (林益世) was yesterday sentenced to seven years and four months in prison by the Taipei District Court for accepting about NT$60 million (US$2 million) from a contractor.

The court said Lin had broken the law by using his power to threaten people for money and held property from unidentified sources.

Lin was deprived of his civil rights for five years and fined NT$15.8 million, the ruling said.

The money Lin took from the contractor, NT$23 million and US$317,500, will be confiscated.

Lin can appeal yesterday's verdict to the Taiwan High Court.

Taipei District Court spokesman Huang Chun-min (黃俊明) said the court ruled Lin had not violated the Anti-Corruption Act (貪汙治罪條例) because as a lawmaker at the time, he was not in a position to decide with whom subsidiaries of state-owned China Steel Corp (CSC,中鋼) should sign contracts.

Under the act, the crime of accepting bribes carries a minimum prison sentence of 10 years.

Lin's wife, Peng Ai-chia (彭愛佳), his mother, Shen Juo-lan (沈若蘭), and two of his mother's brothers — Shen Huan-yao (沈煥瑤) and Shen Huan-chang (沈煥璋) — were found not guilty of money laundering. Since the court had ruled that Lin had not violated the Anti-Corruption Act, they could not be convicted of concealing bribe money on Lin's behalf, Huang said.

The Supreme Prosecutors' Office Special Investigation Division said prosecutors would decide whether to appeal. It said the ruling went against public opinion on corrupt officials.

The indictment said Lin helped Kaohsiung-based Ti Yung Co (地勇選礦公司) secure a slag treatment contract from a CSC subsidiary in 2010, when he was a Chinese Nationalist Party (KMT) legislator, in return for NT$63 million from Ti Yung owner Chen Chi-hsiang (陳啟祥).

Prosecutors said that after Lin was appointed secretary-general of the Executive Yuan last year, he demanded NT$83 million from Chen. When Chen refused to pay, Lin allegedly pressured CSC, a listed company in which the government has a controlling stake, to stop supplying slag to Ti Yung, the indictment said.

Democratic Progressive Party (DPP) spokesperson Lin Chun-hsien (林俊憲) said the verdict failed to meet public expectations and it could be a product of a flawed investigation process by prosecutors, who have been criticized by the public."

Lin Chun-hsien said the verdict was very "detrimental" to rebuilding trust in the judicial system, since an independent judiciary wins support and trust through fair trials and verdicts.

Former DPP chairperson Tsai Ing-wen (蔡英文) said the sentence was a lot less than people had expected.

"People expect similar cases to be investigated and tried with the same standard and there should not be any difference because of party affiliations," she said.

DPP Legislator Chao Tien-lin (趙天麟) said there was an "obvious double standard" in the judiciary's handling of Lin Yi-shih's case and the cases involving former president Chen Shui-bian (陳水扁), who is serving a 20-year sentence in Taichung Prison, since both men were civil servants accused of corruption.

Chao said the verdict would probably be a relief for former KMT Taipei City councilor Lai Su-ju (賴素如), who served as director of President Ma Ying-jeou's (馬英九) KMT chairman's office, because she could feel now relieved about her future.

Lai has been detained on corruption charges.

Chao said Ma should be embarrassed by the verdict, not only because Lin Yi-shih was one of his close confidants, but also because the judicial system once again appears to have favored a KMT politician. That is a betrayal of Ma's promise of judicial independence, Chao said.