Festival plans to celebrate Taiwanese romanization

WRITING HISTORY: Organizers of the festival said the system had a significant impact on the nation¡¦s cultural development, as well as on education and literature

By Wang Chun-chung and Stacy Hsu / Staff reporter, with staff writer
---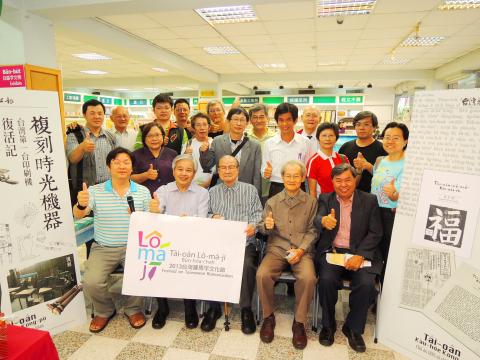 Members of government and civic organizations who have organized a festival on Hoklo romanization, better known as Taiwanese, pose for a picture in Greater Tainan on Friday.
Photo: Wang Chun-chung, Taipei Times
---
As the birthplace of a romanization system for the Taiwanese language, Greater Tainan will stage a series of events this month in an effort to revitalize the long-standing transcription system for Hoklo, commonly known as Taiwanese, and underscore its historical significance.

Under the banner of the Festival on Taiwanese Romanization, the events are being staged by government and civic organizations, including the Greater Tainan Government¡¦s Cultural Affairs Bureau and Education Bureau, the Taiwan Church Press and National Cheng Kung University¡¦s (NCKU) Center for Taiwanese Language Testing.

Derived from ¡§Peh-oe-ji¡¨ ¡X a romanization system also known as Church Romanization in which Hoklo first appeared in written form ¡X the Taiwanese Romanization System was widely used in the past, event organizers said.

Organizers said that the writing system had a significant impact on the nation¡¦s cultural enlightenment movements during the Japanese colonial period, as well as on general education promotion and creation of literary works.

The festival is set to feature an exhibition of culturally significant items related to the transcription system, including Taiwan¡¦s first printing press, donated in 1880 by British medical missionary James Laidlaw Maxwell for printing romanized Hoklo, and the debut issue of the nation¡¦s first printed newspaper, the Taiwan Prefectural City Church News.

A guided tour of the so-called ¡§Treasure Hall¡¨ (»E¬Ã°ó), the publisher of Taiwan Prefectural City Church News and predecessor of the Taiwan Church Press, and to the former residence of the paper¡¦s founder, British missionary Thomas Barclay, will also be available to visitors who register in advance.

To provide people with a glimpse into how the printing industry used to work, the Taiwan Church Press has put on display a replica of the nation¡¦s first printing press for visitors to try out, organizers said.

Chiung Wi-vun (½±¬°¤å), an associate professor at NCKU¡¦s Department of Taiwanese Literature, said the festival is also marking the centennial of the publication of the first romanized Hoklo dictionary, created by British missionary William Campbell in 1913, as well as the 80th anniversary of the publication of a Taiwanese translation of the Bible¡¦s Old Testament by Thomas Barclay in 1933.

A dictionary-consulting contest using Campbell¡¦s dictionary was held yesterday to commemorate his dedication to the system of writing, Chiung said, which is being followed by a three-day international conference on Taiwanese Romanization at NCKU between May 18 and May 20.

Chiung said the conference, titled ¡§Preservation and Development of Culture Heritage,¡¨ would feature presentations of more than 80 research papers on the transcription system by academics from Taiwan, Vietnam, Holland, Japan, Germany and France.

The conference will also demonstrate the nation¡¦s intent to apply for inclusion of the Taiwanese romanization system in UNESCO¡¦s Intangible Cultural Heritage list, Chiung added.