TAIPEI-MANILA ROW: Lawmakers unite and demand Manila apology

'ACT OF PIRACY': In their statement, lawmakers from across party lines reiterated the demands made by the government in its 72-hour ultimatum to Manila

By Chris Wang / Staff reporter
---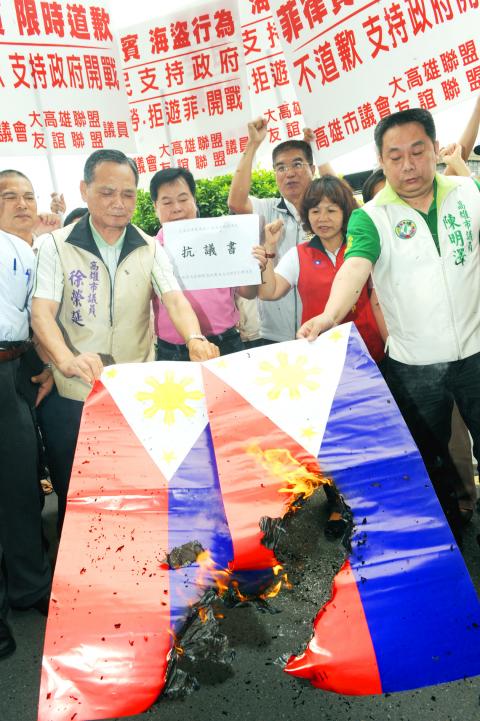 Kaohsiung City councilors yesterday hold placards and burn Philippine national flags outside the Manila Economic and Cultural Office's Kaohsiung Extension Office to protest the deadly attack on a Taiwanese fishing boat by a Philippine Coast Guard vessel on Thursday last week.
Photo: Chang Chung-i, Taipei Times
---
Legislators from across party lines yesterday issued a joint statement demanding a formal apology from the Philippine government for the killing of Taiwanese fisherman Hung Shih-cheng (洪石成). Lawmakers also criticized Philippine President Benigno Aquino III for approaching the dispute from the perspective of its "one China" policy as the deadline of a 72-hour ultimatum that Taiwan gave the Philippines to meet the requests passed at midnight yesterday.

In the statement, the party caucuses of the Chinese Nationalist Party (KMT), the Democratic Progressive Party (DPP), the People First Party and the Taiwan Solidarity Union echoed the four demands made by President Ma Ying-jeou's (馬英九) administration that Manila issue a formal apology, compensate Hung's family, investigate the incident to identify and punish the perpetrators and initiate negotiations on a bilateral fisheries agreement.

KMT Legislator Lin Yu-fang (林郁方) described the Philippines as "a thug who can't learn lessons unless he is beaten" and urged the government to present stronger measures against Manila and "do whatever it takes to seek justice."

Philippine Coast Guard personnel committed "an act of piracy" when they opened fire on an unarmed Taiwanese fishing boat and killed Hung, 65, on Thursday, DPP Legislator Yeh Yi-jin (葉宜津) said.

Yeh said Ma should immediately call an international press conference to present the case to the international community.

With the public's outrage against the Philippines still strong, politicians called for Taiwanese to refrain from involving Filipino migrant workers in the matter and engaging further in the cyberwar being waged against Manila.

Legislative Speaker Wang Jin-pyng (王金平) said that resorting to populist measures would not lead to a solution.

"This is a diplomatic affair, not a gangster fight," Wang said.

Former deputy minister of foreign affairs Michael Kao (高英茂) also called for calm and for a stop to talk of an all-out war, which would destabilize the region.

However, Ma has no one to blame but himself for Aquino's emphasis on the "one China" policy, because it was Ma who said Taiwan-China relations are "region-to-region," not state-to-state, Kao said.

Ma's ultimatum was the wrong strategy, former vice president Annette Lu (呂秀蓮) said.

"His kindness to the enemy has turned into brutality against his own people," Lu said, adding that Ma should have stepped up the pressure against the Philippines during its election season.