Color-coated rice ready for market

LIKE RED ON RICE? The developers of the red, yellow and green rice hope the colors will boost rice¡¦s appeal to children and help make it the staple of choice again

By Yu Tai-lang and Jason Pan / Staff reporter, with staff writer
---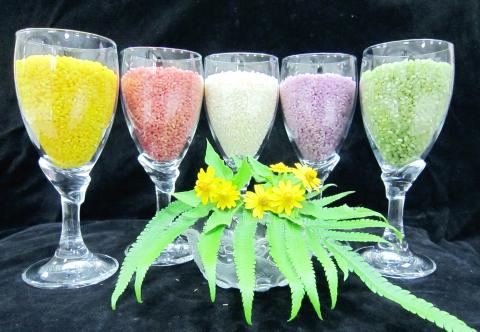 Goblets holding samples of colorized rice developed by the Hualien District Agricultural Research and Extension Station in Hualien County are shown on Tuesday last week.
Photo: You Tai-lang, Taipei Times
---
The Hualien District Agricultural Research and Extension Station said it hopes that adding color to rice can help restore the staple to its former popularity in Taiwan.

Although first created at a Hualien County research center a few years ago, center officials said that the colorized rice could then only be produced in limited quantities, which could not meet demand as the technology to produce it was still under development.

Now, the processing technology has been improved, the officials said.

It is now possible to produce 2 tonnes a day, and plans are underway for mass production, they said.

¡§It took us seven years of research and development to come up with the technology to color the rice. Our objectives were to raise the consumption of our nation¡¦s home-grown rice, rectify Taiwanese consumers¡¦ changing choices of staple food and entice children to eat rice and for people to have fun when enjoying their bowl of rice,¡¨ said Chiu Shu-yuan (ªô²Q´D), one of the researchers who worked on the colorized rice project at the Crop Improvement Section of Hualien District Agricultural Research and Extension Station under the Council of Agriculture.

¡§We utilized the natural dyes from fruits and vegetables to produce the yellow, red, green, lavender and other kinds of colorized rice,¡¨ she added.

¡§We were granted a patent on this technology for ¡¥color coating of rice.¡¦ It will be transferred to the private sector for mass production of 2 tonnes a day, through an exclusive licensing arrangement,¡¨ she said.

The dyes for the rice come from natural ingredients, with Monascus anka, or red yeast rice used for red colorized rice, turmeric for yellow, leafy vegetables for green and the antioxidant plant pigment anthocyanidin for lavender.

The researchers said colorized rice could be marketed for daily meals at home, and for creative culinary uses in rice dishes at restaurants, private lodgings and leisure resorts.

They said it could also be developed for special organic or vegetarian menus and as a tourist attraction for Hualien County.