Philippines delaying release of video of fatal shooting

By Shih Hsiu-chuan / Staff reporter
---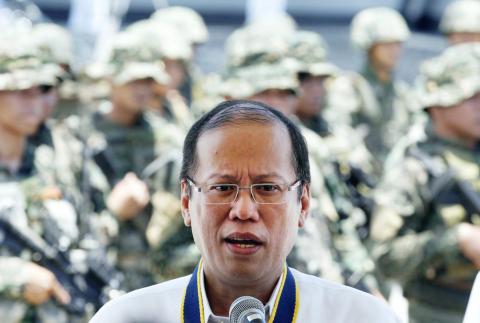 Philippine President Benigno Aquino III speaks to the members of the press during the 115th Anniversary Celebration of the Philippine Navy, Naval Station in San Felipe town, Cavite City, Philippines, yesterday.
PHOTO: EPA
---
A video of the shooting incident by Philippine Coast Guard personnel on May 9 in disputed waters in which a Taiwanese fisherman died will be released ¡§in due time,¡¨ Philippine Secretary of Justice Leila de Lima said yesterday.

According to yesterday¡¦s Philippine Daily Inquirer, De Lima said the video clip was ¡§very revealing¡¨ and ¡§helpful to the investigation.¡¨

De Lima told reporters after a closed-door conference with the investigation team into the incident at the National Bureau of Investigation (NBI) in Manila that the video was part of the report the bureau is conducting, the report said.

The shooting resulted in the death of 65-year-old Hung Shih-cheng (¬x¥Û¦¨) and left the boat riddled with 45 bullet holes.

Manila¡¦s account of the incident, as stated by its officials earlier, that the fishing ship was poaching in its territorial waters and had tried to ram its patrol vessel, was rebutted by Taiwan¡¦s investigators and Hung¡¦s family members, two of whom were on the fishing boat.

Taiwan has urged the Philippines to make public the video.

De Lima said it would be ¡§premature¡¨ to release the video now because it was part of the NBI¡¦s ongoing investigation.

Taipei and Manila have agreed to cooperate in their separate investigations into the accident under the bilateral mutual judicial assistance agreement and both sides are negotiating how to cooperate before they send an investigation team to the other side to complete their individual investigation reports.

The NBI team was ready and just waiting for the clearance to go to Taiwan, De Lima said, adding that the partial report so far was ¡§substantive.¡¨

¡§More or less, there¡¦s a clearer picture, but we reiterate that the result would be more exhaustive, thorough and complete if the NBI team¡¦s requests are granted, especially the inspection of the Taiwanese fishing vessel,¡¨ she said.

Separately, according to local media in Manila, Philippine President Benigno Aquino III said that his administration is open to negotiating a fisheries pact with Taiwan.

Ministry of Foreign Affairs spokesperson Anna Kao (°ª¦w) said the ministry was verifying the news.

Kao said that Taiwan would welcome a response by Aquino on the issue, one of the four demands to which Taipei said that Manila has not yet given a positive response.

Meanwhile, in an interview with DZMM radio on Monday, Manila Economic and Cultural Office Chairman Amadeo Perez, appointed by Aquino to convey his apology to Hung¡¦s family and people of Taiwan last week, said it was unlikely that Aquino would write a letter of apology to Taiwan as Taiwan wanted.

¡§This could be considered a violation of Manila¡¦s ¡¥one China¡¦ policy,¡¨ Perez said.