Chen Shui-bian to apply to be DPP member again

By Chris Wang / Staff reporter
---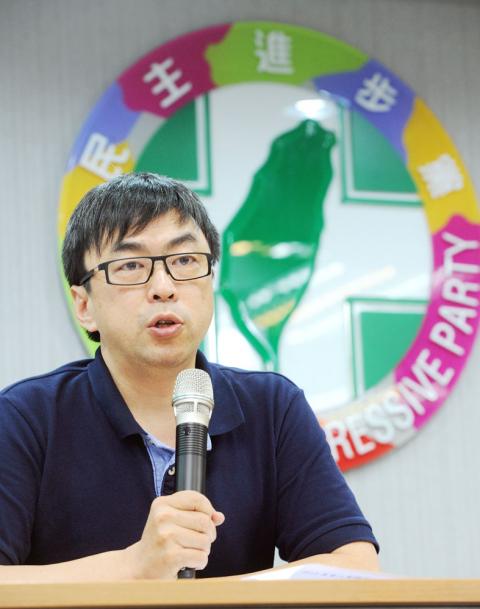 Democratic Progressive Party Legislator Tuan Yi-kang yesterday presents the results of a probe into gangster membership applications.
Photo: Wang Min-wei, Taipei Times
---
Former president Chen Shui-bian (陳水扁) will apply to return to the Democratic Progressive Party (DPP) and could see his application approved at the party congress on Saturday.

Chen, who is serving a 20-year sentence for corruption, has authorized DPP caucus convener Ker Chien-ming (柯建銘) to submit an application for DPP membership, almost five years after his withdrawal from the party in August 2008 amid escalating controversy surrounding his corruption probe, the DPP confirmed yesterday.

The application, once submitted, would have to go through a standard process, which begins with a local party office's preliminary review before a final review of a special panel of the party headquarters, DPP Secretary-General Lin Hsi-yao (林錫耀) told reporters in a briefing after a Central Standing Committee weekly meeting.

"DPP regulations only bar gangsters from joining the party, which is commonly known as the anti-mafia clause. [The application] is not a big deal, as we do not try to filter the good guys and the bad guys," Lin said.

Lin added that a proposal to reinstate the former president's membership, which was endorsed by hundreds of DPP members and was scheduled to be submitted on Saturday, is a "non-issue" because Chen had neither been suspended nor expelled from the party.

That was why Chen would not be subject to an automatic five-year ban for suspended or expelled members and could submit an application anytime, he added.

Chen's possible return has been a hot topic in the DPP for some time, with some voicing strong opposition to the issue due to the negative impact and controversy it might cause.

The former president's return could also mean that his son, Chen Chih-chung (陳致中), who also withdrew from the party in 2010, could follow the same path.

Chen Shui-bian's possible re-instatement will not be the only challenge for the DPP and party Chairman Su Tseng-chang (蘇貞昌) on Saturday.

The party congress, which is scheduled to be held at the Taipei International Convention Center, is expected to discuss whether members who have belonged to the party for less than two year should be barred from voting in party elections to avoid interference in intraparty politics by taking advantage of nominal member breeding, a perennial headache for the party, Lin said.

The other major issue, which could be crucial for the party's nomination process and chances in the seven-in-one elections next year, is the party primary format, Lin said. DPP party representatives would have to decide whether primarys would solely be decided by public opinion polls or whther the old system would be brought back, which combines the results of member voting and public opinion polls.

Meanwhile, DPP lawmaker Tuan Yi-kang (段宜康), appointed by Su as head of an investigation panel to probe the recent controversy surrounding member recruitment involving mass applications and reputed gangsters, released the panel's findings yesterday.

Investigations found no evidence linking Ker Chien-ming and Lin Yao-wen (林耀文), director of former premier Frank Hsieh's (謝長廷) office, with applications from gangsters after the pair was accused of mobilizing gang members to join the DPP.

The panel did find several unusual member recruitment activities in various local party chapters, which it said former independent lawmaker Lo Fu-chu (羅福助) was probably behind. Lo is a fugitive gang member who is now believed to be living in China.