Taipei city councilors criticize police tactics

VIOLENCE DECRIED: DPP Councilor Chien Yu-yen said police aggressiveness toward protesters has become increasingly common, citing actions on Thursday and on May 1

By Mo Yan-chih / Staff reporter
---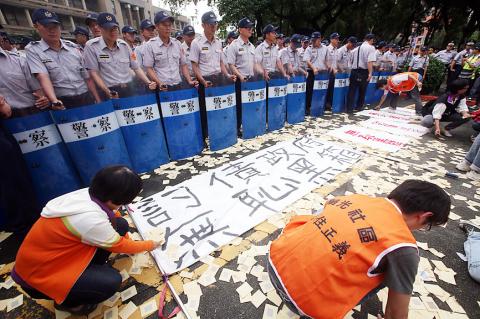 Residents of the Huaguang Community and their supporters stand off against Taipei police during a protest in front of the Executive Yuan on Thursday.
Photo: CNA
---
The Taipei City Police Department came under fire in the Taipei City Council yesterday for its handling of a protest in front of the Executive Yuan on Thursday. Several city councilors accused the police of using force against protesters and they urged Taipei Mayor Hau Lung-bin (郝龍斌) to examine what they said is an increasing tendency for the police to react violently at large rallies and protests.

Thursday's protest was against the city's demolishing the Huaguang Community (華光社區) and there were clashes between protestors and police.

Showing footage of the protest, Democratic Progressive Party (DPP) Taipei City Councilor Chien Yu-yen (簡余晏) slammed police for hitting protesters with riot shields and injuring some college students.

Police violence against protesters has become common practice, she said, citing police officers using long bamboo poles to jab demonstrators at a Workers' Day protest on May 1.

"Taipei is the nation's capital and our police use this type of violence against protesters. Are we returning to the Martial Law era?" she said.

Police Department Commissioner Huang Sheng-yung (黃昇勇) said officers did not intend to hurt the protesters during Thursday's demonstration and he accused the protesters of being "on the offensive."

"More than 20 police officers were injured at the rally and police at the scene were only defending themselves," he said.

His comments angered DPP Taipei City Councilor Lee Ching-feng (李慶鋒), who said there has been an increase in violence by police handling large-scale protests over the past two years, from the rallies over the Wenlin Yuan urban renewal case to those supporting the Huaguang Community.

"In handling recent protests, city police have not only injured protesters, but also violated the freedom of the press by relocating reporters. We are concerned about the regression of human rights in Taipei," Lee said.

Hau said the police have handled protests in accordance with standard procedures. He said the department had also made videotapes of Thursday's protest.

He promised to complete a probe on the handling of Thursday's rally within one week, and said he would release the police video of the entire protest.

"It's the duty of the police to protect the safety of the people while maintaining public order. The department will not cover up for any officer's abuse of power," he said.