Children's home founder dies aged 105

By Huang Chia-lin and Stacy Hsu / Staff reporter, with staff writer
---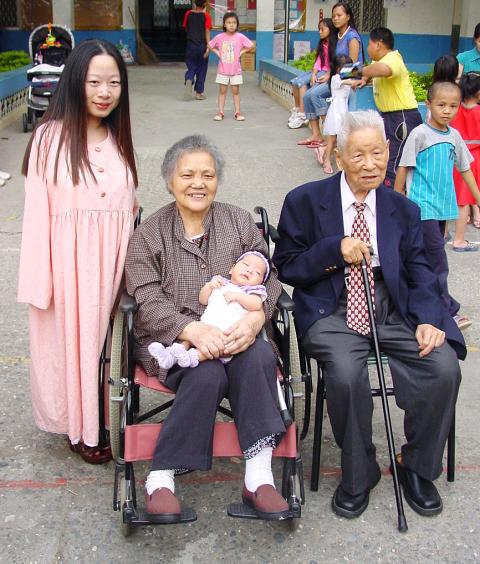 Foot and mouth painter Yang En-dian, left, with Christian Mountain Children's Home founder Yang Hsu, right, are pictured in this undated photo.
Photo: CNA, provided by Yang En-dian
---
Dubbed "the father of orphaned Aboriginal children," Christian Mountain Children's Home founder Yang Hsu (楊煦) died of multiple organ failure in hospital on Thursday, aged 105.

Yang's passing came just weeks after the death of his wife, Lin Feng-ying (林鳳英), on May 6.

Family members had kept the news of Lin's passing from Yang to keep him from being overwhelmed by grief, particularly after he was admitted to hospital with kidney stones on May 16.

Yang passed away peacefully in his sleep the night before he was scheduled to be discharged from the hospital, family members said.

Christian Mountain Children's Home's social work section chief Liu Hsing-chien (劉行健) said Yang founded the orphanage in 1955 in the then-Kaohsiung county's Liouguei Township (六龜).

"While most of the orphans the facility has accommodated came from mountainous areas, Yang and his wife also opened their arms to children from lowland areas," Liu said.

The facility, which currently houses 72 children, has helped more than 1,000 orphans since its establishment, including foot and mouth painter Yang En-dian (楊恩典) and Taiwanese singer Rachel Liang (梁文音), Liu said.

According to the children's home, Yang was born on Nov. 8, 1909, into a literary family in Qufu, Shandong Province, China, the hometown of Confucius, before relocating to Taiwan in 1948.

Yang served as academic affairs director at the Taichung-based Feng-yuan Senior High School, a teacher at Taichung Normal School — the predecessor of National Taichung University of Education — where he volunteered to take over a classroom of Aboriginal children that had been shunned by everyone else, the institution said.

"Yang educated these children with love and patience, and was greatly revered by them," the institution added.

Yang took up a teaching post in Liouguei in 1955 and started providing much-needed financial assistance to children who could not afford an education, as well as to the family members of pregnant women who died during labor after not being able to afford medical treatment.

He also began taking in orphaned Aboriginal children in spite of his limited income and had endeavored to build the facility with borrowed money, all for the sake of giving them a space, or a chance, to thrive, the children's home said.

A close acquaintance of late president Chiang Ching-kuo (蔣經國), Yang had made it his life's mission to "make friends, raise parentless children and spread the Gospel."

His unreserved dedication to children and those in need made him a guest of honor in former US president Ronald Reagan's presidential inauguration ceremony in 1981 and had prompted all the nation's elected presidents — former presidents Lee Teng-hui (李登輝) and Chen Shui-bian (陳水扁) as well as incumbent President Ma Ying-jeou (馬英九) — to each pay him a personal visit.

Because of Yang's close ties with high-ranking military personnel, it has also become an unwritten custom for the commanding officer of the army's Eighth Legion to visit the institution and the children during public holidays.

Family members said they would not publish an obituary for Yang's death to honor his frugal and low-profile lifestyle, and would instead hold a memorial concert at 2pm on June 15 for people to pay their respect to the "father" of orphaned children.