Su calls for Huang to step down now

By Lee Hsin-fang, Shih Hsiu-chuan and Jake Chung / Staff reporters, with staff writer
---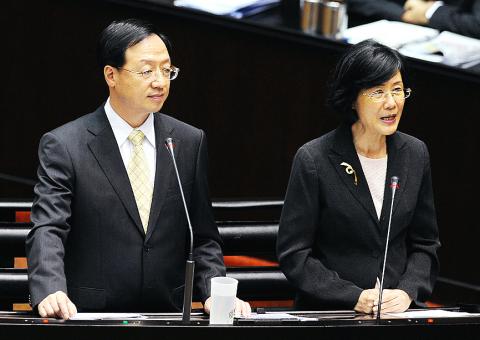 Premier Jiang Yi-huah, left, and Minister of Justice Lo Ying-shay respond to questions in the legislature yesterday about the indictment of Prosecutor-General Huang Shih-ming.
Photo: Liu Hsin-de, Taipei Times
---
Prosecutor-General Huang Shih-ming (黃世銘) should step down immediately following his indictment on charges of leaking classified information, Democratic Progressive Party (DPP) Chairman Su Tseng-chang (蘇貞昌) said yesterday, adding that President Ma Ying-jeou's (馬英九) alleged intervention in judicial processes in violation of the Constitution should also be looked into once he leaves office.

Huang was indicted yesterday for allegedly leaking classified information to Ma by briefing the president on Aug. 31 and Sept. 1 while an investigation into Legislative Speaker Wang Jin-pyng's (王金平) alleged improper lobbying was still ongoing.

Huang said yesterday that he will resign if he is convicted of leaking secrets in his first trial.

"Although prosecutor-general is a position guaranteed for a set term, Huang should step down, as he has lost all credibility and is no longer fit for the job," Su told a press conference yesterday.

On Aug. 31, Huang allegedly revealed confidential information about a case still under investigation to the president at his residence Su said. Ma not only failed to stop Huang from doing this, but had even used Premier Jiang Yi-huah (江宜樺) and then-presidential office deputy secretary-general Lo Chih-chiang (羅智強) to disseminate the information, Su added.

Lo held press conferences to spread the information and used it to seek to suppress Ma's political enemies and cause a political incident, Su said.

"This was completely unacceptable," the DPP chairman said.

Although Ma has immunity from criminal charges while president, the judiciary should press charges after he leaves office, Su said, adding that Jiang should also resign.

Separately yesterday, Chinese Nationalist Party (KMT) Legislator Liao Cheng-ching (廖正井) also said that the Executive Yuan should immediately demand Huang's resignation because his involvement in the case has led to the "loss of his credibility as leader" of the Special Investigation Division of the Supreme Prosecutors' Office.

That the prosecutors at the Taipei District Prosecutors Office investigated the case regardless of Huang's position was admirable, Liao added.

KMT Legislator Lin Te-fu (林德福) said Huang should contemplate resigning, but when asked whether Huang should tender his resignation, Lin stopped short of replying in the affirmative.

KMT Legislator Lu Hsueh-chang (呂學樟), on the other hand, said the indictment did not necessarily require Huang's resignation or suspension because he should be presumed innocent until proven guilty. However, the Ministry of Justice should refer the case to the Control Yuan to determine Huang's administrative responsibility and Huang should definitely step down if he is charged with any wrongdoing by the Control Yuan, Lu said.

Deputy Legislative Speaker Hung Hsiu-chu (洪秀柱), of the KMT, said she expected Huang to decide wisely whether he should stay or go.

"As a person who studies law, he should be able to make a judicious decision," Hung said.

When asked to comment, Wang offered a brief answer, saying only that he "believed in the judiciary and respected the judiciary."

Separately, at the legislature's question-and-answer session yesterday afternoon, Jiang, when asked by DPP Legislator Chiu Chih-wei (邱志偉) for comment, said nothing more than that he "respected the judiciary."

Unhappy with the answer, Chiu said the premier should have spoken up for the prosecutors at the Taipei District Prosecutors' Office and rebutted Huang's charge, as declared in his statement in response to the indictment.

Minister of Justice Lo Ying-shay (羅瑩雪) told Chiu that the ministry did not consider it necessary to suspend Huang at present.

"Huang has accused the prosecutors of bowing to pressure to indict him. As a premier and minister of justice, how can you have nothing to say about Huang damaging the credibility of the judiciary?" Chiu said.

Each of the two charges brought by the prosecutors against Huang under Article 132 of Criminal Code and Article 27 of the Communication Security and Surveillance Act (通訊保障及監察法) could lead to a maximum sentence of three years in prison, but for now Huang should not be suspended, Lo said.

KMT Legislator Hsu Yao-chang (徐耀昌) urged Jiang to ask Huang to tender his resignation, saying that he has become a "drag" on the administration.