Tainted oil scandal engulfs more firms

NOT SO SLICK: A supplier and a producer of edible oils are being investigated after Chang Chi Foodstuff chairman Kao Cheng-li said his company sold them oil

By Alison Hsiao / Staff reporter
---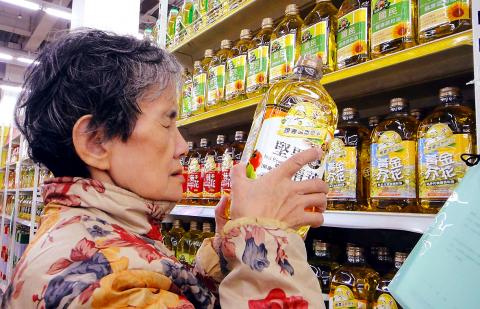 A woman reads the label on a bottle of edible oil at a supermarket yesterday.
Photo: CNA
---
A Ting Hsin International Group (頂新集團) subsidiary that supplies edible oils was yesterday ordered to recall 21 of its products because they are thought to contain adulterated ingredients.

Like Formosa Oilseed Processing Co (福懋), Ting Hsin International was found to have used adulterated oil from Chang Chi Foodstuff Factory Co (大統) in products it manufactured for Wei Chuan Food Corp (味全), a brand-name food company.

A Food and Drug Administration (FDA) report on Saturday found that six of Formosa Oilseed's olive oils were blended with inferior oils, such as canola oil, with two comprising 50 percent Chang Chi oil.

According to Changhua County Public Health Bureau director-general Yeh Yen-po (葉彥伯), Chang Chi chairman Kao Cheng-li (高振利) on Saturday confessed that his firm had been selling oil to two major manufacturers — Formosa Oilseed and Ting Hsin — but denied selling it to other companies.

After inspecting Ting Hsin's factory in Pingtung, the Pingtung County Health Bureau found that the company had used Chang Chi oil for 21 products that it manufactured for Wei Chuan and ordered them to be taken off the market.

The Pingtung bureau and the Ministry of Health and Welfare yesterday morning demanded that Ting Hsin provide a list of all its oil products to be investigated further, adding that if the food company does not comply, it will be forced to pull all of its edible oils from stores.

At a press conference held by the ministry yesterday afternoon, FDA Acting Director-General Shiu Ming-neng (許銘能) said that Wei Chuan has since provided a list of the 21 products to the authorities.

On Oct. 22, Wei Chuan released a statement on its Web site saying that its oil products are all "natural and safe."

Following the discovery of Ting Hsin's adulterated oil use, Wei Chuan issued another statement saying it had been unaware of the practice, but decided to test all of its possibly tainted products.

Wei Chuan released another statement yesterday saying that it had tested all of its oil products and the results were negative for copper chlorophyllin — the chemical substance Chang Chi had illicitly used for its oil — and gossypol.

When asked if it is possible that the oil products could test negative for copper chlorophyllin, but still have been mixed with Chang Chi's adulterated oil, Feng Jun-lan (馮潤蘭), the newly appointed director of the FDA's Northern Center for Regional Administration, said it was possible because "Wei Chuan's oil products are at the end of the manufacturing line."

Shiu said the authorities would continue to probe if any other Wei Chuan products were mixed with Chang Chi oil, adding that the FDA's prosecution and investigation unit is working on making sure that Wei Chuan really did not know about the adulteration.