Huang reaffirms his innocence, rejects resigning

RESOLUTE: Huang told lawmakers he would keep his post unless found guilty of leaking information to Ma, adding that he is sure of being acquitted in court

By Rich Chang / Staff reporter
---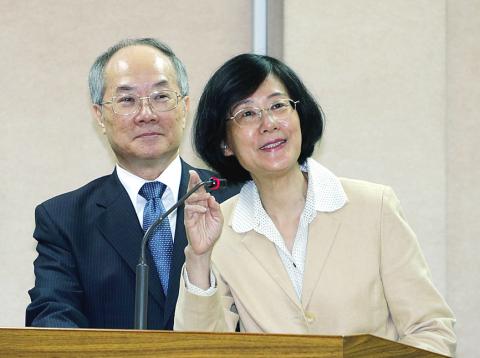 Minister of Justice Lo Ying-shay, right, and Prosecutor-General Huang Shih-ming answer lawmakers' questions at a meeting of the legislature's Judiciary and Organic Laws and Statutes Committee yesterday in Taipei.
Photo: CNA
---
Chinese Nationalist Party (KMT) and Democratic Progressive Party (DPP) legislators yesterday requested that Prosecutor-General Huang Shih-ming (黃世銘) step down to face criminal charges related to his role in a recent wiretapping scandal, but Huang insisted he did nothing wrong and should not resign.

Huang was indicted last week for allegedly leaking classified information to President Ma Ying-jeou (馬英九) by briefing the president on Aug. 31 and Sept. 1 about an ongoing investigation into Legislative Speaker Wang Jin-pyng (王金平) for allegedly engaging in improper lobbying.

Huang has said he will resign if he is convicted of leaking information by the first court that tries his case, which will be the Taipei District Court.

Minister of Justice Lo Ying-shay (羅瑩雪) joined Huang as he was grilled yesterday by lawmakers at a meeting of the legislature's Judiciary and Organic Laws and Statutes Committee.

During the session, KMT legislators Liao Cheng-ching (廖正井) and Wang Hui-mei (王美惠) asked the prosecutor-general to step down immediately, while KMT Legislator Lu Hsueh-chang (呂學樟) asked him to take time off before a ruling is made.

When DPP Legislator Lin Chia-lung (林佳龍) asked Huang: "If the committee passes a resolution demanding that you step down, would you resign?" he replied: "I would not."

Lin then asked: "If the legislature cancels the budget of the Special Investigation Division [SID] of the Supreme Prosecutors' Office or abolishes the division, would your job be affected?"

"If the SID is abolished, I am still the prosecutor-general in the Supreme Court," Huang said.

"I am confident the district court will acquit me," Huang told lawmakers, while denying accusations that he had embroiled Ma in a damaging situation by asking to report to the president on the probe into Wang Jin-pyng.

"Because the Executive Yuan is unable to check the legislature, I therefore went to the president," Huang said.

DPP Legislator Liu Chao-Hao (劉櫂豪) asked Lo if she thought the charges against the prosecutor-general were "light" and he should therefore not be suspended.

Lo responded that according to the Code of Criminal Procedure (刑事訴訟法), each of the two charges against Huang carry a maximum sentence of three years in prison, which means he would not be able to appeal to the Supreme Court if convicted.

However, Liu said that according to the Judges Act (法官法), the conditions for suspending judges or prosecutors are not based on the gravity of the criminal charges facing them, but rather on them having committed any wrongdoing while in office.

When DPP Legislator Kuan Bi-ling (管碧玲) pressed Lo on whether it was appropriate for Huang to remain in office, the minister said she would not comment on that matter before the district court hands down a ruling.