Ting Hsin Group chairman released on NT$10m bail

By Chris Wang / Staff reporter
---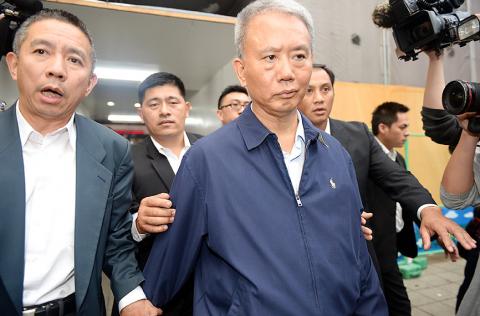 Ting Hsin International Group chairman Wei Ying-chun, center, leaves the Taipei District Prosecutors' Office yesterday morning, having been released on NT$10 million bail over his alleged role in the company's use of adulterated oil.
Photo: Wang Yi-sung, Taipei Times
---
Ting Hsin International Group (頂新集團) chairman Wei Ying-chun (魏應充) was indicted yesterday and released on NT$10 million (US$340,000) bail over allegations that his company had produced and marketed adulterated oil.

Ting Hsin recalled the 21 products — sold under the Wei Chuan (味全) brand — on Sunday, 19 days after Chang Chi Foodstuff Factory Co's (大統長基) oil was found to contain illicit substances. Wei said at the time that the company would take full responsibility, but denied previous knowledge about Chang Chi's misconduct.

The Taipei District Prosecutors' Office listed Wei and Wei Chuan Foods Corp (味全食品) general manager Chang Chiao-hua (張教華) as defendants and four executives as witnesses after raiding Wei Chuan's office on Wednesday.

The prosecutors charged Wei and Chang with fraud, which carries a maximum prison term of five years, mislabeling and violating the Act Governing Food Sanitation (食品衛生管理法), said Huang Mou-hsin (黃謀信), spokesperson for the prosecutors' office.

Chang was released on a NT$5 million bond, along with the four witnesses. They have all been barred from leaving the country.

Huang said prosecutors were investigating whether Wei and his firm knew that Chang Chi's oil products were tainted prior to purchase.

Wei has said he did not know that Chang Chi's oil contained the illegal substance copper chlorophyllin until Chang Chi chairman Kao Cheng-li (高振利) confessed to prosecutors on Saturday.

He told reporters upon his release yesterday that he had told prosecutors everything based on his understanding of the case, declining to elaborate because the investigation was ongoing.

The Pingtung District Prosecutors' Office raided Ting Hsin's factories in Changhua County and Pingtung County on Wednesday and transferred the seized documents to the Taipei office for further investigation.

The latest food safety crisis began with the discovery that Chang Chi had used illegal substances in its oil products. The controversy snowballed after more companies were found to have sourced their oil products from Chang Chi, undermining public confidence in local edible oil products.

In an attempt to compensate consumers, Wei Chuan Foods has said it would allocate NT$50 million to refund customers who had bought the 21 products even if they no longer have the purchase receipts or had opened the products.

The company said it bought 2.13 million kilograms of soybean oil from Chang Chi to make vegetable oil, but stopped using that oil in August.