KMT set to hold postponed congress

HIGHLIGHTS: The possibility of reinstating Legislative Speaker Wang Jin-pyng to the party and interaction between him and the president are likely to be hot topics

By Mo Yan-chih / Staff reporter
---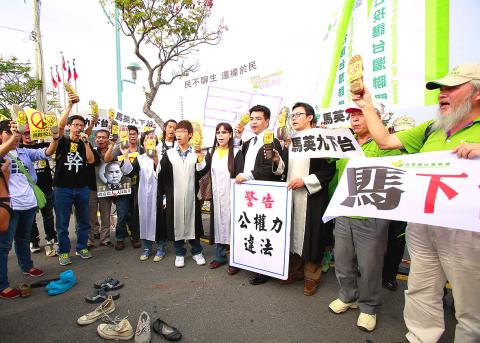 Members of non-governmental organizations gather yesterday outside the Greater Taichung venue where the Chinese Nationalist Party's (KMT) national congress is to be held beginning today to rehearse the protests they plan to hold during the congress.
Photo: CNA
---
The Chinese Nationalist Party (KMT) is to hold its postponed party congress in Greater Taichung today, the highlights of which include a proposed revision to party regulations that, if passed, would allow President Ma Ying-jeou (馬英九) to serve as party chairman until 2016 and a proposal to reinstate Legislative Speaker Wang Jin-pyng (王金平) to the party.

The proposed revision of party regulations seeks to have a KMT national president automatically serve as party chairman in what party officials say is an attempt to enhance cooperation between the party and the government.

Wang's party membership is also likely to be an issue of great importance at the event, as KMT Central Standing Committee member Lin Rong-te (林榮德) plans to present a proposal asking the party to reinstate Wang's membership.

More than 100 party delegates have signed a petition to have the proposal put on the agenda of the discussion session, Lin said.

The proposal was drawn up after Wang indicated earlier this month that he expects to return to the KMT at the request of party delegates.

Wang's membership was revoked on Sept. 11 over his alleged role in an improper lobbying case, although he was later granted a court injunction allowing him to retain his membership pending the result of a trial.

However, some sources say the KMT is seeking to dissuade Lin from presenting the proposal, as the party has no plans to reinstate Wang.

Some party delegates have said they intend to raise proposals asking Ma to defend judicial independence as a countermeasure against the proposed reinstatement of Wang's membership.

As disputes over Wang's membership and allegations of improper lobbying continue, the interaction between Ma and the speaker is likely to be a hot topic.

The congress, which was postponed in September because of planned mass protests against Ma, is to be held at the Taichung Stadium in Greater Taichung's Wuci District (梧棲).

Several groups, including workers who lost their jobs when factories closed down, groups concerned with urban renewal policies, labor groups and student activists, have said they will stage protests outside the congress venue.

As the congress organizer, the KMT can ask police to disperse protesters.

However, Chingshuei Police Station Chief Liu Hsi-ming (劉錫明) said that if the organizer has no objections, officers will not intercede.