Singer cancels Beijing gig after ROC flag furor

CREATIVE: Speculation was rife that Deserts Chang¡¦s concert would be canceled after she displayed the flag at a concert in Manchester

Staff writer, with CNA
---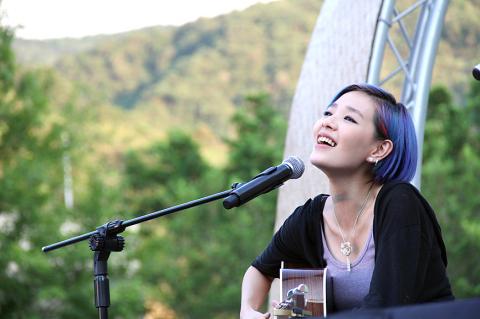 Taiwanese singer Deserts Chang performs at an open-air concert in New Taipei City on Aug. 10.
Photo: CNA
---
Taiwanese singer and songwriter Deserts Chang (±iÄa) has announced the cancelation of a Beijing concert originally scheduled for Dec. 30, following a row over her display of a Republic of China (ROC) flag at a concert earlier this month in Manchester, England.

¡§We have decided to suspend the long-planned concert in consideration of performance quality, and the rights and safety of concertgoers,¡¨ Chang¡¦s agent, Tsai Yu-ching (½²¥É«C), wrote on the singer¡¦s Facebook page.

Tsai said that ¡§an unexpected episode¡¨ ¡X an apparent reference to the flag incident ¡X has led to implications that have distorted the singer¡¦s simple desire to embrace creativity and an exchange of ideas.

Stressing that Chang and her team highly value feedback from all walks of life, Tsai wrote that they would be happy to exchange views in the hopes of bringing about a breakthrough in exchanges and engagement.

The announcement follows speculation that the concert would be called off following the Nov. 2 display of the ROC flag.

Chang waved the flag on stage at a concert at the University of Manchester and introduced it as her country¡¦s flag after it was given to her by a Taiwanese member of the audience.

The episode descended into sometimes vicious exchanges between Internet users on both sides of the Taiwan Strait, while major Chinese and Hong Kong entertainment media outlets have given the matter extensive coverage.

The post on Chang¡¦s Facebook page had collected more than 12,000 ¡§likes¡¨ and more than 700 comments within three hours of it being posted.

Most of the comments were by Taiwanese fans supportive of the artist, as Facebook is blocked in China.