Activists demand more detail on cross-strait pact

By Loa Iok-sin / Staff reporter
---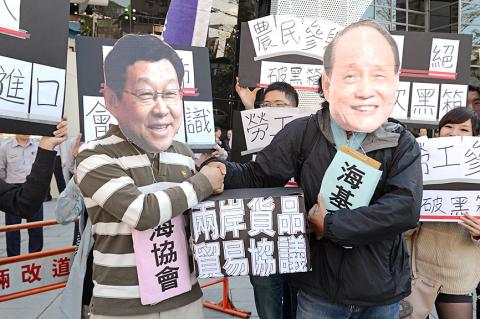 A protester wearing a mask of China's Association for Relations Across the Taiwan Straits (ARATS) Chairman Chen Deming, left, shake hands with another protester wearing a mask of Taiwan's Straits Exchange Foundation Chairman Lin Join-sane, right, during a demonstration in Taipei yesterday. The black box they are holding represents the secret and closed-door negotiations in which the cross-strait services trade agreement was signed.
Photo: Sam Yeh, AFP
---
Activists angry at the plans to ink a cross-strait agreement on trade in goods staged a protest outside the Straits Exchange Foundation (SEF) in Taipei yesterday, calling for more information on the pre-signing negotiations and an explanation of the details for the public.

"No to non-transparency, make the negotiations public," dozens of demonstrators chanted, as they rallied outside the headquarters, with two dressing up as SEF Chairman Lin Join-sane (林中森) and China's Association for Relations Across the Taiwan Strait chairman Chen Deming (陳德銘), mocking the talks as being "held in a black box."

Taiwan Democracy Watch convener Lai Chung-chiang (賴中強) said the public was still angry about the government's secret negotiations on the cross-strait services trade agreement that it signed with China in June.

"It's clear the government has not learned its lesson because it is again secretly negotiating with China, this time for a cross-strait agreement on trade in goods," he said.

"We hereby call on the SEF, the Ministry of Economic Affairs and the Mainland Affairs Council to make the talks transparent to the people, otherwise we will lobby opposition parties into freezing relevant budgets and we will stage protests wherever Chen goes when he visits later this month," Lai said.

Kaohsiung Confederation of Trade Unions president Chiang Chien-hsing (江健興) said that the agreement on trade in goods "would be a tsunami for Taiwan."

"Although the agreement is still being negotiated, I'm quite worried about its impact when I look at similar agreements already signed in other countries," Chiang said. "The government should not try to block information again, and it should not claim that it has talked with affected industries when it has only talked to a few representatives."

"The government should make public all the information and provide farmers, laborers and consumers who may be impacted by the agreement with appropriate channels to voice their concerns," Chiang said.

Chiang Ping-lun (江昺倫), a member of the Taiwan Rural Front, said the agricultural sector can not take any more liberalization.

"The agricultural and food sectors are too liberalized already, it's very concerning that our food self-sufficiency is only 30 percent. We will hit crisis point if we continue to open up," he said, adding that the group is opposed to any liberalization agreements, regardless of whether they are signed with China, the US or any other countries.

SEF official Lu Cheng-kai (盧正愷), who accepted the petition from the protesters, said the foundation is not involved in the negotiations and only signs the agreement.