DPP says Miaoli 'cover-up' involves city and agency

By Mo Yan-chih and Rich Chang / Staff reporters
---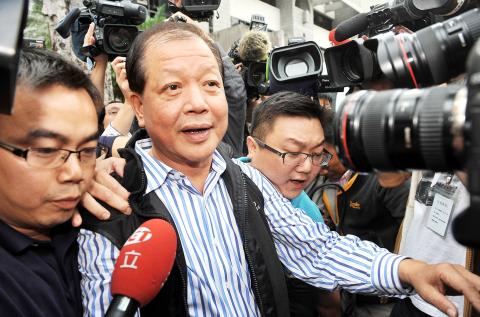 Liu Cheng-chih, the brother of Miaoli County Commissioner Liu Cheng-hung, leaves the Shihlin District Court in Taipei yesterday after posting NT$3 million bail on charges of illegally occupying public land on Yangmingshan.
Photo: Chien Jung-fong, Taipei Times
---
Democratic Progressive Party (DPP) Taipei City Councilor Ho Chih-wei (何志偉) yesterday accused local city councilors and lawmakers of covering up for the brother of Miaoli County Commisioner Liu Cheng-hung (劉政鴻) in relation to his use of public properties on Yangmingshan.

Ho said several government documents indicated a lawmaker surnamed Chen (陳) and a city councilor had held negotiations with the National Property Administration (NPA) and Yangmingshan National Park Management Office in 2011 and last year, adding that they had inspected the land to facilitate the acquisition for Liu's brother, Liu Cheng-chih (劉政池).

The Yangmingshan National Park Management Office and the Taipei City Government had fined the family in 2004 for digging on the land and burying containers underground.

The NPA in 2011 issued a document ordering the family to remove pot plants, artificial lawns and other facilities in Liu Cheng-chih's mansion on Chuanyuan Road. However, Ho said that the NPA later softened its stance, asking the family instead to make a verbal commitment to keep a public passage around its mansion.

"Government officials, local lawmakers and city councilors were all involved in the case. It's one of the most shameful luxury home scandals in Asia," he said.

Ho said that it is possible Liu Cheng-chi occupies up to 10 more public properties in the area, adding that prosecutors should look into the involvement of government officials, as well as launching a further investigation into public land seizures by the family.

The Shihlin District Prosecutors' Office on Thursday raided the mansion and found a 210m-long basement after digging around the area. The cellar — as large as a full-sized basketball court — was formed out of 12 large shipping containers (each 16.15m in length, 2.44m in width and 2.59m high), with one of the containers serving as the entrance.

The NPA said it would charge Liu Cheng-chih in accordance with the Measures on Handling the Seizure of Non-publicized National Real Estate (國有非公用不動產被占用處理要點) for the five years that he had illegally occupied the land, which would amount to about NT$2 million (US$67,500) .

Liu Cheng-chih's daughters, Liu Kuan-ting (劉冠廷) and Liu Kuan-yu (劉冠余), were released on bail of NT$1 million and NT$2 million respectively on Thursday evening.

Meanwhile, Liu Cheng-chih was released on NT$3 million bail yesterday after the Shihlin District Court rejected prosecutors' application to have him detained.

The district court said Liu Cheng-chih was charged with offenses of illegally seizing and using national property, but it was not necessary to detain him.

However, the court did bar him from relocation from his current residence or traveling abroad.