Officials react violently to baseball fans¡¦ Taiwan flag

By Jake Chung / Staff writer, with CNA
---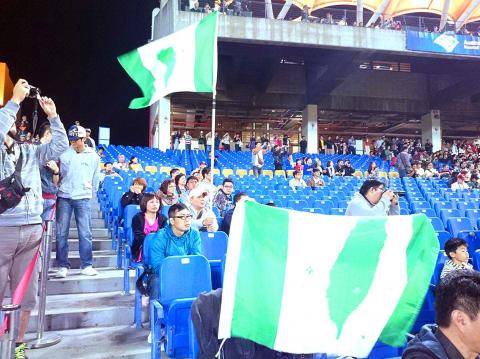 Spectators at a sports arena hold up Taiwan flags in an undated photograph. The Alliance of Referendum for Taiwan yesterday said that fans had displayed flags depicting Taiwan merely to show support for the Taiwanese team.
Photo provided by Alliance of Referendum for Taiwan
---
Greater Taichung Democratic Progressive Party (DPP) Councilor Tseng Chao-jung (´¿´Âºa) yesterday lambasted the Chinese Professional Baseball League (CPBL) for allegedly forcing a fan to leave the stadium during an Asia Series game because he brought along flags often used at pro-Taiwan rallies.

The seventh Asia Series, originally slated to be held in Fukuoka, Japan, was after negotiation held in Taiwan. It began on Friday and runs through Wednesday. The EDA Rhinos represented Taiwan and the Tohoku Rakuten Golden Eagles represented Japan in the series¡¦ opener on Friday.

The fans whose flags were taken said they purchased their tickets and entered the stadium with two ¡§Taiwan flags,¡¨ each 1m long and 80cm wide, to cheer on the Rhinos, and distributed smaller versions of the flags.

One of the fans, a woman surnamed Chen (³¯), said that around the fourth inning, officials from the league had come over and took her flag by force, adding that as she struggled to keep the flag, the officials hit her and broke the flag pole.

As the games¡¦ hosting responsibilities were overseen by both the league and the Greater Taichung government, Greater Taichung Bureau of Sports Director Fang Jui-wen (©Ğ·ç¤å) said that the Asia Series regulations stipulate that large flags or flagpoles may not be brought into the grounds to prevent spectators¡¦ view being obstructed.

Fang added that the municipal government went through great trouble to host the series and called on the public to find venues other than sports grounds to express their political views.

Fang called on the public to refrain from bringing in flags with any political connotation, adding that if the workers had used violence during the alleged scuffle, the bureau would look into the matter and make sure such incidents do not happen again.

However, Tseng said that baseball fans have the right to take any flag they like to root for their team into the stadium, adding that there were other large flags being flown in the stadium as well.

¡§There were also Japan supporters who waved the Japanese flag, so why would the municipal government and the league only chase the people waving the pro-Taiwan flags off?¡¨ Tseng said, adding that the bureau and the league should be consistent on the issue and refrain from violence.

LIONS 10, UNIPOL FORTITUDO 0

The CPBL champs the Uni-President Lions teed off against the Unipol Fortitudo of Italy last night by blanking the defending European Cup champions in a 10-0 shutout in seven innings to garner an impressive win in their first game of the Asia Series.