DPP to ask grand justices to rule on nuclear plant

'UNCONSTITUTIONAL': The Ma government's insistence on resuming construction in spite of public opposition goes against the spirit of the Constitution, the party said

By Chris Wang / Staff reporter
---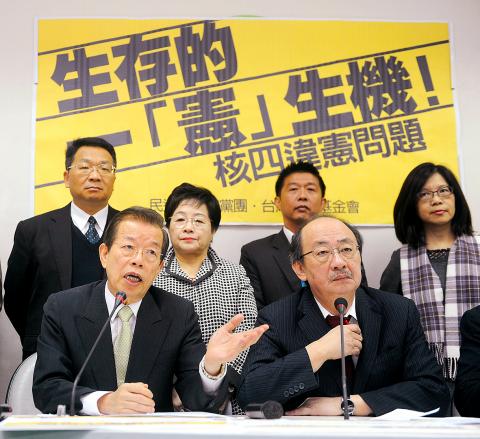 Former premier Frank Hsieh, front left, Democratic Progressive Party (DPP) caucus convener Ker Chien-ming, front right, and other DPP legislators tell reporters in Taipei yesterday about their plan to ask for a constitutional interpretation on the budget of the Fourth Nuclear Power Plant in New Taipei City's Gongliao District.
Photo: Liao Chen-huei, Taipei Times
---
The Democratic Progressive Party (DPP) caucus yesterday said it would request a constitutional interpretation on the controversial construction of the Fourth Nuclear Power Plant, adding that the government's decision to resume the construction is a violation of the Constitution.

President Ma Ying-jeou's (馬英九) administration has turned a blind eye to public concern about the safety of the plant in Gongliao District (貢寮), New Taipei City (新北市), and the environmental threat and pollution it poses, which all constitute violations of the Constitution, the caucus told a press conference.

Former premier Frank Hsieh (謝長廷), who wrote the text of the appeal, also attended the press conference at the Legislative Yuan.

Citing Article 15 of the Constitution, which states that "the right to live, the right to work and the right to own property shall be guaranteed to the people," Hsieh said the government "is obligated to provide people with a healthy environment, freedom from fear and to improve environmental quality."

Although opinion polls show that more than 70 percent of the public disapproves of the policy, the Ma government's insistence on resuming construction and its unilateral decision without ensuring nuclear safety violate the spirit of the Constitution, Hsieh said.

The former DPP administration, which suspended the construction of the nuclear power plant in 2000, had also tried to resolve the dispute through the Council of Grand Justices, which ruled in Interpretation No. 520 in 2001 that the suspension was constitutional and the annual budget allocation for the nuclear plant was not.

The controversial and highly politicized issue has been in a stalemate, with the Ma administration insisting on resuming construction and the opposition and anti-nuclear proponents accusing the government of conspiring to resolve the issue through a disputed referendum.

An interpretation by the Council of Grand Justices is the only solution to resolve the decade-long dispute, DPP caucus convener Ker Chien-ming (柯建銘) said.

The key factor would be the right to live, without which the right to freedom, referendum and property would all be meaningless, Ker added.

The DPP and more than 70 percent of respondents in most public opinion polls opposed the construction of the plant, but they have been unable to reverse the government's decision on the dispute, DPP Legislator Gao Jyh-peng (高志鵬) said.

"It seems to me that only the Council of Grand Justices will be able to put an end to this controversy," Gao said.