Ministry makes light of China carrier's passage

MAKING WAVES: A DPP legislator urged the president to lodge a protest with Beijing, saying that there was a risk of the Taiwan Strait becoming a Chinese inland sea

By Chris Wang / Staff reporter
---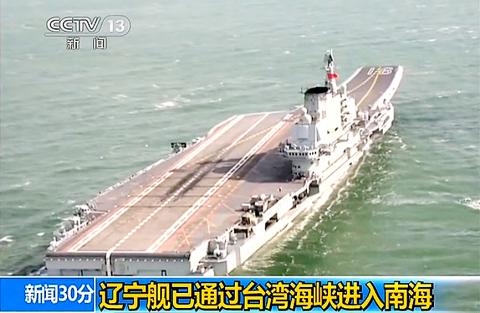 A screen grab from Chinese TV station CCTV shows the Chinese aircraft carrier Liaoning passing through the Taiwan Strait en route to the South China Sea yesterday morning.
Photo: CNA
---
The Ministry of National Defense yesterday confirmed that the Chinese aircraft carrier Liaoning passed through the Taiwan Strait yesterday morning — without crossing its median line — en route to the South China Sea, reiterating that the ministry had monitored the entire passage.

The voyage has drawn attention from Taiwan's military and the international community amid rising tension over China's demarcation of an air defense identification zone (ADIZ) in the East China Sea on Saturday.

Beijing's East China Sea ADIZ overlaps with those of Japan, Taiwan and South Korea in a region marked by territorial disputes over the Diaoyutai Islands, claimed by Taiwan, China and Japan, and Ieodo, a South Korean-controlled submerged rock, which China also claims.

The carrier entered Taiwan's ADIZ at about 10:30am on Wednesday and maintained a course approximately 14 nautical miles (26km) west of the median line of the Taiwan Strait before leaving Taiwan's ADIZ at about 4am yesterday morning, ministry spokesman Major General David Lo (羅紹和) said.

"Taiwan's surveillance and reconnaissance system, as well as several naval vessels and air force fighter jets, monitored the fleet's entire passage through the Strait," Lo said.

China's Xinhua news agency reported early yesterday morning that the Liaoning, escorted by two guided missile destroyers, the Shenyang and Shijiazhuang, and two guided missile frigates, the Yantai and Weifang, had passed through the Strait on its way to a training mission in the South China Sea.

The voyage through the Strait took about 10 hours, the agency reported, adding that the Liaoning, China's first and only aircraft carrier, left its home port of Qingdao in Shandong Province on Tuesday for a scientific and training mission.

The Liaoning, bought from Ukraine and refurbished in China, was commissioned last year and has been sent to the South China Sea for the first time.

Responding to the situation, Democratic Progressive Party Legislator Tsai Huang-liang (蔡煌瑯) yesterday urged President Ma Ying-jeou (馬英九) to lodge a protest with Beijing.

"Otherwise, the Taiwan Strait will become a Chinese inland sea in the future," Tsai said, adding that Taiwan should side with its democratic allies over the situation.

Chinese Nationalist Party (KMT) Legislator Lin Yu-fang (林郁方) said China's decision to send the carrier through the Taiwan Strait instead of cruising along Taiwan's east coast hinted at Beijing's backpedaling from its previously hawkish position on the ADIZ issue.