Huang proclaims that he is innocent as trial begins

By Rich Chang / Staff reporter
---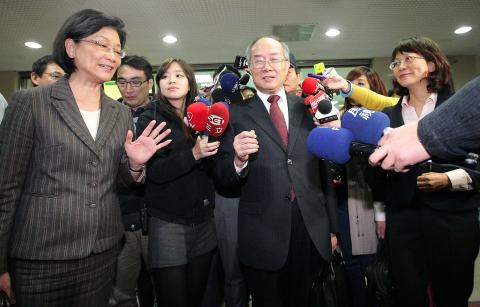 Prosecutor-General Huang Shih-ming, center, leaves the Taipei District Court yesterday after his first hearing on charges of leaking classified information. His legal team consisted of former minister of justice Wang Ching-feng, front left, and former Council of Labor Affairs minister Jennifer Wang, front right.
Photo: CNA
---
The trial of Prosecutor-General Huang Shih-ming (黃世銘) on charges of leaking classified information related to an ongoing investigation began yesterday.

The Taipei District Prosecutors' Office on Nov. 1 indicted Huang for contravening the Criminal Code and the Communication Security and Surveillance Act (通訊保障及監察法).

It alleged that he broke the law when he briefed President Ma Ying-jeou (馬英九) on Aug. 31 on information gathered through a wiretap implicating Legislative Speaker Wang Jin-pyng (王金平) of lobbying then-minister of justice Tseng Yung-fu (曾勇夫) and Taiwan High Prosecutors' Office head prosecutor Chen Shou-huang (陳守煌) to prevent Taiwan High Prosecutors' Office prosecutor Lin Shiow-tao (林秀濤) from seeking an appeal in a breach of trust case against Democratic Progressive Party Legislator Ker Chien-ming's (柯建銘).

It was not until Sept. 5 that the Special Investigation Division (SID), which reports to Huang, concluded its investigation and decided not to press criminal charges against Wang or Ker, the indictment said.

The Taipei District Court yesterday held its first hearing in the case.

Huang, who has retained two former Cabinet members as lawyers, one of whom is former minister of justice Wang Ching-feng (王清峰), claimed his innocence in court.

"I deny the charges and cannot accept the charges against me," Huang told the court.

Huang said he reported the case to Ma on the night of Aug. 31 after he and SID prosecutors concluded that the case was executive misconduct, not a criminal case.

Huang has said he would resign from his position if found guilty by the court.