Biden calls on Japan, China to lower tensions over zone

Reuters, TOKYO
---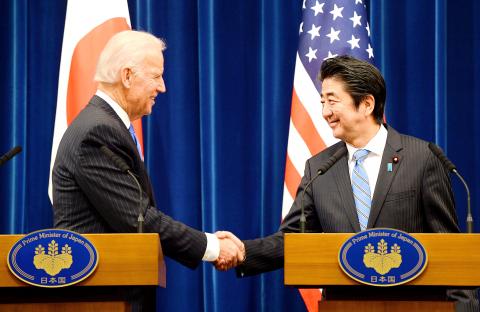 US Vice President Joe Biden, left, shakes hands with Japanese Prime Minister Shinzo Abe after their joint press conference at Abe¡¦s official residence in Tokyo yesterday.
Photo: AFP
---
US Vice President Joe Biden called on Japan and China to find ways to reduce tensions that spiked after Beijing proclaimed an air defense zone over disputed isles in the East China Sea, while repeating that Washington was ¡§deeply concerned¡¨ by the move.

The US has made clear it will stand by treaty obligations that require it to defend the Japanese-controlled islands, but it is also reluctant to get dragged into any clash between the Asian rivals.

¡§This action has raised regional tensions and increased the risk of accidents and miscalculation,¡¨ Biden told a news conference alongside Japanese Prime Minister Shinzo Abe.

Biden was on the first leg of an Asian trip that takes him to Beijing today and then to Seoul.

Japan reiterated on Tuesday that Tokyo and Washington had both rejected Beijing¡¦s establishment of the zone ¡X despite the fact that three US airlines, acting on government advice, are notifying China of plans to transit the area.

Washington said over the weekend that the advice to US airlines did not mean US acceptance of the zone, and last week it sent two B-52 bombers into the area without informing China.

Washington is also asking China not to set up an air defense zone in the South China Sea, where Beijing is locked in territorial rows with Southeast Asian nations, without first consulting countries concerned, a senior official traveling with Biden told reporters, according to Kyodo news agency.

The Japanese and South Korean governments have advised their airlines not to submit flight plans in advance as demanded from all aircraft since it announced the creation of the zone on Nov. 23.

US, Japanese and South Korean military aircraft all breached the zone last week without informing Beijing and China later scrambled fighters into the area.

Washington takes no position on the sovereignty of the disputed Diaoyutai Islands (³¨³½¥x), known as the Senkakus in Japan and also claimed by both Taiwan and China.

However, it recognizes Tokyo¡¦s administrative control and says the US-Japan security pact applies to them.