Media blamed for cancelation of US official's Taipei trip

By Peng Hsien-chun and Jake Chung / Staff reporter, with staff writer and CNA
---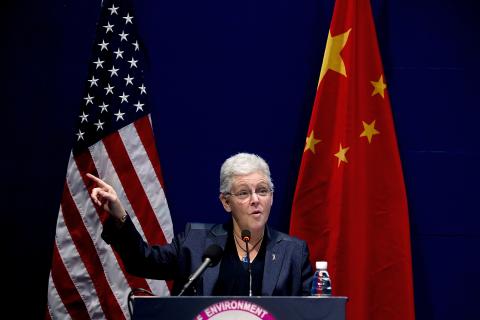 U.S. Environment Protection Agency Administrator Gina McCarthy gestures as she speaks during the Tsinghua Environmental Forum at the Tsinghua University School of Environment in Beijing on Tuesday.
Photo: Reuters
---
President Ma Ying-jeou's (馬英九) administration yesterday attributed the last-minute cancelation of the first visit by a US Cabinet official in 13 years to premature media coverage of the trip.

Sources familiar with Taiwan's foreign affairs said the planned visit tomorrow by US Environmental Protection Agency Administrator Gina McCarthy was axed by the US, allegedly due to a spike in sensitivity over the media coverage.

McCarthy is currently visiting China.

The decision had been made by the US government without any pressure from China, the sources added.

The Presidential Office had been ready to receive McCarthy and had attached importance to the highly symbolic visit to Taipei, sources said.

There had been speculation that McCarthy's visit was cancelled because of the US' discomfort over the Ma administration's handling of China's recent establishment of the East China Sea air defense identification zone.

That alleged unhappiness has also been seen as the reason that Representative to the US King Pu-tsung (金溥聰) returned to Taipei on Monday, reportedly to convey the US government's concerns about Taiwan's stance on the issue.

However, both Chinese Nationalist Party (KMT) and government officials rejected the speculation and said the US has affirmed both Taiwan's stance on and its handling of the zone issue.

Ministry of Foreign Affairs officials said King's return was due to a Taiwan-US project and had nothing to do with any US official's visit.

"King has returned to deal with a special Taiwan-US project that has been in place for years and other important public duties," ministry spokeswoman Anna Kao (高安) said.

Kao did not elaborate on the project that brought King back.

Asked if the US was truly concerned about Taiwan's low-key response to China's move, Kao said Taiwan-US relations have been moving in a positive direction.

The US government has expressed its understanding and recognition of Taiwan's stance many times since China announced the demarcation of an air defense identification zone over an area that covers the disputed Diaoyutai Islands (釣魚台), Kao said.

The islands are claimed by Taiwan, China and Japan, which calls them the Senkaku Islands.