Asian leaders urge peace amid concern over Chinese zone

Reuters and AFP, TOKYO
---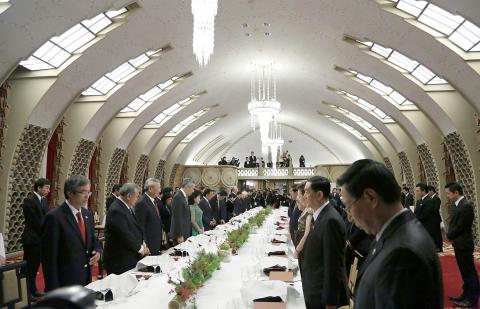 ASEAN leaders, including Japanese Prime Minister Shinzo Abe, seventh left, offer a silent prayer to the victims of Typhoon Haiyan in the Philippines during a welcome dinner of the ASEAN-Japan commemorative summit hosted by Abe at his official residence in Tokyo yesterday.
Photo: Reuters
---
Asian nations must ensure that territorial disputes do not erupt into conflict, leaders said yesterday, with Japan and the Philippines reaffirming their commitment to freedom of flight as concerns grow over China¡¦s new air defense zone.

Beijing¡¦s growing military strength has sparked concern in Asia and tension has spiked in the past month after China announced the air defense zone including islands in the East China Sea also claimed by Taiwan and Japan.

The air defense identification zone has triggered protests from the US and its close allies, Japan and South Korea

China is also locked in territorial rows with other Asian nations, including the Philippines, over wide swathes of the South China Sea and has said it might set up a similar zone there.

¡§We reiterated our commitment to uphold the rule of law, promote the peaceful settlement of disputes, and to assure freedom of flight in international air space,¡¨ Philippine President Benigno Aquino III told reporters in Tokyo after meeting Japanese Prime Minister Shinzo Abe.

Aquino stopped short of mentioning China in the media appearance with Abe, who has made stronger ties with the 10 members of ASEAN a priority, visiting all of them during his first year in office.

The charm offensive, which has been underlined by hefty Japanese aid over the years and rising private investment, culminates in a three-day Tokyo gathering that began yesterday and is billed officially as celebrating 40 years of diplomatic ties.

The final statement from the summit, due to be released today, is likely to state its support for freedom of the air and the seas ¡X but stop short of mentioning China.

Chinese state media kept up the invective against Japan¡¦s complaints over the air space zone yesterday, with the official Xinhua news agency saying Abe was going to ¡§stage again its China-is-to-blame game¡¨ at the ASEAN summit.

¡§It is believed that anyone with only half a brain knows that it is Japan who intentionally set the region on fire in the first place,¡¨ Xinhua said in an English-language commentary.

Xinhua also announced the launch of a guided missile frigate, the Sanya, which it described as a new generation of battleship ¡§especially adept for use in long-distance vigilance and aerial defense combat.¡¨

Abe has yet to meet the leaders of South Korea or China, and Tokyo¡¦s ties with its giant neighbor have been fraught since Japan bought three uninhabited islands in the East China Sea at the center of a territorial dispute ¡X a situation that other leaders at the meeting said should be rectified.

¡§In particular, it must be said that good relations between Japan and China are critical to the future of our region,¡¨ Indonesian President Susilo Bambang Yudhoyono said in a speech.

Japanese media reports also said that Abe would pledge ¢D2 trillion (US$20 billion) in loans and grants over five years to ASEAN during the summit.

Abe will also announce an expansion of the existing Japan-ASEAN Integration Fund aimed at economic integration of Southeast Asian countries with a fresh ¢D10 billion, public broadcaster NHK and the Nikkei Shimbun reported.