Top prosecutor should be dismissed, panel suggests

FOX IN THE HENHOUSE? It is not appropriate for a lawbreaker to be the top legal official, the Ministry of Justice's Prosecutors' Evaluation Committee said

By Rich Chang, Chen Yen-ting and Tseng Wei-chen / Staff reporters, with CNA
---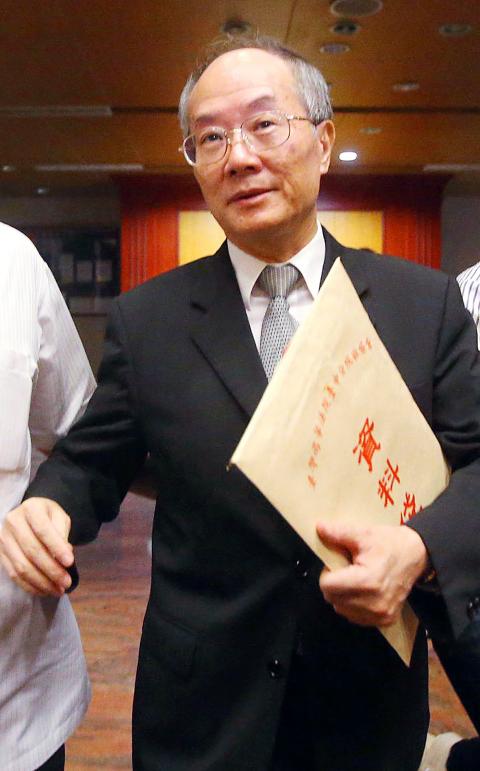 Prosecutor-General Huang Shih-ming is pictured in an undated photograph.
Photo: CNA
---
The Ministry of Justice Prosecutors' Evaluation Committee yesterday said it would turn the nation's top prosecutor over to the Control Yuan, recommending his removal from office for allegedly disclosing classified information about an ongoing criminal investigation.

The 11-member committee recommended the dismissal of Prosecutor-General Huang Shih-ming (黃世銘) after a two-month investigation.

Huang is alleged to have leaked investigative findings to President Ma Ying-jeou (馬英九) that were gleaned from wiretapped conversations, accusing Legislative Speaker Wang Jin-pyng (王金平) of lobbying then-minister of justice Tseng Yung-fu (曾勇夫) and Taiwan High Prosecutors' Office head prosecutor Chen Shou-huang (陳守煌) to prevent Taiwan High Prosecutors' Office prosecutor Lin Shiow-tao (林秀濤) from seeking an appeal in a breach of trust case against Democratic Progressive Party caucus whip Ker Chien-ming (柯建銘).

The committee said that Huang allowed the Special Investigation Division (SID) of the Supreme Prosecutors' Office to abuse its powers by wiretapping Ker's and others' telephones in the name of investigating a criminal case, even though some wiretaps were unrelated. The committee said that Huang also violated the Communication Security and Surveillance Act (通訊保障及監察法) by allowing the SID to reveal the contents of information gathered through wiretap at a press conference.

Huang also leaked classified information related to the ongoing investigation to Ma and instructed the SID to hold a press conference revealing information on the alleged improper lobbying before it was proven, the committee said.

It is inappropriate for Huang to remain in his post as the nation's top legal official after breaking the law himself, it added.

In response, the Supreme Prosecutors' Office later yesterday expressed regret in a statement, accusing the committee of lacking impartiality and saying that it could not accept the committee's decision.

Chinese Nationalist Party (KMT) Legislator Lu Hsueh-chang (呂學樟) yesterday said that the committee's decision was reasonable.

Saying that the committee usually renders impeachment as its disciplinary recommendation, KMT Legislator Liao Cheng-ching (廖正井) added that the committee's proposal that Huang be removed from his post indicated the severity of the matter.

KMT Legislator Lin Kuo-cheng (林國正) said the best solution now is either for Huang to voluntarily step down or for his superiors to persuade him to resign.

Democratic Progressive Party (DPP) lawmakers yesterday also called on Huang to resign on his own initiative, adding that the committee's conclusion affirmed Ma's role as an accomplice, and that Ma should be prosecuted after he steps down from office.

The DPP lawmakers added that they hope the KMT caucus would amend the Communication Security and Surveillance Act to abolish the SID to better guarantee people's freedom of communications.

Huang previously survived an impeachment vote in the Control Yuan and is facing charges over his alleged offense in a district court.