INTERVIEW: National identity best faced head-on: Deserts Chang

WAYS OF THINKING: The singer-songwriter said the value of music depends on the messages it conveys and that she will never avoid talking about social issues

By Chen Hui-ling and Stacy Hsu / Staff reporter, with staff writer
---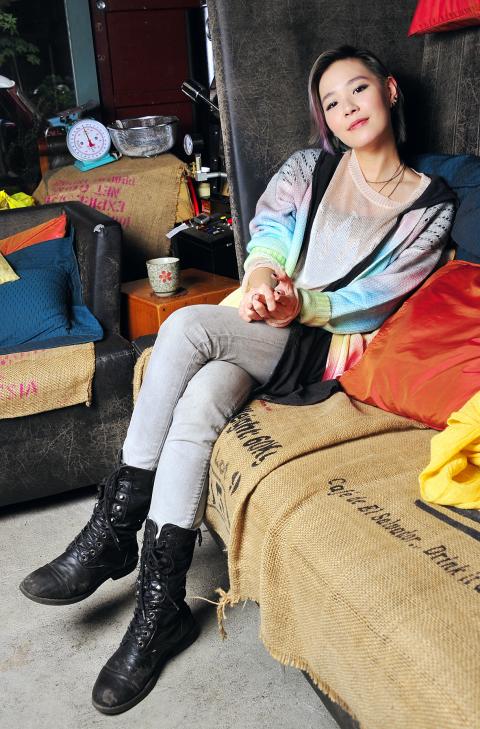 Singer and songwriter Deserts Chang is pictured during an interview on Friday in Taipei.
Photo: Pan Shao-tang, Taipei Times
---
Despite having a concert in China canceled following a row over her display of a Republic of China (ROC) flag at a concert last month in Manchester, England, indie singer-songwriter Deserts Chang (張懸) said it is better to tackle the issue of Taiwan's national identity head-on than skirting around it.

Chang, the daughter of former Straits Exchange Foundation secretary-general and vice chairman Chiao Jen-ho (焦仁和), who dedicated himself to facilitating cross-strait rapprochement, made the remarks in an interview with the Liberty Times (the Taipei Times' sister paper) at a coffeehouse in Taipei on Friday.

It was Chang's first public interview since she became the subject of heated debate between netizens on each side of the Taiwan Strait after she held up the ROC flag on stage that was given to her by a Taiwanese member of the audience at her show in Manchester on Nov. 2.

The gesture was met with shouts from a Chinese woman in the audience, accusing the singer of "politicizing" the music concert.

The episode descended into a sometimes vicious exchange between netizens on both sides of the Strait, prompting her canceling of a Beijing concert originally scheduled for Dec. 30,

Despite the vitriol from Chinese Internet users, Chang continues to have a tolerant attitude toward the "flag incident," saying: "It is better to confront than evade problems. I, a 32-year-old soul, am willing to face challenges and see things with an even more open mind."

Chang, who studied in London for a year in her 20s, said that Taiwanese national identity would inevitably be challenged if the nation aspires to a higher international profile.

"I am not the first person to try to face up to the problem [of national identity]. Even if I did not do it, someone else would," she said.

Chang's courage in unfurling the national flag regardless of the political sensitivity it carried and the risk of irritating her Chinese fans and Beijing appeared to have gained her a lot of support and applause from Taiwanese.

This was evidenced by the warm welcome she received from many customers at the coffee shop during the interview, with some even cheering: "Deserts Chang, jiayou [加油, an expression of encouragement]. You have our support."

Chang said that as a gesture of support, a young man working at a sushi restaurant also gave her a box of free sushi when he saw her passing by.

"Maybe everyone now thinks I am out of job," Chang said jokingly, citing the cancelation of her Beijing concert and rumors that the Chinese government has blacklisted her because of the flag incident.

Chang said the world is a huge place and that she is still living life to the fullest, adding: "I will never avoid talking about the incident whether people praise or criticize me for it."

For Chang, music is never just about rhythm and lyrics; it is also a medium through which she can express her concerns to social events and civic right movements — from the ongoing campaign against the construction of the Fourth Nuclear Power Plant in New Taipei City's (新北市) Gongliao District (貢寮), to the movement against the development project of Meiliwan Resort Hotel on Taitung County's Shanyuan Beach.

People used to regard pop music as a symbol of decadence and believe that folk rhythms were all about love and romance, Chang said.

"However, from where I see it, it does not matter whether music is seen as a pearl or a leftover, as long as it can survive outside dust-free glass houses without turning into ashes," she said.

Chang said Taiwanese would not have been able to enjoy freedom of speech or speak their minds about same-sex marriage if they had not embraced change wholeheartedly.

"Such a transformation process is undoubtedly painful, but only by sticking it out can new ideas and new ways of thinking be created," Chang said.

The singer said the value of music depends on the messages it conveys and that she has scheduled a live concert at the Taipei World Trade Center Nangang Exhibition Hall on Feb. 22 to let her voice be heard by more people.