DPP councilor says Taipei spending politically linked

By Tu Chu-min and Jason Pan / Staff reporter, with staff writer
---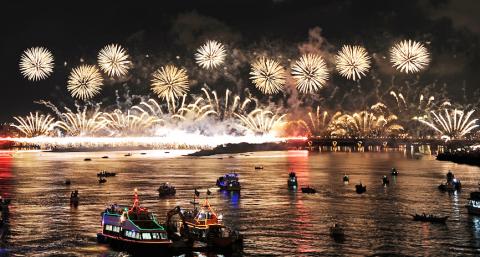 Fireworks are reflected in the Tamsui River during the Taipei Dadaocheng Fireworks Festival on Aug. 18 last year.
Photo: Liu Hsin-de, Taipei Times
---
Taipei residents are being deceived again because instead of cutting back on budgets for events next year, the city government has increased spending, Democratic Progressive Party (DPP) Taipei City Councilor Wu Su-yao (§d«äº½) said.

The five major events planned for next year ¡X the Taipei Lantern Festival, Taipei Shopping Festival, New Year¡¦s Eve Party, Taipei Hakka Yimin Festival and Taipei Dadaocheng Fireworks Festival ¡X will cost NT$109.81 million (US$3.71 million), Wu said.

While the budget for the fireworks festival has been cut by 7 percent from this year¡¦s funding, the budget for the Taipei Hakka Yimin Festival has grown threefold, she said.

Taipei City Department of Civil Affairs Commissioner Huang Lu Ching-ju (¶À§fÀA¯ø) told Wu that Taipei Mayor Hau Lung-bin (°qÀsÙy) had told all city agencies to ¡§heed the call of austerity,¡¨ and as a result, ¡§every agency carefully reviewed the budgets for all events, with most of our Department of Civil Affairs events cut by about 30 percent.¡¨

¡§We also considered trimming funding for the Taipei Lantern Festival, but this event has been held for 17 years, and is a better organized than similar ones held by other cities and counties. It also helps boosts business in the area, so we keep the budget the same for next year,¡¨ Huang said.

The Department of Information and Tourism (DOIT) is in charge of the New Year¡¦s Eve Party and the fireworks festival, Wu said, but while the party¡¦s NT$8 million budget is the same as this year, the fireworks event will receive 7 percent less than it did this year, when it received NT$5.2 million.

The city councilor said Hau¡¦s call for austerity has had little effect.

¡§Why is the city not willing to cut back? Is it because these events can raise the city government¡¦s public profile?¡¨ she said.

DOIT Deputy Commissioner Chiu Peng-hsin (ªô½´·s) told her that while the budget for the New Year¡¦s Eve Party and the fireworks festival will receive roughly the same amount as they did this year, ¡§it is not enough, and the organizers will have to seek funding from outside sponsors.¡¨

Wu also questioned why the city¡¦s Hakka Affairs Commission, which plans to extend its festival by one day next year, increased the budget for the event from NT$ 5.7 million to NT$ 17.7 million.

¡§There has been a huge increase in the funding for this event. Is it because of next year¡¦s municipal elections, for the city government to ¡¥buy votes¡¦ from the ethnic Hakka electorate?¡¨ Wu said.

Hakka Affairs Commissioner Liu Chia-chun (¼B¨Î¶v) said the funding increase was not related to elections.

¡§It is because we want next year¡¦s Hakka Yimin Festival to integrate Hakka culture, religious practices and folk arts, thereby cultivating more professional artists and consolidating our cultural traditions,¡¨ Lin said.